World Cup Column
A daily bulletin of news & opinion on Brazil during the World Cup
Brazilian barriers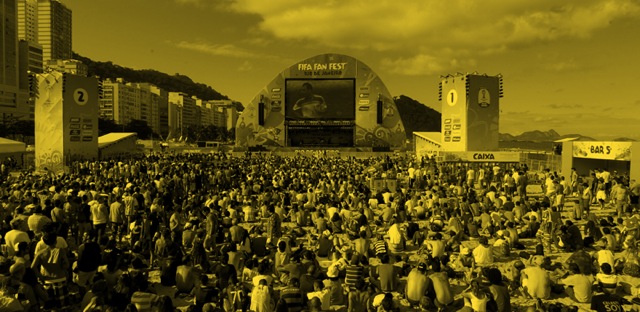 Preface
Poet and journalist Musa Okwonga has identified Rio's invisible walls – and found himself running into some of them.
Writer
Musa Okwonga
Photo
Getty Images
A funny thing happened on the way to the beach: though I didn't notice till a few hours later. I was heading to the Copacabana with my housemate to watch Brazil play Mexico on a huge screen that Fifa had set up by the ocean. Accompanied by some of his friends and a bottle of homemade, weapons-grade caipirinha, we sat on the sand in good-natured lament as the hosts toiled their way to a goalless draw. It was a great day out but it was only later, as I arrived home, that I realised something: apart from those selling beer or beach balls, there had only been a handful of other black people among the tens of thousands of revellers on Copacabana.
Two nights later, when I was watching England lose to Uruguay in a restaurant in well-heeled Leblon, I noticed the same thing: apart from the staff there were no black people. The next evening I branched out and wandered down to the area of Lapa where police, kitted out in scowls and dark body armour, overlooked a small protest. Looking among the protesters, there were no black people here either.
As a friend explained, the overwhelming majority of those who have taken to the streets this year are in fact white and middle class; now that the World Cup had actually started, they were finding it harder to mobilise people. That might all change, noted another somewhat ominously, if Brazil were to be eliminated early in the tournament.
The bars in Lapa were thronging with fellow tourists. With the faint sting of tear gas slowly leaving my nostrils, I made my way through a steak-and-cheese sandwich and a clutch of caipirinhas and then headed along to Lapa's arches. There I found black people, filling three streets all the way down to the main road. Standing by a vast reggae soundsystem as a bottle of cachaça was passed from hand to hand, I could have been at Notting Hill Carnival.
There are places in Rio where black people can afford to gather, or where they feel comfortable gathering; and then there are places where they can't, and don't. They are separated from those latter places by two invisible walls: the walls of social class and race. After finishing a radio interview, an hour past midnight, I caught a taxi up the hill to the house where I was renting a room. As the car stopped by the front gate a police car pulled up alongside and shone a torch into the back seats, resting on my face. The policeman then got out of his car along with his colleague and spoke to the cab driver, before letting me proceed.
The policemen clearly found something inherently suspicious about a black person travelling that high up the hill. Maybe, you might say, they were just looking out for the homeowner, in anticipation of a troubling scenario. Yet when I explained to my landlord what had happened, the shock on his face said it all: here, outside my very own front door, I had run up against another one of Rio's invisible walls.
Musa Okwonga is a poet and journalist. He is the author of two books on football, the first of which, 'A Cultured Left Foot', was nominated for the 2008 William Hill Sports Book of the Year.