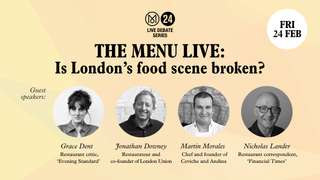 The Menu Live
A Monocle 24 event
Join us at Midori House in London's Marylebone for this special live edition of 'The Menu', Monocle 24's flagship show on food, drink and hospitality.
Guests from the restaurant industry join the show's host Markus Hippi and Monocle's Food and Travel Editor Josh Fehnert to discuss London as a food city and offer some fresh insights into what it needs to fix to become an unbeatable culinary destination.
Tickets include the latest issue of Monocle magazine, a specially curated selection of drinks and nibbles, and plenty of Friday night fun.
The Speakers
Grace Dent
Restaurant critic, Evening Standard
A well-known columnist and commentator, Dent has written about London in magazines and newspapers for 20 years. She has been the restaurant critic for ES Magazine since 2011 and also writes a weekly column for the The Independent. In addition she is the creative director for London Food Month 2017 in association with the Evening Standard.
Nicholas Lander
Restaurant correspondent, Financial Times
Lander has written the restaurant column for the Financial Times since 1989. He is also the author of On the Menu: The World's Favourite Piece of Paper, published last year.
Jonathan Downey
Restaurateur and co-founder of London Union
Since leaving his career as a corporate lawyer in 1999, Downey has become a highly influential voice in hospitality, opening more than 20 bars, clubs and restaurants, as well as hotels in London, Ibiza, Chamonix and Melbourne. In 2012 he brought his drinks expertise to Street Feast, a street-food night market founded in east London. He has since organised several events in the name of Street Feast all over London.
Martin Morales
Chef and founder of Ceviche and Andina
Morales is the chef, restaurateur and founder of the Michelin Guide-listed Ceviche and Andina restaurants in London. Born in Peru but resident in the UK for the past 30 years, he is a pioneer of Peruvian food and has been nominated by the country's government as a food ambassador. He is also the author of bestselling cookbook Ceviche: Peruvian Kitchen.
Dates
Friday 24 February
18.30 arrival, with live discussion from 19.00 to 20.00​ and drinks afterwards.
Address:
Midori House, 1 Dorset Street, London, W1U 4EG