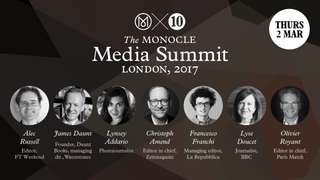 The Monocle Media Summit
London 2017
Enough now! Print is not dead and we're here to tell you why. Join us for an afternoon where you'll see and hear:
– 25 brands reshaping the media landscape
– What's on the media horizon
– Why social media is not our friend
– What five of the world's most influential editors are plotting
– How the bookshop bounced back
What does the future of media look like? Well, for print it's looking particularly interesting. As part of our tenth-anniversary event series Monocle is bringing together a stellar line-up of international media players to unpick the successes and slips of the past decade. We will tell you why print has bounced back and show you how media businesses are preparing for the years to come with new brand plays, clever use of digital and a return to sharply focused print launches. We will also investigate how advertisers are using print in fresh and exciting ways.
The Monocle Media Summit is aimed at brands, media leaders and anyone interested in the future of the sector. Join us for an exclusive afternoon of sharp discussion and best-in-class benchmarks and a drinks reception where you will get to meet our speakers, the Monocle team – and each other.
Speakers include:
Alec Russell
Editor, FT Weekend
Russell is the editor of the 'FT Weekend' and was head of news at the Financial Times from 2012 to 2016 after running its commentary. He started his career as a foreign correspondent, with postings in the Balkans, southern Africa and Washington. He has written three books, including 'After Mandela: the battle for the soul of South Africa', and won many journalistic awards. Russell also knows how to make a paper that can deliver across numerous channels – including print.
James Daunt
Founder, Daunt Books, managing director, Waterstones
Daunt founded his own bookshop chain, Daunt Books, in 1990, which quickly became regarded as the best of its kind in the UK. In 2011 he was asked to become the managing director of failing book retailer Waterstones. The 275-store business has recently announced its return to full profitability. How did Daunt pull off this dramatic reversal? Why are e-book sales wobbling? And why have younger readers returned to print?
Lynsey Addario
Photojournalist
Addario regularly works for 'The New York Times', 'National Geographic' and 'Time'. She began photographing professionally for the 'Buenos Aires Herald' in 1996, freelanced in New York for Associated Press for three years and then moved to New Delhi to cover south Asia for the 'Christian Science Monitor', 'Boston Globe' and Houston Chronicle. Over the past 15 years she has covered every major conflict and humanitarian crisis of her generation, from Afghanistan to Somalia, and recently released memoir 'It's What I Do'. 
Christoph Amend
Editor in chief, Zeitmagazin
Amend is the publisher of Zeit's art magazine 'Weltkunst' and runs the 'Zeitmagazin' international issue, an English-language biannual publication that was launched in 2013. In 2016 he launched 'Zeitmagazin Mann', a standalone men's magazine for the German market. Before joining Die Zeit Amend was the editor of the Sunday supplement of Berlin daily 'Der Tagesspiegel' and deputy editor of 'Süddeutsche Zeitung Jetzt Magazin'. With such an impressive CV, Amend is perfectly placed to tell us why German media is in such rude health, why it's eyeing up the English-language market – and how he gets to make some of the coolest covers out there.
Francesco Franchi
Managing editor, La Repubblica
Franchi is the former creative director of 'IL', the magazine of Italian daily 'Il Sole 24 Ore', a professor at the IUAV University of Venice and a lecturer at Singapore Management University and the Polytechnic University of Milan. His latest book is 'The Intelligent Lifestyle Magazine: Smart Editorial Design, Ideas and Journalism'. During his career he has won many awards, including the Compasso d'Oro. His works have been published and exhibited in several countries, including at the V&A in London and the Cooper Hewitt Smithsonian Design Museum in New York. We will ask Franchi about his move to 'La Repubblica', a newspaper that is investing heavily in print but also adapting to changing news consumption and reading habits. Can design save the newspaper?
Lyse Doucet
Journalist, BBC
Doucet is the BBC's award-winning chief international correspondent and a senior presenter for BBC World News television and BBC World Service Radio. She is regularly deployed to anchor special news coverage in the field, interview world leaders, and report across the BBC's global and national networks.
Olivier Royant
Editor in chief, Paris Match
  Born in Paris in 1962, Royant is a graduate of the Paris Institute of Political Studies and holds an MBA from Columbia University. He began his career at the Paris-based Radio Gilda in 1982 before becoming a staff reporter at 'Paris Match' in 1985. In 1987 he was named permanent correspondent to the US, where he spent 10 years in New York; in 1998 he returned to become the magazine's executive editor. He was made editor in chief in 2006.
Dates
Thursday 2 March
15.30 to 20.00 (arrive for coffee and registration at 15.30, event starts at 16.00, drinks reception from 18.00)
Hosts
Tyler Brûlé and the Monocle team
Address
Hyatt Regency London – The Churchill, 30 Portman Square, London W1H 7BH
Price
£125