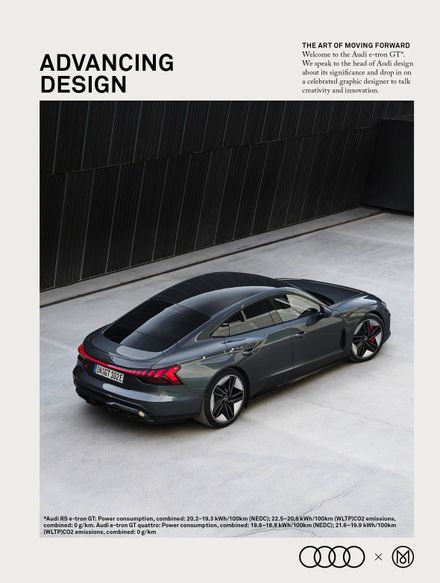 Audi RS e-tron GT: Power consumption, combined: 20.2–19.3 kWh/100km (NEDC); 22.5–20.6 kWh/100km (WLTP)CO2 emissions, combined: 0 g/km. Audi e-tron GT quattro:Power consumption, combined: 19.6–18.8 kWh/100km (NEDC); 21.6–19.9 kWh/100km (WLTP)CO₂ emissions, combined*: 0 g/km
Further information on official fuel consumption figures and the official specific CO₂ emissions of new passenger cars can be found in the guide "Information on the fuel consumption, CO₂ emissions and electricity consumption of new cars", which is available free of charge at all sales dealerships and from DAT Deutsche Automobil Treuhand GmbH, Hellmuth-Hirth-Strasse 1, 73760 Ostfildern-Scharnhausen, Germany (www.dat.de).
Welcome to the Audi e-tron GT*. We speak to the head of Audi design about its significance and drop in on a celebrated graphic designer to talk creativity and innovation.