URBANISM / Chengdu
Drinking
&

dining
That a side helping of milk is sometimes requested in Chengdu should give you a good indication of how spicy Sichuan cuisine truly is. Still, there is an amazing variety in the ways that the region's potent chillies and peppercorns can be put to use: from 'mapo tofu' to 'dandan noodles', many of the region's recipes have become beloved internationally – chief among them the satisfying hotpot. These dishes have a kick but they have also been reinterpreted in their most sophisticated versions by smart chefs. Here are some of the city's most sought-after tables and a tip on where to head for an unmatched nightcap.
Hotpot might be the most renowned and omnipresent dish in Chengdu but if you want to try this delicacy somewhere special, head to the top of the Grand Hyatt. It's here, on the 16th floor, that you'll find the restaurant #8. Before taking a seat at your table, you'll walk through a reconstruction of a few market stalls, where you'll be able to observe the raw produce that goes into this kitchen's delectable take on Sichuan cuisine. There'll be meat, seafood, vegetables and, of course, plenty of fiery chilli. Enjoy it all in these sleekly designed surroundings, in a dining room adorned with wicker baskets hanging from the ceiling for a playful take on tradition.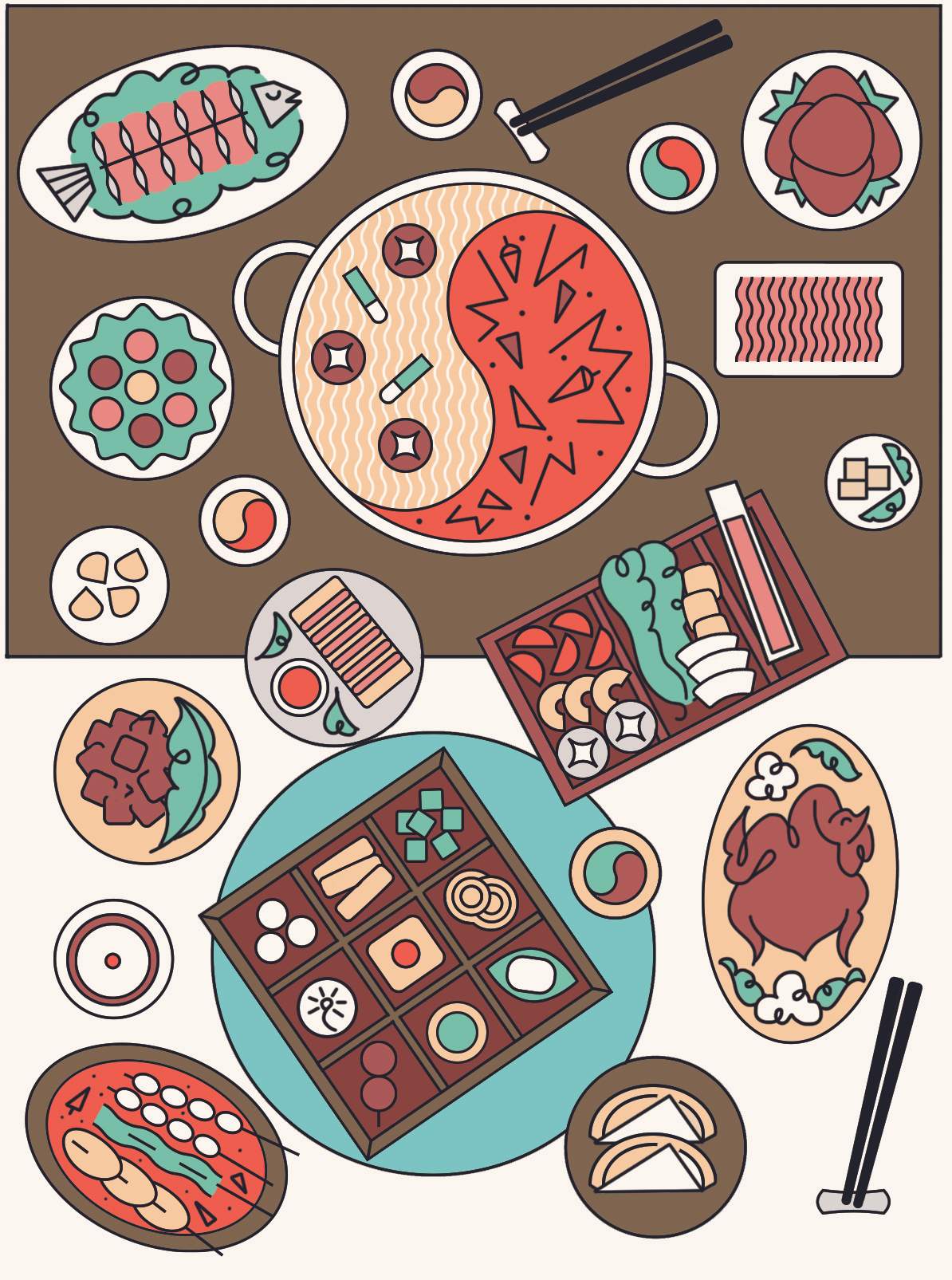 2.
The Bridge:
One for the history books
Set on the marvellous Anshun Bridge – one of the city's most recognisable landmarks – this restaurant is led by Michelin-starred chef André Chiang. Being classically trained in French culinary techniques, Chiang brings a new perspective to Sichuan cuisine that modernises it and celebrates its most refined aspects, while also being respectful to its tradition and flavours. The elegant dining room, designed by fêted Shanghai duo Neri & Hu, is a peaceful setting where you can take your time over a tasting menu: intended to feel like a proper banquet, it includes some quasi-forgotten historical recipes too.
3.
The Tasting Room:
All in the mix
More than a simple cocktail bar, this moody venue sandwiched between shops in the Jinjiang district – all concrete and woven bamboo screens – is a treasure trove of flavour experimentation, though you wouldn't necessarily be able to tell from its unassuming façade. Interiors studio GE was tasked with creating a space that could change functions throughout the day: at the front the Creddie Workshop entices in with its breezy atmosphere, while the dimly lit bar at the back is ideal for the later hours of the evening. Don't play it safe: let yourself be surprised by the cocktail-makers' creative concoctions.