Transport / Global
Bold moves
Whether by plane, train or e-tractor, cities and nations are rising to the challenge of getting the world from A to B.
1.
Why regional airlines are rising fast
Global
By Gabriel Leigh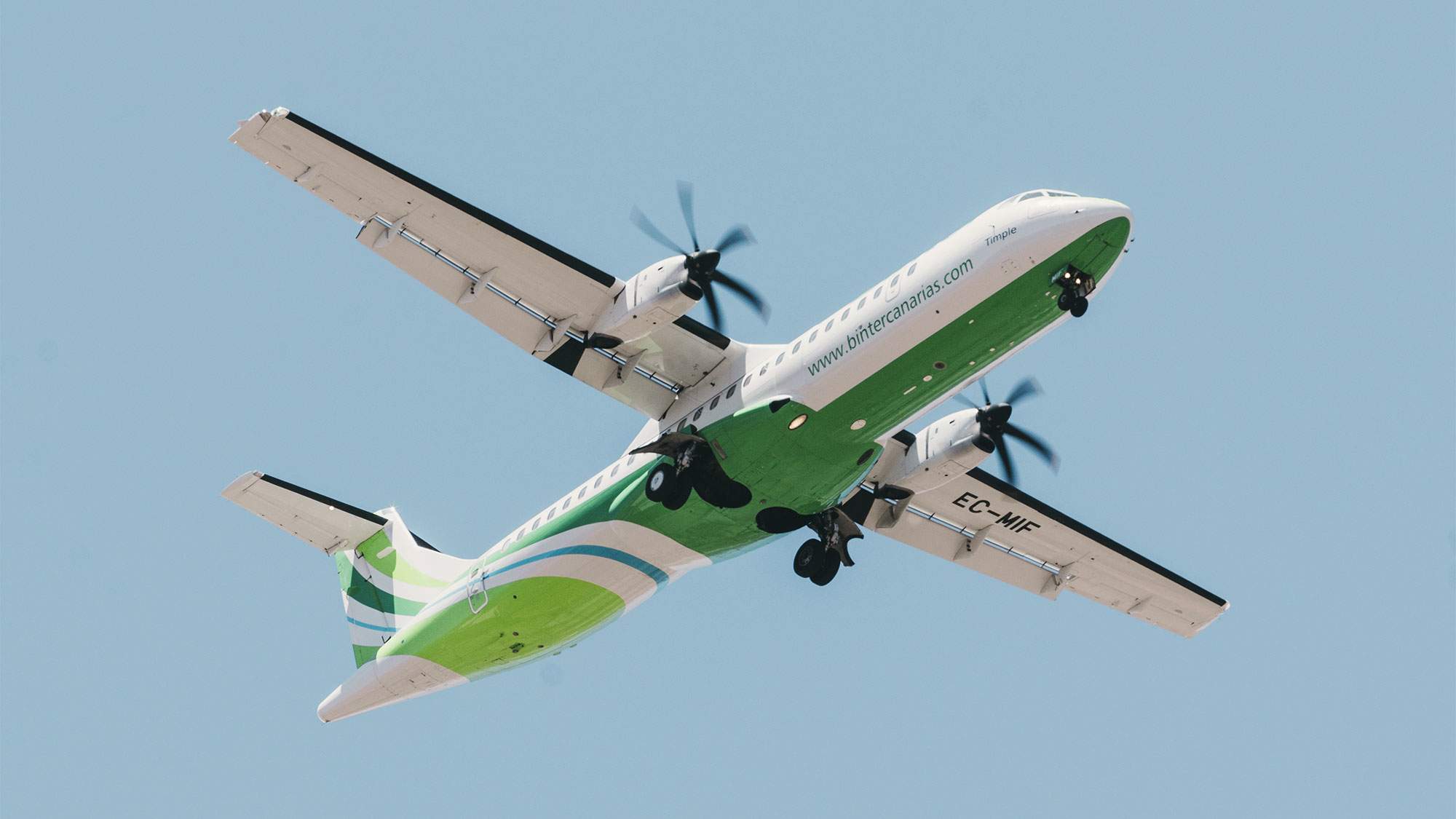 The humble regional airline is often overshadowed by the larger flag carriers of the world. Look closely, though, and it's the smaller airlines that carry their communities in more ways than one. That's especially true in the underserved regions of the world – the remote corners, the archipelagos, the overseas territories. If you need to get from Nairobi to Hargeisa, African Express is the logical choice. Glasgow to Scotland's Outer Hebrides? Loganair is the only way. These airlines tend to be unique and nimbly run. They have to try a little harder with their services to make the business work. They also know the place they're from and they tend to embody it, helping to export regional brands as they move people to and fro.
One such example is Binter Canarias, the airline of the Canary Islands. Running a mix of ATR-72 turboprops and a handful of Bombardier CRJ and Embraer E2 jets, it's a small and likeable airline that has consistently won awards for its service. It's also Canarian-owned.
"Our guiding principle has always been passenger service," says Juan Ramsden, chief co-ordinator at Binter. "That approach makes us take bets on direct routes outside the Canary Islands that other companies wouldn't contemplate."
Indeed, Binter serves as a lifeline to the fragmented Canaries, connecting its islands with mainland Spain but also running flights to Portugal, Morocco, Cabo Verde and several destinations in west Africa, such as Nouakchott (Mauritania) and Dakhla (Western Sahara). The pandemic might have diminished schedules but the airline remains vitally important to the islands.
"This is not an easy air market," says Ramsden. "Our airports have complex geographic and meteorological conditions. But it is our land and our goal has always been to provide it with the best possible air transport."
---
Other regional standouts:
Druk Air
Bhutan
Cape Air
US
African Express
Kenya/Somalia
Loganair
UK
Satena
Colombia
Air Panama
Panama
Mokulele
Hawaii
Air Iceland Connect
Iceland
Air Greenland
Greenland
Air North
Australia
Jubaa Airways
Kenya/Somalia
Air Inuit
Canada
---
2.
How e-tractors can revolutionise agriculture
Africa
By Kimberly Bradley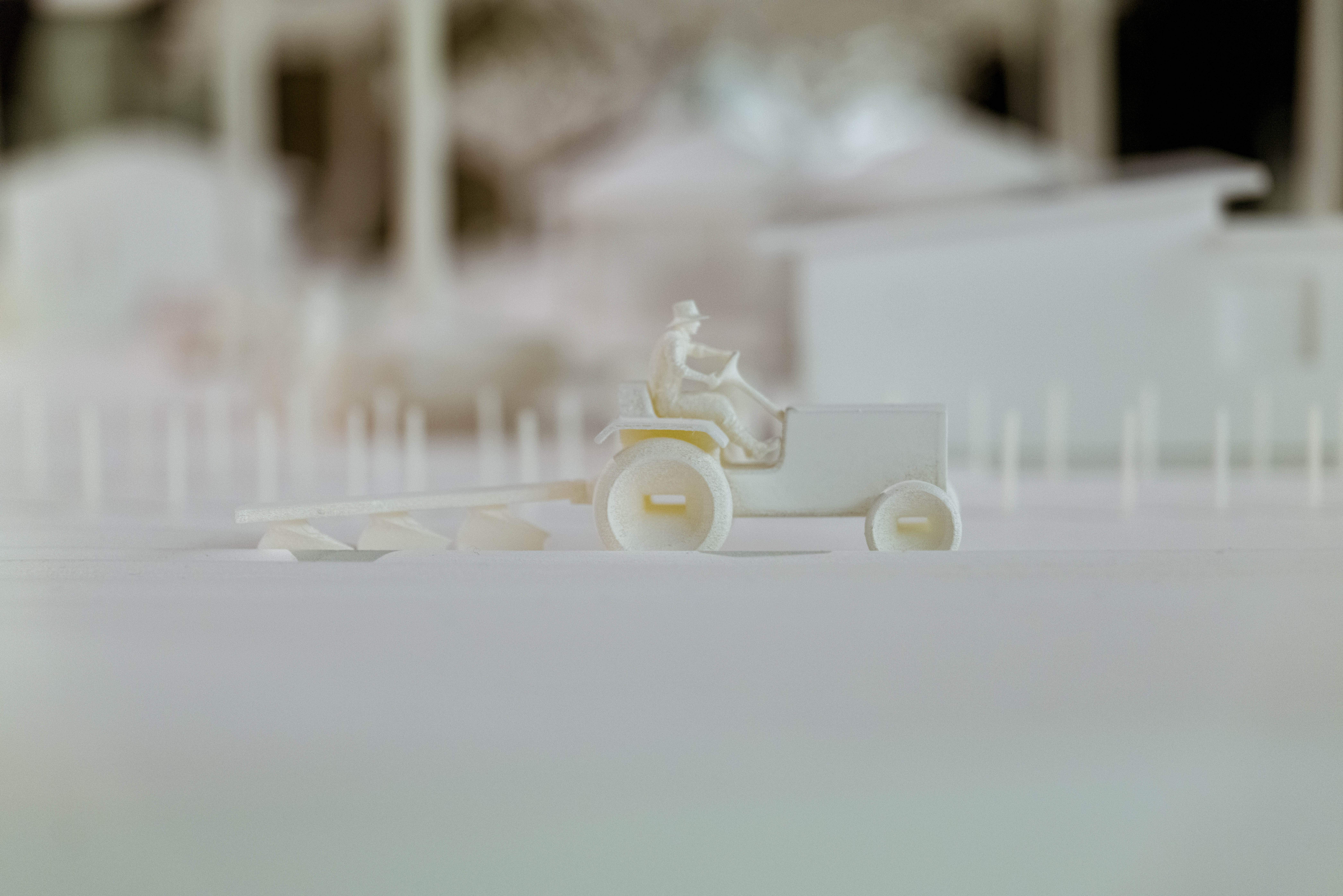 German automotive manufacturer Volkswagen has teamed up with Dutch architect Rem Koolhaas's research-driven think tank AMO to develop a solar-powered electric tractor that could change both agriculture and vehicle use in rural communities, especially in developing countries.
The e-tractor's first prototype is currently being tested and an extensive display of the e-tractor and its charging station is being shown at Koolhaas's Countryside – The Future exhibition at the Guggenheim Museum in New York. But the vision for these tractors also involves a sharing concept among farmers. "The e-tractor serves as a working tool and mobility solution for a rural community; it is charged under solar panels and shared by the community," says Benita von Maltzahn, director of global cultural engagement at Volkswagen. "The charging site can also turn into a social hub, like a fountain in a village."
The concept is earmarked for Africa: in many regions, fuel is limited but solar power is plentiful. Volkswagen Group South Africa is in discussions with universities, NGOs and other partners to bring the project to fruition. 
---
3.
Schindler's Melbourne lifts
Australia
By Louis Harnett O'Meara
The Melbourne Metro Tunnel project is set to level up the city's commuting infrastructure with 9km twin tunnels and five new underground stations. Scheduled for completion by 2025, the tunnels will help to move an extra 500,000 passengers a week. It's up to Swiss lift and escalator manufacturer Schindler to work out how all of these extra people will get down to catch their trains – and then back up again.
Schindler is responsible for installing 176 additional vertical carriers in Melbourne's underground, adding to a list of 900,000 escalators and lifts installed and serviced across 140 countries since the Schindler family built its first belt-driven elevator in 1892.
Train stations and airports form a small but significant portion of its revenue, while the logistics are far more complicated than adding lifts to buildings. "Public-transport projects are usually large and ongoing," says Michael Dobler, Schindler's head of global key account management. "Moreover, local project requirements [like Melbourne] can pose interesting challenges."
It takes 10 to 12 weeks to make and install a standard lift but the real effort lies in the planning. "The major element we have to consider is traffic calculation," says Dobler. To map out the pedestrian flow, Schindler uses its own modelling software to factor in journey times, rush hours and even how amenities could impact footfall on different floors; in buildings the positioning of canteens can cause bottlenecks. Once the traffic flow calculations are done, the team works with vertical-mobility consultants, architects, designers and engineers to make sure that everything runs like clockwork. "A fraction of a second makes all the difference," says Dobler. Think of that the next time you squeeze through closing metro doors.
---
4.
Making bus stops more than a place to wait
Germany
By Nic Monisse
Bus stops might be some of the least appealing places to wait for public transport. They certainly don't get the attention of train stations, which are replete with kiosks and newsagents. As a result, time spent waiting for buses drags. And this, according to countless studies, makes bus travel unappealing. Public transport is the key to busting congestion in cities, so making the wait more enjoyable is critical.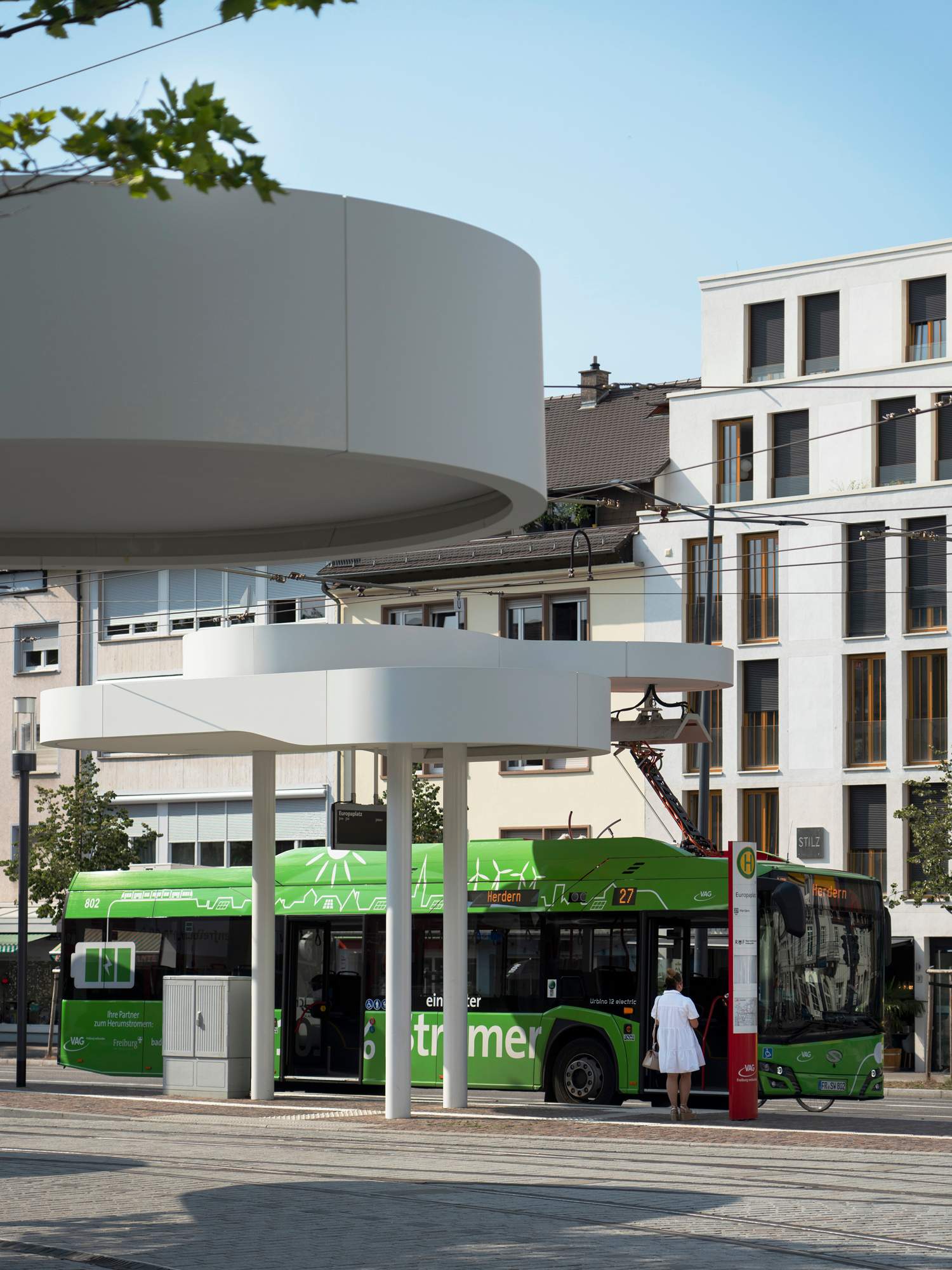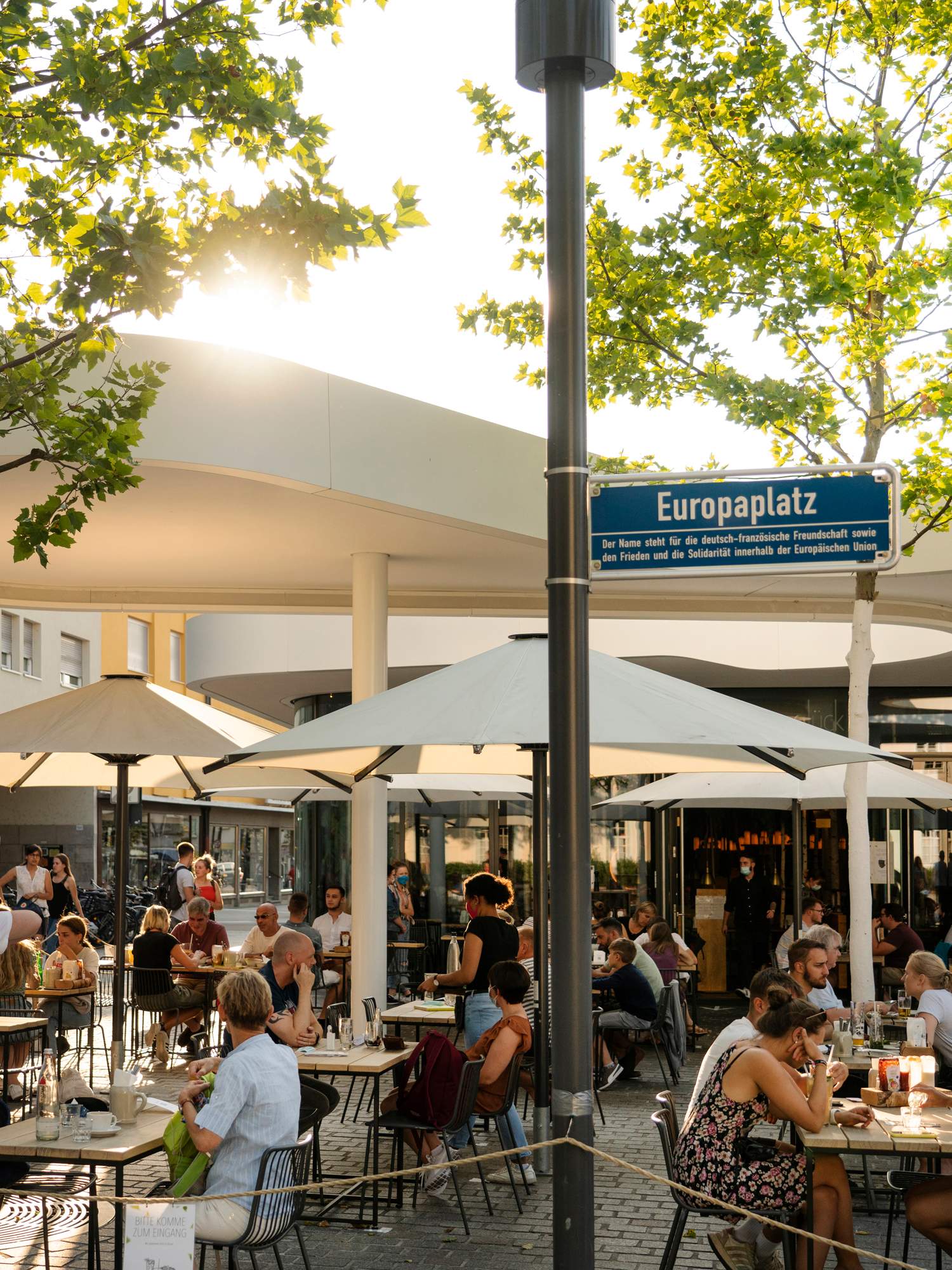 Dutch transit agency Prorail realised this nearly a decade ago when it launched "pleasant waiting", which introduced bike repair shops and cafés to some of their bus stops. German architecture firm J Mayer H took a similar approach more recently when designing its pavilion on Freiburg's Europaplatz. It combines an existing bus and tram stop with a beautiful restaurant, creating "activity for the public space [and] introducing a programme that makes it more lively", says architect Jürgen Mayer. And just like that, the once-dreary stop became a place to begin your commute or break for a meal. "Now it's not just a place where you change from one mobility mode to another;  it's really a place where you want to go to hang out with friends," says Mayer. And in the case of Freiburg, it's a beautiful place to simply sit and wait too.
5.
Nordic nation gets shipshape
Norway
By Gabriel Leigh
With the Norwegian government continuing to push maritime innovation along at a steady clip, Brødrene Aa looks well-poised to benefit. The ship-building company nestled in the fjords of western Norway is a world leader in rugged, efficient and increasingly emissions-free ships.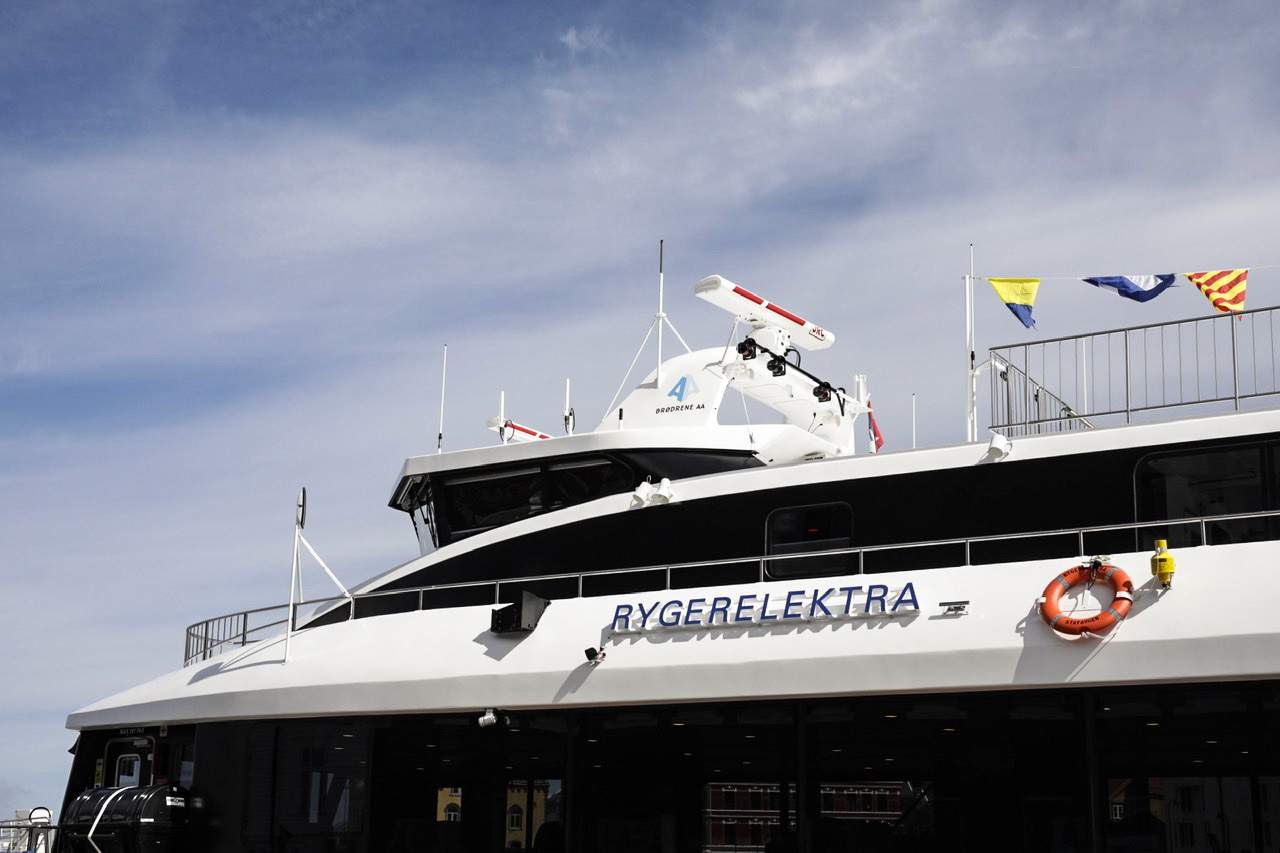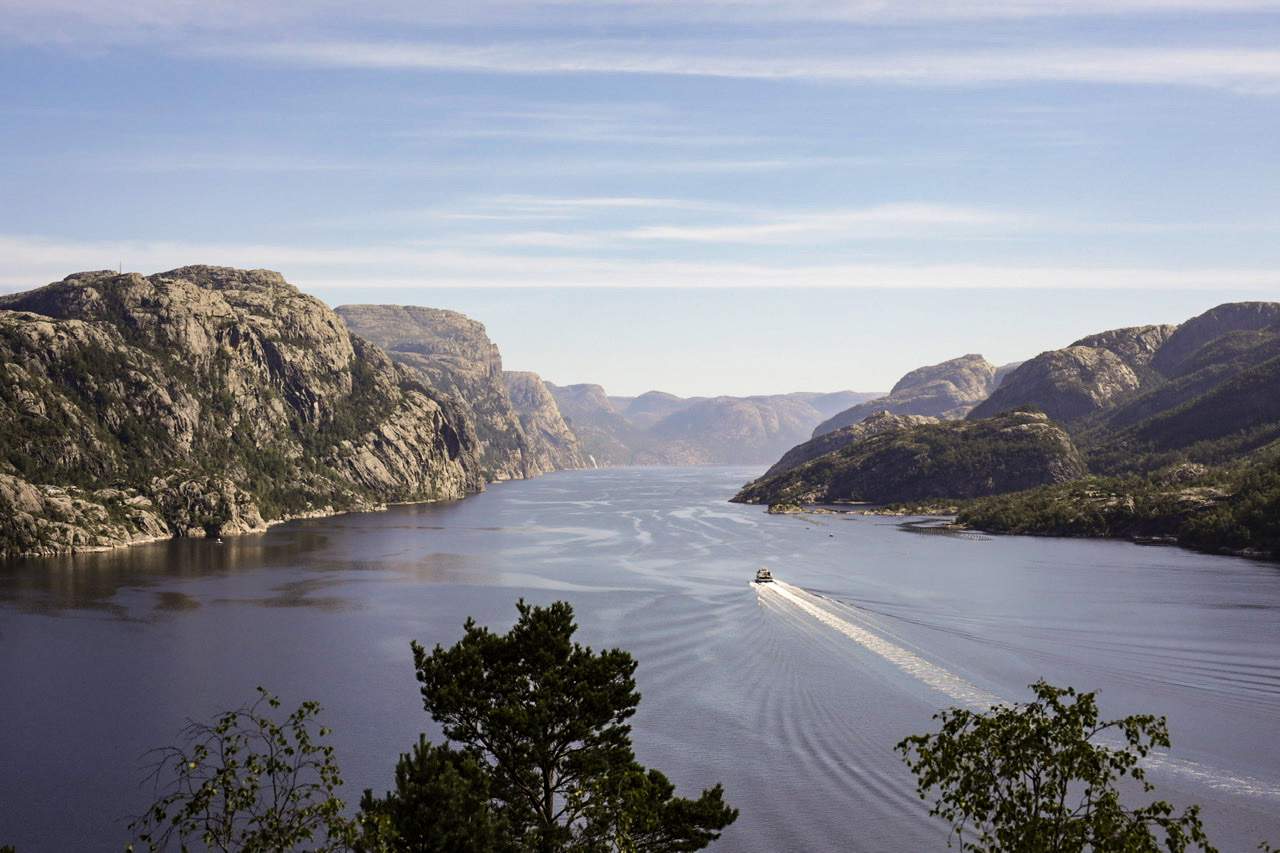 Its latest delivery, a battery-powered ferry named Rygerelektra, is the world's fastest electric ferry, with a maximum speed of 23 knots. It also boasts the longest range. All electric vehicles face a trade-off between the two: higher speeds quickly chip away at range. But in this case, the ship's mission is uniquely suited to that compromise: it transports up to 297 passengers on sightseeing trips in and out of the Lysefjord from Stavanger's harbour. It sails at a leisurely pace, silently humming along, and covers the 40 nautical-mile trip over about three hours.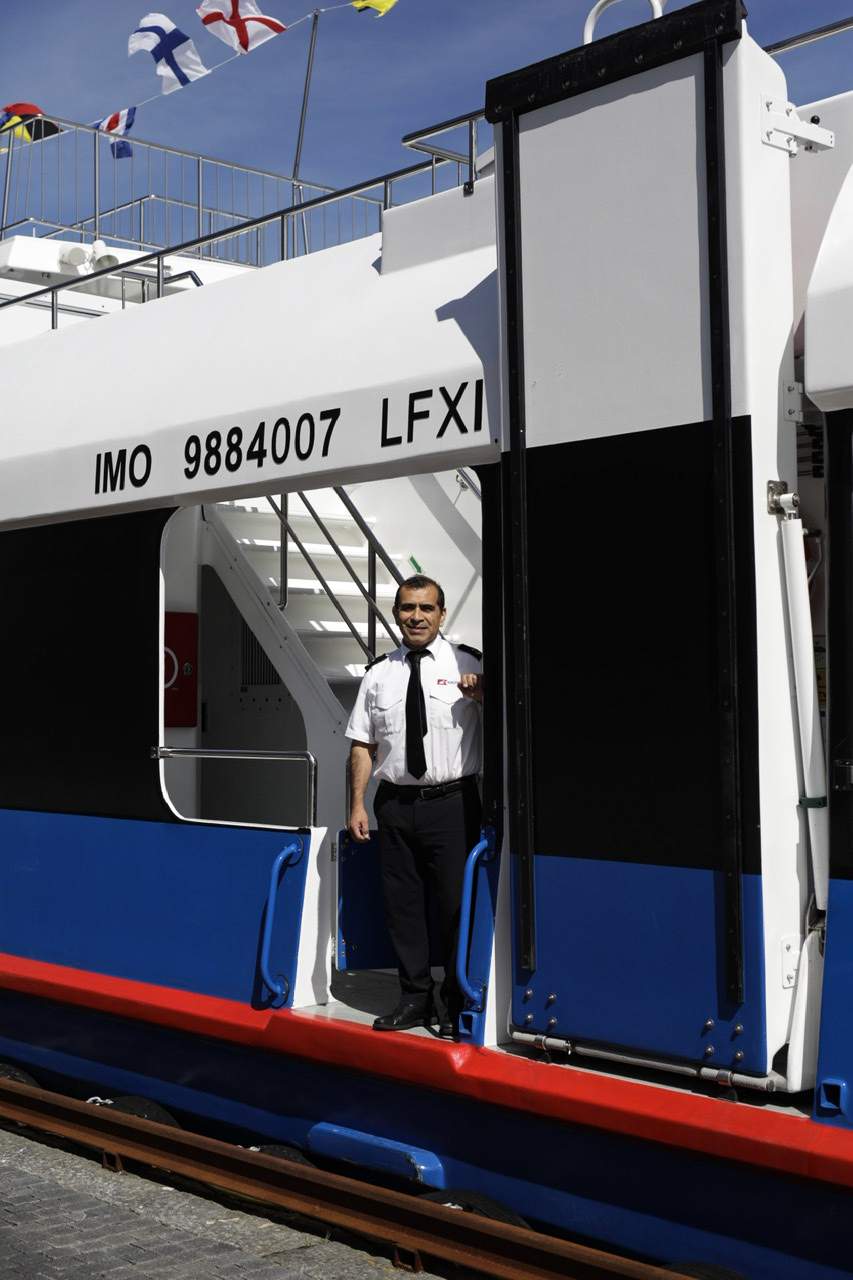 "Many countries are now looking for emissions-free vessels," says Tor Øyvin Aa, CEO of Brødrene Aa. "With new technology, very low structural weight and better batteries, we can make emission-free vessels that are economically sustainable compared with diesel vessels."
Battery technology is improving every year, as is charging infrastructure – and the desire both in Norway and beyond is to place electric ferries on commuter and other critical transport routes, including over longer distances. This remains a challenge but one that is increasingly within reach. "In the past, of course, you could do ferries emission-free but it was very expensive," says Øyvin Aa. "Now at least for shorter routes, you can do them emission-free and cheaper in operation. That's something really interesting – and really new."
---
6.
Rethinking the country, two wheels at a time
Italy
By Laura Rhysman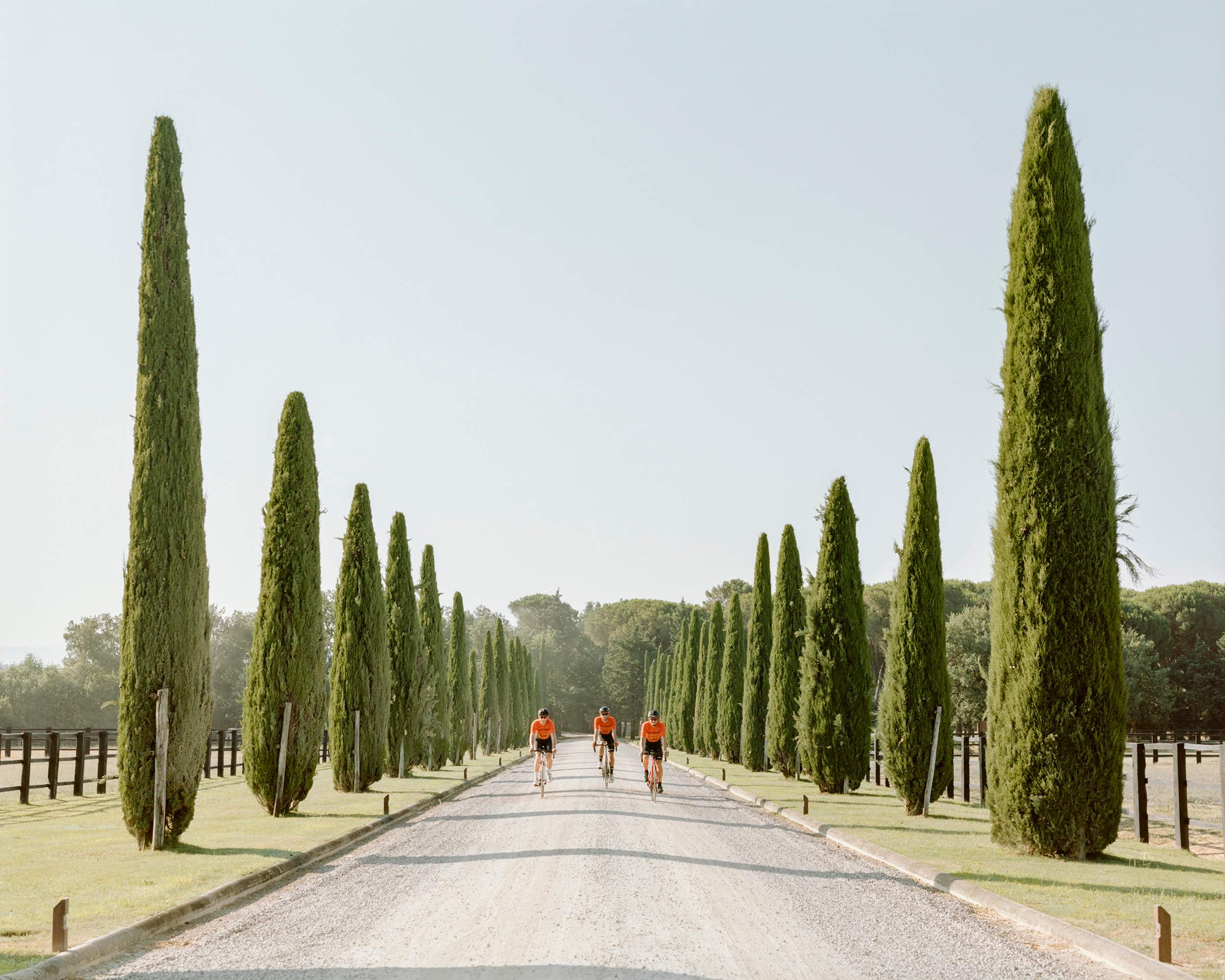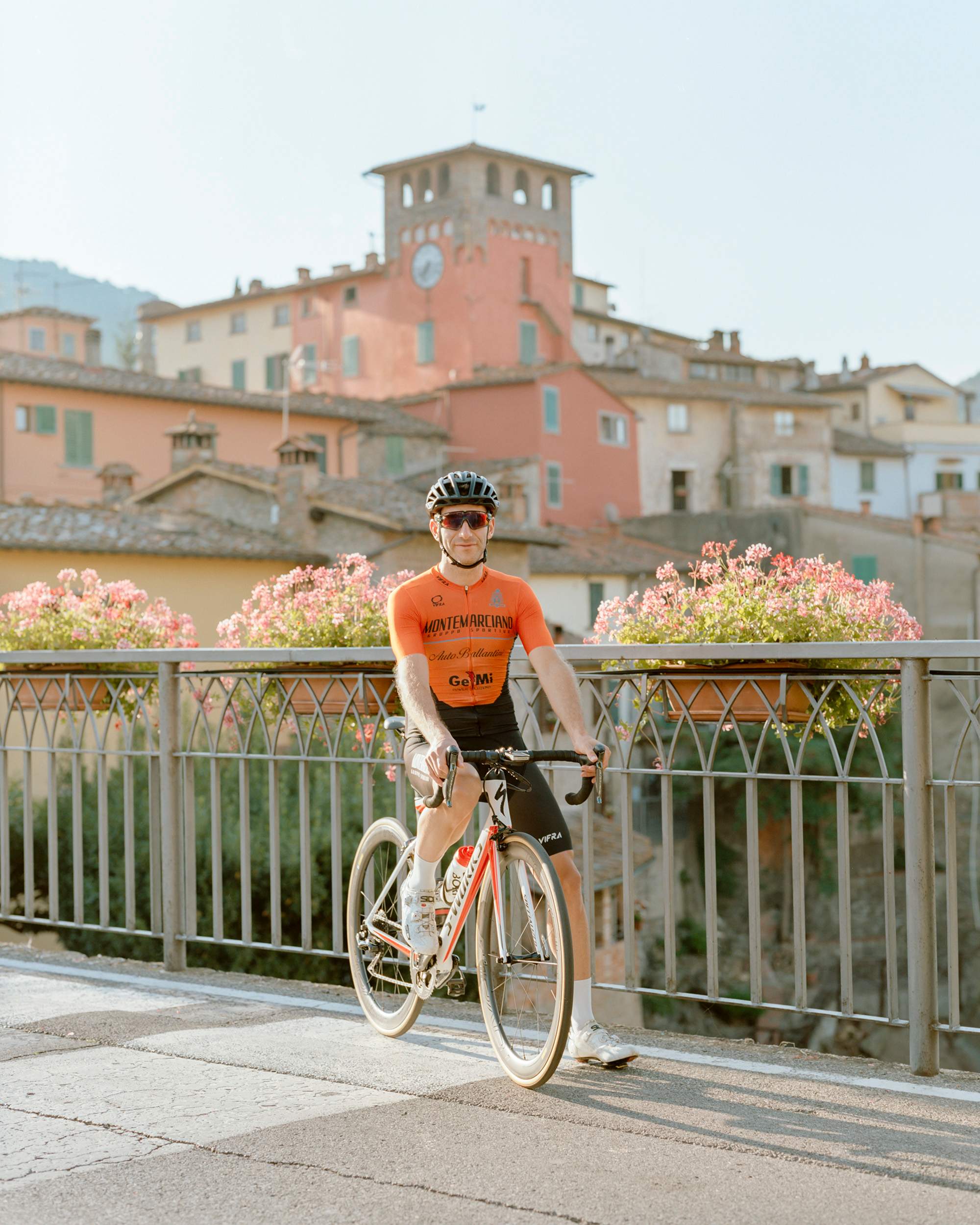 Italy's Ministry of Transport has dedicated €137m to the construction of new bike paths in cities with 50,000 residents or more, linking urban stretches to a growing network of cycling trails crisscrossing the countryside. The government is also reimbursing Italian residents who buy bicycles and electric scooters. "Bicycle travellers are more attentive travellers," says Alessio Papi, who alongside fellow entrepreneur Francesco Fabbrin founded the Valdarno Bike Road project in 2018. "They're the kind of travellers who want to experience Italy beyond the tourist highlights."
"It's crucial that we invest in slow tourism now that we have the chance to transform what tourism in Italy can be"
Located between Florence and the rolling vineyard-lined hills of Chianti, Tuscany's Valdarno region is often ignored by travellers despite its verdant slopes, vineyards and Romanesque churches. "It's crucial that we invest in slow tourism now that we have the chance to transform what tourism in Italy can be," says Papi.
The Valdarno Bike Road traces 250km through the region's picturesque towns, with 150 newly installed signs along the trail and an app to guide cyclists to museums, sights, hotels and restaurants. The privately funded project created links between existing trails and took just two years to complete, with financial help from the Enel energy company that's headquartered in the area. The Valdarno Bike Road will also soon connect with the Via dell'Arno, an ambitious, government-funded project of a 210km trail following the banks of the Arno river, guiding cyclists from the Valdarno up through the heart of Florence and all the way to Pisa and the Tyrrhenian shore.
---
7.
The train company with a soft-power ticket
Japan
By Junichi Toyofuku
Japan's trains are so famous for their punctuality, speed, safety and reliability that they've become something of a soft-power icon for the country, helping speed along a diplomatic agenda that goes well beyond simply boosting trade. Hitachi is Japan's key player in the private-sector train market. The consumer electronics giant – its influence spreads across industries from construction machinery to IT and energy – generated ¥580bn (€4.7bn) in sales from its railway business alone last year, with 79 per cent of that coming from overseas.
Building a reputation beyond Japan's shores hasn't been easy: Hitachi lost its first two bids in the UK at the turn of the millennium. Though Japan's railway network was always seen as a model for others, few believed that Hitachi could operate trains on a rail system that is not Japanese. Hitachi eventually landed its first UK project in 2005, selling 29 high-speed trains to run as part of the Channel Tunnel Rail Link project. It delivered the trains six months ahead of schedule and their maximum speed of 225km/h slashed the journey time from London to Ashford from 83 minutes to 37. "This project raised our profile in the European market," says Kunihiko Ito, head of Hitachi's global sales. That success helped it win a massive bid for the ongoing £7.6bn (€8.3bn) Intercity Express Programme, one of the UK's largest-ever railway projects.
Today Hitachi has 30 projects across 30 countries, from Taipei to Aarhus and Lima to Miami. But Ito says that what sets it apart remains its Japanese DNA. "We'd like to contribute to raising the image of Japanese railway."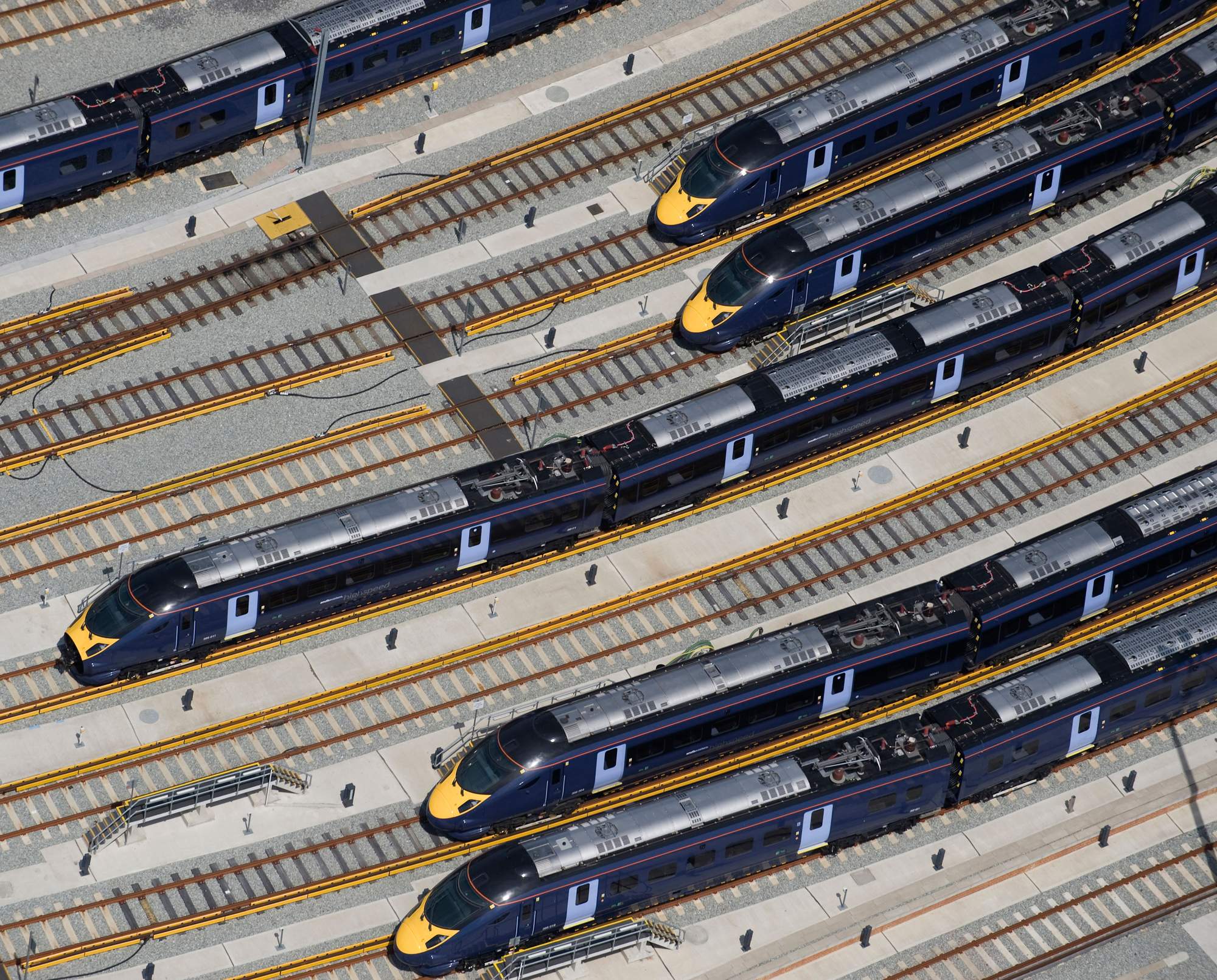 Taiwan: Service between Taiwan and Kaohsiung started in 2007. A Japanese consortium supplied the trains and signalling systems. The white-orange 700T train was inspired by the Shinkansen 700 Series of Central Japan Railway Company (JR Central).
India: Japan's second overseas Shinkansen commission will see the ¥1.8trn (€14.5bn) project shorten the journey from Mumbai to Ahmedabad – a distance of 508km – to a little more than two hours.
The US: Japan is eyeing a project in Texas that connects Dallas and Houston. Though Japan hasn't won this yet, JR Central, which runs bullet trains between Osaka and Tokyo, is providing knowhow to its US counterparts.
---
8.
Red Line electric rail
Bangkok
By Gwen Robinson
Thailand is upgrading Bangkok's infrastructure as part of the Bangkok Metropolitan Authority's "smart city" vision. At the heart of the ambitious scheme is a multi-billion-dollar transformation of the city's mass-transit rail services to link four provinces that form Greater Bangkok's urban sprawl and carry about 450,000 commuters.
Spearheading the scheme is the 33bn baht (€890m) first phase of the Red Line electric rail project and the 30bn baht (€810m) huge new Bang Sue Central Station in the city's old town. Now nearing completion, the four-storey station will replace the 104-year-old Hualamphong Central Station, bringing together suburban and long-distance trains, as well as the Airport Rail Link and planned high-speed trains. 
As Bangkok's first electric railway line, the Red Line will supplement the existing metro and skytrain network with an initial 26km route stretching from Bang Sue to Rangsit in northern Bangkok, followed by an extension heading 14.6km west to Taling Chan. After delivery in May of the first batch of a total of 25 self-propelled train carriages from Japan, trials of the Red Line's first phase are set for October, with plans to launch the service and new central station in January. And that's just the first phase: plans are for nearly 90km of new urban electric rail lines at a cost of 80bn baht (€2.16bn).
Persuading people to abandon cars for the new mass transit options will take time, says Yongtanit Pimonsathean, who is drafting a 20-year urban-development plan for the Thai transport ministry. Crucial for success is "pricing, travel time, network coverage and urban development around stations," he says. It's worth the effort: better mass transit would ease congestion and air pollution in Bangkok.
---
9.
Making Marrakech electric
Morocco
By Christopher Cermak
The El Baroudi name is known in Morocco for the tea-making empire SITI, started by Mustapha El Baroudi – but his two surviving sons are branching out. Hamza El Baroudi (pictured) heads up a venture called EMOB that produces electric scooters and bikes in partnership with German insurer Allianz and the French subsidiary of China's Norinco group. It's backed by city authorities in Marrakech that want to reduce air pollution blamed on standard mopeds.
The biggest stumbling block is cost: El Baroudi says that small consumers can rarely afford to think green. To keep prices competitive, EMOB is selling the vehicle without the costly electric battery, which is rented instead as part of a broader insurance package backed by Allianz. El Baroudi says that it's worthwhile for insurers because the bikes' lower speed, ideal for cities, makes them less accident-prone.
The first goal is greater visibility on Marrakech's streets. Aside from a showroom, more than 200 scooters were bought by the authorities to patrol the Medina. A scooter-sharing concept is also in the works, though investment was slowed by the pandemic. El Baroudi remains optimistic. "The more the citizens see these electric vehicles in circulation, the more they will trust them," he says.
---
Q&A: Jozsef Varadi
CEO,Wizz Air
Jozsef Varadi is co-founder and CEO of Hungarian airline Wizz Air. Despite the bleak economic picture in 2020, he's confident that Wizz Air is primed to prosper. It's pushing ahead with planned deliveries of planes and opening new routes, including to Abu Dhabi. He speaks to Monocle about the challenges and opportunities ahead.
How are you dealing with the current crisis?
We have been running the business not only for profit but for long-term resilience. No one knew that it would be a pandemic but it wasn't unexpected that something would significantly affect the industry. We had been building up cash reserves so that when the coronavirus broke out, we had the highest level of liquidity. Once you have that position, you start looking at life slightly differently.
You've said that a third of global airlines could potentially fail because of this crisis. How do you see this going forward in terms of opportunity?
I'm an economist and one of the first things you learn is that the economy goes through cycles. Some people will suffer but some can take advantage. We are seeing a number of airports coming to us because we are one of the very few who can deliver incremental capacity while all other [airlines] are contracting.
"We have been running the business  not only for profit but for long-term resilience"
How do you decide which markets to move into next?
We love secondary airports; we love regional markets. Abu Dhabi is a good example: we don't see an established low-cost carrier model in the UAE so we have a unique opportunity to bring in a model that adds value to the country.  [For now] the focus will remain on regional airports and on central and eastern Europe as well as further east.
How do you see the airline market developing?
The good news is that we entered this situation with €1.5bn in cash reserves. In the worst-case scenario – that we are not able to fly a single flight – we would still be in business two years from now. There is a mess with regard to [government] restrictions; they have been fairly unpredictable. The way you can plan for this is to be on standby. Our aim is to act on an upbeat scenario: whenever we can fly, we will fly.
Photographers: Salva López, Daniel Gebhart de Koekkoek, Marvin Zilm, Mehdi Triqui, Luigi Fiano, Thomas Ekström. Image: Alamy