Business: Retail Survey / Global
Purchasing power: Part 2
Everything in its right place
How well-chosen retail outlets helped Brisbane establish a new community.
There's always a risk of large mixed-use developments feeling a little soulless. At Brisbane's West Village, however, Japanese developer Sekisui House has created a bustling neighbourhood by dedicating more than a third of the 2.6 hectare site to green space and bringing in independent retailers. The result is a hub that residents and visitors alike can drop into for staples, special occasions or just to relax in the parks that run through the precinct, which is 10 minutes from the cbd.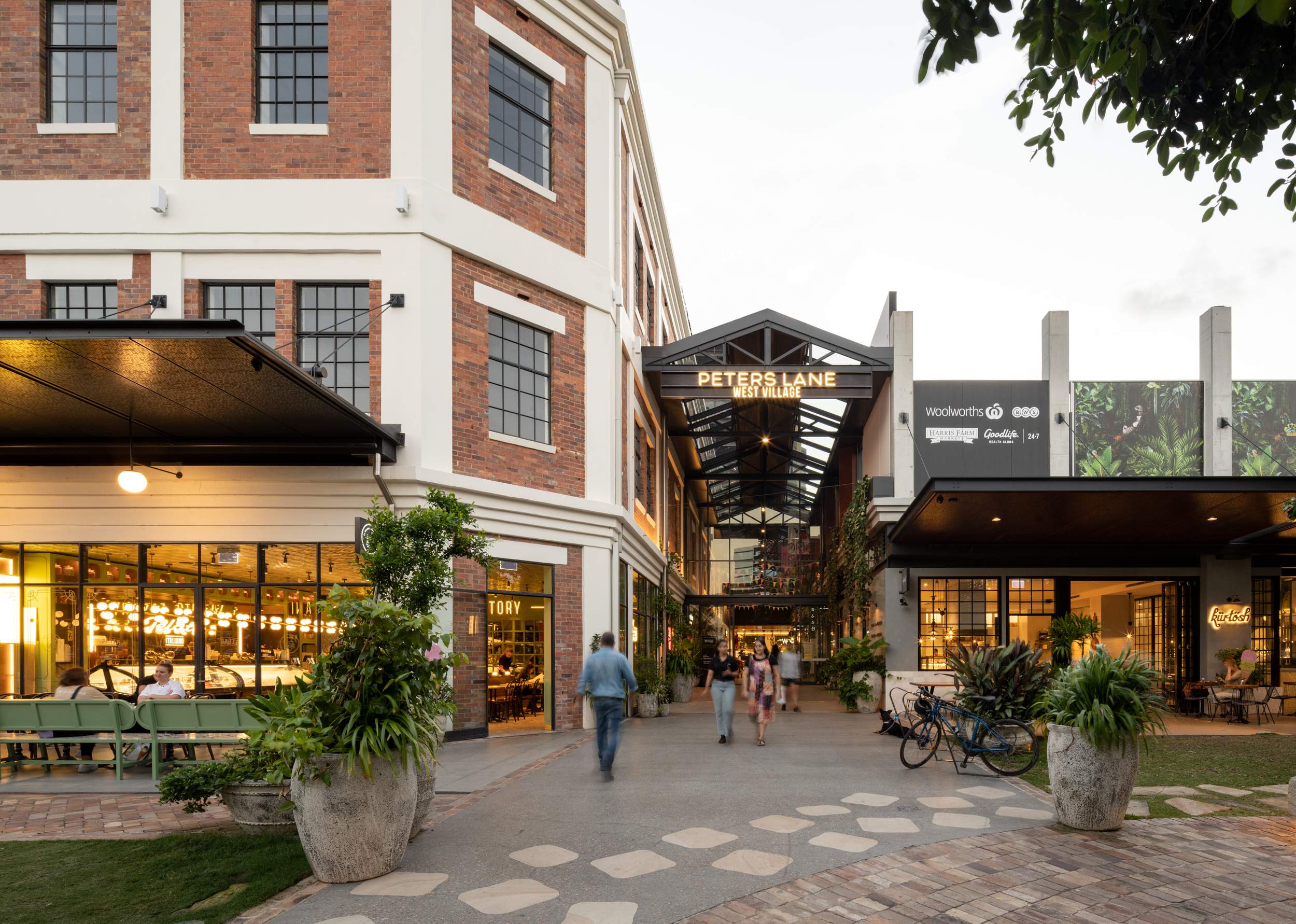 "Our retail tenants were chosen for their unique offering and the value they could add to the West Village lifestyle," says Hide Seguchi, Sekisui House Australia's ceo. The au$1.1bn (€640m) development, in Brisbane's West End, mixes fashion and convenience stores, casual and fine dining, as well as medical services and cosmetic retail. Visitor numbers have outstripped Sekisui House's projections, with about 18,000 people a day coming through on weekends and up to 26,000 at its busiest times. Retail space is sought after and demand for the development's units – now fully leased – has nudged rents above the area's average.
Residents were unsure about West Village when it was proposed in 2014 but attitudes have warmed. Lindsay Anderson, who has lived in the area for 10 years, stops by regularly with his dog. On a midweek morning the two are lounging under the large fig tree on the grass common. The precinct is "a good addition to the neighbourhood", he says. "It's cosmopolitan, multicultural. Between the supermarket, the shops and the restaurants, you have everything you need." That sums up West Village's appeal to a new, growing market, says leasing agent Julian Musial. Post-pandemic, people are interested in spaces where they can live, work and shop: "a lifestyle precinct... where everything you need is in one place".
"West Village is cosmopolitan, multicultural. Between the supermarket, the shops and the restaurants, you've got everything you need"
Sekisui House's focus on independent retailers helps West Village feel grounded in the West End. Take optician For Eyes Only, which has been in the area for more than 20 years. Now inside the Peters Lane building, it stocks a range of handmade eyewear, including Ahlem, Le Coq Et L'Abeille and Thierry Lasry. Family-run grocer Harris Farm Markets, which occupies most of the 100-year-old Peters Ice Cream Factory at the heart of the site, is also a draw. Next door, Tel Aviv-based gelateria Anita has its latest outpost. 
The most striking part of West Village is The Eaves, which acts as a "front door" to the site and has a façade that draws the eye to the Peters Ice Cream Factory. "In Brisbane, we don't have many heritage buildings, so it's important to celebrate them," says Kelly Geldard of city-based architects Bureau Proberts. The upper floors of The Eaves are occupied by a day spa, as well as a doctor's practice, dentist and chiropractor – valuable services that are often forgotten in the planning of large new developments. 
On the ground floor, Greek restaurant Yamas is packed. "Being in Queensland, I liked the openness, the feel of the space and being able to enjoy the good weather," says owner Michael Tassis of what led him to open in West Village. Yamas has been seating about 2,000 diners a week – a mix of West Village residents, shoppers and locals from West End, where there's a large Greek community. "My worry was that Greeks will tell you if it isn't right," says Tassis. "But the community appreciates it." 
---
Secondhand opinion
Luxury resale
The luxury fashion industry has traditionally sneered at secondhand goods. Fashion is built on the concept of seasonal renewal, with many brands producing four collections a year. To maintain healthy cash flows, labels want shoppers to fill their wardrobes with "newness". But luxury retailers have been facing pressure to produce less, reduce their environmental footprints and embrace more circular business models. Disruption has arrived online in the form of secondhand marketplaces such as Vestiaire Collective in France and The Real Real in the US. 
Yet these platforms have faced criticism too. A lack of quality control meant that many sites were flogging shoddy counterfeits. But the businesses have kept on growing. To build trust, Vestiaire improved its service with new fulfilment centres and teams of luxury experts recruited from auction houses such as Christie's and Sotheby's. The changes have allowed the resale market to polish its image, with secondhand items now dubbed "pre-loved" rather than "used". 
Luxury retailers can no longer ignore the secondhand market. According to management consultants McKinsey, it's a €28bn economy set to grow about 15 per cent every year. That's why brands such as Alexander McQueen and Florence-based Luisa Via Roma partnered with Vestiaire to sell old-season stock. It's a huge shift in an industry that had been known to burn unsold stock so as not to dilute the value of new collections. 
S0 how will the resale market maintain momentum? There's a lo-fi solution: community-based, independent resellers opening bricks-and-mortar spaces to showcase collections. A case in point is mother-and-daughter-run Sellier, based in London and Monaco, which now has a reputation for good-as-new Hermès and Chanel accessories. "Having a physical space offers people comfort; they know we're not just a bot on Instagram," founder Hanushka Toni tells monocle. The solution to fashion's waste problem is not to sell things differently; it's to scale back – and put the human at the centre of business.
---
Best: Brand revival
Big for its boots
Business is booming for outdoors brand LL Bean and its open-all-hours HQ.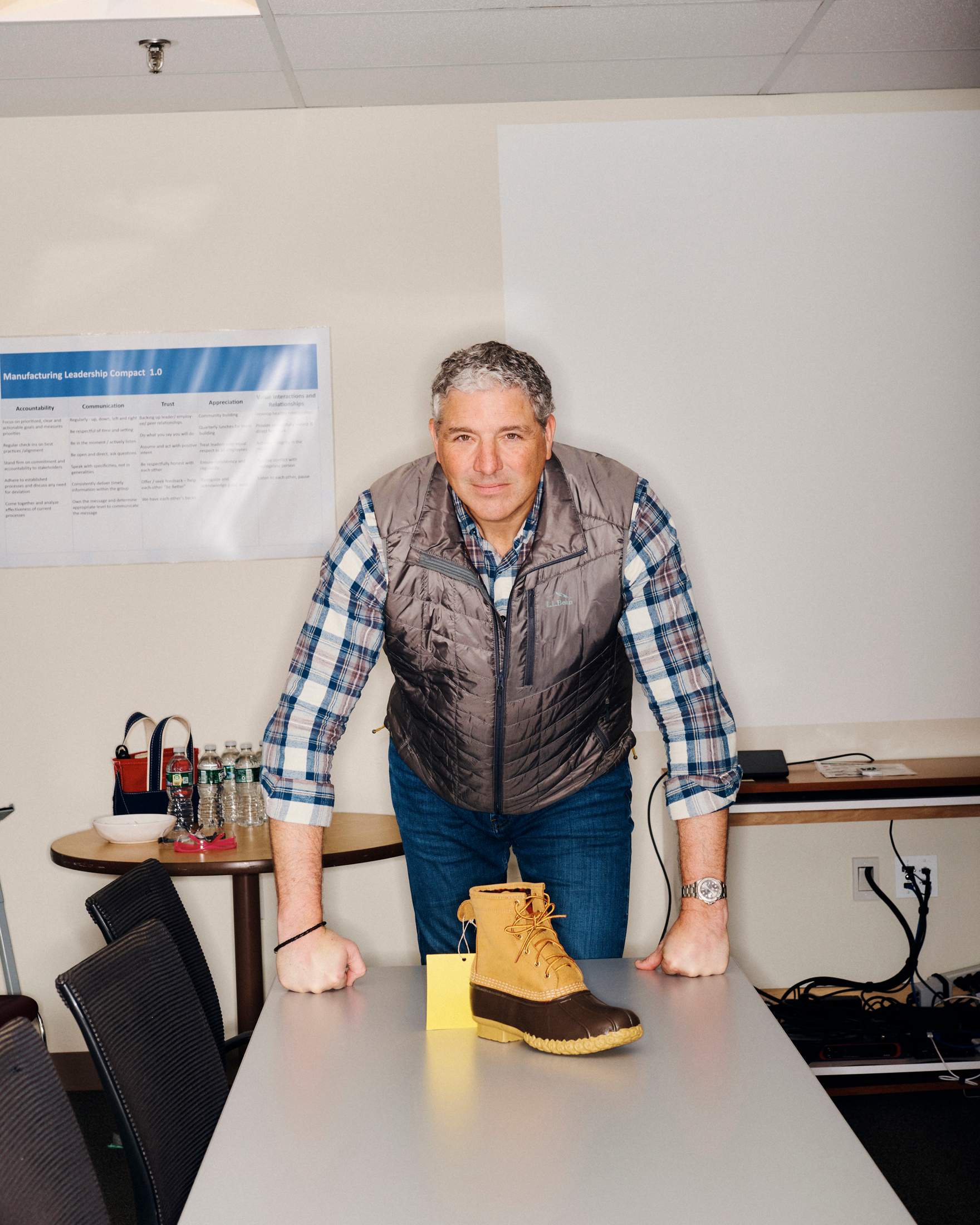 "This has to be a place where people can walk in and feel at home," says Shawn Gorman, executive chairman of LL Bean, as we descend the grand staircase of the flagship shop in Freeport, Maine. His great- grandfather, Leon Leonwood Bean, planted the flag here 111 years ago as a business selling outdoor gear to adventurous souls that became pure Americana.
Looking down to the in-store trout pond, Gorman outlines how the two-hectare retail campus is about to be refreshed to the tune of $50m (€47m). The taxidermy moose will stay, he says, but the experience will be "elevated", with simple graphics and natural textures that emphasise the restorative value of the great outdoors. 
LL Bean opened in 1912 as a hunting- and-fishing outfitter selling out of a three-page catalogue. Over the decades, its remit expanded and by the 1990s almost every middle-class kid in America had something bearing the Bean logo. The classic Bean Boot – half-wellington, half-hunting shoe – was designed in 1911 for stalking through marshland and never quite went out of style. Every one is still stitched just outside Freeport.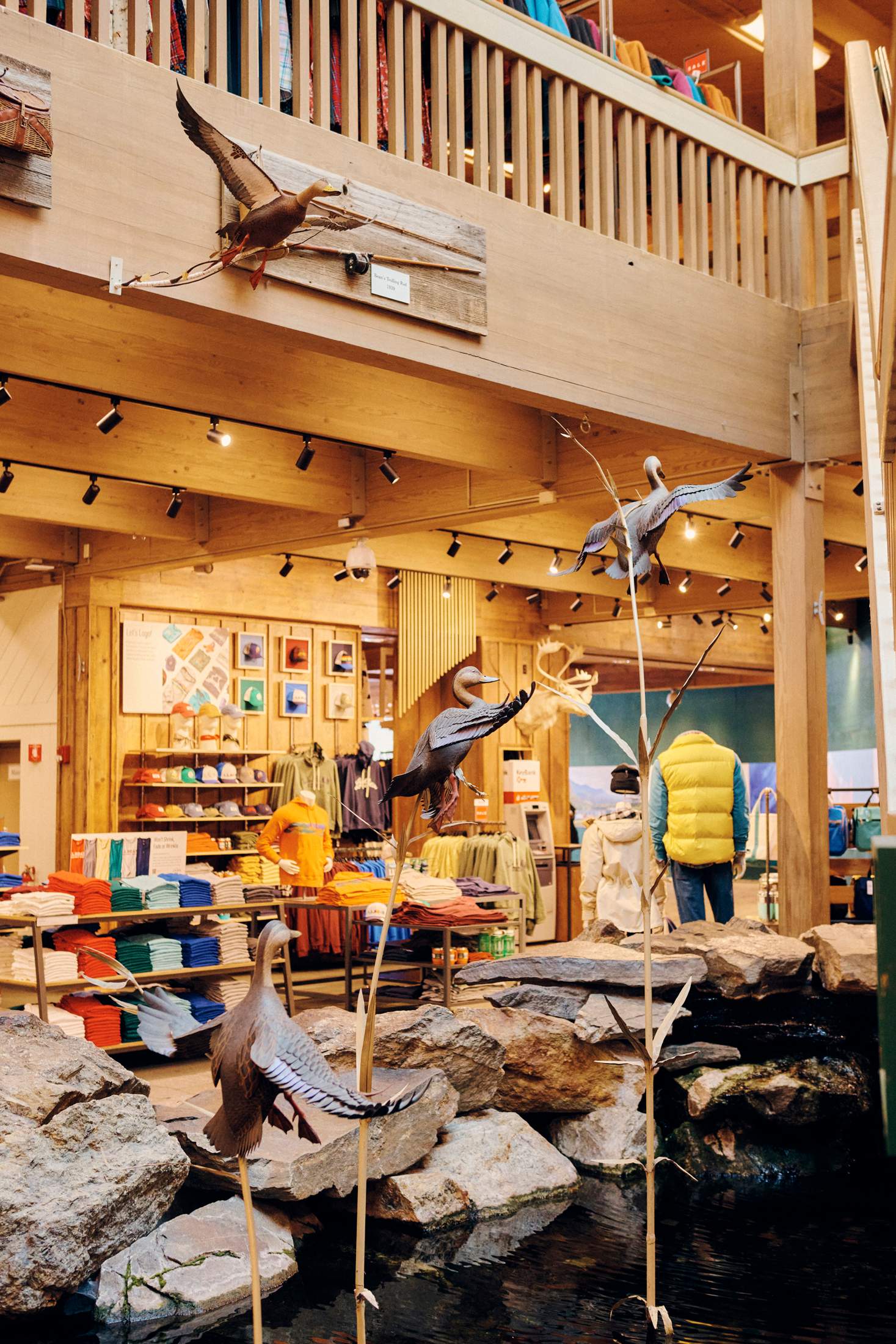 Fortunes ebbed and flowed between the generations but, in 2022, amid a boom in outdoor gear, the brand reported revenue of $1.8bn (€1.7bn) and its biggest growth in sales in 30 years. "I've always been a huge advocate for retail growth," says Gorman, the fourth generation to take the reins of this entirely family-owned business. Under his tenure, the number of shops in the US has doubled to 56, while in 2019 LL Bean opened its first shop in Canada. Six more shops are due to open across North America this year. The future of retail, he says, is in part about reconnecting customers with the brand's outdoorsy roots. 
LL Bean timeline
1911: Leon Leonwood Bean invents the Maine Hunting Shoe, now called the Bean Boot
1917: The first LL Bean retail shop opens in Freeport, Maine
1951: The flagship shop opens 24 hours a day, all year round
1967: The death of Leon Leonwood Bean makes national news
1987: The signature logo of a sunrise over Katahdin Lake is introduced
1992: LL Bean expands internationally opening three shops in Tokyo
2000: The first LL Bean shop in the US outside Maine opens in Virginia
2013: Shawn Gorman, great-grandson of the founder, becomes chairman
2023: LL Bean's new global headquarters opens in Freeport
As LL Bean grew over the decades, the product range ballooned and the true heritage brand drifted from its rugged origins. "We got a little carried away," says Gorman. "We built a great base in the 1970s and 1980s but when those customers started ageing, we adapted with them and moved into pinpoint Oxford shirts and penny loafers, which wasn't true to what we were." One of the first things Gorman did as chair was to halve the assortment.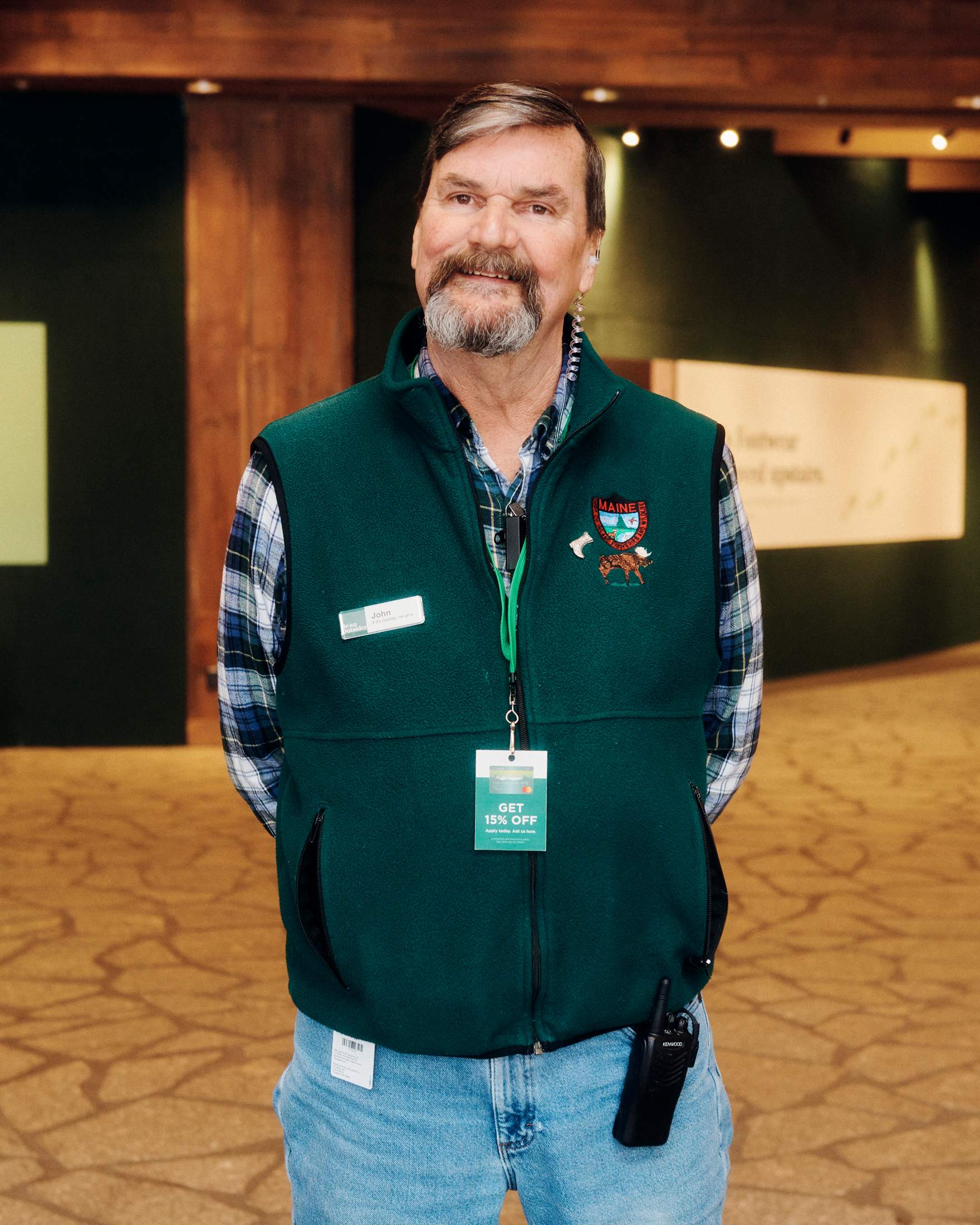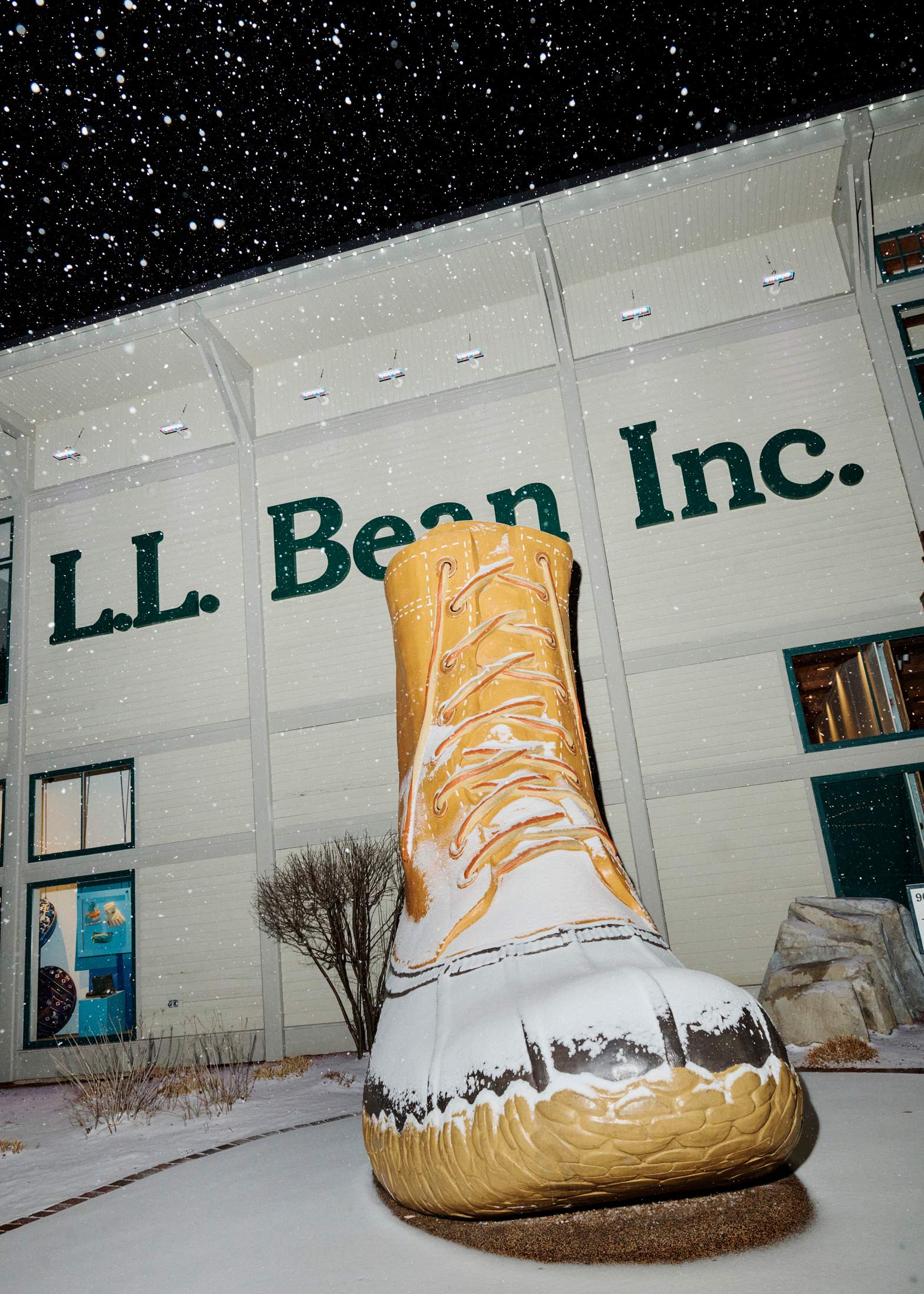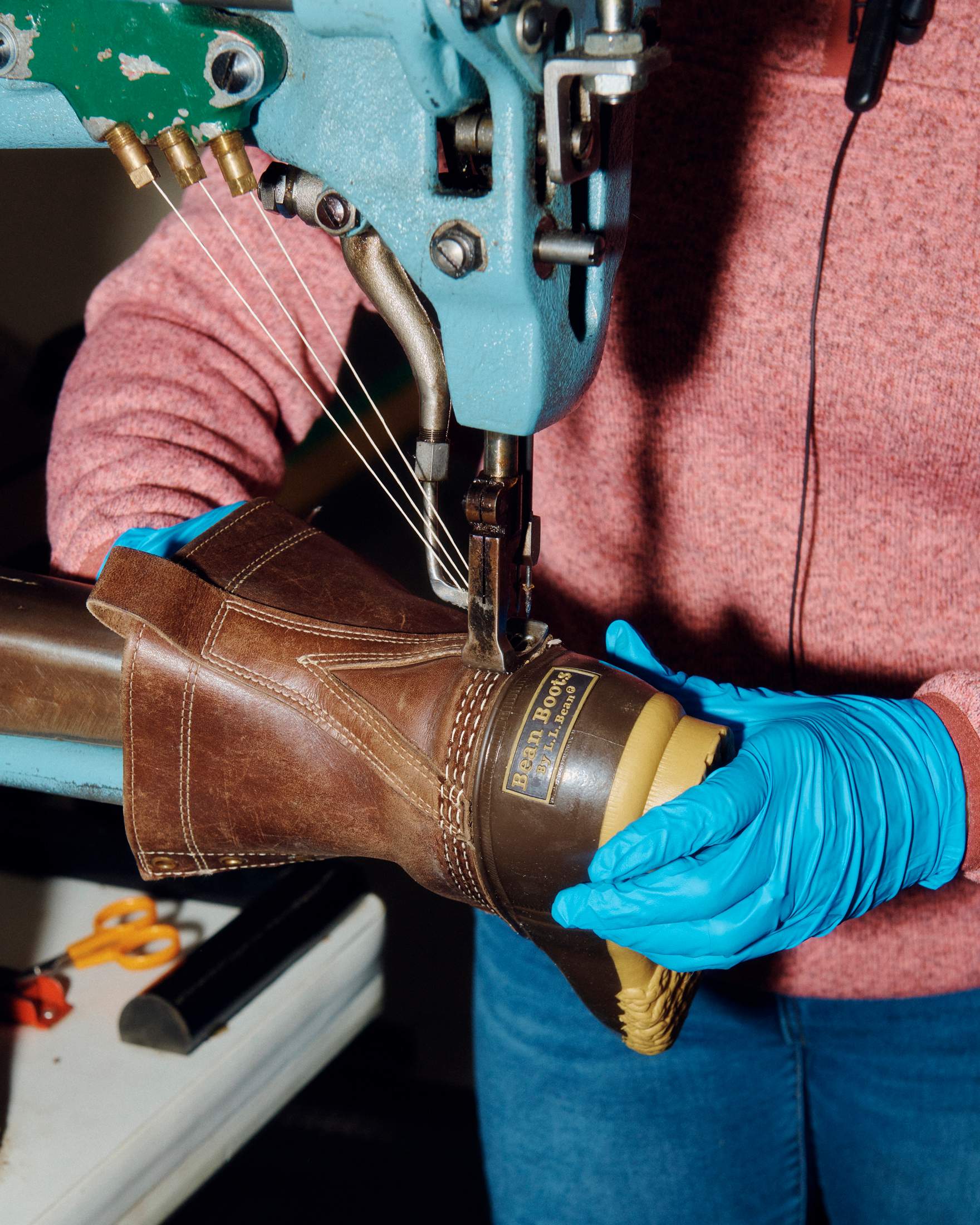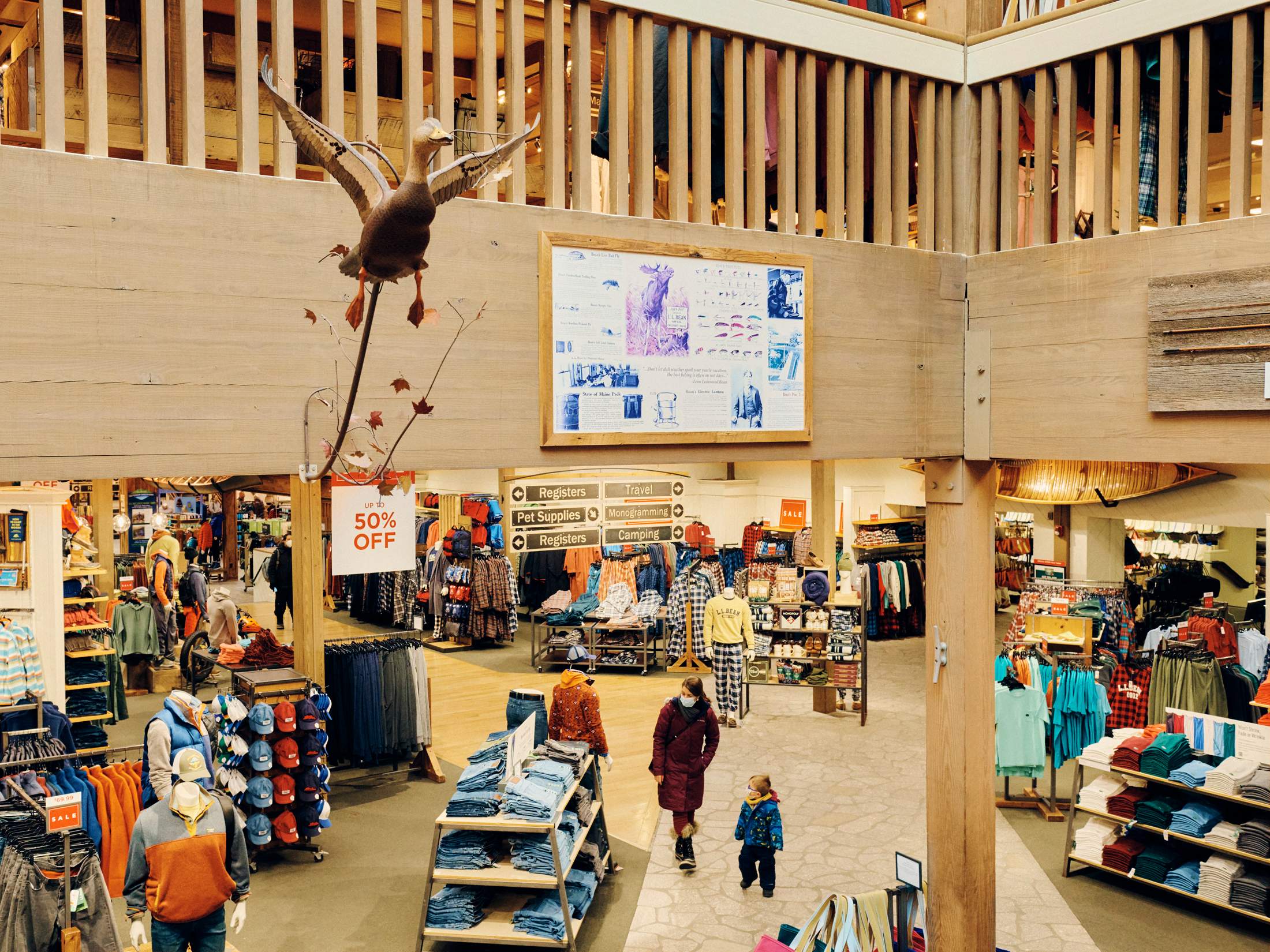 Unlike many outdoor brands, LL Bean has resisted flirting with streetwear and does few collaborations; it has never tried too hard. That was what appealed, in the 1970s, to Japanese menswear editors who adored the brand's unpretentious yet preppy Ivy League style. LL Bean's first shop outside Maine was in Tokyo, opening in 1992.
"We have never gone seeking fashion but fashion has found us on occasion," says Gorman. "Our products have to be authentic because our customers know us well."
Devotees still travel from all over the US to the Freeport flagship, which stays open 24 hours every day, just in case passing hunters or fisherfolk need to pick up kit on their way to the wilds. Only John F Kennedy's assassination, the death of the founder and coronavirus have closed it. It's the sort of service only a family-owned business would provide. As is the foundational promise to repair every pair of Bean Boots, however old or battered, for a mere $40 (€38). 
At the factory, we're shown a wall of letters that have been sent to the repair team over the years – a man who found his dad's old size 11s, for instance and wanted them fixed up so he could literally walk in his shoes. "I love to be able to create things that I feel a part of," says Connie Rose, a Bean Boot leatherworker who also leads the morning callisthenics. "It's a big family here."
---
Bagging-area blues
Staffless supermarkets 
There's a game that British people sometimes play, only half-ironically, in which they rank their favourite supermarket. Such is the dominance in the grocery sector of a quartet of uninspiring players ("the big four") that it's a bit like picking your favourite dictator. The two largest, Tesco and Sainsbury's, constitute 43 per cent of a market worth £212bn (€239bn) in 2021. But even these behemoths of retail are but minnows compared to their brethren in Big Tech.
For Amazon (market value: €970bn), Tesco (€21bn) is a mere granule of sugar on a shop-bought doughnut. In 2021, the technology giant hurled itself into British supermarket retail armed with the same tool it used to disrupt the bookselling business in 1990s Seattle: technology. Amazon Fresh's "Just Walk Out" system employs sensors that detect when an item has been lifted off a shelf and placed into someone's basket. Its price is then charged, using more sensors, to the shopper's Amazon account.
When its first UK grocery store opened, Amazon's dominance seemed inevitable. But while the Californian giant opened dozens of outlets across London last year, the company announced in February that it would be closing several of them due to a $720m (€673m) slump in the value of its bricks-and-mortar portfolio. This appeared to signal Amazon's loss of faith in its ability to disrupt the sector. Its ceo, Andy Jassy, said Fresh had failed to provide a "different offering" to consumers.
He was right. Even as their ubiquity and profits have soared, the UK's biggest supermarkets have cut staff in favour of automated checkouts. These much-maligned tills blare out robotic instructions that make supermarket shopping, an already tedious experience, even more disassociating. Amazon Fresh, which merely offers improved technology and fewer underpaid staff, represents a small change rather than an epochal shift. A truly disruptive thing would be to focus on the human connection that shops can provide.
Unfortunately, Jeff Bezos is about as likely to recognise this as he is to send a self-checkout till on a rocket to Mars.
---
Best: Ambitious expansion
Butterfly effect
The Mall Group chairwoman's plan for Thai retail is taking flight.
If Bangkok is a city of shopping malls then Supaluck Umpujh is one its chief architects. The chairwoman of the Mall Group, one of Thailand's largest mall operators, has spent the past 30 years building up the standard of retail in her hometown and the 68-year-old is not done yet. This December, Umpujh is due to cut the ribbon on Emsphere. The 200,000 sq m mixed-use development on Sukhumvit Road, Bangkok's bustling retail artery, is a stone's throw from two of her existing developments, Emporium and Emquartier – she would like to rename the area "Em" district. "You will not recognise Emsphere as a mall," Umpujh tells monocle from her house in the Thai capital; a tropical oasis full of Banyan trees, waterfalls and fish. "It's the future of retail but the service will still be superb."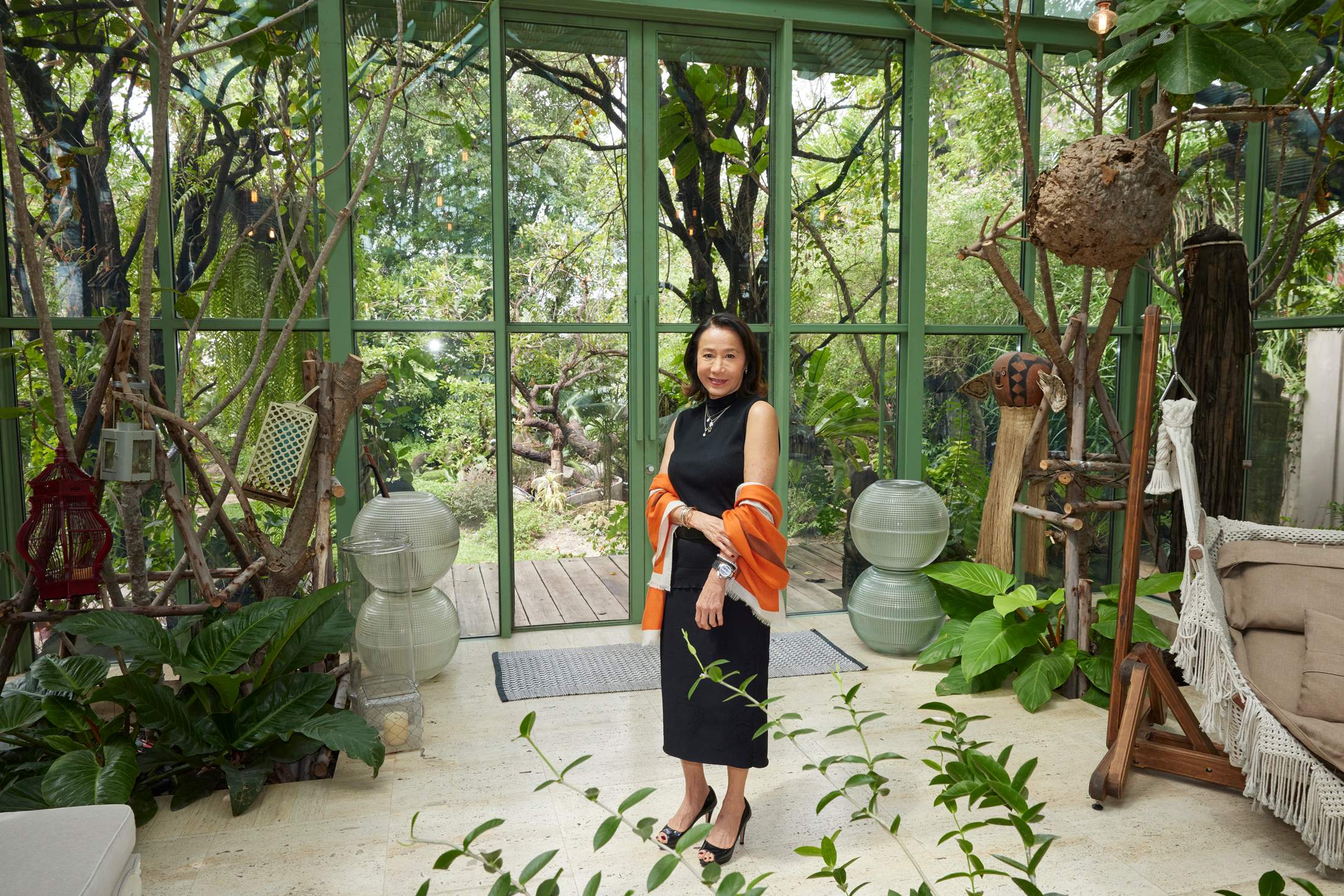 The Thai retail tycoon has staked €381m on her newest property and signed Ikea as her anchor tenant. Although the Swedish firm's first city-centre shop in Bangkok is already causing a mix of excitement and dread among residents of the central Phrong Phom, Thong Lo and Ekkamai districts, Umpujh says that she doesn't simply want to add more shops to Sukhumvit; she wants to entertain. Her biggest coup has been to convince American live-entertainment giant aeg to partner with her for its first arena in southeast Asia – a win for Thailand and a platform for Empshere to attract a fragmented consumer market. Events at the 6,000-seater auditorium will include music, sport, e-gaming and film. "You can't underestimate the value of entertainment," she says with the wisdom of a nightclub owner (she also owns two bars inside Emquartier). "After coronavirus, people will buy a drink far easier than buying something from h&m."
Umpujh's wisdom
1. Strike deals on the dancefloor. When execs from a top luxury brand needed convincing about the Thai market for high-end handbags, Umpujh took them clubbing. "I love music and to entertain," she says.
2. Mall operators shouldn't become retailers. "If I had my own brands they would get the best sites, which would frustrate others," she says. "I win when my tenants know I have no conflict of interest."
3. Lose small, win big. "In Thailand we know how to compromise. I tell my team that it's OK to lose a bit to make others happy."
Umpujh has a history of dreaming big. Emporium brought European luxury brands, such as Chanel and Hermès, to the Thai capital, while Siam Paragon continues to be one of the world's most popular shopping destinations. "I never studied retail, so I always think outside the box," says Umpujh, who left behind her pharmacy career to join her father's company. Four decades later she looks every inch at home in the industry. 
Known as Elle to her friends and nicknamed "Iron Butterfly" by the business media, she refers to herself as both a "great warrior" and a "teacher". She enumerates a number of guiding principles, the sum of which can be boiled down to two universal truths: people like new things and humans are social animals. "I've seen the failure of the department stores in the US and it's because of the format," she says. "Difference is key and that's what the US forgot. When you don't follow a format you need to come up with something else."
Umpujh is due at Emsphere today for a site visit. The pandemic delayed the opening by several years but the downtime hasn't prompted any soul-searching from her about the longevity of a predominantly bricks-and-mortar retail business that currently employs about 10,000 people. Umpujh says that her father taught her to see the opportunity in every crisis, and coronavirus was no different. Wealthy Thais went on a domestic spending spree during the travel lockdown and this bump in luxury sales offset a slump in demand at the six other shopping malls operated under the Mall brand. "By the end of 2022 our sales were on par with 2019 but our profits were higher because we cut down costs," she says.
The ceo says that luxury brands cause her the biggest headaches, not technological disruption or competition from rivals such as Central Group and Siam Piwat. "They think they control the world," she says, sharing war stories about winning over French fashion executives and turning Italian billionaires into friends. "All of these brands have passed through windy, stormy and sunny days and they know that everywhere they go with me there is trust and confidence." 
The next, even more ambitious part of Umpujh's retail masterplan for the Thai capital has already appeared on the horizon. When it opens in 2026, the 93,000 sq m Bangkok Mall will be five times the size of Emsphere. Thailand is eyeing France's title as the world's most-visited country and Bangkok's chief architect is building a "city within a city" to entertain an expected influx of wealthy Chinese, Indians and Indonesians. "Bangkok Mall will be my legacy," she says, nixing any talk of retirement. With no children, the family business will one day pass to her nieces and nephews. "I learn from them about new fashion and technology – and what they get from me is experience."
---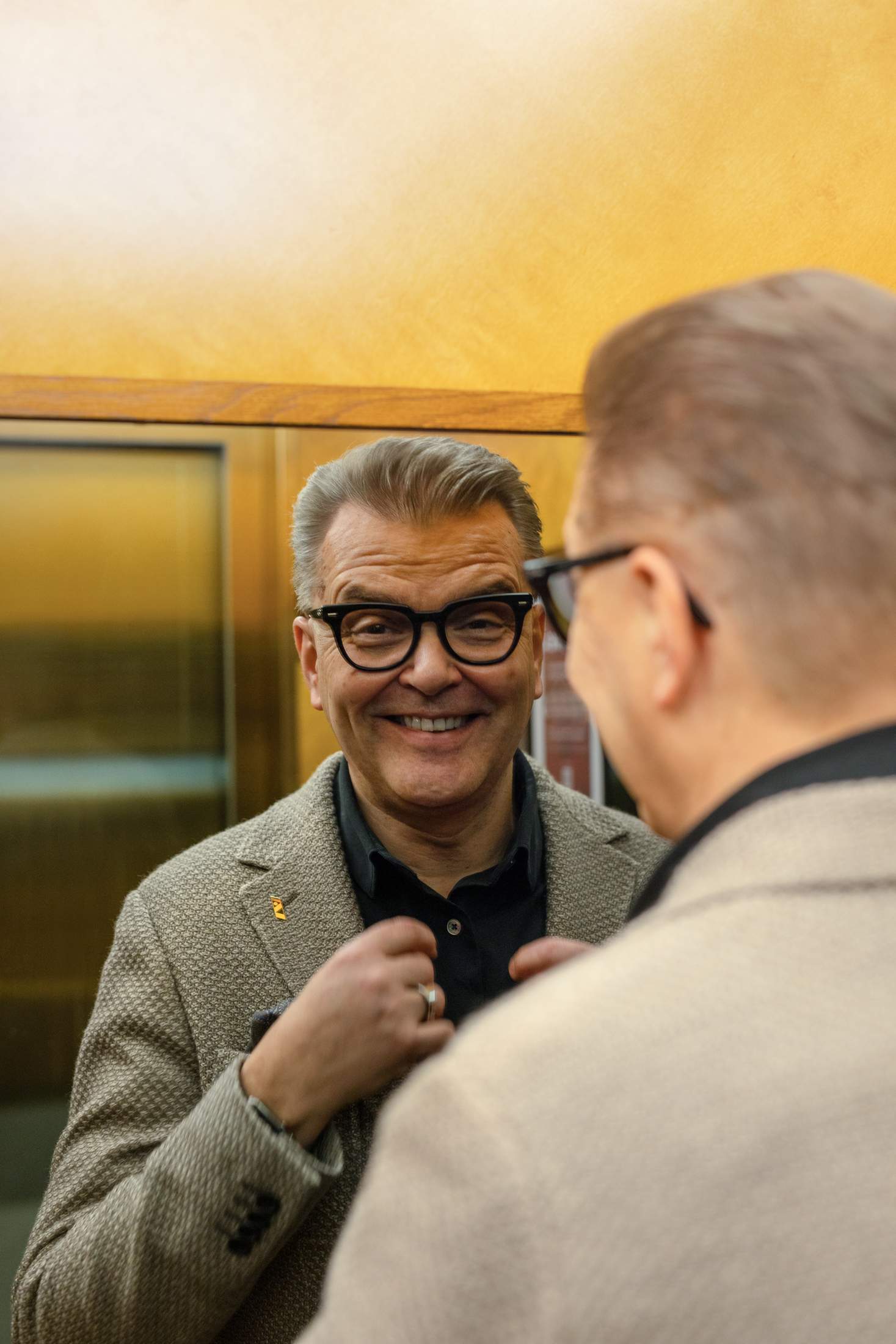 Future-proofing 
How a Finnish shop has revived an old brand.
Jari Latvanen took over as ceo of Stockmann Group and its storied Helsinki department store in 2019. The company was in debt after a failed expansion into Russia and the costly, but ultimately useful, €867m purchase of Swedish fashion giant Lindex. Meanwhile, its department store was losing customers to online shopping. Now the group's fortunes are back on track, showing a profit of €527m in 2021. Stockmann also posted revenue growth over the first three quarters of 2022. 
monocle meets Latvanen to discuss why a great brand shouldn't try to be everything to everyone and why loyal customers count more than passing ones.
How did you revive Stockmann after so many challenging years?
The key was returning Stockmann to its roots as a premium retailer. When I joined we were trying to sell everything to everyone and that was not working. We are now a premium department store, not a shopping mall. We need to offer our customers a "wow" factor. We also improved the level of customer service, something Stockmann was previously known for. 
Stockmann is one of Europe's oldest department stores and the group dates from 1862. Can this history help?
This heritage is a valuable asset. Stockmann has always been more than just a department store. We have been an attraction. We had Finland's first escalator and the latest in international fashion before the others. These are the roots that we are returning to. We want to offer exclusive experiences such as fashion shows; we want to be a location not only for shopping but also for meeting your friends and for enjoying great food and drinks. Three quarters of our revenue comes from our loyal, returning customers: that's an incredibly high number in this industry. 
Many heritage retailers are in crisis. What is your advice to them on how to turn things around?
Know your company's dna. That's the thing that made you successful in the first place. Too many companies try to transform themselves by following the latest fad. Why do what everyone else is already doing? Listen to your customers and your employees to better understand the brand. Focus on the things that you can change. 
Tell us about the future.
Department stores, unlike malls, are often in city centres. We need to use that to our advantage: we are where the people are. People can buy most things online – we need to accept that – and, of course, be part of that too by having a good cross-channel strategy. We need to give people a reason to visit us. As for Stockmann specifically, we have a lot coming. In our Helsinki flagship, we'll open the largest toy shop in the Nordics as well as a new children's department. We have some exclusives coming and we'll focus more on men's fashion, as men under 35 are the fastest- growing customer segment for us. We'll also focus more on circular economy by opening things such as trainer bars where people can get their favourite shoes fixed. After years of crisis, Stockmann can now focus on growth.
Jari Latvanen's advice for reviving a dented brand
1. Hone in on your unique selling point.
2. Listen to your customer. Then surprise them with your dedication and great service.
3. Have a razor-sharp focus on your chosen strategy.
4. Know your market but stay agile.
5. Department stores may be an in-person business, but you still need to embrace digital opportunities to tell your story.
Noble village
Good retail makes neighbourhoods and fosters communities. But what exactly makes for a good experience that will see people do more than just shop? Here's how to do it right.
Online shopping means that we can have most things delivered straight to our door. But do we really want to live in a world that is filled with warehouses and delivery vehicles? Retail done right can still be an easy sell. Shops can connect communities, buoy good brands and add life to cities: think of The Commons in Bangkok or Coal Drops Yard in London. Sadly, good retail outposts – in which to shop, eat and get a decent culture fix – are few and far between. That's why monocle is planning its own. 
While we believe that good retail is grounded in its location, we have compiled a wish list of global talent to help out. The result? A destination that gives back to its neighbourhood, supports talented individuals and is a pleasing place in which to linger. So grab your bag and bring your wallet, we're off for a spree in Monocle's perfect retail village.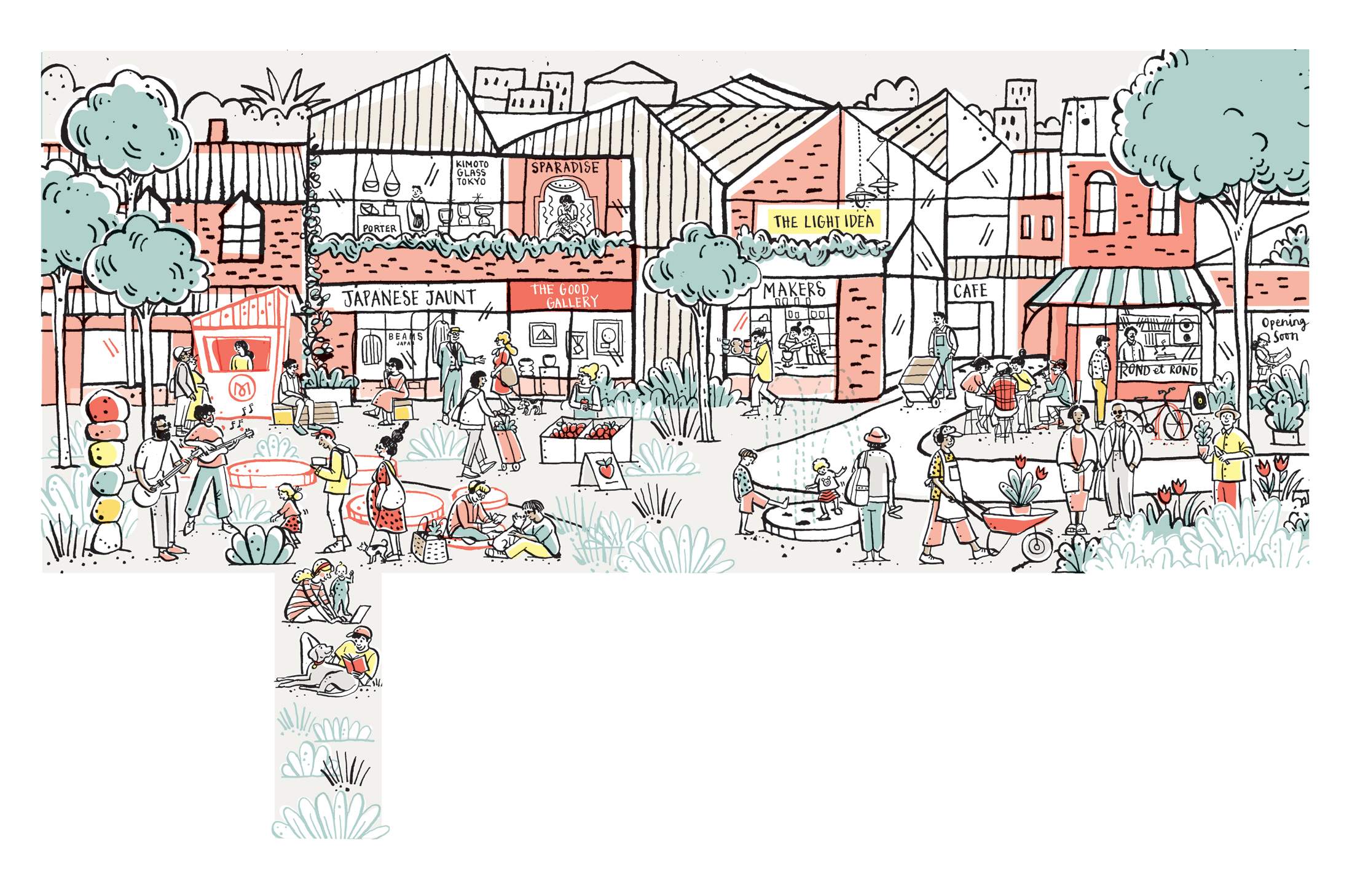 Sense of arrival
There's something for everyone at our shopping village, which sits in a neighbourhood that is in need of a little retail love. Residents amble here, while visitors from further afield arrive via nearby transit; there's also valet parking and the option to have your car cleaned and buffed while parked out of site in the underground car park.
Walkable streets
A main thoroughfare peppered with little laneways and leafy plazas offers space to stretch your legs and enjoy the village feel. Handsome timber and steel benches, finished with bright pops of colour by Czech brand Mmcité, provide spaces for weary legs to rest and for thirsty shoppers to enjoy coffee from one of our nattily branded kiosks.
Good greenery
No cost is spared when it comes to the planting: mature trees sit in dense beds of low greenery designed to stay fresh across the seasons. The vegetation also offsets the village's environmental impact.
Space to enjoy
Our water features and fountains babble calmly and create safe spaces for tots to paddle when the weather is clement. Meanwhile, people perch on seating platforms, taking in performances from the city's musicians and quality touring acts (rumour has it that several chart toppers got their first break here).
Accessible architecture 
To ensure that the upper floors feel connected with the hubbub outside, our buildings are no more than three storeys high. They're made from a tactile mix of recycled bricks from an old factory across town, cross-laminated timber and natural materials that will age gracefully.
Who we would tap:
We would ask Australian design firm Richards and Spence to lay out the village, which would seamlessly flow into the surrounding streets, making it feel part of the city.
US landscape architect Kathryn Gustafson would craft the flow of outdoor spaces. She might suggest capturing rainwater and including discreet solar panels.
Zürich-based Schweitzer Project would handle the shop fit-outs, striking a balance between busy and minimal.
Fabien Lombardi of Paris bar Bambino knows how to get people wiggling. He handles our playlist and runs a vinyl-shop-cum-listening bar.
Berlin's Ebolicht will do the lighting and produce a series of lamps with our in-house team (yes, they're for sale).
---
Distinct departments
A dedicated village department store sells wares grouped by theme and region rather than product type; the Japan section has exclusive goodies from Beams, bags by Porter and glassware by Kimoto.
Short-term leases
Who's that moving in next door? Some shops can be leased by the month for small firms to try something new and for entrepreneurs to test products and ideas.
Change it up
The changing rooms in all of our shops are roomy, well-lit and contain mirrors at different angles so that outfits can be properly inspected. And flattering lighting spurs sales.
Smarter signage
Clear wayfinding by Norwegian firm Snøhetta directs visitors to locations in and beyond the village. Want to know where the nearest theatre or library is? We'll happily show you the way. Being a good neighbour matters and it's why so many brands beyond the village send visitors our way too.
Knowing information
Staffed information points where shoppers can talk with someone in the know about all that the village – and city – has to offer are essential (no tinny speakers or crumpled maps here). Think of our team as your concierges while you're here: they've been known to sort snappy airport transfers and wrangle great tables all over town.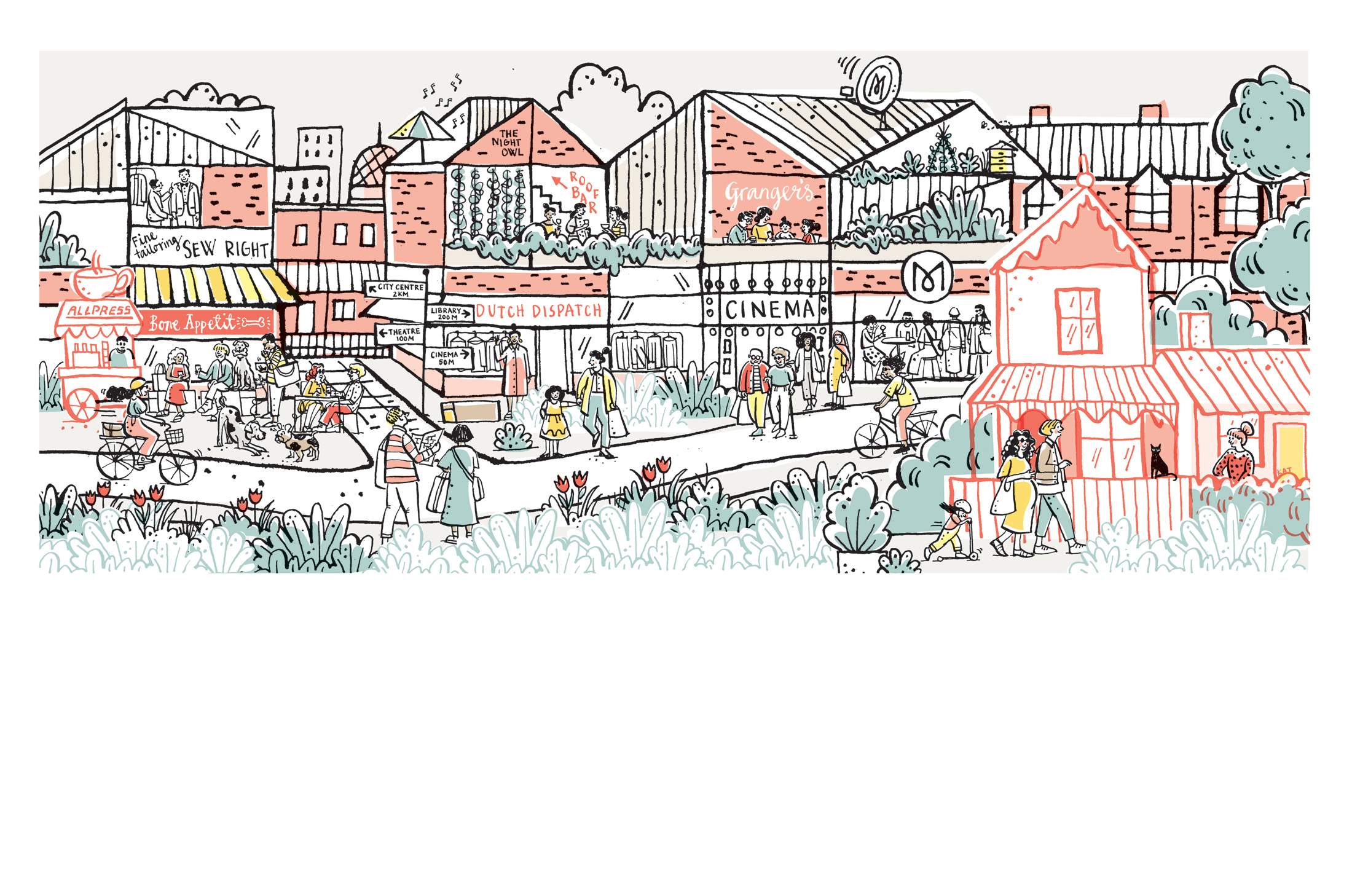 The sumptuous spa
We've partnered with Austrian beauty whizz Susanne Kaufmann on a custom range of natural skincare products and the winning treatments at the spa come courtesy of Swiss firms Clinique La Prairie. The steamy Turkish hammam is also worth a visit.
Inspired art 
Too much corporate art is a bad mix of silly digital displays or bad objets d'art. So we've handpicked the 15 best photographers, ceramicists and painters from around the city whose works you can – and should – buy at a range of price points. Check it all out at our friendly gallery.
Expert gardeners
Great in (the flower) bed, our team of maintenance staff takes real pride in keeping its patch spruced and clean. An organic vegetable garden to go with the orchard and beehives is also in the works.
Cinema culture
Exclusive director interviews and film-making classes run by the city's best cinema make our intimate three-screen set-up a must whether you're shopping or not.
Simple shopping
Transactions are made easier thanks to our own credit card, which offers benefits across the site and Air Miles too. Our point-of-sale technology also allows you to tap for anything in any shop.
Members' club
Want better drinks, a lounge to relax in and access to extra restaurants and bars? Join our members' club. You'll get first dibs on limited-edition collaborations and a subscriber-only podcast (did we mention that we have a radio station?).
Brands with buzz
Prior to the grand opening, we scoured the city for the best new brands. Leading local talents have set up their second shops, while a select few retailers from beyond the border have set up their first international outpost.
Pet-friendly position
A team of friendly staff will greet you at our two dedicated pooch parlours: grooming salon Vanity Fur and Bone Appétit, which sells upmarket dog treats.
Somewhere to learn
There are friendly workshops at convenient times so try your hand at crafts, basket weaving or throwing a pot. Oh, and there's a cookery school too. But we also host courses on how to brand a business, stage a redesign or take a product to market. We're always happy to give young retailers a leg up.
Tidy tailor
Buying a new suit or overcoat but need it adjusted slightly? The village tailor, trained by Hong Kong's Ascot Chang, is on hand to do it for you quick smart.
Here to help
Life can get a little complicated but this is where we come in. Kitted out in Italian-made uniforms by Milanese firm Studio Older, our bright and multilingual team is unobtrusive (no painted-on-smiles or uncomfortable standing around). These hospitality-school grads are always on hand to go the extra mile. 
All-hours dining:
Oslo's Fuglen runs the kiosks, Australian chef Bill Granger has a brunch spot and there's a lively farmers' market.
For the evening, we've invested in a space where guest chefs, such as Mexico City's Elena Reygadas, tempt new punters.
Munich bar specialist Charles Schumann is refining the cocktail menu at our new venue, The Night Owl.
The village people:
Personal shopper Dee de la Mode can tell at a glance exactly what style and cuts will suit her clients best.
Tilly Peddler runs a design shop with a focus on lesser-known design hubs. This month – the Dutch Dispatch.
Porter Thomas Hilfsbereit never fails to impress with his courtesy and efficiency.
---
ILLUSTRATOR: Kat Chadwick
PHOTOGRAPHER: Jonah Rosenberg, Benya Hegenbarth, Carl Bergman,