Buffets / Global
Happy returns
Buffets might seem a little passé but we celebrate three elevating the art in Lisbon, Hong Kong and San Francisco.
1. The Palace Hotel
San Francisco
"When the breakfast buffet began, there were lines out the door," says John Hart, executive chef at San Francisco's Palace Hotel. "It was popular with tour groups but people in the neighbourhood came too. And it's been that way for 27 years now."
Morning meals were a challenge before the advent of the breakfast buffet. "It was all à la carte and it was busy," says Hart. "So we decided to create a breakfast buffet to help our guests come and go more freely." Between 06.30 and 10.30 every weekday morning the Palace's 1,500 weekly breakfast diners enjoy some of the best fare in the Bay Area, served in perhaps the grandest dining room in the city.
Opened in 1875 and rebuilt after its destruction in a fire following the 1906 earthquake, the Palace remains San Francisco's most storied address. Then Soviet leader Nikita Kruschev gave a landmark address here in 1959; US president Warren G Harding died here; and Woodrow Wilson gave several speeches beneath the magnificent domed glass-and-steel ceiling of the hotel's Garden Court.
It is here, in the Garden Court, that breakfast is served. It's cooked every morning by Hart's "brigade", as he dubs them: a chef, several executive sous chefs, kitchen support staff and a runner who darts between the dining room and the kitchens to establish which platters need replenishing. "The buffet needs to be bountiful from start to finish," says Hart.
The bounty includes Californian eggs, golden potatoes, smoked bacon (226kg of it is devoured each week), French toast, flaky pastries and bowls of tomatoes, broccolini and seasonal fruits, sourced from within a 320km radius of the hotel.
"Sometimes your eyes are bigger than your stomach," says Hart of the guests who peruse the delicacies before diving in. "The Garden Court has such an amazing history and is such a gorgeous room that the idea of a grand buffet fits in with that."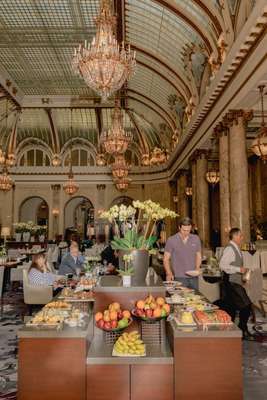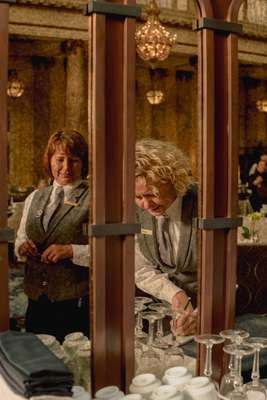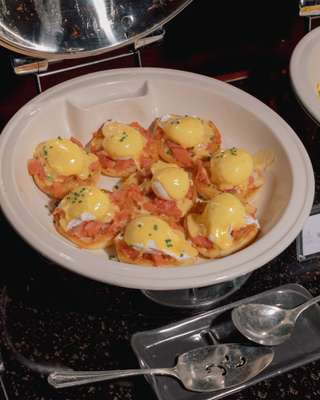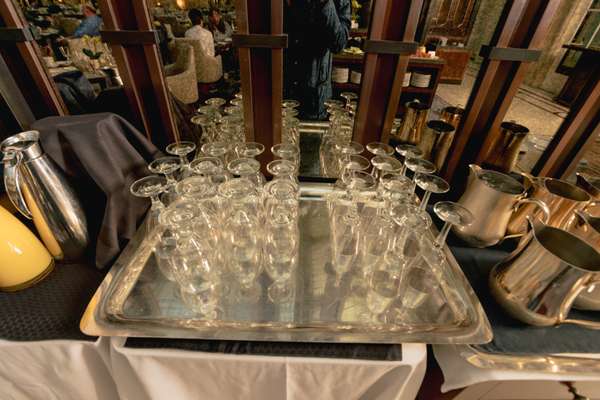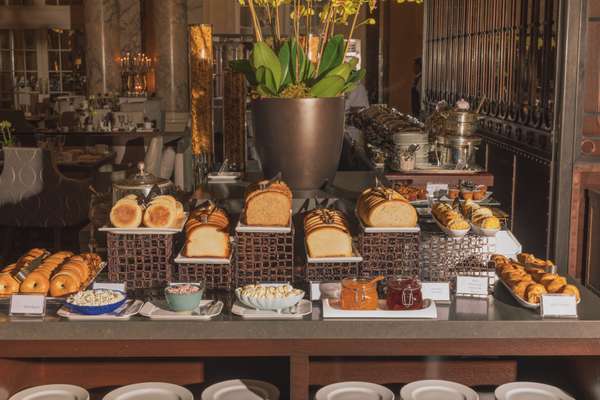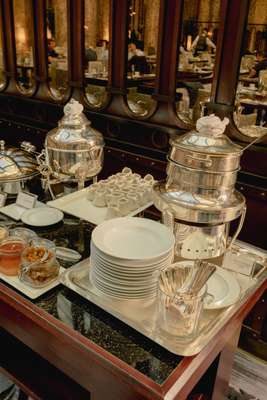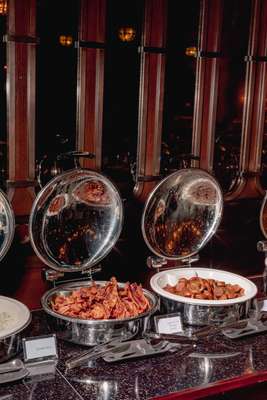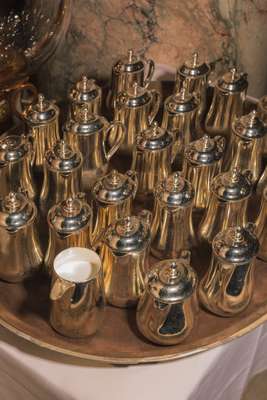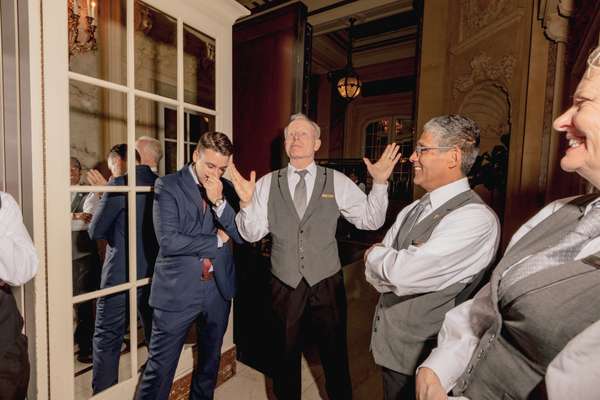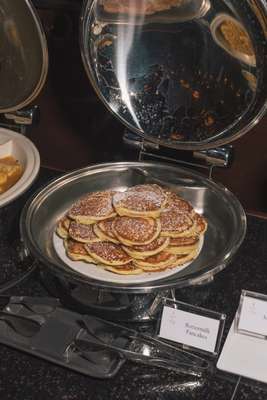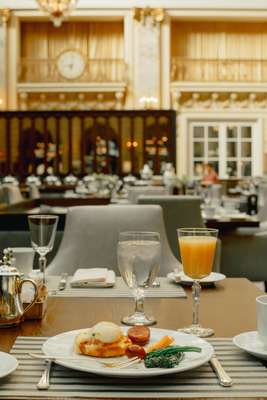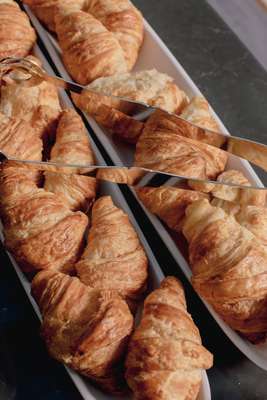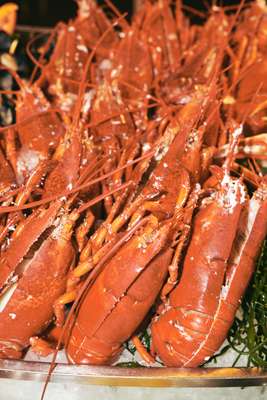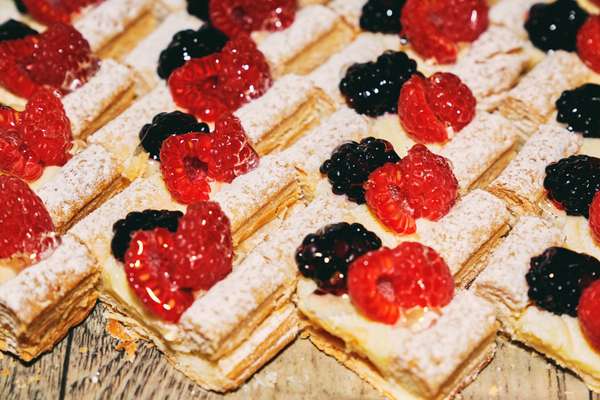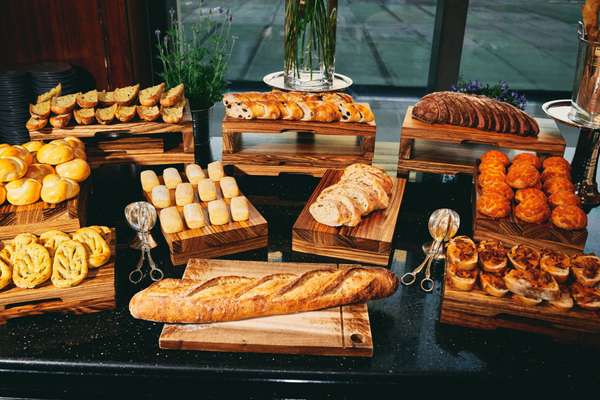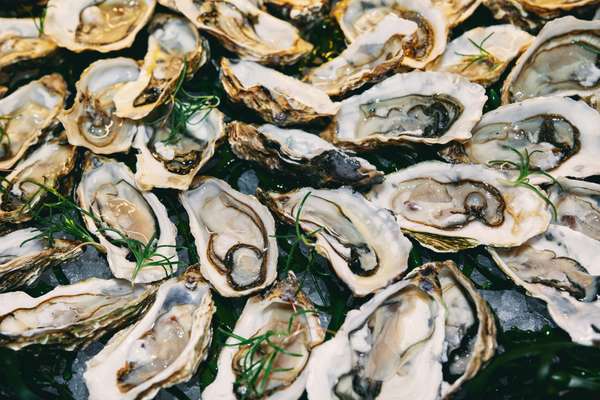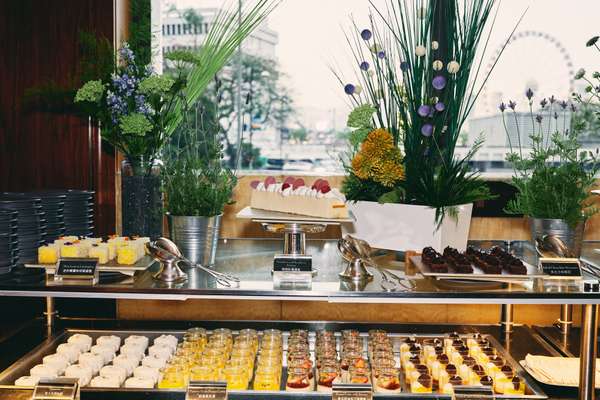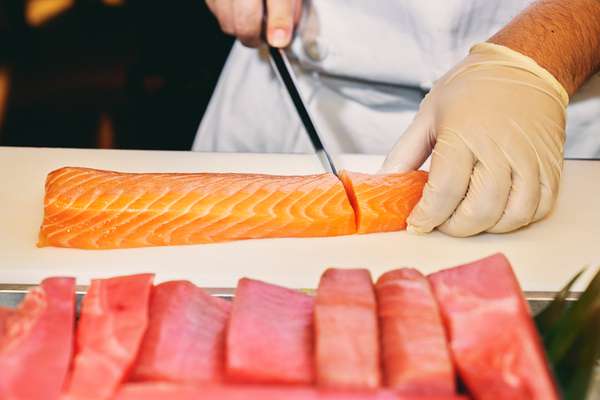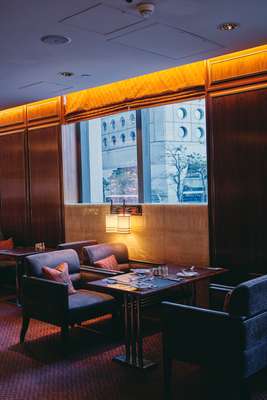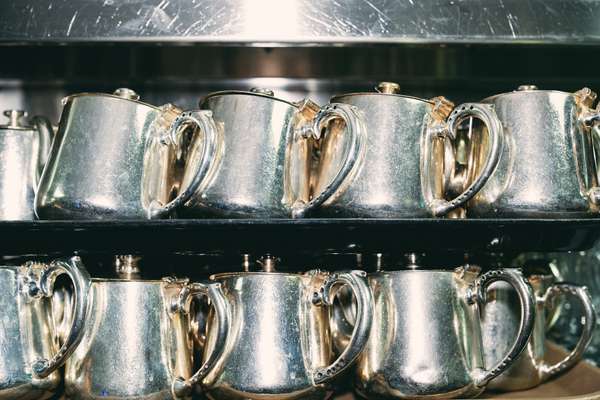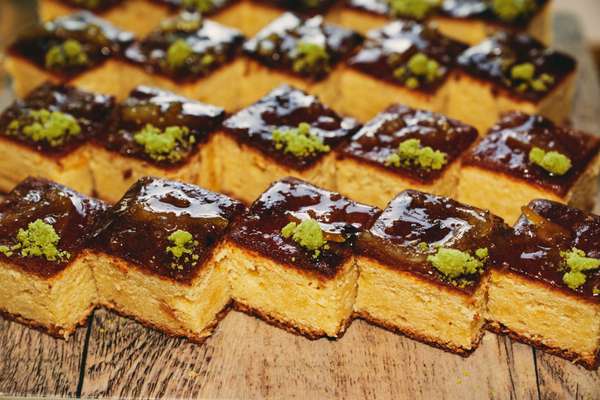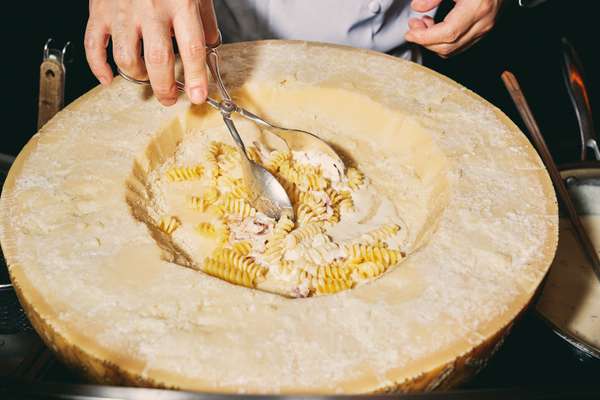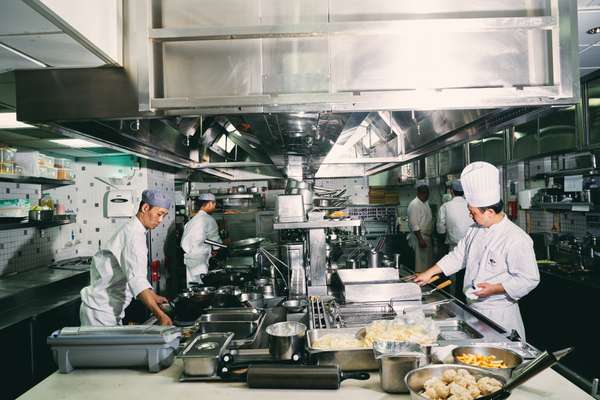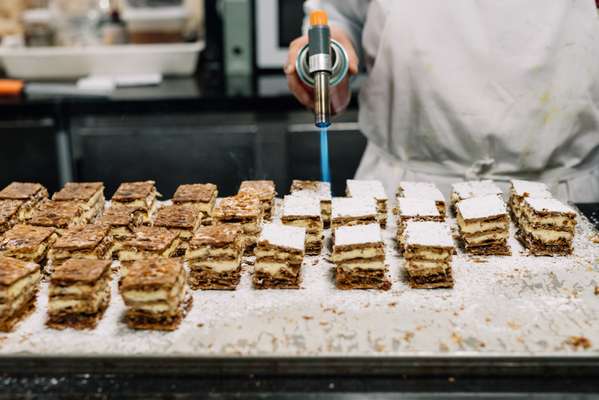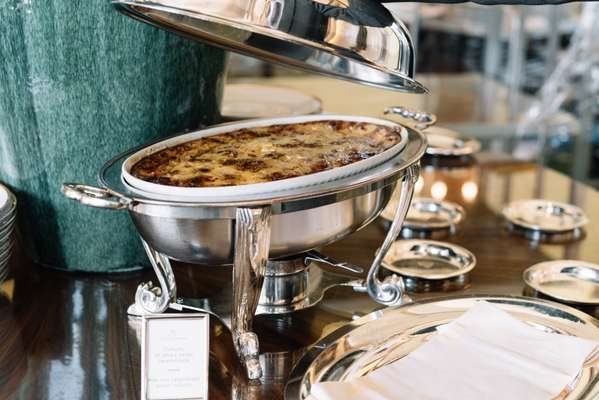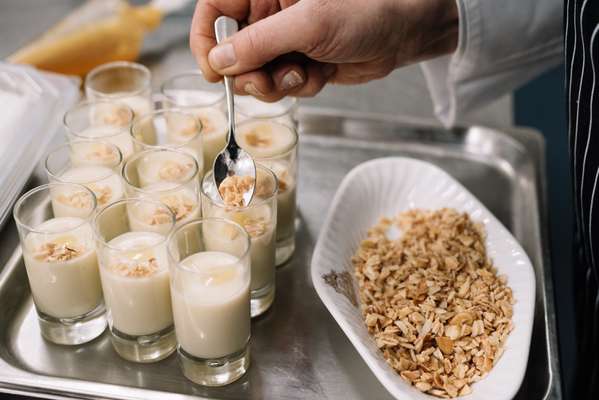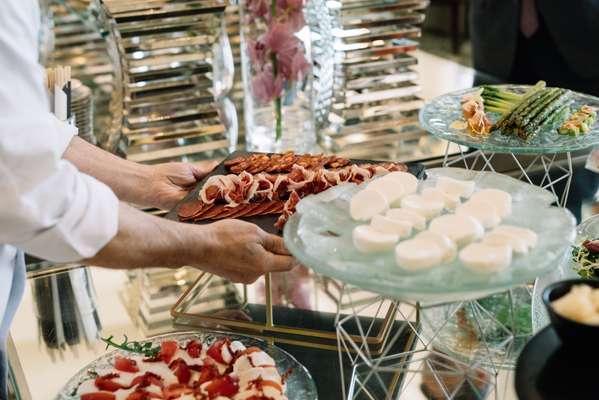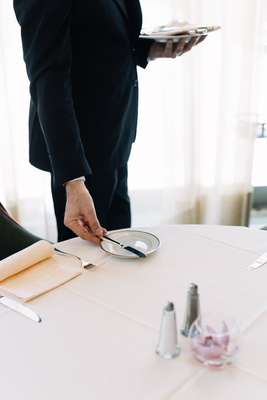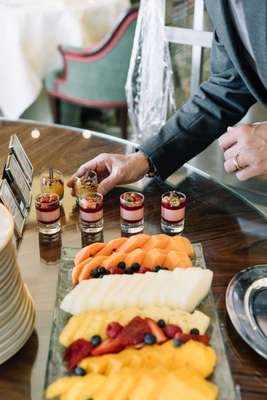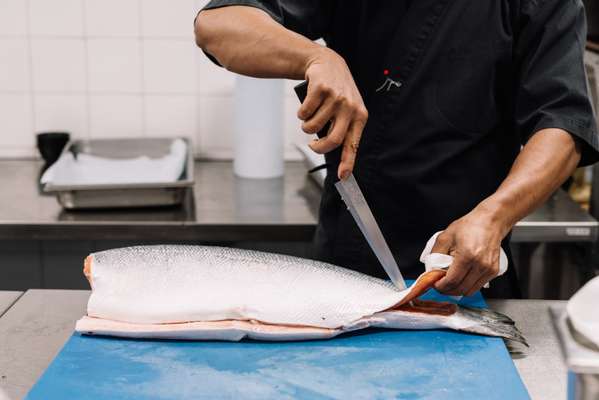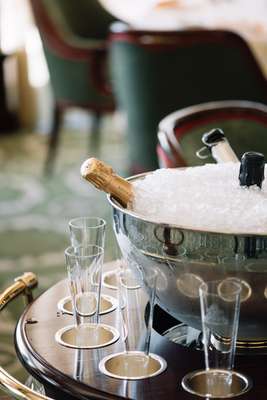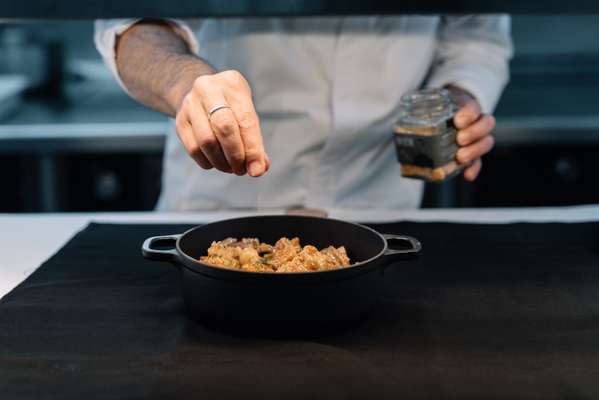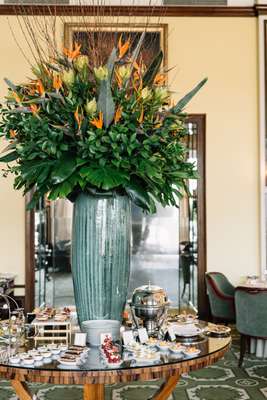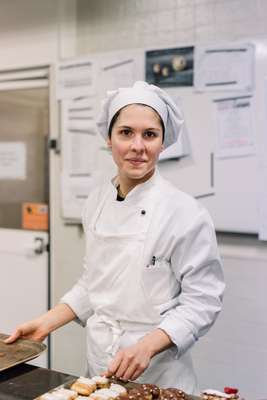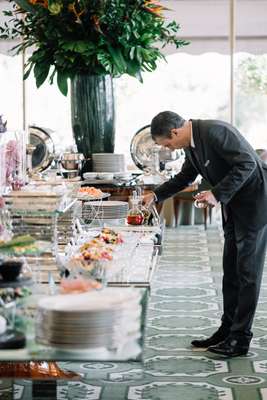 The breakfast menu
Dungeness crab eggs Benedict
Scrambled, poached or fried eggs
Multigrain pancakes
Applewood-smoked bacon
Homemade Portuguese sausage
Roasted market vegetables
Seasonal fruit
Greek yoghurt parfait
House-baked pastries
Bagels
Assorted cereals
Oatmeal
Smoked salmon
Selection of Bay Area cheeses
Charcuterie
Fresh orange juice
Coffee
---
2. Mandarin Oriental
Hong Kong
"I have heard that some people starve themselves for three days before they come to the buffet," says Robin Zavou, executive chef at the Mandarin Oriental Hong Kong. Sitting at the heart of the city's Central district, the hotel's Clipper Lounge has, ever since colonial times, formed a backdrop for lawmakers, lobbyists and businessmen to powwow over platters of oysters, caper-strewn salmon or delicate berry-studded mille-feuille. "Hong Kongers have high expectations and love variety but they also appreciate great value for money," says Zavou. It's a competitive market in which some other hotels have restaurants capable of providing for more than 300 guests. "A lot of effort is put into the quality of the food and we really don't want to disappoint them if they have come specifically for the Mandarin cheesecake."
Just serving for up to 130 people is a daunting task for the team. Their selection needs to cater for all tastes, and the vast majority of visitors are locals. "Anybody who comes to a buffet normally wants to try every item," says Zavou, before listing some of the rarefied ingredients that are flown in, including abalone (sea snail), Alaskan lobster, snow crab (vivid red, vast and leggy creatures) and magnificently marbled Wagyu beef.
When it comes to running a buffet, presentation and replenishment are as important as the food. "You have to make sure the plates always look full," says Zavou, who has a kitchen staff of 12 working on the servings. "Buffets should look exactly the same from the start to the end," he adds, casting an eye towards the fast-emptying display of baked goods. The restaurant's sous chef and a chef de cuisine always personally check on the tidiness and temperature of the dishes during service. "Being a buffet chef might seem straightforward but one has got to have a personality – to enjoy talking to the guests, have a smile and look smart," says Zavou. "And never say 'no', of course."
The menu
Small plates
Smoked salmon with horseradish and capers
Lotus root salad with fava beans in soy sauce
Shredded chicken and bean starch with sesame sauce
Selection of salads, including
Thai beef or seafood
Selection of sashimi
European farmhouse cheeses
Seafood
Lobster; abalone; snow crab leg; oysters; mussels; blue crab; king prawns
The carvery
Roast beef prime rib
Noodle station
Thai noodle soup; Tom yum soup
Chafing dishes
Stir-fried prawn with Sichuan pepper, ginger, chilli and garlic
Wok-fried crab with curry sauce
Thai-style fried rice with minced pork
Desserts
Mandarin cheesecake; Mandarin tiramisu
---
3. Four Seasons Hotel Ritz
Lisbon
There is something equal parts decadent and enticing about the surfeit of food in a buffet. At the Ritz in Lisbon this includes a huge crystal bowl of pink lobster tails, slivers of smoked salmon on platters, plates of sushi and sashimi, salads, cheese and smoked ham. A waiter carves a succulent cut of beef while you dither between fish in a white sauce or tender lamb with potatoes. Another table is dedicated to desserts: French pastries, chocolate truffles and colourful macaroons.
The Ritz buffet has been an institution for so long that no one can date when it began. Well before 1997, certainly, when Four Seasons took over, retaining the spread but upping the quality and introducing what are now the most popular items: lobster and sushi. At weekday lunchtimes politicians and business folk rub shoulders with lunch-hungry ladies and celebrating families in the lavish dining room. The setting is quite something: tall ceilings, crystal chandeliers and three vast tables laden with food.
"We have many regulars," says Ritz food and beverage director Joachim Jacob. "It's popular because there's so much choice, the menu changes daily and business people short on time needn't wait for dishes to be cooked."
Eight chefs spend the morning preparing dishes, then one manages the refill while another carves meat. There are six waiters, a sommelier and a hostess during the 12.30 to 15.00 service. Teresa Gonçalves has been the buffet chef de partie for the past 18 years. Her experience means the team know exactly how much to prepare; quantities are based on pre-bookings and are remarkably accurate, says Jacob. Any unused food is given to one of five partner charities.
"We set up at 12.15 and, on a busy day, refill again by 13.15," says Jacob. "Even on quiet days items such as the mille-feuille will be replaced by 14.00 because they don't look good after that. It's important that everything stays beautiful because with a buffet, people eat with their eyes."
The menu
Small plates
Lobster
Sushi
Smoked salmon
Prawns with cucumber and peppers
Chicken with couscous and mushrooms
Scallops with peas and smoked ham
Sea bass tartare and marinated salmon
Sweet potato with roasted vegetables
Quinoa with vegetables
Carvery and meat
Provençal rack of lamb
Veal knuckle with rosemary sauce
Fish
Whole baked grouper with Pernod sauce
Roasted cod with garlic and olive oil
Desserts
Mille-feuille Macaroons and chocolate truffles
Sachertorte
Lemon meringue tart
Pineapple and coconut crumble