Travel / Athens
Athens Greece
Vouliagmeni is Athen's wealthiest neighbourhood, where old-school rules. And now it has a revived hotel that's set to pull in a jet-ski set.
Saturday morning in Vouliagmeni is an active affair. In the bay, children no older than 10 navigate sail boats, trailed by a megaphone-wielding coach zipping around in a dinghy. Beside them swimmers paddle, surfers bob and legendary water-ski instructor Lolos Stamatis (just call him "Lolos") helps students into the turquoise water from a small concrete jetty colonised by a Greek flag.
Healthy-looking families with year-round tans emerge from modernist villas with jungly gardens that tumble into the Aegean while older folk gather for coffee at local institution Aqua Marina Patisserie. Lithe twenty-somethings, meanwhile, pedal their bikes to the nearby Astir Beach to lap up rays. The air is infused with a life-affirming tang – a combination of sea salt, pine, lavender and eucalyptus – and wide streets slice through fields of flowers and squares that have palm trees on their perimeters and spurting fountains at their centres. Everything and everyone, it seems, has a good view of the sea. This is sun-kissed glamour with a dose of wholesomeness: what you'd get if St Tropez made a new-year's resolution to plant some trees and go on a health kick.
This affluent seaside suburb of Athens sits halfway down the "Athenian Riviera", a 50-odd kilometre stretch of coastline running south from the capital, beginning at the port of Piraeus and ending at Sounion, the southernmost point of Attica. Vouliagmeni, the darling of the Riviera, comprises three peninsulas that jut out as if misshapen fingers. It's home to about 5,000 residents but, on weekends and in summer, it teems with day-trippers from Athens who come to repair in the sun. It's a beachy, bosky world away from gritty inner-city Athens yet it's an easy escape: just 30 minutes by car from downtown (and also 30 minutes from the airport), accessed via a four-laned, tree-lined highway.
"From April to October this place is paradise," says Atalanti Martinou, a 32-year-old art curator who grew up in Vouliagmeni and is moving back from central Athens with her young family next year. We're eating vanilla cookies at Aqua Marina Patisserie where Martinou, olive-skinned and corduroy-cloaked, would come when she was little. "I just like being close to the sea," she says. "When we were young we would ride around on our bikes; we were completely free. It's never been dangerous here and, back in 2004 when I came of age, it was even more relaxed – as if it was left a bit back in time."
There's something to this. Vouliagmeni's residents – estimated to include 80 per cent of Greece's wealthiest people, their fortunes made in shipping and banking – have fought to keep their hometown somewhat frozen in time. Their great cause has been to prevent it from becoming overdeveloped like its coastal neighbours such as Glyfada, now a shopping district littered with high-rises.
That's not to say Vouliagmeni is a dead zone: it has been a ritzy tourist beacon since the 1960s, when the Astir Palace Hotel was built as part of Xenia, a postwar nationwide tourism push by the government. With its discreet bungalows, pristine beaches and boxy modernist architecture, the hotel became a high-flyers' hangout; Jackie Onassis and Maria Callas would clink cocktails with Brigitte Bardot and Frank Sinatra (who used the back entrance to avoid paparazzi). Yet, rather than commercialise the area, the hotel added to the image of Vouliagmeni as a beautiful, glossy preserve. It never embraced malls or chains; retaining this unspoilt charm has been its residents' challenge ever since.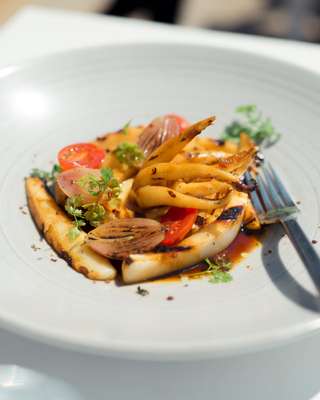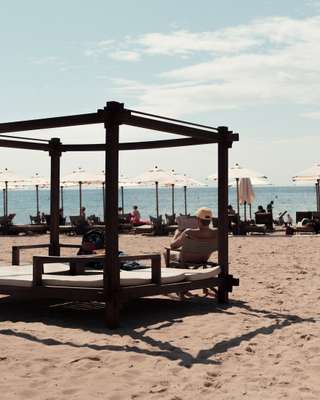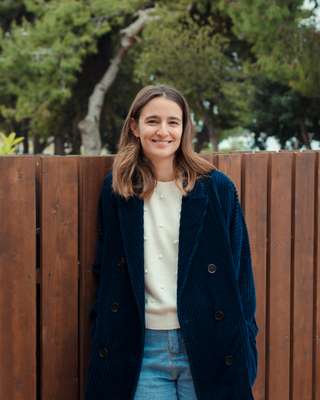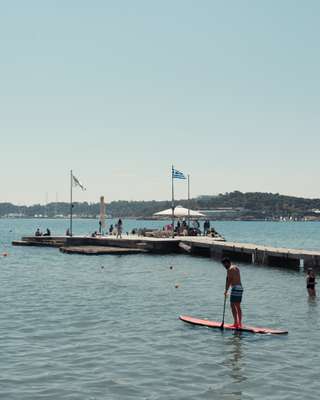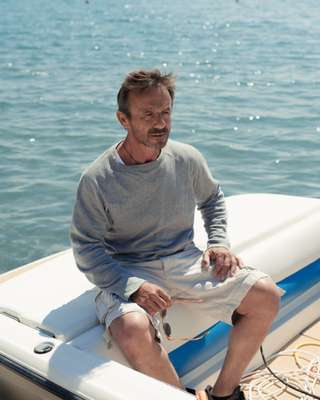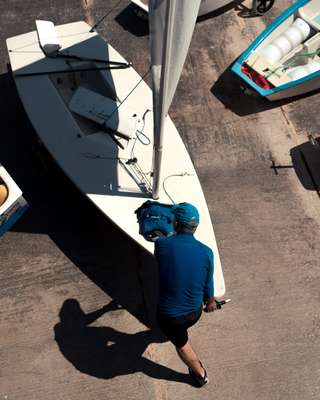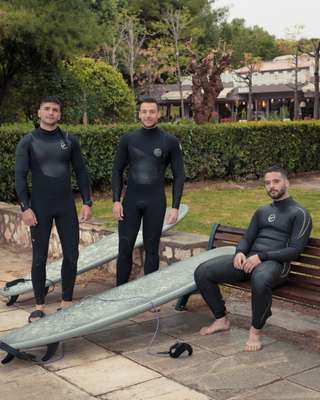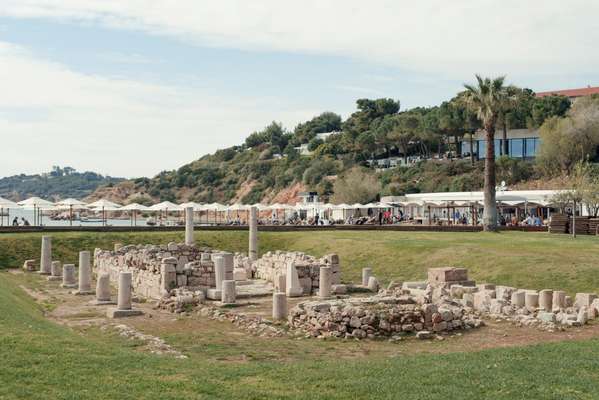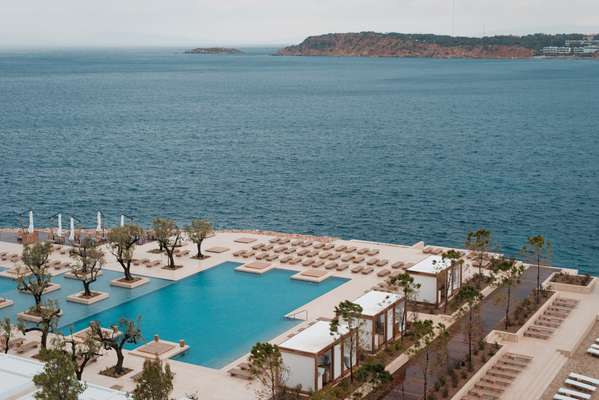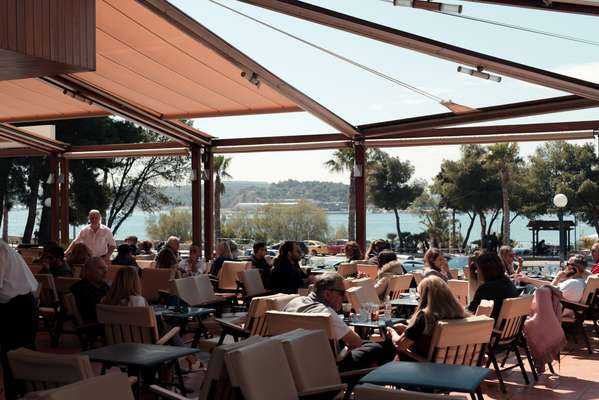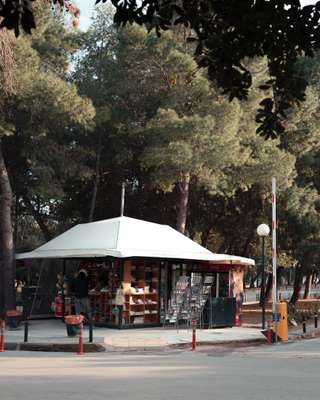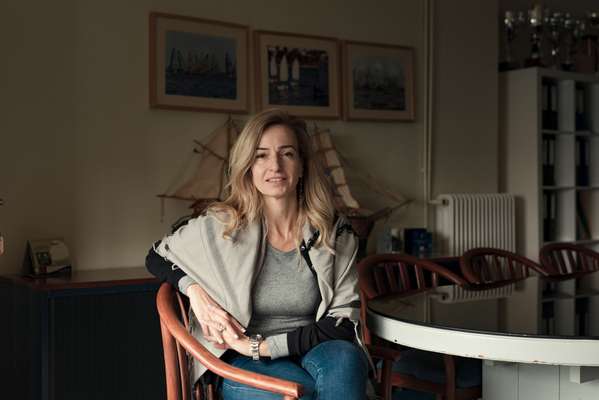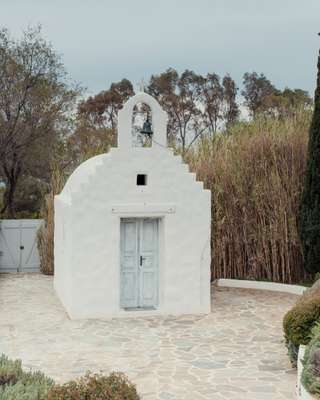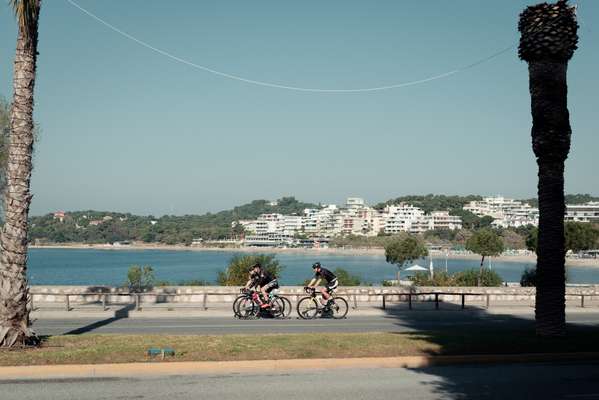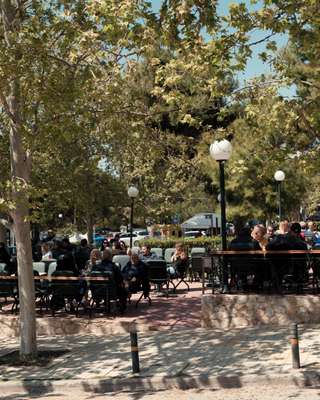 That they have succeeded in this pursuit is thanks to Grigoris Kasidokostas, Vouliagmeni's beloved former mayor (he's also a water-ski champ and the husband of shipping scion Marianna Latsis). In power from 1986 to 2012, Kasidokostas doggedly enforced building restrictions and put the kibosh on skyscrapers. "About 30 years ago, all these buildings were [being built and they were] destroying the Athens coastline in Vouliagmeni. Kasidokostas fought against this," says Spyros Panas, who was deputy mayor under Kasidokostas before becoming mayor himself from 2012 to 2016. "We had the same vision for our area: to keep it as a small village without high buildings. It was very difficult – because of Vouliagmeni's beauty, everyone wants to develop it."
We're sitting in a low-slung villa that clings to a craggy cliff-face on the eastern edge of Vouliagmeni, with views over the Aegean and the mountainous bluff of Sounion. It's one of several private villas, restaurants and a beach club (called Island) that Spyros runs with his brother Chrysanthos. The flat-roofed villas melt into, rather than dominate, their surroundings; their desirability comes not from architectural muscle-flexing but from mid-century furnishings, gardens overflowing with Mediterranean plants and that priceless vista. Chrysanthos, who pairs designer stubble with white jeans, says, "We wanted to celebrate the nature; we didn't want to use cement."
The brothers grew up in Vouliagmeni and are still enamoured of its quality of life. "We spend all our summers going to the beach; it's like having a vacation but we're still in the city," says Chrysanthos, as he escorts us around Island, which is preparing to open for the season. Wealthy Greeks and western Europeans, plus a sprinkling of stardust (Valentino is a regular; Meryl Streep visits on occasion), come for sundowners and stay until the early hours, when the ivory-white furniture is pushed aside to make room for dancing. "People have a good time – they dance, they flirt – but it's always classy," says Chrysanthos.
Nearby, in a municipal office with a plaque that reads "Nobody's Perfect Except the Captain", current mayor (and pilot) Grigoris Konstantellos says he must strike a balance between keeping Vouliagmeni relatively undeveloped while capitalising on tourism opportunities. The suburb fetches the highest real-estate prices in the country (it was one of the few areas in Greece, along with the likes of Mykonos and Santorini, where prices went up during the crisis) and much of it is owned by the Greek Orthodox Church. "It's important to keep as many green areas as possible but it's difficult because the Church is exercising force on the government to develop their lands," says Konstantellos. "At the same time, we don't want to be a place where nothing happens. We need to create profit centres, we want high-end touristic products."
Fortunately, Vouliagmeni's upscale tourist offering has just received a hefty boost. After being closed for three years for renovations, the Astir Palace reopened in March, rebranded as the Four Seasons Astir Palace Hotel with 303 rooms. As the first Four Seasons in Greece and one of the nation's only big internationally run hotels, it's thrust Vouliagmeni into the spotlight. The Astir Group, the Turkish-Arabic-backed company behind the hotel (the Four Seasons is the manager), is busy: it's also upgrading facilities at Astir Beach – a white-sanded club where young shiny Athenians gather on weekends – and at Astir Marina, gatekeeper of Greece's most valuable vessels.
Yet the hotel, with its gilded past and 30-hectare footprint, is the showpiece. Its renovation by local firms Aeter and K-Studio has kept the original buildings but updated the interiors (there are three slick lounges and 2,000 contemporary Greek artworks on show) and added a dazzle of attractions, including a taverna, a spa centre and a shop opened in partnership with Athens' Benaki museum. It sounds fancy but it's also relatively low-key. The bungalows are hidden among pine groves; the taverna, which offers charcoal-grilled lamb and impromptu Greek dancing lessons, is built from an earthy mix of local stones and timber. Come summer, ice-cream carts will trundle up and down the boardwalk. "In the 1960s this was a special place. Our hope is that we bring that back by showcasing the magic of Greek hospitality," says general manager Sam Ioannidis.
It's significant that the Canadian-headquarted Four Seasons has chosen this moment and site for its first Greek outpost. "Location is key. We had other opportunities but we wanted to wait for something special," says Ioannidis. "We're coming in at the right time and we see the interests of other luxury international franchised brands coming to Athens too. I think that will continue." He notes the "immense" trickle-down effect that the hotel will have on employment in the area, providing work for farmers, fishermen and taxi drivers. "We'll draw a considerable number of guests to Athens who have never been here before," he adds. "One of the bigger repercussions will be the world's eye on Athens and Vouliagmeni."
Newcomers to this pocket of Greece have plenty to discover beyond the Four Seasons. Days can be spent lazing by Lake Vouliagmeni, whose azure waters stay at 23c year-round, or sipping spritzes at the tiny unnamed bar hanging off the rocks near Island (you may get more than you bargained for: it's just out of sight of Limanakia Beach, one of Athens' gay-cruising areas). F&B is Vouliagmeni's key trade and dining options range from rustic – à la Louizidis, a paper-tablemat taverna – to rarefied, such as the Asian-style seafood at Ithaki.
Brothers Theo and Giagkas Agiostratitis are behind some of the area's most dynamic recent additions. They run the Margi, an elegant five-star boutique hotel, with their mother Maria Stavridis. The hotel has been in the family since the 1960s but has just been refurbished with Mediterranean pastel shades. Last year the brothers diversified: they launched Krabo, an intimate beachfront restaurant; opened a private villa with a chef and butler; and bought an organic farm where they grow the vegetables that are served at their other properties (customers can visit the farm for lunch). "We take time to do each step but we like to find new things," says Theo.
Brothers and mother are happy to call Vouliagmeni home. "The sea here is very clean and it's the most elegant holiday area in Attica," says Stavridi, chic in a roll-neck. "Ninety per cent of the days are sunny and I swim all year round." There's a village vibe to the suburb, adds Theo. "You know most people by name: you go to Aqua Marina or the souvlaki place and you know everyone," he says. "The people are laidback."
It's not surprising. Wandering around of an April afternoon you'll pass market stalls, cyclists and seaside cafés but then turn a corner and be met with a rocky cove with shimmering water and no one in sight. Laidback is an understatement – you'll be horizontal by the end of it. Here, in Athens' most bucolic enclave, it can feel as if you're on a sparkling island in the middle of nowhere when, in fact, you're just a four-laned highway from the centre of everything.
---
Stay: The Margi: This boutique hotel with its classy, understated interior is run by the Agiostratitis brothers, the third generation of their family at the helm. They also offer a private villa up the coast.
themargi.gr
Stay: The Four Seasons Astir Palace Hotel: Greece's first Four Seasons, this renovated premises has a bounty of side attractions and a golden history. Opt for a private bungalow.
fourseasons.com/athens
Eat: BlueFish: Chef George Economides serves modern, high-end seafood dishes.
Eat: Louizidis: Tasty and unfussy: think paper tablemats, souvlaki and €2 shots of ouzo.
Drink: 'Hidden' bar: This tiny watering hole has no name; locals call it "the hidden bar in Limanakia" (they'll direct you). It serves great cocktails in a spectacular, remote spot.
Drink: Island: Come for drinks and dinner, stay for dancing. The Panas brothers also operate a handful of lovely private villas near the club.
islandclubrestaurant.gr
Coffee: Aqua Marina Patisserie: Order a black coffee and a plate of galaktoboureko, a cream-filled Greek pastry. Giokas Vassilios, who opened this institution in 1970, greets loyal customers with a kiss.
Shop: Ipirotissa: Vouliagmeni has little retail, which locals say is key to it staying unspoilt. Pick up resort-chic womenswear from Greek designers at the boutique inside The Margi hotel and, for gourmet products, visit Ipirotissa. Atalanti Martinou describes the upscale delicatessen as "Athens' version of Dean & DeLuca [the New York grocery store]."
ipirotissa.gr
Visit: Lake Vouliagmeni: The sparkling water is at 23c year-round, making this a prime swimming spot, while the deck is good for napping in the sun.
Visit: Astir Beach: A private club near the Four Seasons, this white-sanded stretch is the choice of affluent Athenians.
Visit: Watersports: To waterski, speak to local legend Lolos. For sailing, windsurfing or water polo, head to the Vouliagmeni Nautical Club.