Travel / Yamba & Angourie
Yamba
&

Angourie, Australia
A blossoming food scene and laidback lifestyle are attracting new faces to formerly seasonal coastal town Yamba, and its surf-paradise neighbour Angourie.
It was 2016 when French chef Charles-Etienne Prétet first considered moving to Yamba, a small town on the northern coast of New South Wales – but work options were limited. "We didn't know if he'd get a job here," says his wife, Merindah Byrne Prétet, who grew up in the area. "Three years ago it was a choice of working at the pub or I don't know where else." The answer? Open their own bistro. Having moved back to Australia from Paris, where Merindah spent a decade as a dancer at the Moulin Rouge, the pair launched The French Pan Tree in August 2017. Serving updates on classic dishes such as steak tartare and confit duck, the restaurant has already won a prestigious Australian Good Food Guide Chef Hat award.
"Charlie surfs, we go fishing, we take our tinny on the river, I take my kelpie dog to the beach," says Merindah, reeling off the reasons they moved to Yamba as she prepares tables on the leafy terrace and in the adjoining Parisian-style dining room (formerly a hole-in-the-wall Chinese takeaway). As for the restaurant, "we wanted something completely different to Chinese, Italian, Thai and pub food".
The Prétets are not alone. Over the past few years a flurry of critically acclaimed restaurants – many founded by locals who have returned from working abroad or in big Australian cities such as Sydney – have sprung up. The result is a destination whose draw is as much about the food and café culture as it is the beaches, surf and wildlife. And with visitors now arriving year-round, Merindah insists that Yamba is "not just a little seasonal town like it used to be when I was growing up. It's more on the map."
Yamba and its picturesque neighbour Angourie, a 10-minute drive away, have been on Aussies' radars for some time. But it is only in the past few years that the two coastal outposts have really come into their own. Yamba is a seven-hour drive from Sydney and a three-hour drive from Brisbane. It is celebrated for its idyllic surroundings: six beaches – many with large swathes of empty white sand – are a short stroll from the centre of town. In winter the wild walks along the nearby Yuraygir National Park coastline are perfect for whale watching; in summer, dolphins play in the surf beside swimmers. Kangaroos hop down the main drag at dusk and sea eagles soar overhead. Welcome to Australia.
While most of the town's population (just over 6,000 people – and three times that number in the summer) is housed in boxy new builds, there is some heritage architecture too. The 1908 Yamba Surf Lifesaving Club, painted a cheery apricot and dusky blue, is one of the world's oldest. There's a pretty white lighthouse, dating from 1955, that overlooks the ocean and the famous cream-coloured Pacific Hotel, built in 1934, looms over Main Beach.
Though for many visitors the real jewel is the next-door hamlet of Angourie (meaning "noisy ocean"). With two coffee shops, one restaurant and a population of a few hundred, it is tiny. But people make the pilgrimage both for the Green and Blue pools – former quarry sites that have since filled with water and are perfect for swimming – and the surf.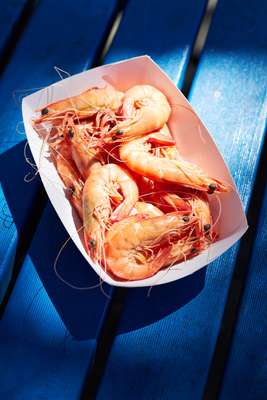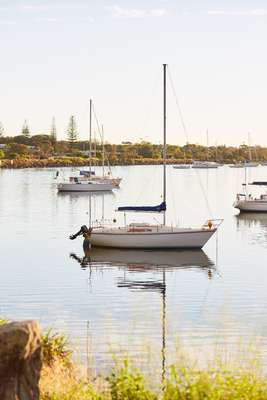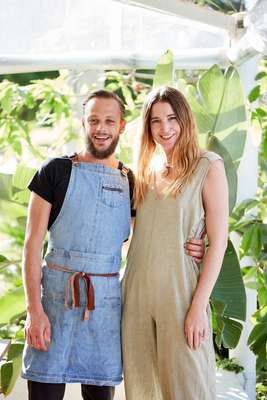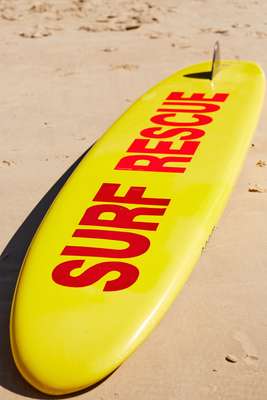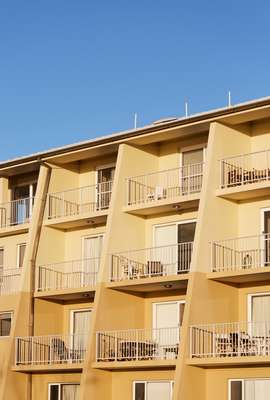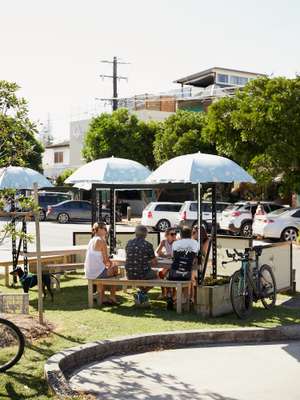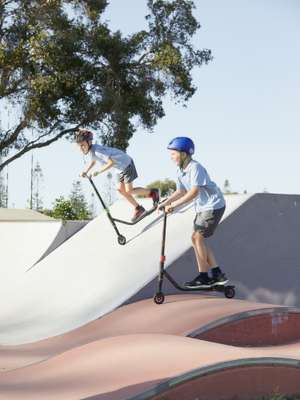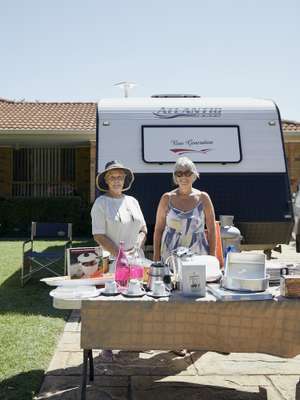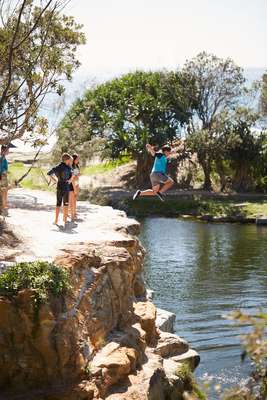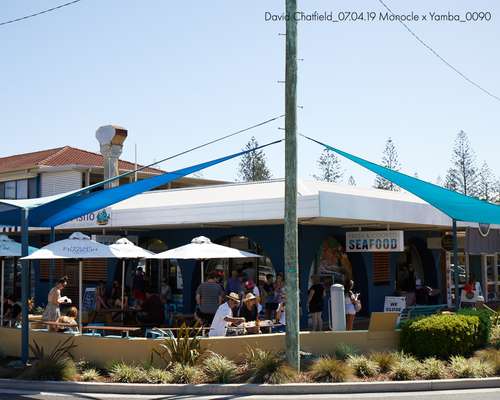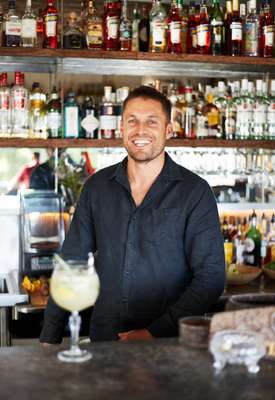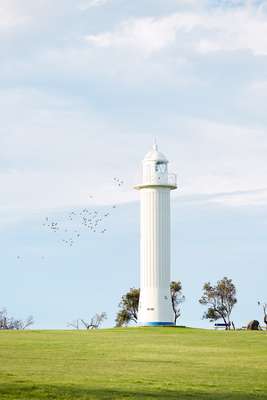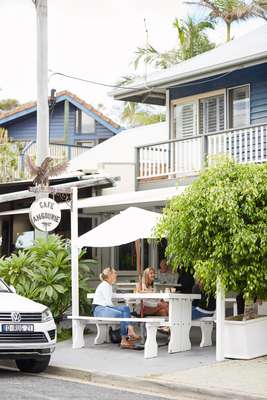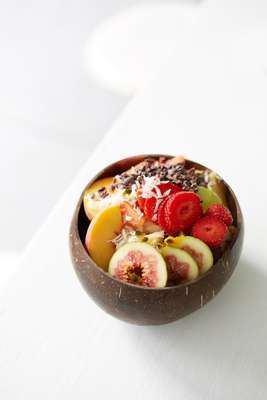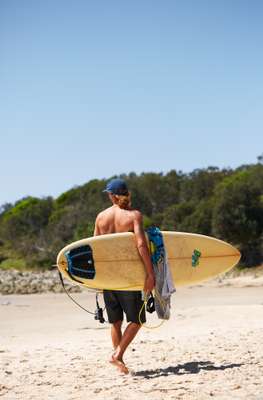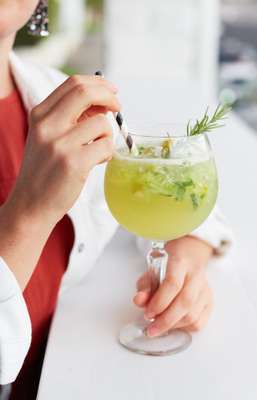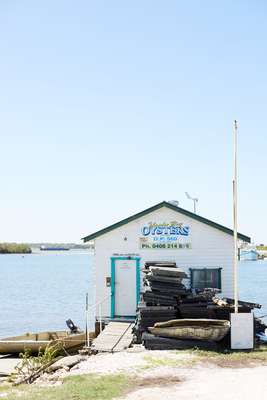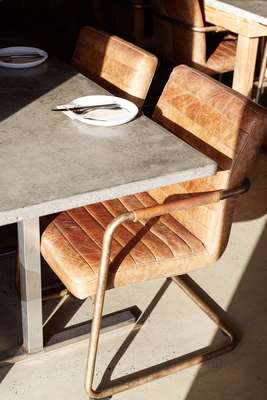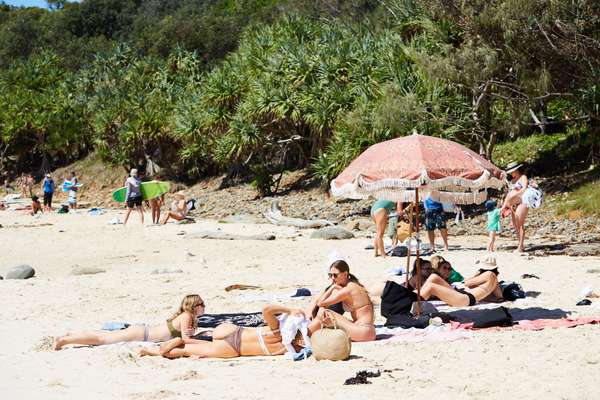 Recognised as a National Surfing Reserve in 2007, then a first for New South Wales, Angourie has had a reputation as a surfing mecca since Morning of the Earth, an iconic surf film, was shot here in the early 1970s. Names such as Spooky Beach and the Life or Death rock shelf hint at the often challenging conditions and mammoth waves. "It's an amazing set-up for a surfer – the weather [and geographical] combinations mean no matter what time it is, there will always be something you can surf," says former pro-surfer and Angourie resident Jesse Williams, 37. "The town really exploded because of surfing," says Zac Roberts, who recently launched Karrikin, a share-plate Australian-food restaurant, in Yamba. "A lot of people came from Sydney after hearing about this lifestyle."
Yamba, sitting at the mouth of the Clarence River, has been pegged as a new – albeit smaller – Byron Bay. That is, with all the charm but minus the hordes of backpackers, the drugs and the hippie-dippy vibe. Helping it along is the AU$5.6bn (€3.5bn) Pacific Highway upgrade which, when it's completed in 2020, will make the drive to Brisbane and the Gold Coast significantly shorter.
Phil Nicholas, 46, is one of the many foreigners who has made the area his home. The British expat organises events such as the recent Gate to Plate tasting night in the Yamba community centre. What makes Yamba and Angourie special, he says, is that they are end-of-the-road destinations: simply put, there is no through-road. "That really makes a difference to the atmosphere because there's a good chance that the person you're sitting next to is a local," says Nicholas. "In London I'd have to make an appointment to see my friends around the corner. Here you know everyone."
He's right: this is the kind of place where the fishermen, bakers, farmers and surfers are all on first-name terms. Indeed, Turkish-born Sevtap Yuce, who runs the Middle Eastern Beachwood Café, often has elderly couples drop off their chickens' eggs and homegrown lemons and limes for her to use in exchange for a jar of plum jam or bottle of olive oil. Fishermen also sell their catch directly off their boats in the marina: often cooking up the famous Yamba prawns in a pan of seawater for passers-by.
This community spirit is on show at the weekly Wednesday farmers' market, where chefs stop to chat over coffee and piping-hot, freshly baked cinnamon buns. Many go to stock up on organic goods from suppliers such as the Green Shovel Farm. "If I'm buying from here I know it's been picked that morning or the day before," says Roberts, who uses indigenous ingredients such as kangaroo, macadamia nuts and finger lime in Karrikin, which he runs with his partner Claire. (Its name refers to the compound that helps foliage regrow after a bushfire.)
Philip Cousemaker, who works in the Yamba Cinema, remembers when Yamba was just a quaint fishing village dotted with a handful of fibro shanties. The 63-year-old was raised in the cinema, along with his sister Debbie McCredie: the family made money by driving around in an old Volkswagen Crombie to show the latest films at coastal country halls. "The night I came home from hospital [as a newborn] I slept under the projector," says McCredie.
McCredie bought the cinema from her father in 2004 (he built it in 1980). The retro shack – featuring a mural of the seaside on the wall, one-penny sweets for sale in the display cabinet and tickets for AU$10 (€6) – has just a single screen. But while a renovation is planned for later this year (which will add another screen, as well as an outdoor cinema), it will retain its low-key charm. "Businesses are privately owned here. It's like farming: they get passed from generation to generation," says McCredie. "It's not just a job, it's a lifestyle."
That sentiment is familiar to the Williams siblings, who grew up in Angourie, where their father made surfboards. "I grew up surfing. There was no option: every birthday and Christmas I got a surfboard!" says Angie Williams, grinning. She now runs the popular Café Angourie that serves "basic healthy surf food" (think acai bowls and freshly brewed vats of golden turmeric milk) and is located next door to the house where she was born – and where her mother still lives. Her brother Jesse, meanwhile, founded his bar Paradiso in an old 1930s Yamba surf shop. Paradiso retains its brick exterior and tin roof yet inside the atmosphere feels more Bondi Beach than rural town, helped by the strong negronis and Asian-fusion fare. (His chef formerly worked at the celebrated Spice Temple, a fine-dining Chinese restaurant in Sydney.) "We used to come home at Christmas and say, 'You need somewhere to have a drink.' We've created a little niche now. We were the first," says Jesse, proudly.
Yamba is changing for the better, with more food, drink and entertainment options than ever, as well as shops such as Rooster and Rabbit, a clothing and lifestyle concept store that sells Australian and European designers. But Angourie is charming for precisely the opposite reason: surrounded by national park, it can't get any bigger. "The fact there's only three little streets, that's the appeal of it," says Jesse.
Adrienne Smith is the co-founder of Barbaresco, the sole restaurant in Angourie, in which her Italian partner Davide Adorno serves moreish homemade pasta and delicacies such as Yamba prawns with foraged sea kelp. "There's not many places these days where you can let five-year-old kids go off by themselves," she says. "Everyone here looks out for them. We don't want it to become the next big thing – I just love my little town."
As for Charles-Etienne, he admits that Yamba is a big change from his hometown of Paris. But it's a welcome one. As business closes for the night and he and Merindah crack open beers with friends in the balmy late-evening air, the chef smiles. "Running a restaurant is really full on. Now we have the opportunity to disconnect straight away." He gestures towards the roar of the ocean, just over the hill. "Close the door, go surfing. It's right there."
Stay: Private rentals: This is your best bet. For views over Yamba's stunning Convent Beach, right near the town centre, choose an apartment on Ocean Street. It's the perfect location from which to watch dolphins frolic at dusk.
Eat: Barbaresco: This Italian restaurant in Angourie also has a Balinese feel to it thanks to its repurposed wooden bar and inside-outside decor. Don't miss the Yamba smoked-eel croquettes or the homemade braised veal pappardelle.
+61 2 6646 3745
Eat: Karrikin: This is the most inventive restaurant in Yamba and uses indigenous ingredients, such as kangaroo and finger lime, to reinvent Australian dishes.
+61 401 471 202
Drink: Paradiso: Grab a cocktail and some dumplings in this buzzy bar that was founded in a 1930s former surf shop.
paradisorestaurant.com.au
Drink: The French Pan Tree: The perfect place to have a bottle of French wine on the terrace. Enjoy it with a charcuterie board stocked with regional produce.
thefrenchpantree.com.au
Shop: Rooster and Rabbit: Owned by former Moulin Rouge dancer Merindah Byrne Prétet, who also co-founded The French Pan Tree, this boutique mainly sells clothes by European designers.
+61 2 6646 2685
Shop: Yum Yum Angourie Café and General Store: Tiny and unprepossessing, this is no ordinary general store: go here to buy boutique soap, Barebones Japanese knives and an assortment of cookbooks.
+61 2 6646 2467
Visit: The Green and Blue Pools, Angourie: Stop for a swim at these freshwater pools, created within former quarry sites. Residents often leap off the surrounding rocks.
Visit: Yuraygir National Park: Offers a range of coastal hikes with sparkling views, untouched beaches and, if you're lucky, some whale watching.
nationalparks.nsw.gov.au