Who's commissioning what / Global
Future projections
Want to know where your next favourite book, film or TV series will come from? We speak to a host of industry insiders from around the globe to uncover the passion projects and critically acclaimed releases that will be exciting audiences in 2023 and beyond.
Film slates, publishing schedules and release calendars might only disclose what's in the pipeline a couple of months ahead but behind the scenes the cogs of their respective industries are always whirring, shaping everything that will hit screens, cinemas and bookshelves in the year to come. We catch up with the people who are in charge of deciding what gets the green light. 
---
Marianne Furevold-Boland
Head of Drama, NRK
Oslo
Recently appointed as NRK's head of drama, Marianne Furevold-Boland was an executive producer responsible for some of Norwegian TV's biggest global successes including Exit, a drama about the antics of Oslo's finance professionals, and Skam, a series about teenagers in search of love and direction that has been remade in eight international markets. Before becoming a producer, Furevold-Boland also worked as a journalist and presenter. Here, she talks about the future of the small screen. 
"People looking at Nordic countries can see that we take risks"
What has changed in your profession since you first started?
Eight years ago at NRK, we might have had just three or four drama series being broadcasted. Now we have 20. We have evolved with the streaming platforms. 
Does being a regional broadcaster allow you to be more experimental?
Our main purpose is telling stories about Norway, mirroring the country and the people who live in it. We do not answer to a corporation outside Norway so we can be much more truthful. People looking at Nordic countries can see that we take risks in a much bolder way than the US.
Looking ahead to 2023, what does the future of the industry hold?
As content creators, we have to be more on top of our game because there is such huge competition. The quality has to be so high. But if you have a story and ambition then the audience still wants to see it. 
What are you excited to have commissioned for 2023?
We have a show called Power Play. It is about how humans sabotage themselves and others in their eagerness to get power, which is very relevant today. It's based on the Norwegian Labour Party's story and our first female prime minister. It is co-written by Johan Fasting who made Heimebane [about a female football manager] and directed by, among others, Yngvild Sve Flikke, who also made the film Ninja Baby, which won a lot of awards last year. They have a very smart approach, trying to tell historical political drama in a very fresh way.
---
Hassiba and Kenton Freiha-Oxley 
Film producers
Abu Dhabi
Husband-and-wife duo Hassiba and Kenton Freiha-Oxley have had a stellar year. The couple's feature film Farah [meaning "joy"], which was shot in Lebanon in 2019 but only released in 2022, is reaping rewards. The film explores hidden family histories through its subjects' mental health struggles and was picked up by Mad Productions for distribution in the Middle East and Africa. In the past few months they have won the jury prize at the Chelsea Film Festival, audience favourite at the Montréal Film Festival and best Arab film at the Alexandria Mediterranean Film Festival. Now the pair are raring to go with more creative projects. 
How has this year been for you?
Kenton Freiha-Oxley: The past three years have been difficult with film festivals and screenings falling through. We were wondering what value there was in keeping going while things were so financially and creatively challenging. And then everything turned around. My favourite place to work is Lebanon. The primary reason that I am a film-maker is that I am interested in how you get everybody to work together and Lebanon is the place where people show the most love and revel in the art of making something beautiful. Hope is such a limited commodity in Lebanon right now – and what Farah is ultimately all about is hope. 
What do you have in the works?
KFO: We have a film being shot in the UK in early 2023. It is a segue from Farah. The story sees a woman doing awesome things and breaking barriers while also living with mental-health issues. Making films has often been about exploring dark and difficult subject matters.  
What trends and developments do you see emerging in the industry
hassiba Freiha-Oxley: There are starting to be so many more voices from all over the world; voices that haven't been able to express themselves before. For one thing, the stigma against subtitles is gone. I am seeing so many more women involved in film-making too. There is definitely a push for women to lead their craft. It surprises people that there is a 50/50 split of women and men in film production in the Middle East. It's because, culturally, women are considered creative. And it means that they go on to gain senior roles in the industry. They're feeling empowered.
KFO: There is a real opportunity at the moment for profound, personal, well-constructed storytelling. Cinema is still the best way to see a film; watching TV at home just doesn't compare. But that said, home screening services are seeing that big blockbusters aren't the best genre for the small screen and that will drive them more towards the small personal films and the really well-told TV series. That's a really big opportunity that wasn't there before.
---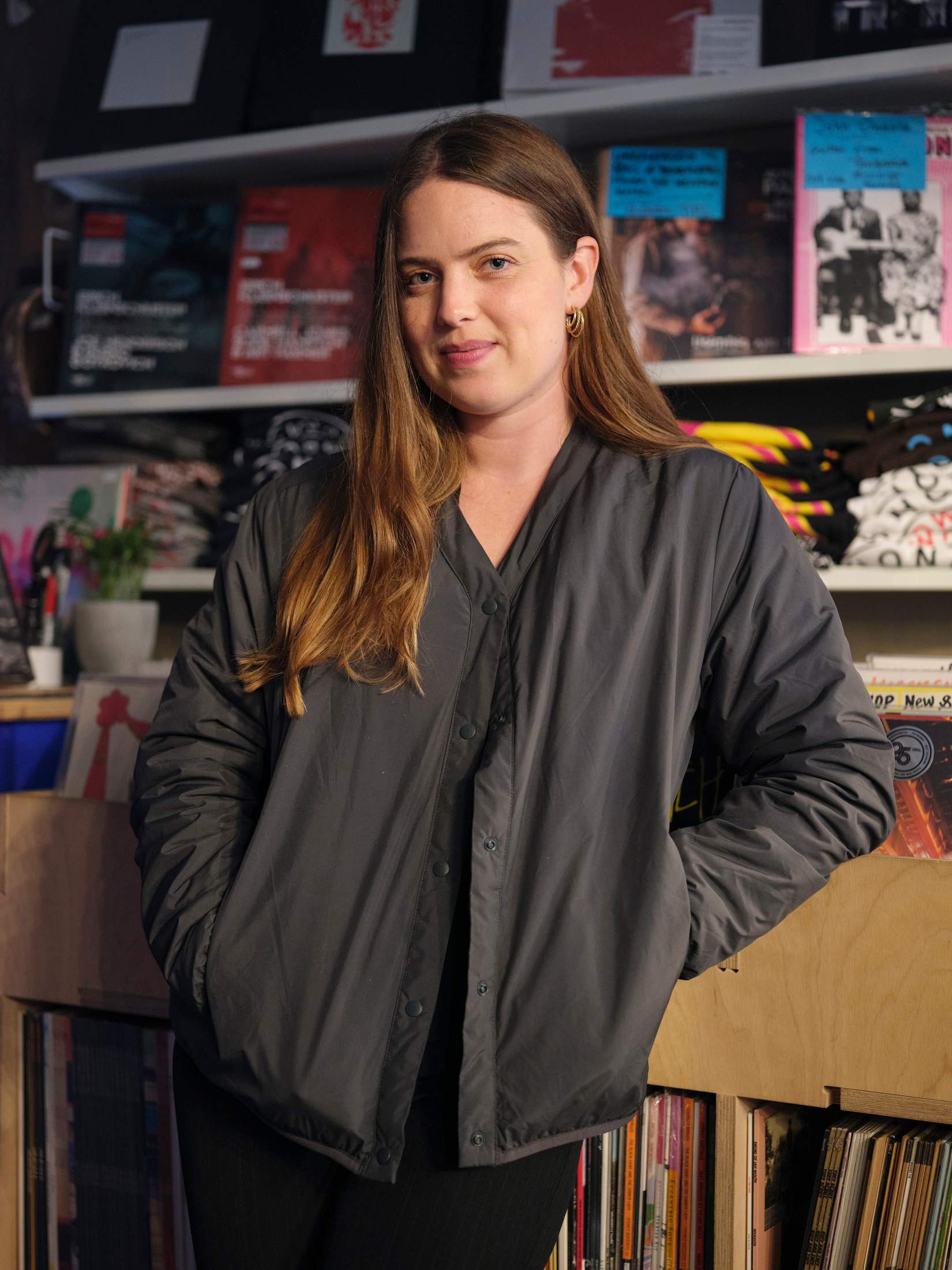 Louise Paley
Co-founder, Pace 
London
Louise Paley is a prominent industry figurehead in the UK's genre-bending jazz scene. When it comes to supporting London's emerging talent, few have made a greater impact than Paley, whether that be through her Women In Jazz organisation or as an artist manager. Now she is continuing that work with the launch of her new record label Pace. Set to debut next year, the imprint will begin with two signings: musician JGrrey and singer-songwriter Chloé Bodur. We meet Paley in her favourite vinyl retailer, Honest Jon's Records in London's Kings Cross, to find out more about her forthcoming venture. 
What's the story behind Pace?
Former Sony vice-president of strategy Fred Bolza has been instrumental in developing my career, as both a mentor and a business partner. Together we are launching Pace, a new label imprint that sits within London's independent Marathon Music Group. The aim is simple: to provide knowledge and resources to help artists get to the next stage of their careers. 
Will  Pace be a jazz label?
The first two artists that I've signed, JGrrey and Chloé Bodur, are huge inspirations to me. They both grew up listening to Nina Simone and Aretha Franklin among others, but they wouldn't describe themselves as jazz artists. 
What can we expect from  Pace when it launches? 
We will start releasing records in 2023. I want Pace to be the go-to label for building deals that are specific to each artist's needs and developing long-term sustainable careers for artists. 
Why are new artists increasingly looking to sign with independent labels?
With an indie label, artists can make their own decisions – who they want to produce or collaborate with – and they can spearhead artistic direction. They are not locked into a structure that doesn't work for them creatively. 
What will the music industry look like in 2023?
According to statistics from Album Equivalent Streams, streaming accounts for 83 per cent of the recorded music market in unit terms – that is huge. It means that more artists than ever are making music and are feeling empowered to build new audiences across the world. 
---
Nick Batzias
Founder, Goodthing Productions
Melbourne
Nick Batzias has been working with national and international talent for almost 20 years, first via the distributor Madman Entertainment and later with his own company Goodthing Productions. With more than 500 films under his belt, Batzias has found success with the likes of Damon Gameau's That Sugar Film and award-winning psychological drama Nitram. He tells us about what's ahead for the industry, his future projects and why the cinema experience is here to stay. 
How has the role of producer changed during your career?
There seems to be greater diversity on screens and in production and, given the rise of streaming services, we have an audience that is more film-literate than ever. The pandemic hit the cash flow and forced higher levels of supervision and planning. This has sharpened the focus on what projects we engage with. 
Streaming services are accelerating the demand for small-screen content. Do you see a time when the cinema experience could be replaced?
No. Beyond the "event" aspect of going out to see a film – the smell of popcorn, the size of the screen and the booming sound – there is nothing like sitting in a dark room full of friends and strangers for a shared experience. This communal act can't be replaced or replicated at home. The return of jump scare horror films is a great example of this.
Do public opinion and social media have greater power in influencing the way the industry works? Can a movie today just be entertaining or does it need to have social responsibility too?
Things have shifted so much with social media and – for better or worse – public opinion has a voice like never before. We are an industry that has business and creative values at its core, bringing art and commerce together in a way that few other sectors do. Art is always reflecting or forecasting societal change and works in tandem with progressive thought. That said, not every film needs to have an element of social responsibility. Sometimes we all need a bit of escapism.
What shall we look forward to in 2023?
The intersection of art and activism is a fascinating space for storytelling. In early 2023 the documentary You Can Go Now will look at First Nations activism in Australia through the lens of artist Richard Bell. We also have two adaptations: And the Ass Saw the Angel [based on Nick Cave's first novel] will be directed by Justin Kurzel and The Museum of Modern Love is based on Heather Rose's novel of the same name. It is set in New York with Marina Abramovic's Moma show The Artist is Present as its backdrop.
---
Barbara Epler
President, New Directions 
New York
New Directions is a fiercely independent publishing house that launched in 1936 and has released pioneering works by everyone from Patti Smith to Franz Kafka. Barbara Epler joined as an editorial assistant in 1984 and became editor-in-chief just over a decade later. From her 19th-floor office in downtown Manhattan, she tells us what's in the pipeline. 
New Directions has a lot of South American books coming up. Are there a lot of interesting writers emerging from that part of the world? 
It is thriving. Also, Spanish is America's second language, so it makes sense. We have Mexican writer Fernanda Melchor's new book coming out next year and a book by Argentinian writer César Aira. His Fulgentius is a work of historical fiction about the Roman army. 
Which other upcoming books are you excited about? 
We've got a book by Japanese writer Mieko Kanai coming up. It's called Mild Vertigo and it's incredible. Jenny Erpenbeck's new book, Kairos, is also really exciting. It is the first of her titles to be translated for us by Michael Hofmann. He told me that this is the book about Germany's reunification that everyone has been waiting for. 
How is the publishing industry changing?
Audiobooks are really going up, I'm a big lover of them. And big publishing houses keep merging. It doesn't help because they say they're not going to fire editors when mergers happen but they do. But there are still all of these fantastic small presses that keep emerging, such as Dorothy Project and Archipelago Books. They are all run by people who are really passionate. They can make decisions really quickly and, unlike the corporate giants, there are no marketing departments telling them what they can and can't sell. 
New Directions recently launched a series called Storybook ND. What is the idea behind that? 
Storybook ND was conceived by my great friend, the translator Gini Alhadeff. It is a series of short fiction books designed to be consumed in one sitting. A novella is a dive into the most perfect little pool. 
---
Ten more international creatives in the film, TV and publishing industries reveal their most hotly anticipated projects.
1.
books — australia
Hayley Tomlinson
Rights and contracts manager,  University of Queensland Press
"One of our First Nations authors, Melissa Lucashenko, who wrote Too Much Lip, is writing a book called Edenglassie and we are champing at the bit to get it out. It is written from the perspective of two indigenous characters. Edenglassie was the initial name of the colony that is now Brisbane. It's a historical- fiction page-turner." 
2. 
tv — indonesia
Shanty Harmayn Hofman 
Chief executive, Base Entertainment
"Gadis Kretek will be a rich love story told against the backdrop of the clove cigarette industry in Indonesia. Adapted from Ratih Kumala's novel, this riveting TV series tells a part of our history that has not really been told before. Gadis Kretek presented an opportunity for Kamila Andini and Ifa Isfansyah to work together as co-directors. Both are great at handling female characters." 
3.
film — uk
Tom Hawkins
Producing partner, Joi Productions
"We have three films looking to go into production. First up is Joy Gharoro-Akpojotor's debut feature as writer-director, The Dreamers, a thrilling escape movie set in an immigration detention centre. Next is a kids' adventure, Back to the Endz – imagine The Goonies set on an estate in [London's] Hackney. And horror film The Manikin, about a young Chinese bride who uncovers her new husband's family's frightening secret. All three bring fresh perspectives to established genres by making the protagonist someone that typically isn't in these types of films."
4.
tv — japan
Genki Kawamura
Founder and producer, Story Inc
"We offered The Makanai: Cooking for the Maiko House to director and Palme d'Or winner Hirokazu Kore-eda since he loves food and had an interest in the world of geiko (geishas). The protagonist becomes a makanai, someone who cooks meals at a house where apprentice geishas live. The Maiko House is a rare case of communal living in Japan. The girls who live there, and the people around them, form bonds similar to a family. These bonds are growing weaker in modern society." 
5.
books — canada
Tania Massault
Executive director, Éditions Alto
"We received a novel from Éric Charcour called What I Know About You. We didn't know anything about this author and received his manuscript by email. The reading committee finished it and thought: this can't be his first novel. There is a maturity and dexterity in how he uses language. It's about a man who becomes a doctor and gets married to make his family happy but he falls in love with his male assistant."
6. 
film — hungary/uk
Balint Revesz
Director, Gallivant Film
"We are just finishing a film that we started 12 years ago. It's a complicated project, a sort of Hungarian Boyhood: an attempt to follow someone through their coming-of-age journey. We started filming a boy when he was seven and he is 19 now. The story raises questions about what has the most impact in your life. We're aiming for a festival release in 2023 and then it's going to be on HBO." 
7.
film — singapore
Angelin Ong
General manager, mm2 Asia
"Set in Singapore's infamous red-light district, Geylang connects five seemingly unconnected stories surrounding crime, sex and guilt – all unfolding in one action-packed night. Director Boi Kwong has produced some of Singapore's biggest hits, such as We Not Naughty and Number 1. This neo-noir action-thriller is a passion project for Boi, exploring the hidden underbelly of Singapore society." 
8.
books — germany
Patrick Sielemann
Editor, German literature Kein & Aber
"We acquired a novel by Irina Killinmick. She was born in Ukraine and came over to Germany when she was 15 years old. It's a family novel set in Odessa in 2014, when issues with Russia began. It's funny with a lot of depth. The novel is centred around a family of only women with the exception of a grandfather who is like the king of the family." 
9. 
film — colombia
Dago García
Founder, Dago García Productions
"Next year, I'm launching two films: Gospel and Perder es Ganar un Poco. The first is a musical comedy based on theatre. It explores the conflict between choir members who eventually find a sense of belonging. The second is a story about a young man from a poor neighbourhood who becomes a prosperous businessman but, due to extreme circumstances, he ends up in jail. When he's released, he discovers that not everything in life comes down to desperately chasing success."
10.
film— philippines
Daphne O Chiu
President and COO, TBA Studios
"We are looking forward to releasing some films that have been in the can since the outbreak. One is Grace. It's a psychological thriller that exposes society's ills: violence, corruption, economic disparity and the elitism and arrogance of people in power. The film is created with an international audience in mind. The story is very Filipino but the theme, treatment and language can be appreciated by foreign viewers as well."