Amsterdam travel guide
The editors' selection
The bustling streets of central Amsterdam can leave visitors wishing for an insider guide to steer them away from boozy backpackers and spliff-touting teens. This is where Monocle is more than happy to step in to guide you through some of the city's most exciting openings and goings-on, far from the madding crowd.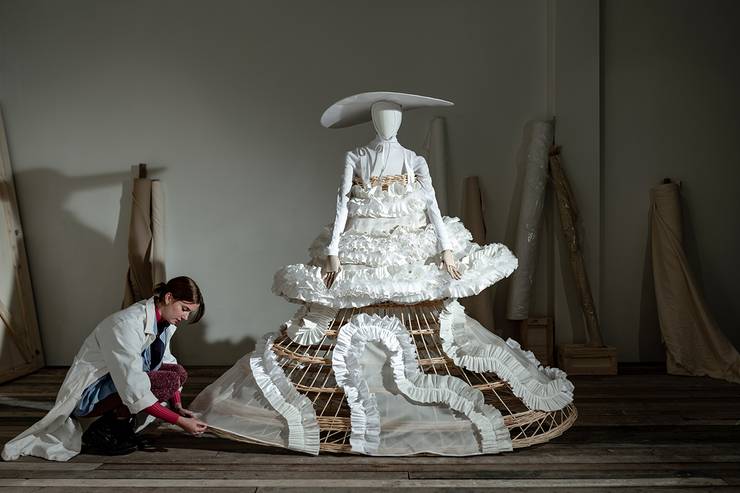 'In The Making' at De Bijenkorf, De Wallen
Dutch department store De Bijenkorf is hosting a shopfront exhibition across its seven spaces, including its flagship in Amsterdam, until 9 June. Called In The Making, the installations in its shop windows feature the works of young designers who have been commissioned to create alluring clothing displays by using toiles (a kind of white test fabric). The exhibition hopes to draw attention to traditional garment manufacturing processes and we're sure it will catch the eye of many passersby. 
1 Dam, 1012 JS 
+31 (0)20 808 9333
debijenkorf.nl
Hortus Botanicus, Weesperbuurt en Plantage
The city's oldest botanical garden, Hortus, has teamed up with creative agency Moam to provide a platform for 15 young artists to share bespoke works in natural surroundings. Given a brief to respond to and be inspired by the centuries-old collection of plants at the garden, the multidisciplinary talents will have their work, which has been specially created for Hortus, displayed in its historic grounds. Expect to find everything from fashion items to film screenings and sculpture nestled among the garden beds and greenhouses.

Plantage Middenlaan 2a, 1018 DD
+31 (0)20 625 9021
dehortus.nl
The Mayor's Residence, Centrum
Today, if a mayor were to build a nine-bedroom palace with plush interiors, grand staircases and sweeping city views, there would be an investigation into their finances. But thank goodness that this wasn't the case in 1665, because one such residence dating from that time has been transformed by Waldorf Astoria Amsterdam into a new hotel for discerning guests. A night's stay here comes with the services of a private chef and spa therapist.

Herengracht 542, 1017 CG
+31 (0)20 718 4600
hilton.com/en/waldorf-astoria
Images: Waldorf Astoria Amsterdam, Imke Ligthart, N J Studio Cover Image: Ben Roberts