Athens travel guide
Sport and fitness
It should come as no surprise that the birthplace of the marathon has its fair share of fitness options. The Greek capital's sweltering summers might not be very conducive to running – and its car-choked streets are far from cycle friendly – but there are still plenty of places to work up a sweat.
Vouliagmeni Lake, Vouliagmeni
These crystal-clear waters, served by both the sea and thermal springs, maintain a year-round 28C and allow underwater life to flourish to the point of distraction: garra rufa fish provide a natural pedicure while the Paranemonia vouliagmeniensis, a local sea anemone, is a visual delight. Entrance to the lake is costly but can be combined with lunch or dinner on the wooden deck overlooking the water. If you're feeling active, choose between aqua aerobics, hiking or snorkelling.

Vouliagmeni Lake, 166 71 
+30 210 8962 237 
vouliagmenilake.gr 
Hammam Baths, Kato Petralona
If you're visiting Athens in summer, the idea of heading to the Hammam Baths might seem mad. Yet this practice, which stems from ancient Greece and Rome, can make the heat more bearable by acclimatising you to it. This modern, minimalist space features a shop in the front, offering everything from body milk to black soap, and a traditional hammam room with a domed ceiling and a round marble bench at the back. Treat yourself to an Ali-Mama hammam – featuring a steam bath, an exfoliating scrub and a full-body massage – or try an ancient Greek massage with cupping and essential oils.

17 Agion Asomaton, 105 53 
+30 210 3231 073 
hammam.gr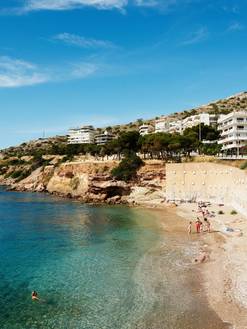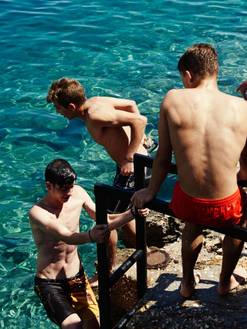 Boil Greece down to its essence and you have white rock that abuts a sea of myriad shades of blue. It follows, therefore, that you would rush to the places where this meeting of the two takes place: beaches. Athens, contrary to common wisdom and the ferry-jumping urge, is blessed in this department. Cavort on the sands of Kavouri, ringed with tavernas; head to the quieter Varkiza, a weekend favourite among Athenians; or visit Vouliagmeni, which has tennis courts, should you fancy a game before you cool off. And if none of the above do it for you, continue down the coastal road that pitches up at the Temple of Poseidon in Cape Sounion for the perfect sunset. 
Images: Feliz Odell, Marco Arguello