Bangkok travel guide
Sports and fitness
Drinking and dining deep into the Bangkok night is easily done but so is whipping your body back into shape across the city's fitness destinations. Head to one of the leafy city parks as the evening breeze kicks in and you'll spot a divergent cast of aspiring athletes and nimble grandmas working up a sweat.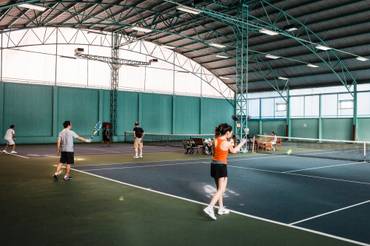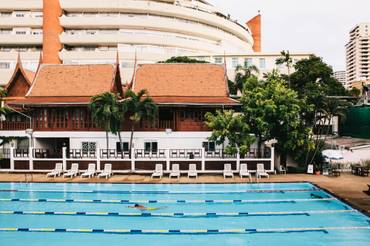 The Racquet Club, Klongton Nua
The Racquet Club is a popular destination that offers a range of fitness activities. For a one-off fee you can access both 25-metre and 20-metre pools and a well-equipped gym. For the more adventurous, an indoor rock-climbing set-up offers some vertical entertainment. Other facilities include seven rooftop tennis courts and a hi-tech golf simulator, which breaks down your technique to help you hit the heights next time you're on the tee. You can also get certified for scuba diving, ready for the reefs of Pattaya.

8 Sukhumvit Soi 49, 10110
+66 (0)2 119 7200
rqclub.com
Suan Rot Fai Park, Phahon Yothin
A short walk from Bangkok's bustling Chatuchak Market is the surprisingly serene expanse of trees, fields and lakes of Suan Rot Fai Park. A great exercise track for both cycling and distance running, this loop skirts the famous Chatuchak Park and Queen Sirikit Park. Bike rentals are available by the entrance for less than THB50 (€1.40) but don't expect a high-performance machine – or a helmet.
Lumphini Park run, Pathumwan
Distance: 2.5km
Gradient: Flat 
Difficulty: Easy 
Highlight: Watching all walks of Bangkok life come together in the name of fitness
Best time: Early evening 
Nearest MRT: Lumphini Park 
Bangkok's best downtown running destination is Lumphini Park, a hotspot of exercise activity set amid tranquil tropical surroundings and easily reached from the city's hotels. The most interesting time to enter the circuit is at 18.00, when the bustling park suddenly becomes motionless as everyone comes to a standstill for the playing of the Thai national anthem. On completion of "Phleng Chat Thai", hordes of runners convene to plod around the circuit, the dipping sun warm on their backs.
Entering from the Lumphini MRT station you'll likely pass a huge congregation of locals enjoying aerobic training; if Thai pop music appeals, feel free to get involved. Passing the statue of the park's founder, King Rama VI, you'll hit the tarmac veering right, joining the crowds. While the landscaped lakes and the architecture of the Chinese pavilion and clock tower provide adequate viewing pleasure, it's the human interaction that keeps this run interesting as you lap around. Sepak Takraw courts are packed with youngsters throwing their bodies around on the concrete, hotly contesting Southeast Asia's hybrid of volleyball and football. Bangkok's gritty equivalent to LA's Muscle Beach is Lumphini's outdoor public gym, packed with bodybuilders and Muay Thai boxers working up a sweat on antiquated equipment. At a more tranquil pace you'll spot tai chi groups at various points along the route.
Images: Lillian Suwanrumpha, Christopher Wise