About Monocle
In 2007, Monocle magazine was launched to provide a briefing on global affairs, business, culture, design and much more. We believed that there was a globally minded audience of readers who were hungry for opportunities and experiences beyond their national borders. Today, Monocle is published 10 times a year out of our London HQ at Midori House; we now sell more than 80,000 copies per issue and have 24,000 subscribers and growing. For £160/ €175 a year we ensure that our readers feel part of something more like a club, offering invitations to subscriber events and ensuring that they always have great service from our team. We have also added The Digital Editions, which enable you to read the magazine and our archive on your phone and laptop (and also have access to exclusive city guides).
Our top 10 markets are the US, the UK, Australia, Canada, Switzerland, Germany, Hong Kong, Portugal, France and Italy; sales in Southeast Asia are also soaring. Monocle has an extensive network of correspondents in cities such as Milan, Bogotá and Paris, as well as bureaux in Tokyo, Hong Kong, Zürich and Toronto. Our newest outpost has opened in Los Angeles.
We have stayed loyal to our belief in quality print with our extra publications: The Forecast is packed with insights into the year ahead along with scoops from the world of food and The Entrepreneurs helps you start or run a good business.
Our commitment to print extends to seasonal newspapers including specials for events such as Salone del Mobile in Milan and the Venice Biennale.
In 2013 we launched our first book in collaboration with Berlin publisher Gestalten. The Monocle Guide to Better Living proved an instant hit and has since been joined by The Monocle Guide to Good Business, The Monocle Guide to Cosy Homes, How to Make a Nation: A Monocle Guide, The Monocle Guide to Drinking & Dining, The Monocle Guide to Hotels, Inns and Hideaways, The Monocle Guide to Building Better Cities and The Monocle Guide to Shops, Kiosks and Markets. We also have a series of travel guides that cover more than 35 cities, including London, New York, Hong Kong, Tokyo, Sydney and Mexico City. In 2020, Monocle has released its first self-published titles, The Monocle Book of Japan, a 306-page celebration of all things Japanese, and The Monocle Guide to Gentle Living, both distributed by Thames & Hudson. Keep your eyes peeled for more book releases in spring 2021.
Then there's Monocle 24, our round-the-clock radio station that launched in 2011. It delivers global news alongside shows on foreign affairs, urbanism, business, culture, design, print media and food and drink. We have a playlist to accompany you too.
Our dynamic website, monocle.com, is the place to hear Monocle 24 or, if you are a subscriber, gain access to all the stories ever run in the magazine. The site also hosts our high-quality films and slideshows; beautifully shot and edited by our in-house team of film-makers, they provide a fresh perspective on stories reflecting our editorial philosophy. You can also sign up here for our free email bulletins, The Monocle Minute, which is published every weekday, The Weekend Editions and The Monocle Minute on Design.
Monocle's inaugural Quality of Life Conference took place in 2015 in Lisbon – and since then we have been to Vienna, Berlin, Zürich and Madrid, each time with inspiring debates alongside great hospitality. In 2020 we also headed to St Moritz for the inaugural The Chiefs event that brought on stage leaders of businesses and key organisations with visions for the future.
Monocle is a complete media brand, with print, audio and online elements – not to mention our expanding retail network and online business. Via our shops in London, Toronto, Hong Kong, Tokyo, Zürich and LA, and our seasonal shop in Merano, Italy, we sell products that cater to our readers' tastes, produced by brands we believe in. We also have cafés in Zürich and London, as well as a newsstand and coffee concept in London called Kioskafé.
Monocle continues to grow its audience but at our core is the simple belief that there will always be a place for a print brand that is committed to telling fresh stories, that sends photographers on assignments and knows that its success is all down to the readers, advertisers and collaborators who have supported us along the way.
Monocle – keeping an eye and an ear on the world.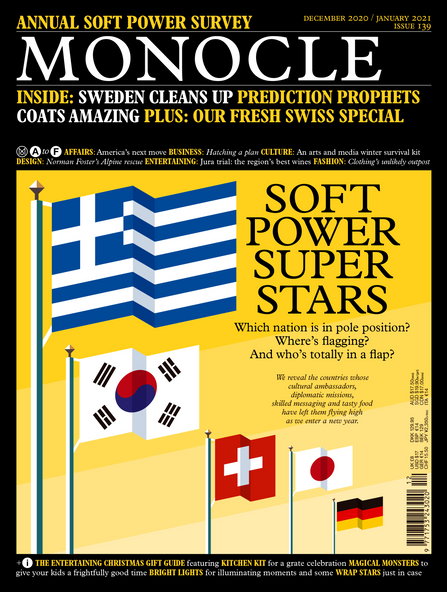 Issue 139
December 2020/January 2021
As we prepare to ring in 2021, it's time to look back and assess which countries are flying high in our annual Soft Power Survey. There's plenty to take stock of in Monocle's end-of-year December/January issue: from a range of voices on what's next for the US, to the power of rural reinvention and the big business of looking forward. We've got all your holiday prepping sorted, too, with an inspiring 15-page gift guide – and an extensive run-down of all the books, TV shows and films that will keep you stimulated this winter.