Xue Xue / Taipei
Class act
In 1949, Taiwan had one university, three colleges and a student population of just 5,000. Now there are 154 institutes of higher education, and almost a million students. This boom is partly attributable to the growth in Taiwan's economy and its burgeoning prosperity, but the deregulation of education has also played a large part. The Private School Act of 1974 encouraged the establishment of private universities and – 30-odd years on – 60 per cent of the country's colleges and universities are private.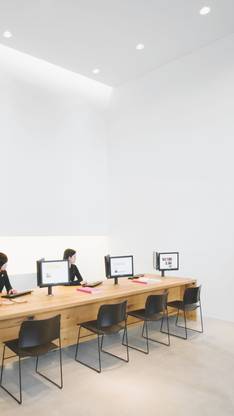 Taipei has lost something of its pep in recent years. While foreign investment has been pouring into Shanghai, and Beijing has gone into a frenzy of construction ahead of the 2008 Olympics, the Taiwanese capital, Taipei – at one time the leading city in the region – has been watching quietly from the sidelines. Finally Por Shih Lin, managing director of Taiwan Glass, and his wife, Lilin Hsu, decided to take matters into their own hands. They acquired a 10-storey building and in December opened Xue Xue, a private institute that looks set to lift the city's cultural life to a whole new level.
"My family has wanted to do something for Taipei for a long time, but it had to be more meaningful than just donating money to a foundation," says Kris Lin, daughter of the founder and Xue Xue's creative director. "People are moving away and not coming back. My childhood friends all seem to be in Shanghai and there's a feeling that Taipei is falling behind." With Xue Xue – the name means "learning, learning" – the Lins have created a centre for ongoing education, a creative consultancy and publishing house, and a new venue for exhibitions, performances, and concerts.
The Lins invited 100 leading Taiwanese architects, designers, musicians, academics and even politicians to become shareholders in Xue Xue. They have assembled an impressive pool of 400 teachers and a long list of courses which range from calligraphy and basic Chinese, to letter-writing etiquette and music appreciation. They've corralled experts from across the creative spectrum, everyone from a collective of T-shirt designers to an organic tea farmer who will be teaching a class on tea. "We're trying something new here," says Lin. "The idea is that learning should be a mutual exchange between teacher and student. It's about sharing what we know. It's been a real achievement to get all these people from different fields to work together."
The masterstroke was hiring E15 to do the interiors. Founded by the architect Philipp Mainzer and the product designer Florian Asche, the London-born but Frankfurt-based company is a byword for exquisitely simple furniture. It would be worth signing up to any class at Xue Xue just to sit at one of Mainzer's oak desks.
"The building itself didn't look promising," he says of the institute's home in Nei-hu Technology Park in the north-east of the city. The exterior was bland and the interior was an outright disaster. But once it had been cleared of its multi-coloured marble and gold fixtures – "We gutted the place," says Mainzer – it turned out to be an excellent blank canvas for E15's design.
"Our aim was to encourage communication," he says, "so we created open spaces with no partitions. We didn't want distracting, over-designed interiors so we used a lot of natural materials." The basic format could hardly be simpler: polished concrete floors with either whiteboard or oak walls. There are eight multi-purpose classrooms, four reading rooms, two wood-floored classrooms, two music rooms, a lecture hall, a kitchen lab for cookery demonstrations, an in-house restaurant and a gallery space. The Institute staff have the plum space at the top of the building: an airy open-plan office with spectacular views over Taipei.
"We try to weave the simple and affordable with key elements that upgrade a project," says Mainzer. They found the perfect stackable chair at the Danish company Howe and ordered dozens in black, white and red; the library spaces have squashy sofas from Elmar Flötotto in Germany. Upstairs the office lounge has a spread of Minotti sofas and E15 wooden stools. There are state-of-the-art speakers in the music rooms and projection systems in the classrooms. The look is minimalist, but this is luxury minimalism.
The kitchen lab is an appliance fetishist's dream – it's filled with European equipment that screams expense and quality – jumbo-sized Baumatic ovens, an industrial Winterhalter dishwasher, Rösle utensils, Riedel glasses, Spring pots and pans from Switzerland. It also has a custom-made version of a Mainzer and Asche "Bigfoot" oak table. You begin to understand why six containers full of furniture were shipped over from Europe. "We spent a lot," says Lin, "but we wanted the interior to be part of the education."
If the Lins are perfectionists, they met their match in E15. Mainzer dispatched the project architect to scour the timber companies of Taiwan to find one (and there was only one) that could supply high-grade, knotted-oak veneer to line the corridors and disguise the storage areas. "This is the biggest project we've done to date, but given the time difference between here and Germany, it worked really well; it's just as I envisioned it."
Aside from the dramatic entrance – a cathedral-like space with high ceilings, a handful of wooden benches and a long custom-made reception desk – the highlight of the building is Xue Xue's canteen, Ecoh, Ecoh (the name means "one bite", the idea being to encourage people to eat more slowly), that serves homecooked food that is freshly prepared in an open kitchen. Diners sit at E15 tables in a room dominated by a mural which will be repainted by different artists and designers every month.
"We thought it was time to push this aesthetic, this lifestyle" says Lin. "Taiwan is known as a manufacturing country but there's been no emphasis on design or branding skills. We're doing something small but we're hoping that it will start a new movement."
xuexue.tw