Pitti Uomo / Florence
Man of the moment
While the Milan menswear shows make the press, the real business is done at the Pitti Immagine Uomo menswear show in Florence. Monocle was there to see the designs that won deals and fill its fantasy wardrobe.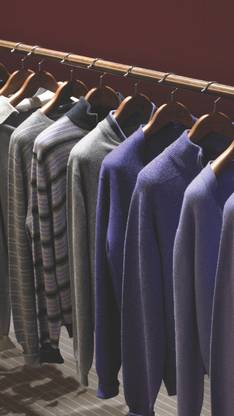 "These sell like fresh water," explained the man from Playboy's Italian merchandising department. He was holding up a pair of fluffy pink-and-white bunny slippers. "We cannot do enough business with them." Three floors above, the man from Valentino was painting a similarly happy picture. "We sell maybe a few thousand ties over the last three days," he said, nonchalantly flicking through the label's newest catalogue – a symphony of tastefully muted black and brown silks.
There was something for everyone at last month's Pitti Immagine Uomo, the twice-yearly menswear fair held in the grounds of Fortezza da Basso in Florence. The 71st Pitti Uomo ran from 10 to 13 January, kicking off the trade fair calendar for the autumn/winter 2007/ 2008 fashion season.
None of the clothes at Pitti would be in shops for another eight months – this was a chance for buyers to do business, and for the fashion media to take the temperature of the coming season. Over 26,300 visitors attended, sampling goods from 723 companies (up 69 on last June's fair) and 861 brands (up 36). There were significant increases in those visiting from Russia, eastern Europe, China, Hong Kong and India.
Pitti's 6,000 sq m provided room for everyone from the world's finest bespoke tailors (in the "Classico Italia" arena) to more youthful, rischioso designers (in the inaugural "Touch!" zone). Making sure the stands stood out was the real challenge. Marlboro Classics transformed its area into a wooden mountain lodge, complete with fake snow and roaring fire, while Behest served cream teas and crumpets. And T-shirt label 2K attempted to conduct business amid the recreation of a thumping Saturday-night disco.
Parking a flashy vehicle in your stand was another popular move: Fred Perry had its Triumph motorbike, Gimo's had upholstered the exterior of a MG 1600 MK II in its own soft brown leather while Diadora proudly displayed Ayrton Senna's Grand Prix-winning Lotus Renault. Yet all were upstaged by the clothing arm of Italy's own Aeronautica Militare – much of its stand was taken up by a Breda Nardi helicopter.
"We are very satisfied with the results," said Lisa Chiari of Pitti. "We estimate that several billion euros' worth of business was done in these three days. But that is no surprise. We are the number one fashion fair in the world."
---
"Classic with a twist" was Pitti's phrase of choice for Mauro Grifoni. With both the main line and the second line, M. Grifoni, the collection ran the gamut from denim to formalwear, bespoke jackets to evening shoes, hats, gloves, bags and even a pair of skull-and-crossbone-emblazoned slippers.
Big in Japan and its native Italy, yet virtually unknown elsewhere, high-end leatherwear company Felisi spread the word at Pitti via some eye-catching new designs. "Our latest bag material is crocodile covered with horsehair," explained PR Chiara Biasini. "Also proving popular is a unisex bag made from sheepskin. Unbelievably soft."
Ballantyne's autumn/winter collection combines the best of British traditional tailoring with finishing flourishes more usually associated with Italian menswear. "This season is about communicating a complete look," explained Sonia Chiarini of the label's diversification into accessories such as cashmere scarves, leather driving gloves and suede ankle boots.
For next season Piombo has sub-divided its collection into black (formalwear), brown (sportswear), blue (jackets and coats) and grey (the classic label characterised by worsted wool jackets). While Woody Allen was an unexpected design influence, the classic Italian label has also set its eye on the younger market. "In 2007 it's all about blousons and sports jackets," said the label's Corrado Buscarini. "For sure, the target this year is younger."
Some choice exposure on the buff back of Daniel Craig in Casino Royale has given British underwear label Sunspel urgent new appeal, something it's capitalising on with a new range of T-shirts and Bengal boxer shorts. No word yet if HRH The Prince of Wales, Sunspel's most lofty supporter, has placed his order.
---
Monocle's top multi-brand menswear stores
Milan
Biffi for Metrico trousers, Ballantyne knits and the odd bit of Gucci. — Host for Sartorio blazers, Glans shirts and Zanone super-fine knits.
Como
A. Gi. Emme for the keen eye of their buyer Alberto Monti and his eclectic taste for MCR custom shirts and Notify's better cuts.
Stockholm
Nitty Gritty for its inspired concept, plans for global expansion and good mix of classic and emerging brands.
Tokyo
Sarto Tecnico does a super-luxe collection of Cruciani knits, jeans cut Incotex cords and special edition Orobianco bags. — Beams+ for mixing slightly forgotten brands with new designers that have been otherwise overlooked.
London & New York?
We're still waiting for both cities to come up with sharp, elegant, multi-brand men's stores.
---
Knitwear remains at the heart of this Italian label's collection for 2007 – super cashmere, cashmere-silk and Cruciani's own Red Diamond range, which is spun from vicuña, "the finest fibre it is possible to spin". All are highly luxurious. Cruciani is also evolving into a complete lifestyle brand, adding polo-necks, sleeveless cardigans and sports jackets.
Fray combines fine yarns, hand-finishing and mother-of-pearl buttons to create luxurious shirts and knitwear.
Incotex claims to be the leading Italian high-end trouser specialist. "We're the Rolls-Royce of pants," says Massimo Gambaro, director of marketing. Monocle agrees.
The French company looks to the American West for inspiration. Its comfortable and hardwearing "Ivy" jacket remains a top-seller. "We are running a lot of new, bright colours such as greens and violets," says J*Keydge's François Ferdinand.
Montedoro's coats proved an undisputed hit in Florence. The emphasis was always on subtlety: only those wearing Montedoro's 2007 range of rainwear will appreciate the luxury cashmere lining, for example.
Top marks for originality went to this collection of jackets and trousers, inspired by Ernest Hemingway's love of anise-smelling cigars. With natural fabrics (wool, cashmere) and neutral colours, Anissej had lots of good ideas: shoulder straps for hanging the jacket, hand-embroidered labels, special pockets for notebooks, magazines and, of course, cigars. "I live in Venice in front of Hemingway's old house," explained designer GG. "So the story started from there."
"No media, no communication, no advertising" – that was the manifesto of Métrico's Claudio Serli. "My marketing is the clothes themselves." With design touches like a silk lining on a hardwearing wool jacket and hand-finished clasps on cargo pants, Métrico could afford to let its menswear speak for itself. New for 2007 was a line of military-inspired jackets. "The person who owns my trousers will take pleasure in them every day," said Serli.
Three special fabrics sit at the heart of Behest's new collection: platinum bale wool, baby Mongolian cashmere and silky vicuña. "The ultimate item for 2007 is our coat made from chinchilla and cashmere and lined with mink," explains Roberta Cocco. "You should wear it to the office, wear it in bed, wear it 24 hours, it is so comfortable."
Those visiting the hotshot young Belgian's stand were in for a surprise. "As you see," said representative Frank Sanchez, "we don't have any clothes." Just two jackets hung on the back wall – all that was ready from a hugely anticipated collection debuting in Paris a fortnight after Pitti.
Global warming has caused the sun to shine on venerable luxury knitwear label Avoncelli. "The temperature is changing on our planet. Good for us, so we can develop super-fine cashmere and T-shirts," says representative Cesare Ferrari.
---
Here's what we'd sell.
Polo shirts from Drumohr
Technical cashmere crewnecks from Zanone
Custom jeans by Dova
Ludwig Reiter desert boots
Trainers from New Balance
Cruciani pique cashmere V-necks
Glans Oxford-cloth shirts
Low-cut Incotex chinos
Aspesi jackets
Loopwheeler sweatshirts
01 Jackets by J*Keydge
02 Knitwear by Cruciani
03 Trousers by Incotex
04 Jacket by Annisej
05 Trousers by Métrico
06 Avoncello's a/w range