Okinawa / Naha
Isle be back
The poorest prefecture in Japan, Okinawa, in the far south of the country, is experiencing a renaissance as companies large and small capitalise on its relaxed, affordable lifestyle, great beaches and warm climate. And the city of Naha – population 330,000 – is leading the way.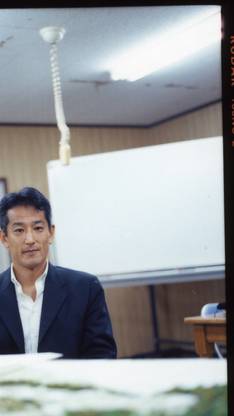 Five years ago, Shu Afuso and Chisako Fujii were leading a typical Tokyo life. She was renting a cramped one-room apartment in the suburbs and he was sleeping on a friend's floor. Like millions of others they had long commutes to work – she as a fixer for the BBC, he as a freelance software developer. In 2002, they decided to give up their metropolitan life for the sunshine and clean air of Naha, Shu's home town in Okinawa, 1,609km away.
These days, now married, they work for themselves running a web design business with clients all over Japan. They have swapped the grind of urban Tokyo for a three-minute commute and an office overlooking the sparkling waters of the East China Sea. They pay ¥20,000 (€122) a month for the office, while their three-bedroomed house costs the same as Fujii's Tokyo shoebox. "Living here suits our lifestyle," he says. "There's no way we could run a 'slow' business like this in Tokyo."
The couple are not alone in making the move to Okinawa. Two decades ago, young people were leaving Okinawa to find work in more affluent areas of Japan; now the flow has stopped and people are returning. "Thirty or 40 years ago people were changing their [Okinawan] family names to Japanese names to avoid discrimination," says Afuso. "Even 20 years ago people didn't think Okinawan culture was cool. That's all changed now."
In many ways, Okinawa is the least Japanese part of Japan. A string of sub-tropical islands, originally known as Ryukyu, it was an independent kingdom until it was colonised by Japan in the 19th century. In 1945 Okinawa was the scene of the last great land battle of the Second World War and it was under American control until 1972.
Today, US military bases still occupy over 237 sq km of the main island with some 23,000 military personnel – a figure that doubles when you include families and employees. Okinawa is a beguiling, contradictory place: closer to Taipei than Tokyo, it is Japan's poorest prefecture, with spectacular beaches, distinctive cuisine and, in 2006, a record-breaking 5.6 million tourists.
"If you live in Okinawa you have to accept all these conflicting issues: war and peace; new development versus environmental issues; imported culture versus Okinawan culture," says Afuso. "It's a very interesting time to be here."
Now, it's not only Okinawans who are returning; people from other parts of Japan are also being drawn to the warm climes and slower pace of Okinawa. It has long languished at the bottom of Japan's wealth tables but it has an enviable standard of living, and the national government has been doing its best to buy its way into Okinawa's good books, making it the most heavily subsidised prefecture in Japan.
Incentives are being offered to anyone who opens a business here. Companies who come into Okinawa are given generous tax breaks on property and land they buy; if they employ anyone under 30 the government will pay one third of the employee's salary – as much as ¥1.2m (€3,400) a year for up to three years, for as many as 100 employees. Companies that build offices here will be reimbursed for their investments: if they spend ¥50m (€306,000), the government will give back over 20 per cent of that – ¥12.5m (€76,000). The government even contributes to training costs. Since Okinawa has almost no manufacturing industry, the government has been promoting Okinawa as an IT centre. All new companies are offered subsidised phone and broadband internet at 25 per cent of the usual rate. There are now 145 multimedia companies in Okinawa, employing 20,000 people, including 50 call centres. One of the biggest employers in Naha (and a beneficiary of the government subsidy policy) is Transcosmos.
It has 2,200, mostly young, employees in Okinawa. Two years ago it built a nine-storey call centre in Naha complete with childcare facilities and a rooftop lounge for staff. "We moved here because of the financial incentives," says Transcosmos director Kazuhiko Tabuchi. "But we also have to think about our customers. Nowadays, young people here don't have strong Okinawan accents and because tourism is the biggest industry they are used to dealing with visitors."
Naha city has also benefited from central government handouts, and infrastructure projects are cropping up all over the city. The monorail that opened in 2003 is scheduled for expansion and a new tunnel linking the airport area with the city centre is also under construction. A lavish new baseball stadium is due to open in 2010. The city is hoping Japan's big teams will want to use the facilities for training (and it's not hard to imagine the Nippon Ham Fighters coming down from freezing Sapporo for winter training). A new dock for passenger ships is being built near the city beach at Naminoue, which should attract cruise ships from around Japan and Asia.
The city's showpiece development project is Shintoshin, a 2.14 sq km area in the middle of Naha. Until 1987, 1.92 sq km were under the control of the US military who used it for army housing. Today it's a new town within the city, lined with shopping centres, multi-story pachinko parlours and Japan's only Duty Free Shopping (DFS) Galleria. Open since 2005, the DFS mall offers domestic and foreign tourists dozens of designer labels at duty-free prices.
The Transcosmos building is also here. "If you'd come to Shintoshin, even in 2004, there was hardly anything here," says Tabuchi. Today its ninth-floor conference room looks over dozens of new high-rise buildings and apartments, the new Bank of Japan building and an empty plot next door where two 30-plus storey residential and office towers are due to be built. The new Okinawa Prefectural Museum, a symbol of the island's cultural renaissance, opened in Shintoshin last November and the national broadcaster NHK will be opening an office here next year. For the city government, the presence of the US military can be a frustrating barrier to development – chunks of land in the middle of the city are no-go areas for them. "We'd like to expand the airport but the port area has not been returned," says Yasuhiro Nakamatsu of the city's commerce promotion section. "During the Vietnam War we could see the point but now it seems that they're not really using it."
City officials would also like to see the return of the land currently occupied by Camp Kinser, a US Marine base to the north of the city. "Right now there are 20,000 people working in IT," says Eigo Yamazato of the prefecture's tourism, commerce and industry department. "If we had more land we could triple or even quadruple that figure."
No incentive is required to encourage tourism industries to come to the newly rejuvenated Okinawa. Tourism accounts for nearly 6 per cent of GDP, triple the national average. In 2006, 5.64 million visitors came to Okinawa – 5.5 million of them Japanese – and they spent ¥408bn (€2.5bn). Just two years earlier, that figure was ¥363bn (€2.2bn). Hotels are being thrown up in record numbers, with 11 new ones projected to open this year alone. The west coast of the main island with its white beaches and sunset views is top choice, but development is happening on islands all over Okinawa – Ishigaki, Miyakojima, even tiny islands such as the 28 sq km Yonaguni, the westernmost island in Japan.
"Balancing development with the environment is the most important issue right now," says Soichiro Arima, who works in the prefecture's tourism division. "Of course it's important to have many tourists – but how many more people is the question. The governor has been saying he wants 10 million – we're working out what the limit should be."
At the moment, only 5 per cent of visitors to Okinawa come from abroad – and most of those come from Taiwan, China and Korea. East Asia is a potentially huge market for Okinawa. Naha is much closer to Shanghai than it is to Tokyo and the prefectural government opened an office there in 2005.
"We want to have visitors all year round," says Arima. "The domestic market is very concentrated since everyone in Japan has the same holidays and they only stay for three days. Ideally we'd like to have people who stay longer and spend more rather than just more people."
Rents in Okinawa are remarkably cheap. Mitsuo Minamiguchi, an editor, moved to Naha from Osaka in 2002 and rents his one-bed apartment for ¥30,000 (€183) a month. The US military contribute some ¥200bn (€1.2bn) a year to the Okinawan economy; their presence has distorted the housing market in many ways. People who live close to the bases receive financial compensation from the government; some also receive income from houses they rent to the military.
Textile artist Rie Kagawa moved to Okinawa from Saitama and lives in one of the houses built for the US military. Now 50 years old, these concrete boxes are popular with young Okinawans. "I love it here – the sea, the sun, the greenery," she says. "When I go back home now I feel tired and stressed – I can't imagine ever moving back."
Tokyo architectural developer Urban Design System (UDS) is working on three groundbreaking projects in Okinawa, including a ¥3bn (€18m) luxury hotel and villa complex at Sesoko Beach, on a tiny island near Nago. "Japanese travellers are rediscovering Okinawa," says CEO Fumio Kajiwara. "It's close but different; the food is good and the culture is interesting. There's no risk of terrorism and the ocean is clean."
The hotel will be a template for future development. "Hotels here tend to be Spanish-style, Balinese-style," says Hiroyuki Takeshima, who runs the project. "We want to emphasise Okinawan culture." UDS has hired a group of Japanese designers who are creating a modern Okinawan style with local materials. UDS has also bought land to build second homes.
The average starting salary for a college graduate in Japan is ¥199,800 (€1,220) a month but in Okinawa it's only ¥167,400 (€1,020). Balancing that out is the cost of living – only 68.8 per cent of the national average. The US military has been in Okinawa for decades, so English is more widely spoken than in other parts of Japan.
Okinawans are the longest-living people in Japan, thanks to the laid-back lifestyle, healthy diet and the occasional glass of the fiery local alcohol, awamori. The hot weather contributes to Okinawa's relaxed pace and most evenings seem to end with someone strumming a sanshin and guests indulging in some Okinawan folk dancing. The seaside is never far away and with hundreds of sand-fringed islands to choose from, weekends will never be dull. The typhoon season from late summer can make travel unpredictable.
There are more than 800 domestic flights to and from Naha every week. At peak times there are Pokemon-liveried 747s taking off every 30 minutes. There are also direct flights from Shanghai, Taipei, Manila, Seoul and, soon, Beijing. Japan Transocean Air and Ryukyu Air Commuter operate services between Okinawa main island and the outer islands. The journey from Naha airport is a 20-minute taxi drive or a short hop on the city monorail, which winds its way through Naha to the terminus at the castle of Shuri. There are bicycles for hire in the city and buses go all over the main island from Naha. The US occupation is evident in Okinawa's love of the car. Ferries connect Okinawa with Kyushu, Honshu and the Okinawan islands.