JK Building / Belo Horizonte
Height of ambition
The Oscar Niemeyer-designed JK Building is the tallest, most populous high-rise in Belo Horizonte, Brazil, home to thousands across two blocks. Thanks to an open-plan design and an eclectic mix of residents, it's also a city icon.
Conceived in 1951 and finally completed in 1970, Oscar Niemeyer's Conjunto Governador Juscelino Kubitschek – or the JK Building, as it is more succinctly known – remains a living, breathing testament to the great Brazilian architect's early ideas. Day and night, cars huff and puff around its two not-so-identical apartment blocks, one standing 22 storeys high and the other topping out at 36 floors. Looking down on the streets below, residents breathe in the city's movement from their fish-bowl-like windows. The towers are at the heart of downtown Belo Horizonte in the state of Minas Gerais.
"What made me want to live here is the fact that it is an original Niemeyer project," says Douglas Almeida, a stylist for fashion designer Coven. "The idea of living in a renovated apartment in the JK Building is what brought me here."
The use of natural light was a key element of Niemeyer's designs. When the project for the JK Building was drafted he married the European idea of communal living (something that was not yet popular in postwar Brazil) with the glass high-rises that were being built in the likes of New York and Chicago. The JK Building was one of the first developments in a tropical climate to be clad mainly in glass, an idea that Niemeyer had already played with in the Gustavo Capanema Palace in central Rio de Janeiro, completed in 1947. He further explored it in the UN Headquarters in New York, which was delivered in 1952.
There are 13 types of apartments in the JK Building, ranging from bachelor suites – similar to hotel rooms – to three-bedroom apartments, one of which was designed for former state governor Juscelino Kubitschek. It was Kubitschek (who went on to become Brazil's 21st president and famously turned to Niemeyer to work on the new capital Brasília) who first funded the project and after whom the building is named.
JK Building resident Pedro Morais is a Belo Horizonte architect whose phd focused on Latin American high-rises. He says that the project took so long to complete because its construction was dependent on the selling of the units. "When it opened it wasn't appealing to many people in the city to live in such a small space, so close to others."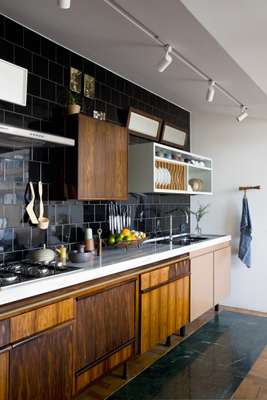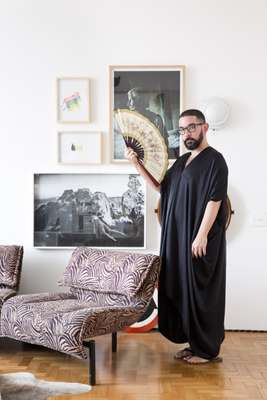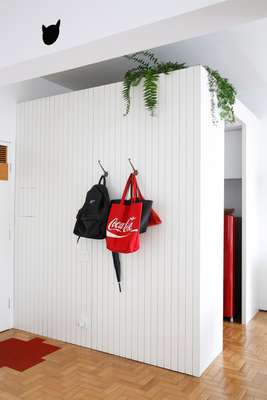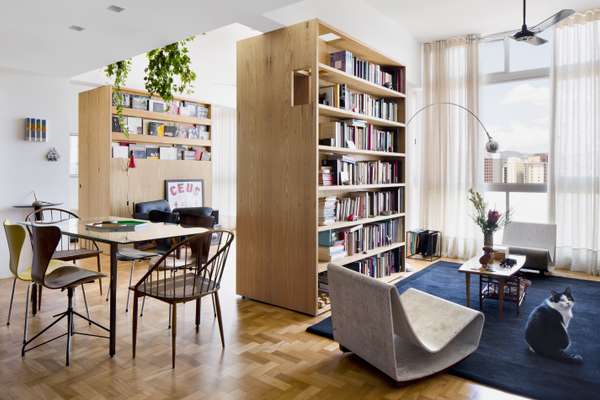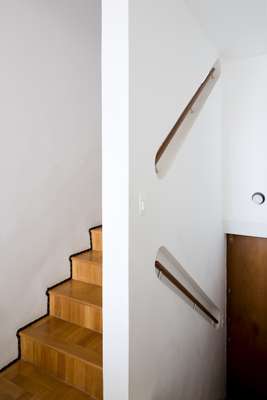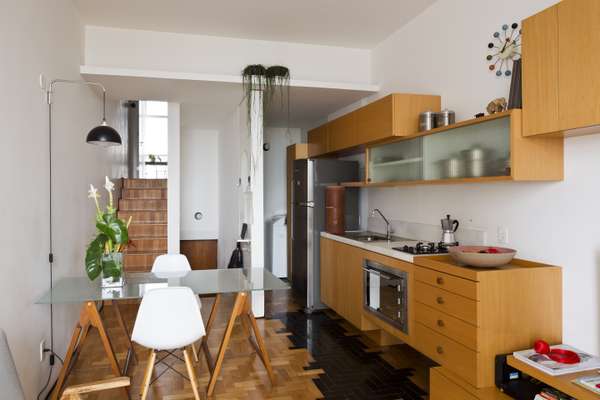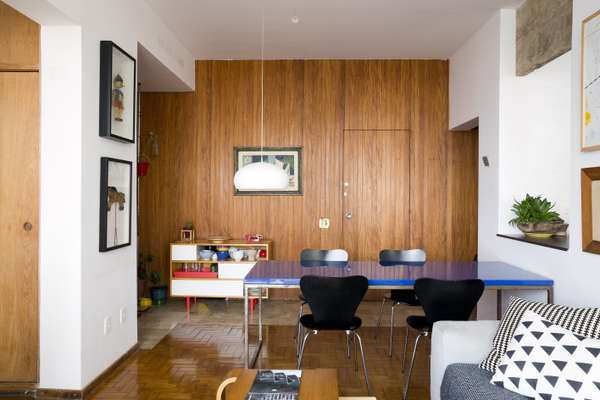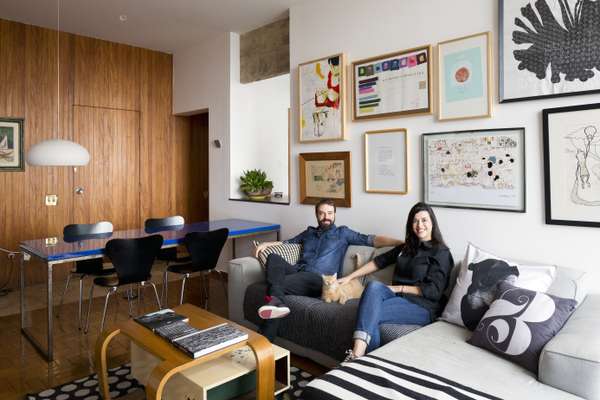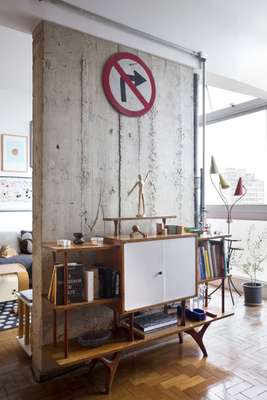 "In order to get residents in, the government gave incentives to public workers and police, selling the units for cheaper prices just to get people to live here." This, he says, accounts for the extraordinary social mix of residents that can be seen today.
Morais has lived inside his thesis, having been here for 12 years, and is the proud owner of the apartment designed for Kubitschek. The architect redesigned the space himself, keeping the original built-in cupboards that line the hallway but opening up the third bedroom as an open-plan office and expanding the narrow kitchen into the space that was designed for domestic staff. "You have more privacy than you expect from a building of this size," he says. "You would think it must be a mess since there are so many people living in such a small place. But it's very safe and secure."
Back at Almeida's apartment, three floors down from Morais in Block A, a homely space is a reflection of his small-town roots. He hails from Argirita, a place with just over 3,000 people in south-east Brazil, so living in the JK Building has a strange echo for him because the apartment blocks house about the same number of people as the town that he comes from.
And he likes the fact that, while it has the bustle of a vertical town, you are not overwhelmed by the comings and goings of residents. "You don't realise how many people live here," he says.
Almeida's unit is one of four located in Block A that have been gutted and refurbished by Brazilian architecture firm Play Arquitetura. The company has updated the space to be more in tune with modern living by expanding the existing small kitchen and creating a new utility area.
His duplex has both north- and south-facing windows, which provide the narrow space with ample light. The peroba do campo wooden flooring) from trees native to Brazil), which characterises the buildings' corridors and creeps into every unit, has been left untouched in his apartment.
"I designed the space so that it would be good for a couple," says Marcelo Alvarenga, owner of Play Arquitetura, who has been a JK Building resident for the past five years. "Since there isn't a lot of space I had to gain every centimetre where I could. With the hand railings, for example, I created more space by embedding them in the wall."
Another one of Alvarenga's creations is 38-year-old Paulo Raic's white-themed open-plan apartment. Alvarenga's designs enticed Raicto to move into this one-bedroom space but he was also attracted to the character of the building itself. "It's sci-fi, it's modernist. I think you can find it all here – including me," says Raic, in his sharp kimono.
In his own apartment Alvarenga has turned the two-bedroom, 95 sq m space into an open-plan unit where moveable walls can be put into place to reinstate the original two rooms when privacy is needed. He disguised the central concrete pillars that divide the room using Freijó wooden cabinets, which work with the initial design and also save on space.
However, when Alvarenga spreads a colourful tablecloth over his glass dinner table – which is propped on Brazilian-rosewood pillars – the modernist space is transformed. The setting instantly recalls a scene from a Minas Gerais farmhouse: there is coffee brewing on the stove and canastra cheese with traditional pão de queijo (Brazilian cheese bread) laid out for the taking. There is a knock on the door and neighbours come in for coffee and a chat.
No matter how unconventional living in the JK Building might have seemed when the idea was conceived more than 60 years ago, or even as it may be viewed today, the building feels like it's occupied by some of the most welcoming people in Brazil. And while this project's raw mystique from the time when Brazilian architecture was finding its voice is what attracts some residents, it's the sense of belonging here that Niemeyer's design promotes that makes people stay.