Media / Global
Media
Briefing
Experimental television and large-format print.
The world of non-scripted TV has lagged behind its sexier scripted sibling in recent years but a new generation of producers is working hard to come up with the global hit, a show that could replicate the success of the likes of Big Brother and Deal or No Deal.
The prevailing trend in TV formats is the social experiment: producers aim for increasingly authentic ideas before contestants learn how to game the reality-TV system. The Dutch competition series Get the Fuck out of my House and German show Look Me In The Eye are good examples of new twists on human voyeurism, while South Korean Lord of the Flies-esque The Society Game holds a mirror up to civilisation. The latter, which is produced by CJ & EM, consists of two societies, one run under an authoritarian model and the other a democratic one, vying to win challenges and keep peace.
The Asian-formats market is booming as a number of ideas begin to emerge from China. Familiar Taste, co-developed by Chinese broadcaster Zhejiang Satellite and production company Purity Media, is a cooking format that sees celebrities surprise their friends with a home-cooked meal. Meanwhile Crazy Match, from digital platform Youku Todou and Alibaba-owned production group Vision Media, is a dating show that sees four attractive women and four unsavoury men share a house for three days, during which the men have to prove their worth.
Israel may be known for edgy political dramas such as Hatufim (Prisoners of War) but conflict-resolution project Boxed may change this. The show follows two people as they enter a sealed box to work out their problems. Creator Keshet hopes that the show can strike some out-of-the-box deals and travel widely.
Three social-experiment shows:
01
Get the Fuck out of my House: This controversial reality-TV show sees 100 people live together in a small house and compete to be the last contestant standing. It launched on Dutch network RTL5 and is being sold globally by Fremantle Media.
02
Look me in the Eye: Commissioned by German broadcaster Prosieben, this show is based on Marina Abramovic's performance-art piece and sees two people with issues make extensive eye contact to heal old wounds. The Red Arrow show is being remade in France by TF1 and Australia for SBS.
03
Sorry About That: A Truman Show-style Belgian format that sees TV producers covertly taking over a person's life, filming them for 30 days and making them the star of their own gameshow. When it launched on EEN it was one of the most popular shows in Belgium with more than one million viewers.
Q&A
Heval Okcuoglu
Editor in chief, 212 magazine
Istanbul
Stocked in 25 countries, 212 was born in Istanbul during the city's annus horribilis of 2016. Nonetheless, this biannual magazine is an upbeat compendium of new reportage and luxuriously long photo essays covering everything from phallic desserts in Anatolia to the US's rodeo-loving teens. Heval Okcuoglu is the editor in chief.
Why is 212 printed in large format?
The magazine is backed by a photography agency called 212 Studio and we wanted to do justice to the photographers that we work with. Also we started out looking at the 1950s-era editions of Life magazine, which were a similar size.
What is a perfect feature?
Telling a local story with universal resonance. In the last issue we ran a piece about Turkish holiday resorts that have full-size replicas of the Kremlin or Topkapi Palace. For another story a photographer followed the remains of statues of Lenin after they were demolished in eastern Europe.
What does 212 bring to the industry?
Translation is essential to what we do: we print two versions, one in English and one in Turkish. And while it's about bringing Turkish literary voices to a broader audience we also see value in translating essays into Turkish.
Has Turkey's upheaval fed into the magazine? Our first issue was called "Strange Days", which makes sense but we don't directly cover what's going on here. We try to have a bigger perspective: author Isabel Allende talked about feeling disconnected in her own land, for instance. So it's there, albeit in subtle ways.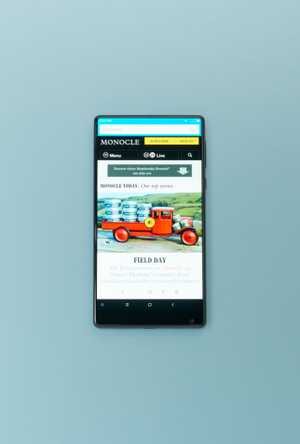 Technology
In the mix
China
Is this little (actually, quite big) chap the future? He's ceramic, he's easy on the eye – shiny and well made, with the appearance of a black mirror – and he's all screen. This last fact is not strictly true: the Xiaomi Mi Mix is 91.3 per cent screen.
So is it a thing for work, rest or play – or, like a Mars bar from the 1980s, something that's good for all three? Work-wise (and play-wise) it's large virtual "keys" are a joy on which to type; your reviewer made no spelling mistakes (and still has a BlackBerry with buttons brcayse he hste typos). Rest-wise it's got the ability to absorb any app that will help regulate sleep – although the best way to do that is to switch it off, obviously. Play-wise is where that high percentage of screen-to-body comes in: it's like a portable TV only with far better resolution (and more portability).
Best of all, the Xiaomi Mi Mix is Chinese. Most smartphones are made in China so why don't we just buy actual Chinese phones? This is smart, rare – at least outside China and Singapore – and almost nice-looking enough to spoil a dinner date by answering it.