Expo no 100 / Brussels
Why did Nato cross the road?
Critics might see Nato's crumbling headquarters as indicative of the plight of the alliance. But as we discover, ambitions and excitement are still coursing through the corridors as the organisation prepares for its big move.
When the North Atlantic Treaty Organisation moved its headquarters from Paris to Brussels in 1967, it's fair to say that not many of its staff were entirely happy. In Paris, home had been a grand Jacques Carlu-designed building in the heart of the city just minutes from the Arc de Triomphe. There was a view of the Eiffel Tower and at lunchtime the staff would go shopping on the Champs-Élysées. Brussels was less exotic: the site was out of town and rural, the restaurants were not exactly appetising and, to top it all off, the salaries were lower.
Then there was the building itself. Three storeys of concrete stretched over a large plot of land, it had originally been a hospital for the Belgian military. If you were being kind you might call it a fine example of 1960s municipal brutalism. If you were being honest you would call it a squat, ugly, concrete nonentity reminiscent of a government office block in a small English town.
The move to Brussels was swift. In early 1966 French president Charles de Gaulle withdrew his nation from Nato's integrated military structure and told his allies that they needed to find a new home; within a year the new headquarters was open. But corners had been cut. "Inside the buildings the plaster walls were as yet unpainted," wrote François Le Blévennec, a young French member of the public diplomacy division who had made the move from Paris. "The quality of the construction was clear for all to see and the head painter, a bearded Bruxellois with the accent and hearty humour to match, insisted that he, his men and their paint were there to prevent the walls from falling in at the first light breeze."
There was no great love for the new headquarters but at least it would be temporary. The Belgian government had allocated a plot of land in the Heysel suburb of the capital where a purpose-built HQ would be constructed within five years. But it never happened and the temporary became permanent. Over the following decades the site's "temporary nature", wrote Le Blévennec, was "aggravated by the addition of a jumble of prefabricated wings, which are even more disgraceful than the original buildings".
Le Blévennec's criticism is not the whine of an aggrieved former staffer. He worked for Nato for 40 years, ending his career as head of media operations, and his musings on the organisation's headquarters was commissioned by the in-house magazine to mark the 40th anniversary of the move in 2007.
Even Nato's secretary-general won't pretend that the current digs are an improvement on the old ones. "I've seen the old building in Paris," says Jens Stoltenberg in his third-floor office. "It was a beautiful building with an excellent view," his voice deadpan as he glances out of his window at the six-lane highway beyond the tall fences topped with barbed wire.
Along with the 3,000 people who work at Nato headquarters, Stoltenberg will get a new office soon. Over the road a gleaming glass-and-steel structure has almost been completed. It has taken almost two decades since a decision to move was made and it has not been without controversy: the cost has risen gradually from about €450m to potentially more than €1bn.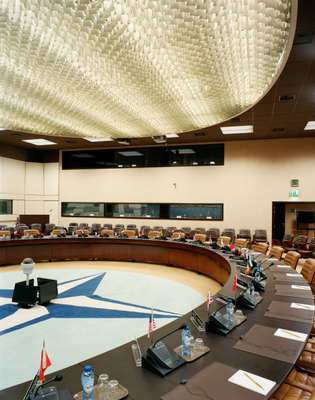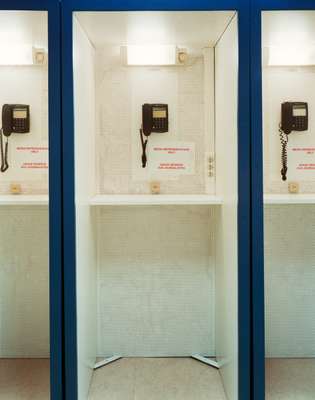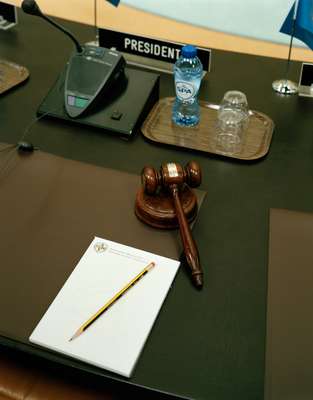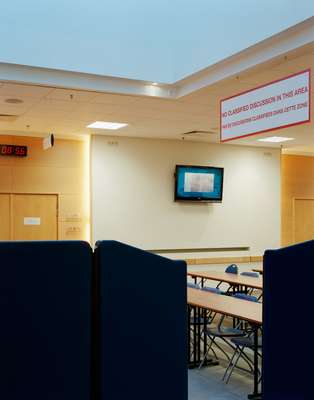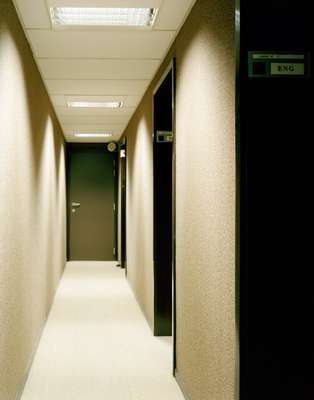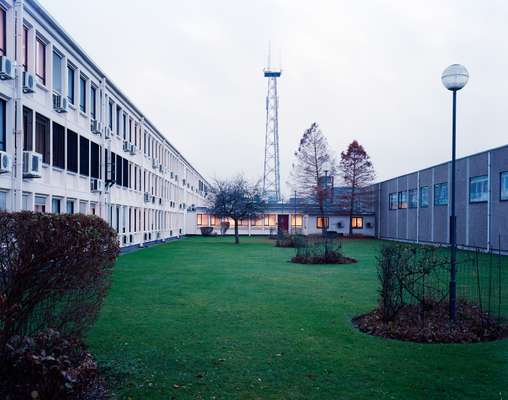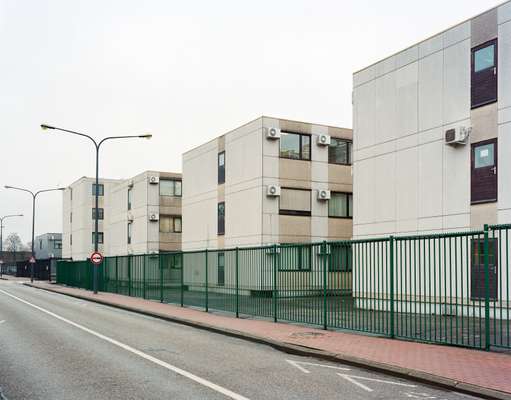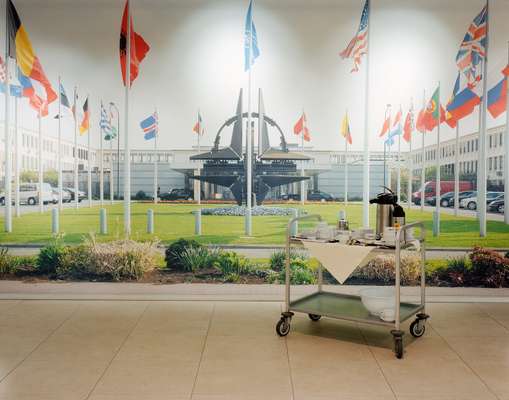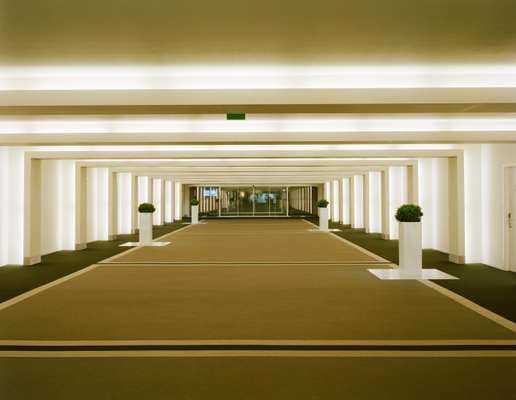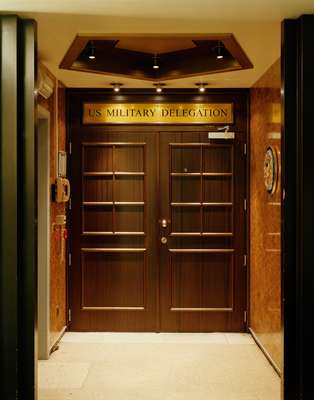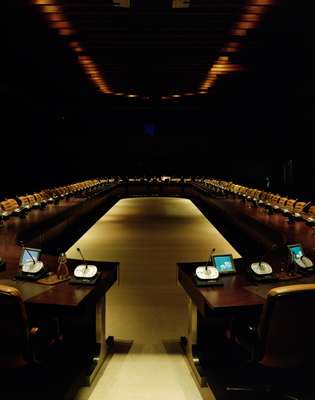 The timetable for the move is still a little unclear. "Next year" is as precise as anyone will commit. Jokes about Berlin's new airport (which remains unused more than four years after it was due to open) are met with uneasy laughter. Until then the old building soldiers on, literally falling apart at the seams, cracks literally being papered over.
For the past decade it has been Mark Spicer's job to patch up the old building. A former Royal Marine, he's now the assistant deputy secretary-general for HQ support and transformation (lots of people here have unnecessarily long titles). All public areas have been given a refresh. "You can't have photos of John Kerry with bits of the roof missing," he says. "Cosmetically we have to do our best right up until the bitter end. We achieved a lot with bits of plasterboard and paint."
There's only so much plasterboard and paint can do though. "It's been very hard to justify investment in this building for some time – and you can see it. This place has been falling down for a long time," says Spicer.
As the move to the new building has got closer, justifying any spending on the old building has become harder. "This place is really falling apart," confides one official. "We've had buckets out to catch the rain coming through the roof." Another complains about the lack of ceiling tiles; if one breaks it's impossible to get a replacement. Some parts of the building still contain asbestos (this was built, remember, at a time when asbestos was the wonder of construction).
There were, however, advantages to being based in such an unassuming building. Jamie Shea is another Brit with a very long title: his is deputy assistant secretary-general for emerging security challenges, and he has worked here for 35 years. Part of his first job was to give tours to visitors. "I used to apologise for the fact that the building was old and they'd say 'Oh no Mr Shea, it shows that Nato is frugal with taxpayers' money'. It was a big selling point for Nato that we weren't fat cats."
Shea, who says all the right things about the nice new building across the road, clearly has more affection for the current abode. "Paradoxically, given that this was a hospital originally, this has been a great building for Nato." Pointing out the long corridors with doors open to small offices on each side, he adds, "It's great for gossip, which is important. Lots of open doors and short distances."
Those distances are a little longer for the newest arrivals. When Nato moved in here there were just 15 nations in the alliance. Spain joined in 1982, then there were three waves of central and eastern Europeans in 1999, 2004 and 2009, boosting the numbers to 28. With each new arrival the search for adequate accommodation has become increasingly difficult; many of them have been placed in a series of portakabins on the periphery. "The newer allies didn't get prime real estate," says Jack Hillmeyer, the public-affairs officer for the US mission. "They're out the back." Some of the decisions about who goes where can look odd to an outsider. "You come down the hall and you're like, 'that country? Prime spot near the cafeteria?'" jokes Hillmeyer. He accepts that the current arrangement has worked out well for the US. "We have an entire wing."
They'll have a similarly large space in the new building too. Hillmeyer is one of those excited about the move and can't wait to leave the old home behind. "This is majestic," he says, pointing to pictures of the new HQ pinned to a noticeboard in the US office. "It's befitting of the importance of the alliance and brings Nato into the 21st century." Like many he's not sure that the current building is impressive enough. "Visitors generally don't feel the air of awesomeness when they visit the current headquarters."
Spicer, in his more reserved – British – manner, makes a similar point. If Nato didn't move "what were we signalling? Is this because the nations don't think Nato is going on for much longer? Nato has to present an image of what it is, of permanency, of resolve." If your headquarters is "a portakabin shoebox then you can't help but have that interpreted somewhat unhelpfully".
One danger of the new building, which has just about tipped over the €1bn mark, is that it will become what the old building could never be: a symbol of excess. "It's more of a reflection of how things were in 1999," says Ineke Deserno, the head of Nato's archives. "I don't think Nato would build it now." Adds her colleague Nick Nguyen: "There was a sense of 'we've won'. Things seemed to be optimistic."
There are advantages to the new building aside from its functionality and modernity. "All allies will start off on an even footing," says Nguyen. "Here it was 15 members and then they made space for new arrivals." He compares it, jokingly, to moving into your girlfriend's house. "You share the space but it's still her house." Then he adds, more seriously: "This building's got a little too much history – the old scabs of the past."
Since the end of the Cold War, Nato has been an alliance in search of a problem to solve. In the 1990s it intervened in Bosnia and Kosovo, the latter when United Nations Security Council approval was blocked by Russia. Following the September 11 attacks in 2001, Nato invoked Article Five for the first and, so far, only time in its history – that's the article that states that an attack on one ally is an attack on all. While the US led the invasion of Afghanistan, Nato came in two years later (they're still there today, about 14 years on). Then there's been piracy in the Horn of Africa, Libya and operations in Iraq.
And now Nato seems to have come full circle, sending battalions to the Baltic states to protect them from the threat of Russian aggression. When the new building was first agreed in 1999, Russia was a friend. Boris Yeltsin had signed an historic treaty between Nato and Russia; when Vladimir Putin came to power in 2000 he even mooted the possibility of Russia formally joining the alliance. Nato would be an alliance without any enemies.
It's a different world today – and Stoltenberg insists that it needs Nato now more than ever. "In times of turmoil we need strong institutions such as Nato," he says. And he doesn't just want that message to be heard in Moscow: it's one that he hopes is understood in Washington too, where incoming president Donald Trump has suggested that Nato may be obsolete. Given that the new president is a man who likes shiny buildings, perhaps it's a good thing that Nato is leaving its old crumbling hospital behind.