Animal architecture / Global
Beauty and the beef
How do you balance the welfare of livestock with an architectural aesthetic that befits bucolic surroundings? We pulled on our wellies to find out.
Humans have long been fascinated with home-building for furry and cloven-hoofed friends, from old European pig palaces to London Zoo's modernist 1930s Lubetkin Penguin Pool. Yet often the animals needs weren't properly addressed; the poor penguins suffered from achey joints due to their habitat's impractical design.
In recent years design for animals has become more considered – especially on farms, where consumers have cottoned on to the treatment of animals. Indeed, humane treatment of livestock has never been more apparent in agricultural buildings. Yet the engineering involved in forwarding this industry has focused on efficiency rather than aesthetics, leaving ugly constructions in typically lovely rural settings. But creating a design compromise between the animal's wellbeing, a farm's efficiency and its buildings architectural merit is a fine art, and one that often has to be done on a tight budget.
The world's best new animal architects have grappled with these issues and, taking the bull by the horns, here we showcase the finest results.
---
Cattle creatives
Cow barns
Switzerland
Swiss architect Gion Caminada's feet crunch through the snow as he approaches three striking timber barns in the Alpine village of Vrin. Handsome at 59, with a mountaineer's build, he puffs on a cigar and blows smoke into the air as he explains the tradition that has informed the remarkable structures.
"When you have knowledge you have freedom," says Caminada, whose decades of architectural work in Vrin afforded it the Swiss Heritage Society's esteemed Wakker prize in 1999.
The newer homes that he is introducing today were influenced by the traditional construction known to the Lumnezia valley where Vrin is located. This can be seen in the age-blackened logs, which form the crisscrossed exteriors of most of the town's buildings. In contrast to them, Caminada's newer structures on the mountainside feel fresh and slender, with finessed timber latticed walls and dramatic sloped roofs. "There are characteristics of these buildings that are so specific to this place," he says, pointing at the neatly patterned timber exteriors with tiny gaps that provide ventilation and can endure both torrid and wintery weather.
These practical aspects are appreciated by the residents: a laidback bunch of Swiss cows who probably aren't too fussed about their barn's fancier architectural trimmings. For the humans of Vrin, however, these buildings have great significance: the barns and the adjoining butcher have helped to revive the village's farming community.
Beautiful and historic, Vrin has benefitted from government preservation efforts to improve its infrastructure and population growth. With Caminada at the town's disposal, something special has occurred as he's advanced the architectural heritage here. "Tradition isn't clinging on but creating new uses."
The three barns that Monocle visits went up in the 1990s and formed the prototypes for more to come in the surrounding region, larger in scale than the traditional Swiss barn and built for modern farming. While Caminada's portfolio spans well beyond the cow barns (and Vrin) – including restaurants, hotels and human residences – animal architecture continues to be a strong facet of his practice. The architect has an affinity with designing in harmony with the landscape. From beautiful barns on the fairytale slopes of the Alps to Goldau Nature Park and Zoo, where his stunning new animal observation tower has just opened, both beast and man will attest to the value of a Caminada building.
Yet he is not the only good architect who is improving Switzerland's agricultural infrastructure. In a nation of eight million people, some 1.5 million cows keep thousands of Swiss employed. Many cowsheds here were designed to complement the farms they're situated on and they form a good chunk of regional vernacular. This ranges from the deep, sloping roofs of the log-stacked numbers in Vrin's home in the canton of Graubünden to the stone, tile-roofed structures of Basel Land. It's here that one admirer of Caminada's work has taken cues from what's come before to develop a new type of barn for the future.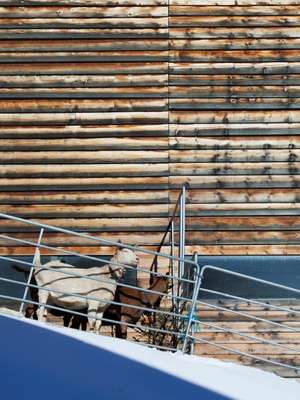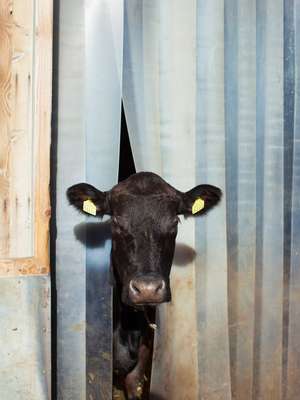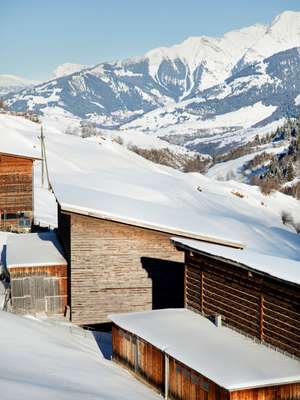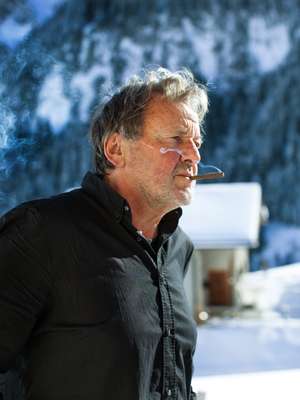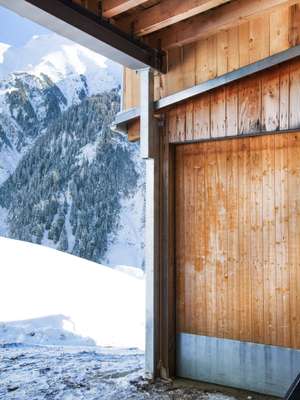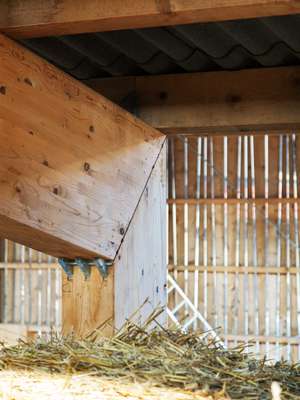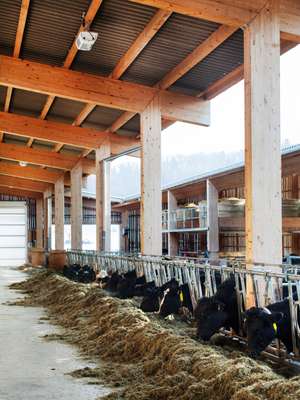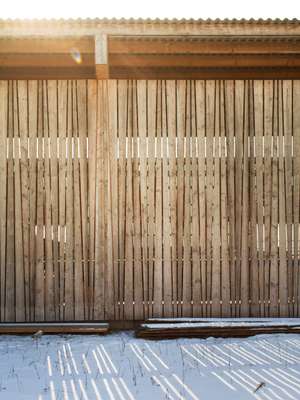 "What was important in this project, as in most agricultural projects, was the simplicity in its expression," says Jean-Philippe Stähelin. He's the principal of Stähelin Architekten and is showing us around a state-of-the-art facility that he designed for a group of organically farmed cows and calves. A pitched roof sloping inwards forms a unique courtyard-like opening where the curious cows can congregate when it is cold in the depths of winter. Here they receive the exposure to the elements that they crave but can retreat back to their hay-lined beds when they have had enough.
"Barns can be dark and gloomy places for cows in the harsh Swiss winters but the free space and the outdoor pastures inside the building allow these cows to live more naturally," says Stähelin Architekten's James Wong, who also worked on the project. The result? "Happier cows that make better produce."
Again, government forces were at play in enabling a larger budget for the Basel Land barn, with its ornamental cladding and minimalist form offsetting the castle it neighbours on the state land that it occupies. Quite apart from the new building's functional purpose there is an immense level of pride and passion with which its architects discuss its elements, not least the mechanical manure scraper which cleans the courtyard.
While most farming nations maximise value by minimising costs on barn building, in Switzerland there is a culture and tradition of actively investing in quality agricultural architecture. There is also a certain purity to be found in a barn's shape. Despite its simplicity it can be tweaked and manipulated, thus making a perfect plaything for the academic rigour that Swiss architects are especially famous for.
"It's a design that must reflect, in the simplest way possible, the needs of the user. Therefore the architecture has to be a combination of pragmatic, direct and minimal," says Stähelin.
---
High society
Goat tower
South Africa
When it comes to animal architecture, the goat tower stands alone. Perfect for its inquisitive inhabitants, the design is a combination of spiral staircase and European garden folly. "It's a functional and beautiful structure for goats and humans to enjoy," says Charles Back. He owns Fairview Wine and Cheese, which is home to the world's most famous example and is located in the Western Cape province, not far from Cape Town.
"I spotted an old goat tower in a beautiful Portuguese winery; I saw its design and understood its value immediately," says Back, whose wine is exported globally and whose cheese is stocked in the nation's supermarkets. "The goat is such a sure-footed animal. They can virtually walk along a tightrope; they love climbing."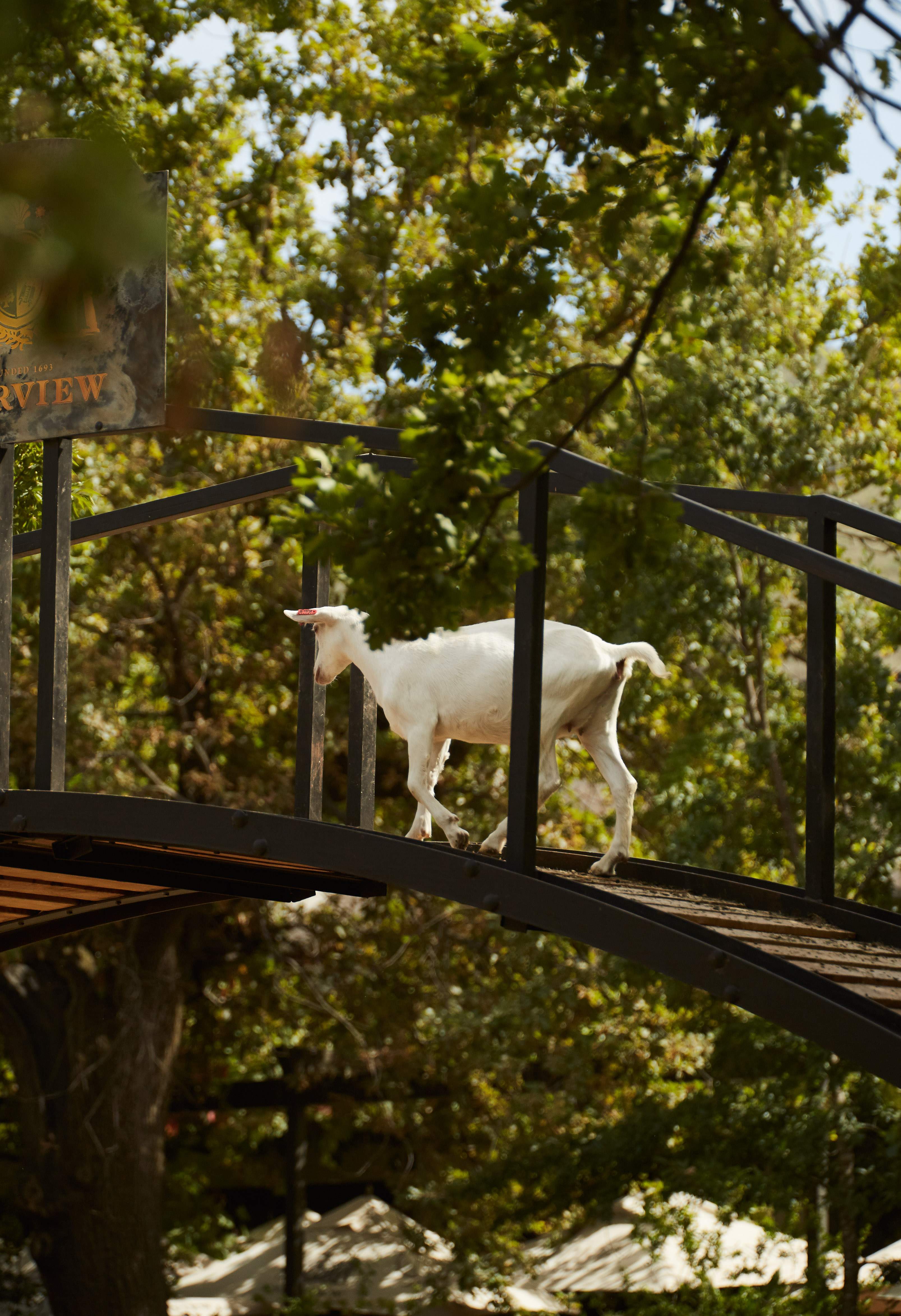 Taking sketches of the Portuguese tower, he brought his findings back to South Africa. Here he got to work with builders to engineer and construct Fairview's surprisingly complex version. The new goat tower, like the 19th century Portuguese design it's modelled upon, is built to last. Thick, sturdy brick walls and tough timber climbing slats are supported by a concrete spinal column to endure the hardiest hoof. "Every now and then a customer who has had too much wine gives it a try," says Back.
The tower, finished in 1981, was just the start of Back's animal-architecture career (Fairview now receives 300,000 visitors a year). His business has profited from visitors to the extensive (and growing) timber goat playground he has personally designed; this includes an alpine-style villa replete with goat bunks. "Fairview's goat sky bridge was a world first," says Back, who promises more projects in the near future.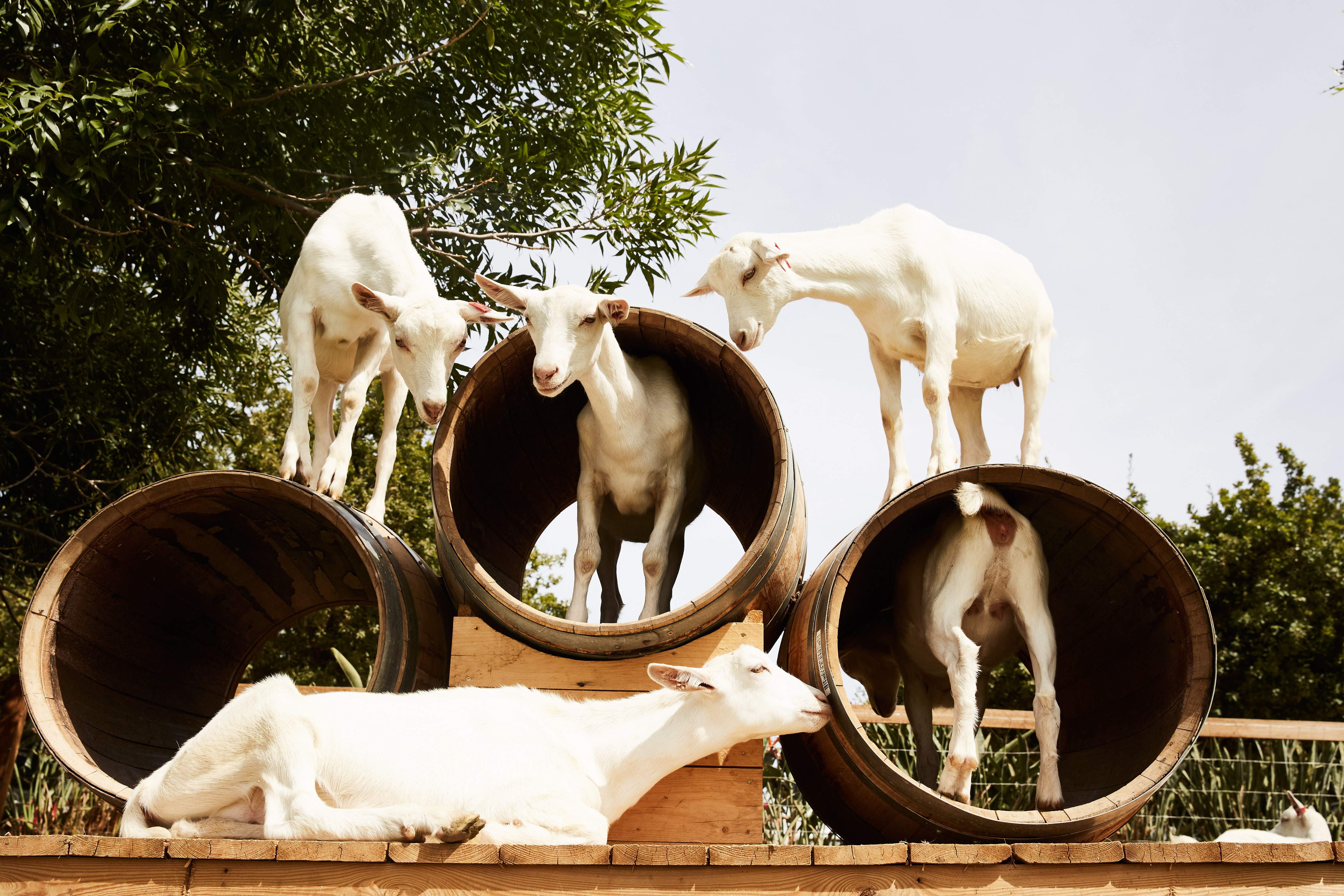 Milking it
Metzler dairy farm
Austria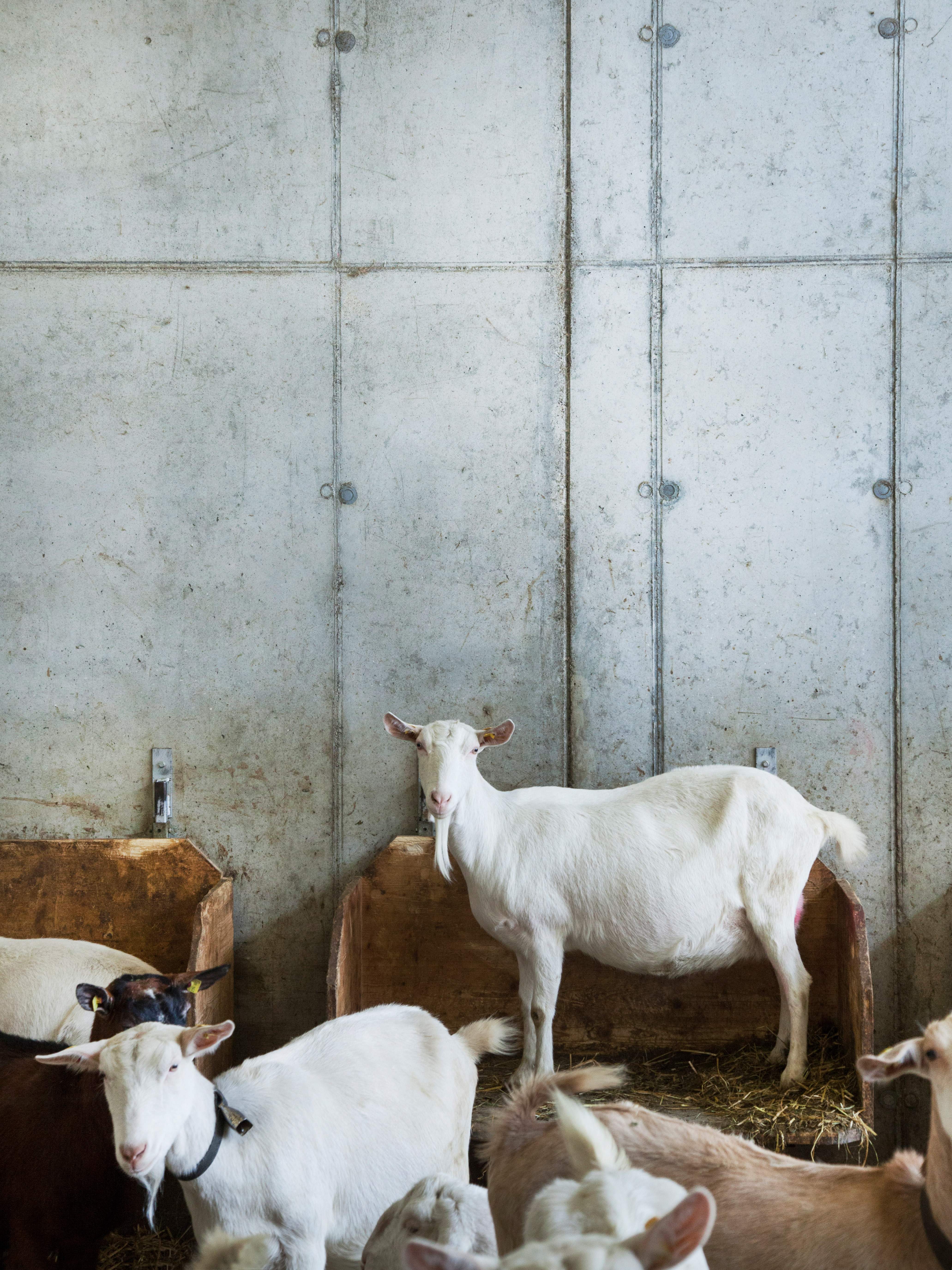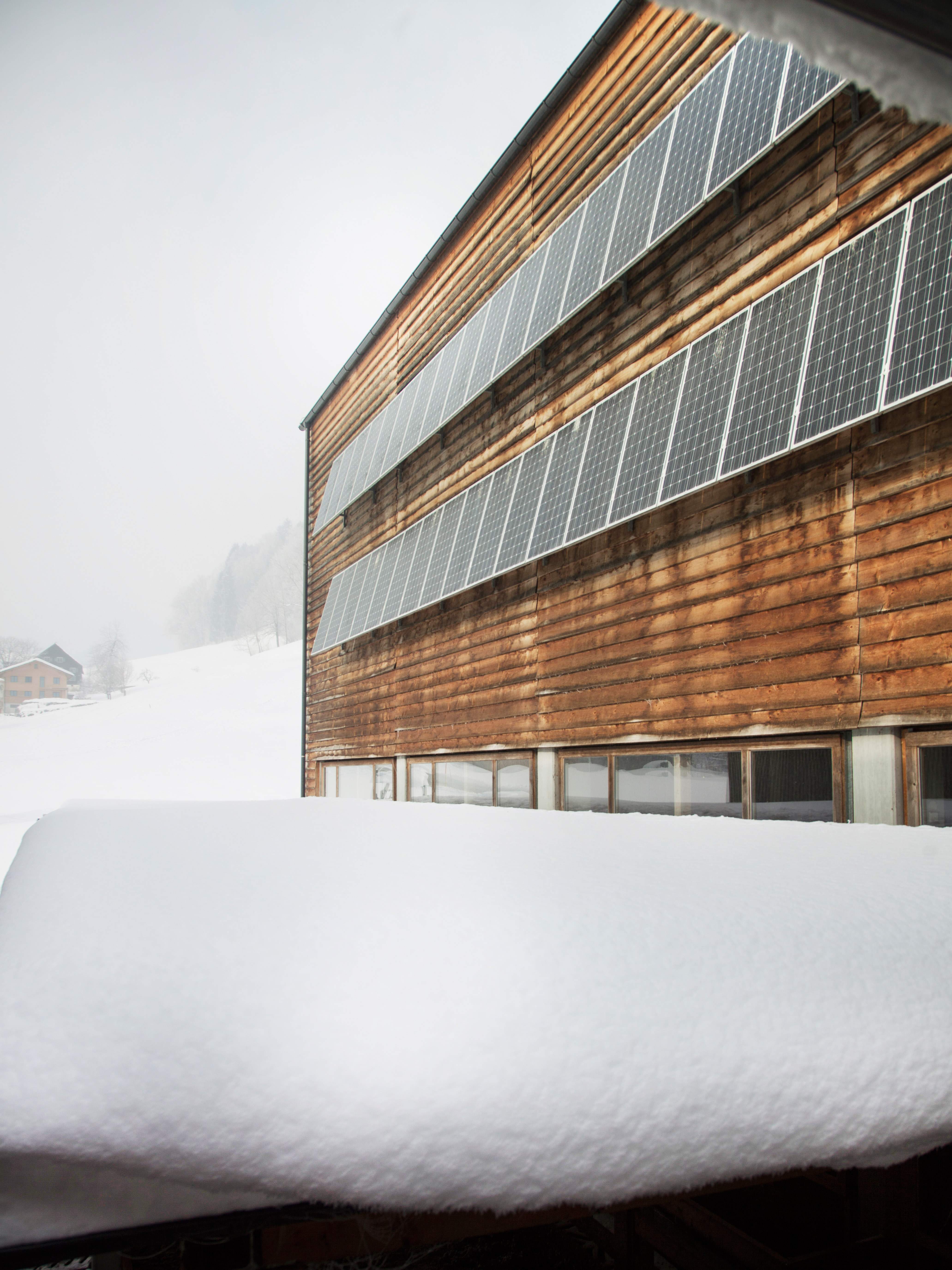 Ingo Metzler's passion for goats began at age 10 when his grandfather gave him one for his birthday. Forty-two years on and his family farm in Vorarlberg – Austria's westernmost state – houses 70 Saanen goats in digs with more architectural flair than many human homes. "I wanted to build stables where visitors would say, 'I'd like to swap with these animals for a day,'" he says of a lofty split-level that is a pared-back construction made of timber and concrete.
There is plenty here to impress the 10,000 or so visitors that the farm receives each year. Some come just to see the modern barn and the goats and cows that it contains. Others buy Metzler's homemade cheese, as well as the cosmetics that he makes out of by-products from the cheese factory.
Architect Christian Lässer, himself a Vorarlberger, was picked for the project for his understanding of both the animals' needs and the tradition in the state of using local spruces and silver fir. He obtained the wood from Metzler's forest, which reduced costs and helped the new building blend in with a landscape that is dominated by houses also built of spruce.
For visitors, a well-built suspended gallery provides views of the animals and, conveniently, leads into the shop. The most important feature, however, is the space for the animals: every morning the goats sort out their bleating order by picking pedestals to hang out on. Eight wooden boxes are hung up along the walls 80cm above the ground to give the ruling goats somewhere to climb up and spend their day overlooking their underlings. Meanwhile the cows roam freely and enjoy spa-like features: a massage parlour with a turning brush to stroke their skin; a lounge area with individual berths; and a freely accessible outside area.
If you're tempted by this life of luxury, bear in mind that those thick-skinned cows can withstand temperatures of minus 10c – and there's no central heating round these parts.
Barn breakdown
Michael Kühnlein
Germany
Bavarian Michael Kühnlein's architecture is marked by its fine use of timber and minimal rigour, so when the pigmy-goat herd he gave his wife needed a home, he wasn't going to nanny around on its design. His work highlights the very best in barn building; here are the five pillars.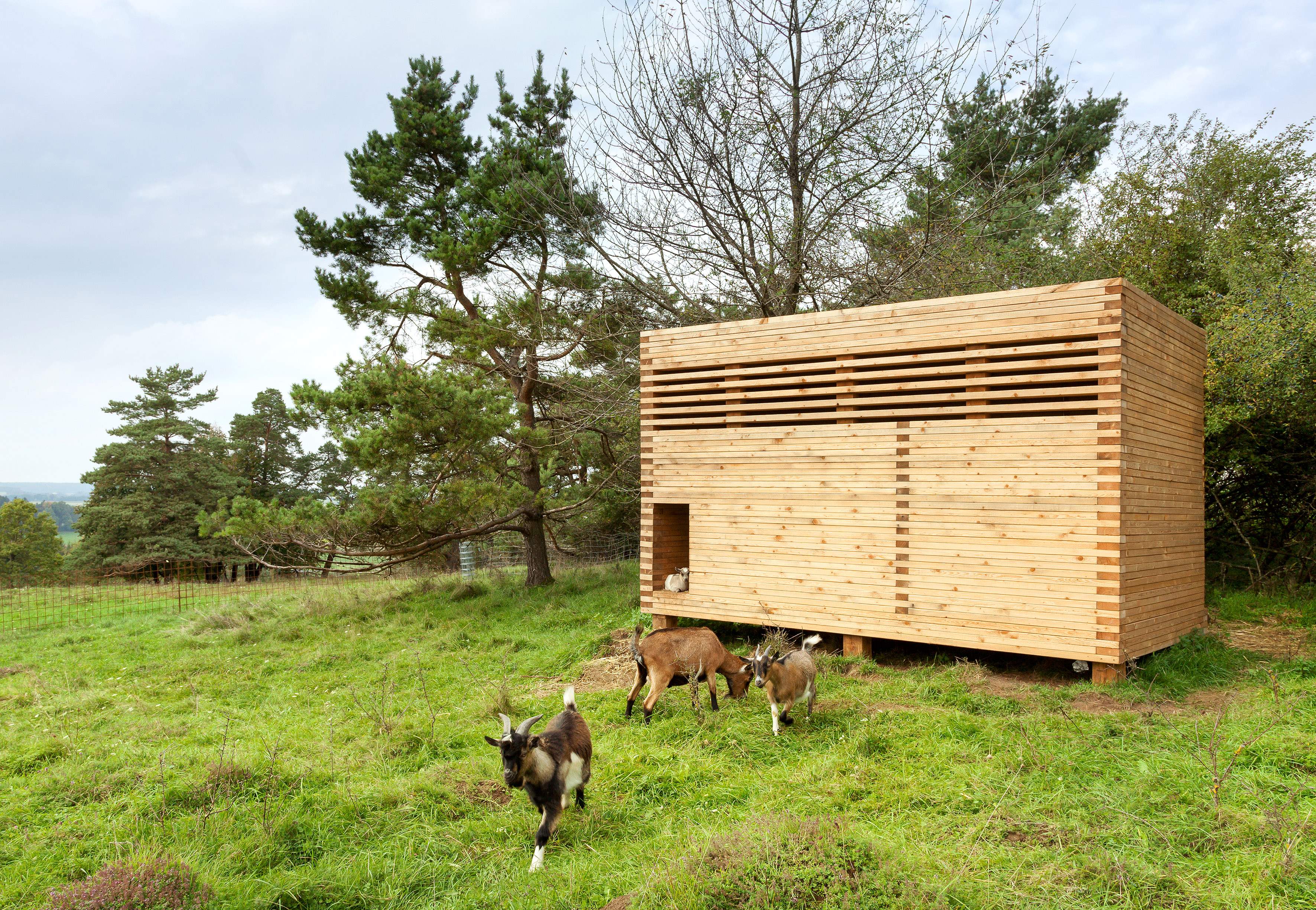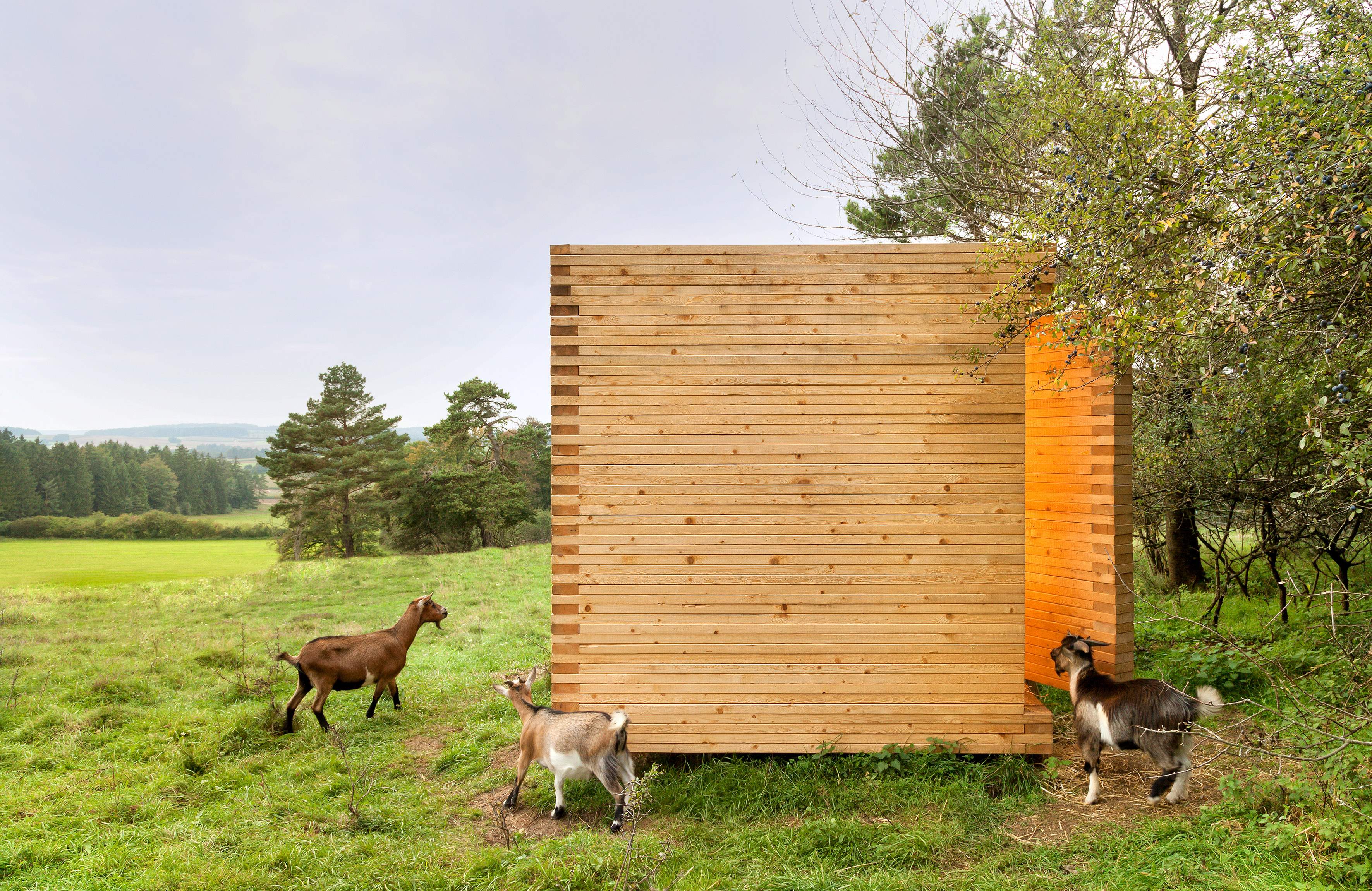 Local materials
Choose wood that ages well, forming a natural patina that helps the building blend in with its surroundings. In Kühnlein's case, Bavarian pale spruce was deployed.
Light and ventilation
The thick skin and hair of farm animals mean the insulation of a barn doesn't need to be a big factor in its design. But allowing for good light and ventilation in the winter months does much to improve an animal's wellbeing. This home's slatted, narrow window-opening on the front façade manages sunlight and air flow while maintaining ample shelter from the elements.
Tidy trimmings
The goats probably aren't too enamoured of the beautiful patterned finishings of Kühnlein's barn, which are made by harnessing the saw ends of the timber planks. But the mark of a craftsmen on a piece of agricultural architecture promotes a sense of pride and can also help date a project in line with the trends of the time.
Location
It's been argued that a shed should occupy the ugliest corner of the site as nature tends to trump man-made efforts on the farm, yet a barn built with pride deserves to be seen. Kühnlein chose a discreet yet easily accessible location.
Doors
Hoofed creatures aren't well equipped to open doors so access points need to be carefully placed and appropriately sized. A nimble goat can easily manage the step up to this raised construction, which is elevated to ward off the deteriorating effects of the damp ground below. A proper human-sized door at the shed's rear allows Kühnlein to get in and perform his most glamorous task: the inevitable muck shovelling that comes with the job of keeping livestock.