Food & drink / Global
Food
&

drink
Briefing
Miami round-up and wine regions to watch. Plus: Korean-style tapas and an unorthodox whiskey.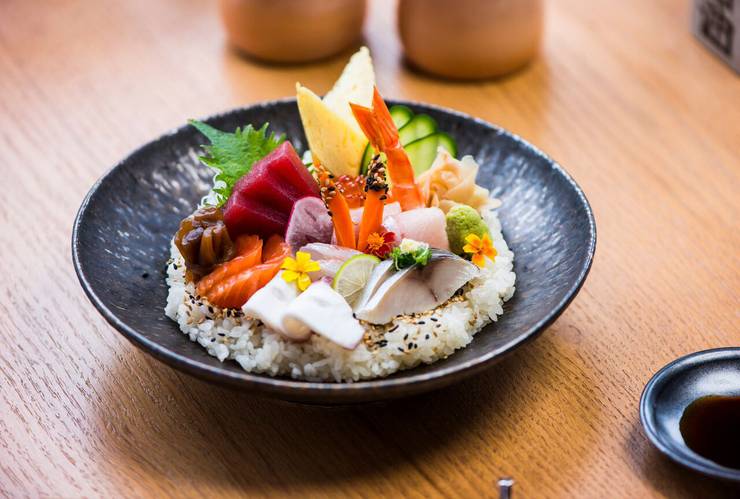 For a flavour of Miami's food at its finest you'd be wise to look beyond the ritzy and rarified restaurants on Collins Avenue and the main drag of Miami Beach. Instead the city's most entrepreneurial new kitchens are popping up across Biscayne Bay in Miami proper, as well as in the lesser-known pockets of Miami Beach. At Sunset Harbor you'll find 01. Sushi Garage; disregard the unappetising name as this place is a homage to the art of excellent sushi-making, overseen by chef Sunny Oh. The Kanpachi Yuzu is particularly good.
Across the bay, galleries, modish restaurants and independent shops have made their mark on the Little River and Mimo neighbourhoods. For a base from which to explore Mimo we'd recommend the Vagabond Hotel, a restored motel-style stay that was elevated to its early-1950s glory back in 2014. The once-cruddy area is also home to 02. The Anderson, the latest space from the collective cocktail geniuses behind The Broken Shaker. The kitsch-looking tiki-style bar gives way to cosy red banquettes and a room decked out in tartan wallpaper with quirky interior flourishes (think spiky glass pendant lights and an old-school juke box).
Close by, the Viet-Cajun pop-up 03. Phuc Yea has opened a permanent space a few blocks south on Biscayne Boulevard. This tasty Vietnamese spot has its own spin on classics and drinkwise the Negroni Blanc has an unusual grapefruit twist. Great food aside, they both have an irreverent, casual feel that's lacking in the stiffer establishments of Miami Beach.
Miami confidential
The Magic City has finally realised that small can be beautiful. On a practical note, restaurants often close on Mondays so check in advance.
sushigarage.com; theandersonmiami.com; phucyea.com
Beside the Vltava River this restaurant takes its name from a mill that has occupied the spot since the 14th century. But there's nothing fusty about the food here; try the tender carp tartar, braised beef cheeks or mushroom risotto. The setting is contemporary and feels warm in winter, while a riverside perch comes into its own in the balmier months.
sovovy-mlyny.cz
---
Q&A
Eliza Antonino
Co-founder, The Moment Group
Manila
Eliza was taking a career break when two friends approached her with the idea of setting up a restaurant. Five years and 29 openings later the trio are at the forefront of Metro Manila's lively drinking and dining scene.
Why is Manila on the boil right now?
Travel is now more affordable so our customers are going to Japan, Hong Kong and the US, which is raising expectations. Diners are demanding better-quality dishes.
What is Moment Group's secret ingredient?
Promoting people internally: most of our restaurant managers were our first employees. Service is 40 to 50 per cent of the f&b industry and we spend a lot on training.
Any plans to open outside the capital?
We are looking at Hong Kong and Singapore at the moment but it's a matter of partnering the right people.
momentgroup.ph
---
Starward makes whiskies that are unashamedly unorthodox. Founded in 2007 the brand uses a type of barley normally reserved for beer and ages its whisky for just three years. Its popularity has grown so quickly that Starward has opened a new distillery in Melbourne's inner-south. Delight in a dram at the distillery's boisterous bar.
starward.com.au
---
Enmore was once a working-class neighbourhood; its narrow streets are now a haven for creatives and young families. The enclave's newest watering hole comprises a pub, a cocktail bar and Queen Chow, a dim sum restaurant. Tuck into dumplings stuffed with pork and prawn shu mai and black caviar, then head to the cocktail bar upstairs to sample classics with Asian spices.
merivale.com
---
Marketing agency Small Big Brands has captured the glamour of 1950s air travel with its Lufthansa Cocktails. Six recipes are inspired by the airline's branding; the Original contains raspberry liquor, elderflower and rosé vermouth.
lufthansa-cocktail.com
---
This 35-seat Wan Chai shophouse is the first restaurant from Australian chef Adam Cliff and partner Bella Kong. The pair are united by a shared passion: Thai street food. The noodles served here are flown in daily from Bangkok. "I didn't want to be a jack of all trades," says Cliff, who's spent his career cooking in respected Thai kitchens in London and Hong Kong. Customers slurp from bowls of signature Wagyu beef noodles; other must-tries include dessert dumplings in a warm coconut cream.
+852 2234 0001
---
Restaurateurs Will Tomlinson and Jonathan Gonsenhauser snapped up this smart space for Lbs (pronounced "pounds") in 2016. The restaurant is a delightful affair, kitted out with comfy banquettes and a marble-topped bar. The menu is replete with of oysters and crab from Canada's east and west coasts.
---
Hirota supermarket: [São Paulo] Katsumi Hirota arrived in Brazil from Japan at the age of eight, bringing a love of food with him. Having opened a shop in the Ipiranga neighbourhood in 1985, his just-so selection of fresh produce has led to the opening of a second space, Hirota Express, beneath the Edifício Itália, one of the city's largest downtown skyscrapers.
---
Wine region to watch:
Americas
The fine-wine industry is focused squarely on a few old patches of ground in Europe. But wine-making is practiced – at varying degrees of scale – across the globe. Here we unearth a few optimistic New World makers.
1.
Tarija, Bolivia
Given its position just over the border from Argentina it's no surprise that the city of Tarija is producing some excellent reds. It is also home to the delicious spirit singani, which deserves more space on cocktail lists around the world. Check out the tannat malbec blend Único, from Campos de Solana, the country's best-known vineyard.
2.
Baja California, Mexico
Wine makes total sense given that the isthmus of Lower California – to give it its English name – is the southern extension of the US's premier winegrowing region. The industry is based in the Valle de Guadalupe; Deckman's at Mogor isn't a bad spot to start your eating and drinking extravaganza.
3.
Rio Grande do Sul, Brazil
While beer and cachaça may be Brazilian staples you'll find a small but budding wine industry in the south. The king of the crop is Cave Geisse, producing a range of champagne-style sparkling wines that we can see bubbling up nicely.
For the cool kids with no appetite for venturing north of Manhattan's 14th Street, there's a compelling new reason to go: Atoboy. The long thin space may be a tad clinical (all concrete floors and exposed walls) but there's plenty of warmth to the homely cooking whizzed up by chef Junghyun Park. The food, billed as "Korean-style tapas", is simple and unshowy. Try the asparagus layered with spicy cod roe, shallots and egg yolk or the Jerusalem artichokes with oyster mushrooms, truffles and a hint of orange.
atoboynyc.com
First a healthy portion of salad-and-deli-style restaurants took hold in Tokyo; now fashion retailer Baycrew's food business Cityshop has ventured into noodles. Cityshop Noodle is causing a stir with its kale and gluten-free noodles with side dishes such as steamed chicken, grilled fish and tofu steak. The Japanese herb seasoning – shiso, myoga and mitsuba – is a triumph. Unlike the pious salad bars of London and LA, Tokyo does health food like it's an indulgence.
cityshop.tokyo/noodle