Residence / Denmark
Fresh perspectives
Living in the former home of a celebrated architect is a privilege – but it also comes with a sense of responsibility. Fortunately the occupants of Børge Mogensen's sturdy, handsome house on the fringes of Copenhagen have got the balance just right.
Monika and Ole Paustian promised each other one thing when they bought the home of Børge Mogensen, the revered Danish architect who died in 1972: they would not live in a tomb. The pair, founders of Scandinavian design retailer Paustian, moved into the modestly sized property in the municipality of Gentofte, to the north of Copenhagen, five years ago.
Mogensen was an acquaintance of the couple who had helped them out when they opened their first furniture shop in 1964. They stocked his works, a friendship developed and they visited him – in what is now their home – for Christmas parties and company meetings. Mogensen's widow Alice lovingly maintained the house until her death in 2011. She was barely laid to rest when architects and museums started demanding that the house be preserved.
The Paustians were away travelling and unaware of the hoopla surrounding the conservation of the house, although they did learn it was up for sale. Once back in Denmark they went and viewed it. "It was like stepping into the past," says Ole. "It was exactly as if we were coming to visit Børge." They decided to buy it straight away.
Set between dense woods and a glistening bog, the house was built in 1957 by architect Erling Zeuthen Nielsen in collaboration with Mogensen. This was not just the latter's home but also his self-proclaimed "laboratory". It is here he drew up plans for his iconic furniture, making prototypes to test for everyday use – with a little help from his children's playmates, obligingly spilling soda on the leather upholstery. These pieces made Mogensen one of Danish design's most important thinkers and a product-generator of its golden age: the 1950s and 1960s.
It would be a catastrophe, experts argued, for the house to fall into the hands of private owners with no understanding of its place in design history. Enter Monika and Ole. They have treated the place with respect not just for its history but also for Mogensen's original intention: for the house to be a home.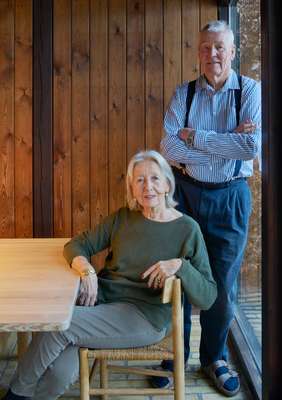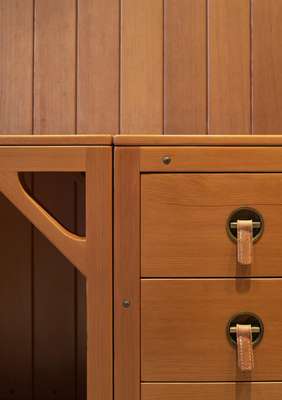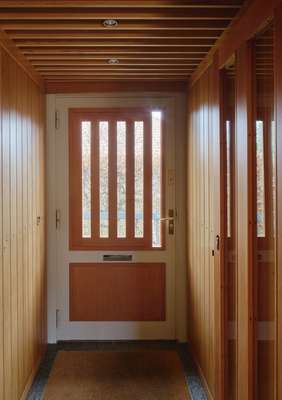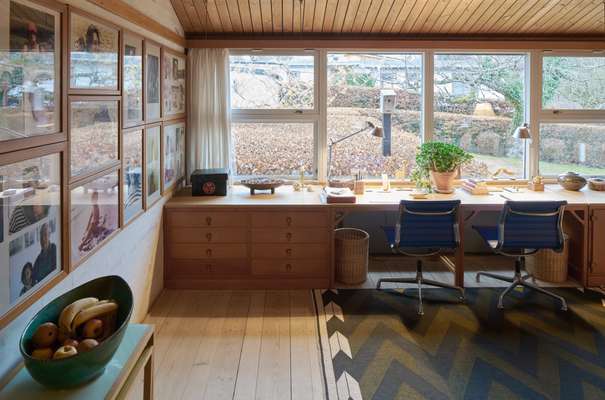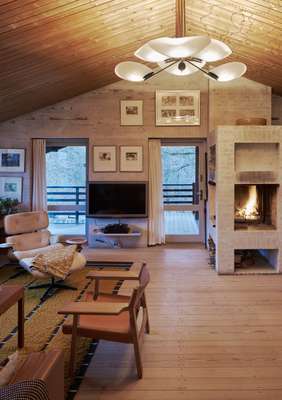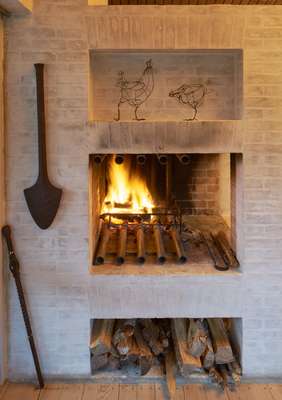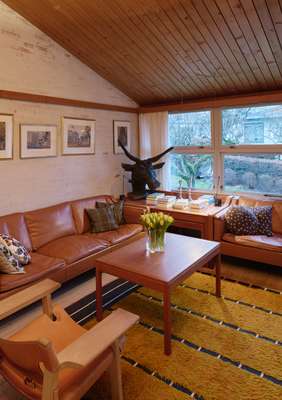 "I like Børge Mogensen's sense of style but to me he can be a bit too square, practical and Scandinavian," says German-born Monika. "So with respect to the original interior, we replaced and added a few things ourselves."
Monika's modifications included removing original pieces – such as a large and impractical Børge Mogensen shaker table – and bringing in pieces by his US contemporaries Charles and Ray Eames. The house itself, however, is firmly in Mogensen's spirit. If Danish design stands for pure lines, honest materials and functionality first, Mogensen is the most Danish of them all.
He pioneered a democratic approach as a designer and disregarded any kind of redundancy. This no-frills spirit resonates across the Oregon-pine panelled walls. From tables, cabinets and desks – all of solid oak, beech and teak – to drawer handles, window hinges and cable holders, the elements here are made to match. The bright winter room with some of the first editions of Mogensen's j39 People's Chair – a take on typical Mediterranean folk furniture – serves as the daily dining area. Rumour has it that the adjoining open-style kitchen is the first of its sort to have been made in Scandinavia. "I am not sure that story is true," says Ole. "But it's good."
In the living room two examples of Mogensen's most famous design, the 2213 three-seat sofa, form the cosiest of corners. This couch, now a classic statement piece standing in embassies, government buildings and private residences all over the world, was designed in 1962 with measurements determined in order to fit between corner tables. When the Paustians moved in the original prototypes were worn out by time so Ole called Thomas Graversen, owner of Fredericia Furniture where Børge Mogensen worked as a house designer. A deal was struck: Ole and Monika got a new, identical set of 2213s in return for the old prototypes, one of which Graversen exhibited in his showroom.
"It may take some time to see the greatness in Børge Mogensen's work as it seems so simple," says Graversen, who spent many hours at the property as a child because his father, Andreas, was Mogensen's business partner. "Mogensen didn't want to do icons such as Arne Jacobsen, Egg or Swan," he says. "He was interested in democratisation, in furniture relevant to the everyman." The 2213 remains one of Fredericia's bestsellers to this day, he adds.
Mogensen was not enthused about the notion of "Danish design". Throughout his life he considered himself a cabinetmaker, never a designer. His lifelong mission was to produce modest, durable and almost calming furniture that the average Danish working-class family could afford and live with unpretentiously. One sees functional, almost Ikea-like details everywhere in the house, such as a closable mirror built into the kitchen wall, movable door blinds in the main entrance door and built-in cutting boards in the kitchen.
"It was truly his laboratory. He did a lot of experiments and not all were successful," says Ole. "The house is a concentrate of what Børge Mogensen typifies in his work. His furniture was not made to be worshipped as a photogenic masterpiece – it was made to be used."
"Which is also the reason why it would have been dreadful to turn this place into a museum," adds Monika, smiling. "It needs to live."
Børge Mogensen
(1914–1972)
Mogensen got a job as a cabinetmaker in 1934. He studied furniture design at the School of Arts & Craft and The Royal Danish Academy of Fine Arts. From 1938 to 1942 he worked for leading architect and furniture designer Kaare Klint. Later, as manager of co-operative chain fdb's furniture design studio, he made some of the bestselling chairs and tables in Denmark's history. He was often inspired by medieval Spanish furniture construction, evident in his designs for the Spanish Chair.
Danish modern: the golden age
Inspired by the clean, pure lines of Bauhaus's modernism, Copenhagen-based Kaare Klint founded what would later be known as Danish modern or simply Danish design in the 1920s. Architects including Mogensen, Arne Jacobsen, Hans J Wegner, Poul Kjaerholm, Finn Juhl and Nanna Ditzel picked up Klint's knack for functionalistic furniture constructed in solid, honest materials. They became popular in the mid-century's heyday of Danish Modern.