A Kind of Guise / Munich
Home comforts
In the fashion world, 'Made in Germany' sort of falls flat – but A Kind of Guise is determined to raise the country's profile.
A particular coat has caused A Kind of Guise (Akog) co-founder Yasar Ceviker to pause as he works his way through rails of handsome clothes at the brand's Munich flagship. It's a men's moss-green parka with a neck drawstring and fluffy black lining: Little Red Riding Hood meets Bavarian mountaineer. And it owes its fuzzy interior to Steiff, Germany's famed teddy-bear manufacturer. "A few years ago I saw a small teddy bear and thought that the material would make a great lining; it's like being hugged by a teddy," says Ceviker, smiling. Then he utters a line that sums up Akog to a tee: "We're not trying to reinvent the wheel but we do like to put a twist on things."
Now Susi Streich, Ceviker's partner (in business and life), arrives at the shop in Maxvorstadt, a lively inner-city district nicknamed "the Brain of Munich" due to its abundance of universities. She's got breakfast – warm pretzels and cappuccinos – and is trailed by Wilma, a loveable French mastiff the size of a pony.
It quickly becomes apparent that Ceviker and Streich are yin and yang personified. He's a talker, wears week-matured facial scruff and heads up Akog's menswear line (which makes up 80 per cent of the business); she's softly spoken, porcelain-skinned and oversees the women's collections. Together the duo have built a proudly "Made in Germany" label that boasts a lean business model, eye-catching branding and clothing designs that are at once terrifically playful and eminently wearable. It's a unique combination – and one that has seen Akog stamp its mark as one of the bravest and most refreshing young brands in the industry.
Akog had an unlikely genesis. In 2009, during the summer break at Munich's Academy of Fashion and Design, where both were studying, Ceviker and Streich toured Italy. "We came across a factory that made leather to cover medicine balls – patchwork sort of stuff," says Ceviker, who fires his words in quick succession, staccato-style. "We asked if we could buy some leftover leather, without any idea of what to do with it." Several weeks later, back in Germany, he had his answer. "I was looking for a weekender bag but couldn't find what I wanted, so I made it myself using that leather."
The bag was a hit – envious passers-by stopped Ceviker on the street, friends put in order requests – and the couple wound up producing a 25-piece line that they were able to sell at a friend's shop. "We put the money that we earned into a knitwear project, then put those earnings into a small shirt project, and so on," says Streich, as we huddle in one corner of Akog's terrazzo-floored shop, now teeming with dapper customers. That model of feeding each lot of profits into the next collection has served them well. "We've never had any support from banks or the government," says Ceviker. "We've done everything step by step and we're still totally independent. We want to make all the decisions."
The moment that school side-project became a bona fide business occurred in late 2010, following the couple's presentation at Berlin Fashion Week. "We didn't have any production or manufacturing and we were sewing everything ourselves," says Ceviker. Nevertheless, a Japanese agent took a shine to their bright knits and slouchy fits and convinced them to let him spread the word in Tokyo. What wasn't agreed, however, was that the agent would take things any further – so what came next was a pleasant and slightly alarming surprise. "Three weeks later they sent us orders and pre-payments," says Ceviker. "We realised we had to do something – that was the day everything started."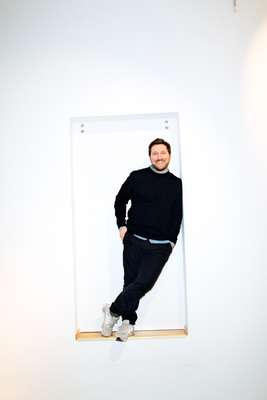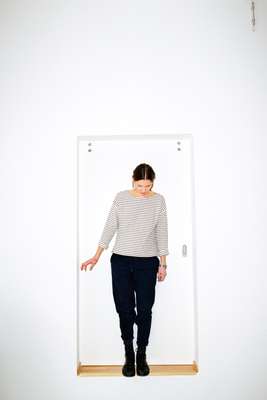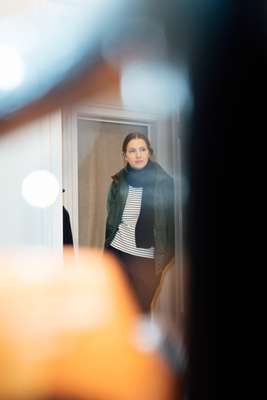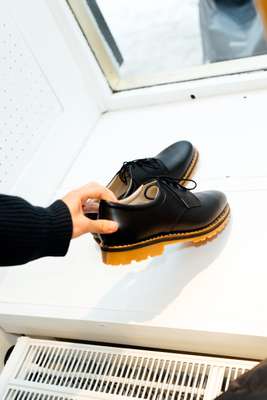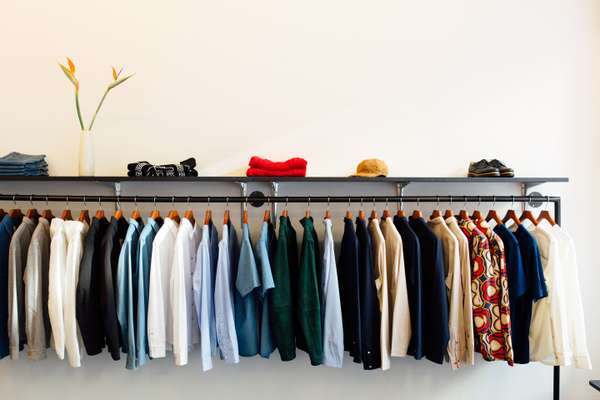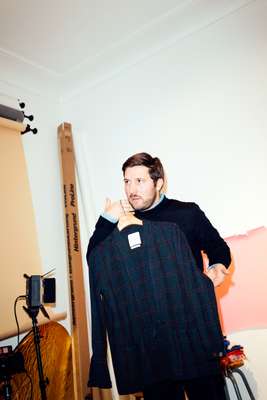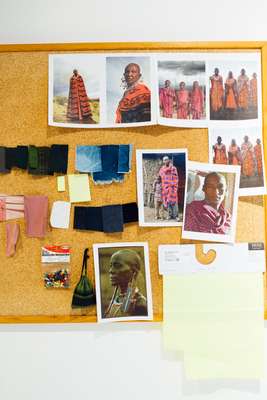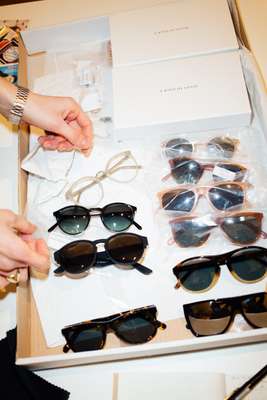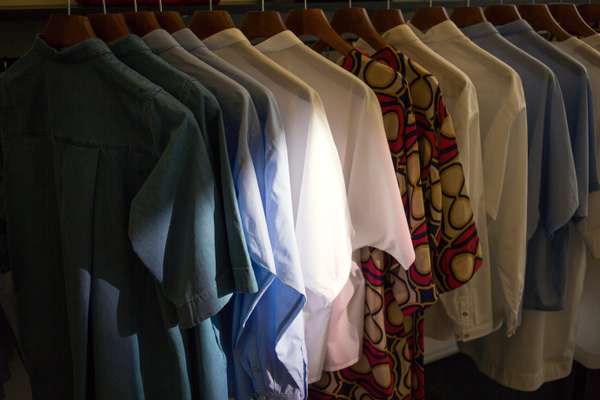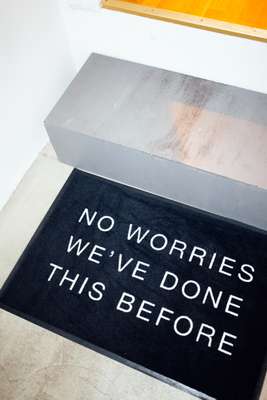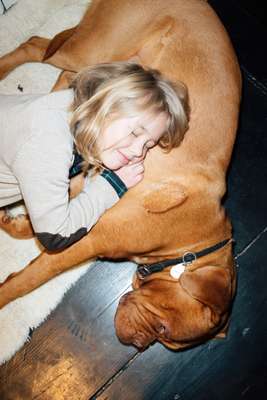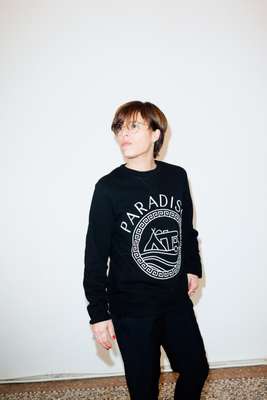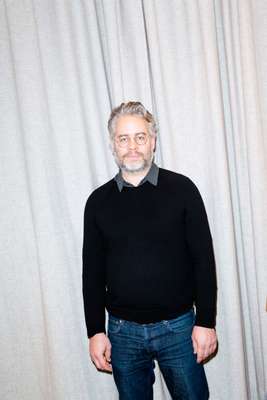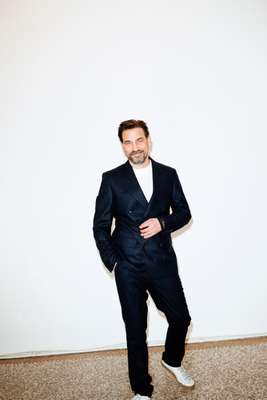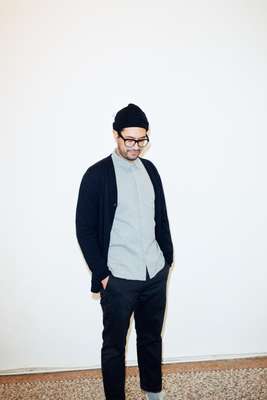 Ceviker and Streich were adamant that, from first cut to final stitch, their clothes would be entirely made in Germany. "The secret recipe for Akog was finding manufacturers here that can still make clothes," says Ceviker. We are back at their studio in the upmarket inner-city district of Lehel, a homely, high-ceilinged space with moodboards coating the walls and ample desk space for their 13 employees. We're gathered in the kitchen watching Streich cook lunch; Wilma is curled up in the corner. "Our idea was always to keep it very local but it was hard sourcing the factories because they are so small," says Streich, stirring a zingy tomato-and-caper pasta sauce.
Many of the factories they did find were family-run Bavarian businesses that specialised in one thing (knitwear, shirting or outerwear) and employed up to 15 workers. All were old-school: there were few websites or email accounts – mainly fax machines – and the clothes they made were of another era. "They produced traditional Bavarian items such as trachten," says Ceviker. "Today, sometimes we send our designs and the boss at the factory will say: 'What the hell are you doing – who would buy that?'" he says, chuckling. "We bring a totally new style."
Committing themselves to manufacturing in Germany was a remarkably gutsy decision. There's a reason so few German designers have their clothes made at home: finding these traditional factories and then bringing them up to speed with contemporary styles and techniques takes time. And, of course, prices are considerably steeper than in manufacturing hubs in eastern Europe or China.
But for Streich and Ceviker the benefits of using small manufacturers on their doorstep more than justify the extra hours and euros. For starters, doing so has enabled them to run a svelte business where everything is made to order and nothing is wasted. "Unlike in China and Portugal, our factories have no minimum order sizes," says Ceviker. "We don't need to produce things that won't be sold."
More importantly, he continues, "we have control over everything". He and Streich buy every last button, label and roll of yarn, which they send to the factories along with prototypes and pattern-cuts. When the finished pieces come back, the proximity means they can respond swiftly. "If there's something we have to change we can do it within a day or two," he says, nodding at a natty checked overshirt. "If, for example, we would like to change this pocket, we can drive to the factory in a couple of hours. It's not like that when you have to send it to China."
Lightning-fast reaction times are the ultimate way to ensure a flawless finish. "When you're showing samples at tradeshows, brands will always say to buyers, 'For production it will be a different fabric,' or 'The arm will be a bit longer,' because they don't have the time to fix it," he says. "But we can finish the products perfectly: what you see is what you'll get."
What you get from Akog are clothes that deftly straddle the fine line between wearable and whimsical. Their wares run the gamut, from sweaters and scarves to suits, shoes and, as of this year, sunglasses. Most fundamentally, all are pieces that can be worn rather than merely snapped on catwalks or displayed in shop windows. "I always wanted to design something that you would wear on the streets," says Streich. "At the end of the day you have to earn money and that's not easy to do with an asymmetric jacket that no one would actually put on."
As a result, it's no surprise to learn that they look to people on the street for inspiration, especially Munich's smartly dressed older folk. "This generation wears clothing for years; it's not a new coat every season," says Streich. Smiling, she recalls a favourite sighting. "A few years ago I saw an old guy walking down the street wearing a leather jacket with knitted sleeves. I took a photo of his back and we translated it into a new jacket."
What sets Akog apart from other European designers is the playfulness that ripples through its collections. After lunch Ceviker shows monocle the yet-to-be-released autumn/winter 2017/18 line, which hangs near the dining table. The pieces are sleek, yes, but there's a hefty side serving of tongue-in-cheek. A tweed jacket is dusted with white bouclé spots ("I was wearing a tweed coat one day and it got covered in snowflakes, which I wanted to replicate"); a fluffy rust-pink T-shirt is sewn from fleece that has been turned inside out; and a women's grey coat is cut from traditional Austrian loden fabric – but in the style of a kimono. "It's a fun thing and you have to do something different to stand out," says Ceviker of their design credo.
This jocular streak extends to branding. Each item of clothing is tagged with a colourful label denoting its material's country of origin: Italian fabrics are signposted by a cartoon of a Venetian gondola; British by a top-hatted horse-rider; and the motherland by a German shepherd. It's a canny way to address a growing concern among shoppers. "You can feel that people appreciate knowing where clothes come from," says Ceviker. "The fashion industry is changing and a lot of people – I think 90 per cent of our customers – pay attention to this sort of thing."
As the sun sets on a crisp midwinter day we congregate around the dining table for one last round of coffees. Ceviker and Streich are in the throes of preparing for the autumn/winter fashion-week circuit – Paris first, then New York. The question must be asked: would they ever relocate to one of these fashion capitals?
"Why should we leave Munich?" says Ceviker. "We want to show that it's possible to start a brand here, that there is a design scene in Germany." It's a commendable stance but they are up against it: with the exception of Jil Sander, Karl Lagerfeld, Hugo Boss and Adidas, Deutschland is rarely associated with fashion. "Buyers don't have Germany in their mind, which is a disadvantage for German brands," says Ceviker. But now that the country has this remarkable young label to fly its flag, that is set to change. "We are proud to be from Munich and we are proud to be German," he says. "We would never leave this country."
Meet the customers
Akog's designs are a draw for well-heeled Munich residents; here is a choice selection of the brand's most loyal customers.
1.
Sandra Schwittau
Schwittau and husband Christopher Romberg (see below) are the co-founders of Schwittenberg, one of Munich's top fashion shops. Schwittau is also an actress who is best known for being the German voice of Bart Simpson. Essen meine shorts!
2.
Christopher Romberg
At Schwittenberg, Romberg and Schwittau stock brands such as Dries Van Noten, Mykita and Ami. "It's a very personal selection that we are offering; I like classic pieces with a twist," he says.
3.
Damir 'Stabo' Stabek
Stabek co-owns Die Waldmeister, a charming café around the corner from Akog's flagship that is Ceviker and Streich's favourite coffee stop.
4.
Michael 'Mixen' Wiethaus
Wiethaus is a freelance graphic designer and photographer.