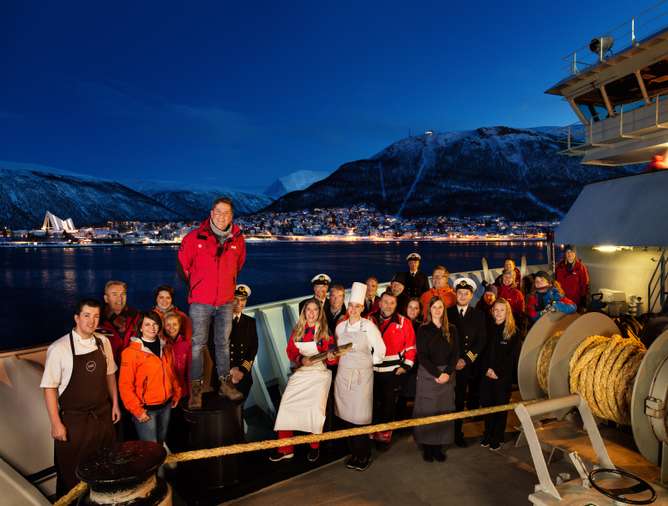 Company: Hurtigruten
Founded: 1893
Staff: 2,600
Annual turnover: nok4bn (€451m)
For more than a century Hurtigruten has been navigating the rugged coastline and majestic fjords of Norway. The shipping company was founded in 1893 to transport passengers and goods as quickly as possible to the northern reaches of the country (hurtigruten is Norwegian for "the fast route").
Today Hurtigruten is a thriving coastal and polar exploration cruise firm and CEO Daniel Skjeldam has been steering it since 2012. After co-founding Norwegian Air Shuttle, now a successful global low-cost airline, Skjeldam was tapped to head up Hurtigruten at the age of 36. He has since overseen the Tromsø-based company's impressive expansion. In 2015 it claimed 1.5 per cent of the worldwide cruise market and the following year purchased two new ships to add to its fleet of 14 coastal and expedition vessels. Hurtigruten has also become a leader in adventure travel, with tours to the Arctic, Antarctica, Greenland and Iceland.
Yet Skjeldam knows that he wouldn't have found success without his 2,600-strong staff, starting with the company's on-deck crew. "Most of them grew up on the coast," he says. "Collectively they represent thousands of years of knowledge and experience."
Skjeldam points to Olav Orheim, the glaciologist and former director of the Norwegian Polar Institute who serves as Hurtigruten's academic adviser. He has led several Antarctic expeditions and was instrumental in the establishment of Troll, Norway's permanent research station in Antarctica. "I am very proud to have him on our expeditions," says Skjeldam. "His knowledge of glaciers and wildlife is invaluable."
A big part of Hurtigruten's appeal lies in its focus on hospitality, especially food. So it makes sense that Liv Margrethe Hansen from Norwegian fish supplier Halvors, key provider of seafood for Hurtigruten's onboard menus, is an essential part of the CEO's team. In fact food is such a passion that Skjeldam includes Gunnar Jensen, head chef at his favourite restaurant Mathallen, in his inner circle as well. "I thrive on his grilled stock fish and reindeer roast."