Recipe / Global
Pork schnitzel with potato salad
This satisfying meal requires no gourmet know-how. We're firm believers that comfort and simplicity are key elements in creating the perfect, homely dish and after much deliberation the breaded cutlet won our hearts – and tastebuds – for a place at the table.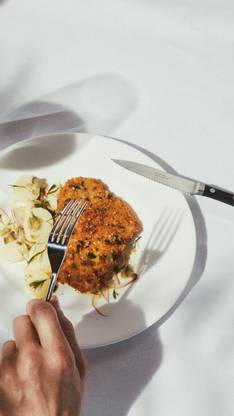 Recipe and food styling: Aya Nishimura
For our inaugural in-house recipe, the monocle team convened to dream up a dish that best represented our collective experience after a decade of on-the-road meals and post-reporting cocktails. We wanted a dish that eschewed fussiness or fripperies in favour of heartiness and homeliness. We found our minds wandering from pasta dishes (too simple) to ceviche (too done). A pork sando sandwich? No. But we were getting closer.
We lingered on the merits of a decent cutlet a while before settling on the schnitzel: a no-nonsense dish that's comforting wherever it's consumed. A slim sliver of pounded meat (chicken if you're in Italy; pork or veal are preferable in Austria) that's best served crispy with a puffed breadcrumb, it lands on a plate in the rough proportions of a baby elephant's ear (though with none of the presumed toughness). It's a crisp and filling delight that's best enjoyed with a dollop of potato salad on the side.
The recipe in its current form has existed for centuries but it also became an unlikely political point winner in the 1960s. There was a battle for the ownership of the dish, fought in the regional newspapers of South Tyrol – a semi-autonimous region of northern Italy known locally as Alto Adige. A tall tale was unearthed that called the Viennese ownership of the so-called "Wiener Schnitzel" into question. The story goes that the 19th-century Austrian field marshal Radetzky nabbed the recipe from the Milanese – a breaded cutlet was popular in the Lombardy capital – while his army was stationed there during the Italian revolution. The story has since been debunked and the political strife in the region eased but none of the charm of the dish has been lost.
It's with good reason that the schnitzel is a staple from the verandas of Italy to the mountaintops of Austria. And it's only natural you'd claim its invention if you could. Buon appetito, guten appetit and enjoy.
Ingredients
Serves 4

4 pork loin steaks
4 tbsps plain flour
3 eggs
Potato salad and dressing
600g of new potatoes
3 tbsps white wine vinegar
2 tbsps virgin rapeseed oil
2-4 tsps Dijon mustard
1 tbsp icing sugar
30g cornichons, roughly chopped
2 tbsps capers, roughly chopped
½ small red onion, finely chopped
20g dill, roughly chopped
Salt and pepper
Breadcrumb mixture
50g Parmesan cheese, cut into small pieces
100g Panko bread crumbs
10g flat leaf parsley, roughly chopped
2 tsps chilli flakes
Zest from 1 lemon
For frying
100ml sunflower oil
100g clarified butter (or ghee)
For the schnitzel: remove skin and fat, place steaks between baking parchment and pound with a meat mallet until 3mm thick. Season then refrigerate.
For the potato salad: bring a pot of water to the boil, place the potatoes in it and cook for 20 minutes. When you can pierce the skin easily, they're cooked. Next prepare the dressing: place vinegar, oil, mustard and sugar in a small jar and shake until emulsified, then add the rest of the ingredients. Drain the potatoes and, while they're still warm, peel them, slice them into 5mm-thick pieces, pour over the dressing then set aside.
For the breadcrumb mixture: process cheese in a food processor for a minute or two until fine, then add breadcrumbs and process until they are broken up. Pour cheese and breadcrumbs into a bowl and mix with the rest of the ingredients.
Get three shallow bowls. Fill one with flour, one with beaten eggs and one with breadcrumb mixture.
Dust the pork loin in the flour and remove the excess. Dip into the eggs, coat with breadcrumb mixture then lay it on a tray. Put layers of kitchen paper on the empty tray to soak up grease after frying.
Heat the oil and butter slowly to 155c (test the temperature by dropping a cube of stale bread into the hot oil – it will bubble vigorously). Drop in the schnitzel and fry both sides until golden-brown; remove from the oil with tongs and place on papered tray. Serve with potato salad.