Menswear / Florence
Tales of the Pitti
Twice a year Florence teems with well-heeled gents as Fortezza da Basso stages its key menswear trade fair. Here's why it works.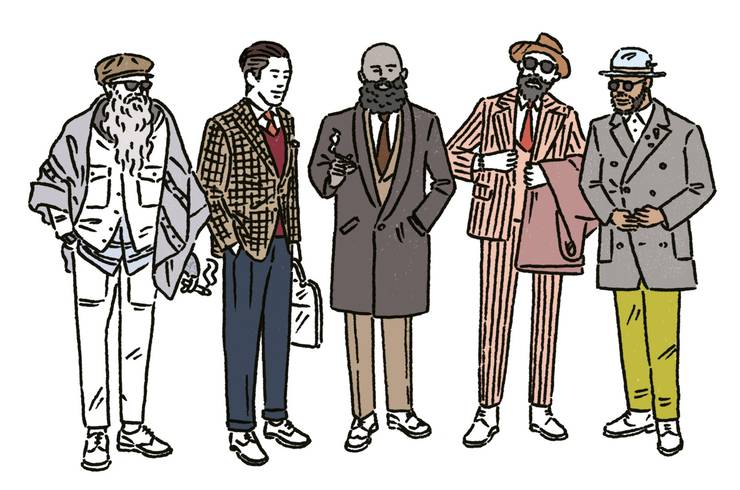 The hordes of dapper menswear buyers who descend on Florence every January and June wouldn't dream of missing Pitti Uomo. As the first key date on the buying calendar, this tradeshow provides an opportunity to scope out new-season looks. In Florence buyers are romanced; in Paris a few days later, deals sealed. For the 1,220 brands exhibiting it's a chance to gauge what is likely to jump off the sales rack.
At a time when the future of runway-heavy men's fashion weeks in Milan and London hangs in the balance as brands choose to show men's with women's, Pitti still draws the crowds. This January we were at the autumn/winter 2017/18 edition to ask the hard-hitting questions: which buyers lunch together, which brand is on everyone's lips and where the hell are all those Rimowa suitcases off to?
Team Pitti gathers every evening at Caffè Gilli. On our visit a Stockholm buyer and a Polish tailor are drinking Aperol. A Swedish designer nearby says, "We don't actually have a stall at Pitti, we come to meet people." Others prefer intimate settings: we joined a party in a fashion-loving lawyer's apartment with a Japanese tailor, a New York buyer and a photographer. "Pitti is best for socialising," says Norwegian Rain's Alexander Helle, also in attendance. "Everyone is more relaxed than in Paris; they haven't blown their budgets."
With pots of Tuscan stew and tubs of silky gelato, Pitti's buffet lunches are the best on the circuit. Journalists meet at communal tables in their dining area but the separate buyers' lunchroom is a quiet affair with competitive money men eating alone or in pairs. "Buyers are not best friends," says Herbert Hofmann of Berlin's Voo Store.
This season we spied bands of Danes and packs of Spaniards pacing the halls. In one corner of the lunchroom we found Japanese buyers sipping wine with Seiko Hirabayashi, Pitti's Asia representative. Her job is to ensure that the buyers from her region are taken care of – especially when Japan and South Korea are flourishing just as other markets stumble.
This season exhibitors were after one man more than any other: Eric Jennings from New York's Saks Fifth Avenue. The retailer continues to open outposts and its fashion director is revered for his taste. "I get hundreds of requests and try to see as many brands as I can," he tells us.
The only way to travel from Florence to Milan (where the big-name menswear shows take place) after Pitti closes its gates on Friday is on the "fashion train". It's clear how the late-afternoon Frecciarossa earned its nickname. First, there are the conversations between passengers (our neighbours, a pair of Malmö-based buyers, swapped their fair favourites). Then there's a special fashion edition of the in-train magazine. But the real kicker? The bevy of packed-to-bursting silver Rimowas that are rolled off the train as it arrives in Milan.
There's no shortage of elegant gents at the Fortezza but none caught our eye quite like Marcy Szwarcburt. The man behind Brussels pyjama label Maison Marcy dashed past us and disappeared into the Make pavilion (where his stall was located). We followed him inside to find out more.
Here's what Szwarcburt was sporting:
01. Navy cashmere beanie, Ralph Lauren
02. Tartan jacket from his own label, inspired by a pyjama top
03. Blue-and-white striped shirt from Milan's M Bardelli
04. Khaki cashmere sweater, Loro Piana
05. Bespoke banana-yellow gabardine trousers from Degand, a Brussels tailor
06. Navy cashmere socks, DD
07. Cordovan-leather boots, Alden
The autumn/winter 2017/18 season will be all about corduroy. Everywhere we looked our gaze was met by vintage-looking ribbed blazers, shirts and trousers. Some used the material brilliantly: at Parisian label De Bonne Facture, a sumptuous shirt came in caramel, khaki and navy. And Italian favourite The Gigi unveiled a pair of velvety pleated trousers in tomato red. Welcome to the 1970s.
In a sign of the times, Belvest unveiled a sleek, black bulletproof vest that is made in Italy from first-class fabrics including vicuña. Will this usher in an era of couture armour?
The Gigi x Larose Paris hat:
A playful line of caps, beanies and bucket hats, all emblazoned with the slogan "Don't Look Back."
Sealup jacket:
Milan's rainwear specialist unveiled its first ever down jacket, a lightweight waterproof with khaki exterior and yellow interior.
Massimo Alba jumper:
We were particularly taken with this striped, chunky knit woven from super-soft baby alpaca hair. Z Zegna jacket: The debut collection from Alessandro Sartori didn't disappoint. Skiwear was the theme and a strong green shearling-lined jacket the highlight.
De Bonne Facture bomber jacket:
A tan, calfskin bomber was just one of the must-haves in a stellar collection from designer Déborah Neuberg.
Sørensen trousers:
Wayne Sørensen's latest "Made in Portugal" collection featured a natty pair of linen trousers.
Altea blazer:
The Italian stalwart took a modern turn with a line of casual blazers sewn from jersey.
Hasta jacket:
Up-and-coming New York designer Tyler Rowe presented a slate-hued workwear jacket made from Missouri's finest denim.
Second Skin underwear:
The new range of silk underwear from this young Tokyo label is its most desirable product to date. Choya shirt: New creative director Yindigo A Mochizuki is keeping things fresh with a capsule of simple, all-white designs.