Security dogs / Virginia
The dogs' barracks
From school killings to terror alerts, a dog is now a key investigator.
Charlie occupies a prime position on the downstairs training-room wall. Preserved for posterity inside a dark frame he gazes into the middle distance off-camera, solemn and slightly regal, dwarfing the images of his other retired companions who have been allotted smaller mounts in a show of deference.
Charlie – a black labrador who long ago bounded through the canine Elysian Fields – has a singular status at the Bureau of Alcohol, Tobacco, Firearms & Explosives' (ATF) national canine division, headquartered in Front Royal, Virginia. For Charlie is an ATF "prototype". And while such a title wouldn't be out of place in Robocop, it references the fact that he was a pioneer: the first sniffer dog used by the organisation to seek out explosives.
ATF – a US federal agency established in 1972 that employs just over 5,000 people and falls under the umbrella of the Department of Justice (DOJ) – has a broad remit. Its mission statement includes protecting the public from violent crime, involving firearms, explosives and arson, as well as providing support to police forces around the world. And while the agency may not be as big as its DOJ bedfellow, the FBI, or train as many dogs as the Department of Homeland Security's Transport Security Administration (TSA), it has set a benchmark for its use of canines in security situations, from protecting big-ticket events to sweeping buildings for bombs.
"We have the trainers with probably the most expertise in the world," says division chief John F Ryan, speaking from his office within the large hangar that is the canine unit's main building. Ryan, a former ATF criminal investigator turned bureaucrat, believes that the agency is unrivalled when it comes to its expertise in firearms. "We have to stay one step ahead of the bad guys," he adds.
Ryan may sound a little "war on terror" but he has a point. After the attacks in San Bernardino and Orlando – and stoked by the fiery words of Donald Trump – "safety" and "security" are once again among the public's primary concerns. And dogs – both by providing a reassuring presence and through their actual hard work – are a vital cog in the security machine. The animals recognise five basic explosive groups, including compounds used in some 19,000 explosive formulas. And it is their superior snouts that help ATF's special agent handlers out in the field retrieve evidence, from weapons and spent bullet casings to gun residue. Their ability to cover large areas – whether woodland, sports stadiums or education centres – can assist in locating a stashed weapon or securing high-school lockers suspected of containing explosives. Indeed, ATF's dogs have been vital in working cases ranging from the Columbine High School massacre in 1999 – in which 12 students and one teacher were killed – to the Oklahoma City bombing in 1995 that killed 168, carried out by terrorist Timothy McVeigh.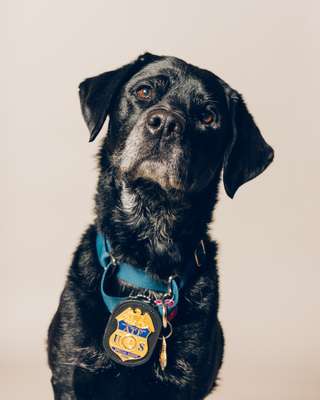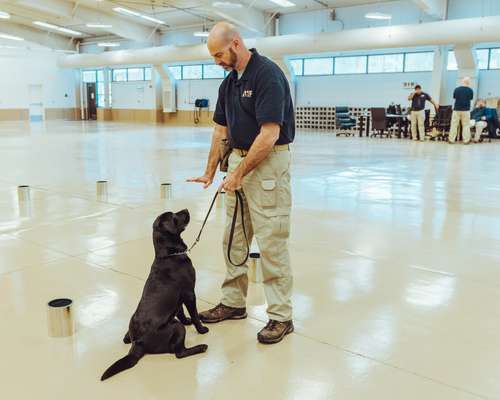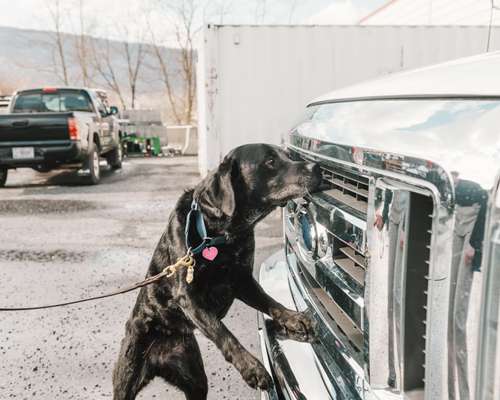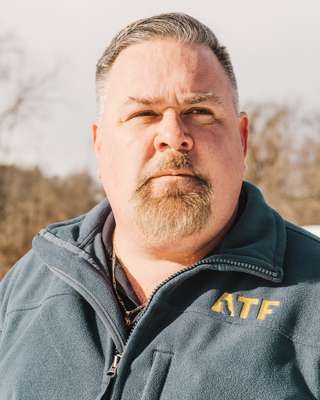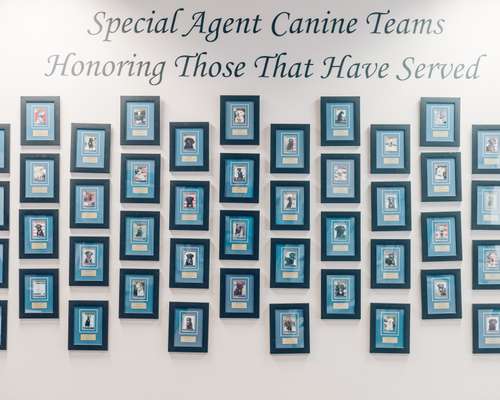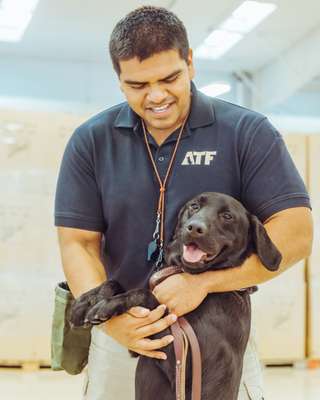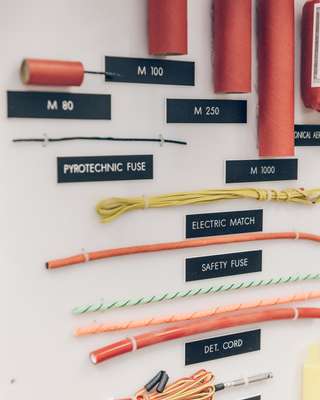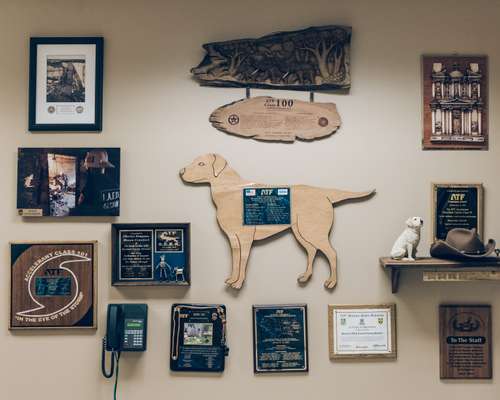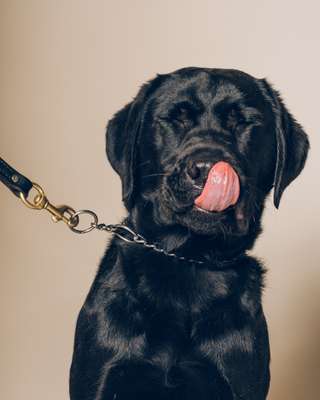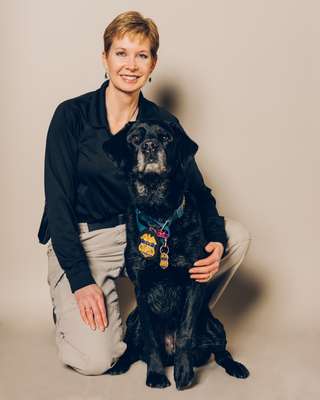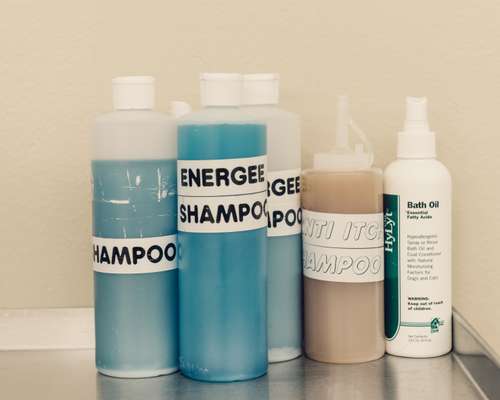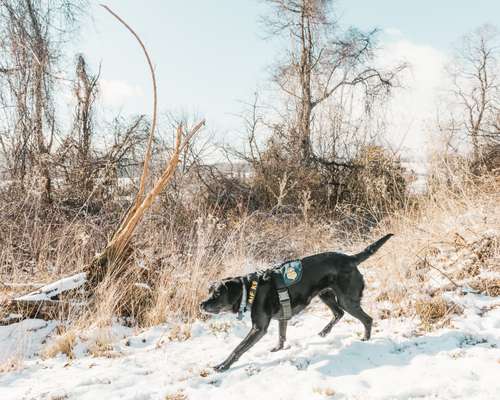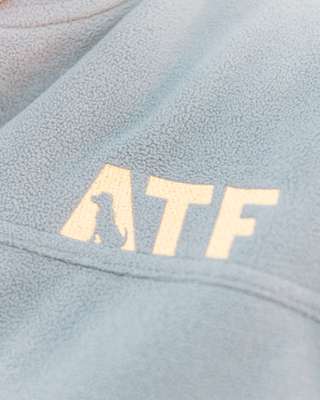 Ryan talks about a "team effort" between federal agencies but it's not just about the US. Terrorism's international make-up has demanded co-ordination between entities around the globe and he has tentative plans to visit Poland to share ideas with their canine units. ATF also holds regular meetings with a European Commission working group about how dogs can help deal with the threat of suicide bombers. "We ramped up our participation based on what happened in Paris and Brussels," he says. "It all dovetails into our mission."
Next to Ryan's office, in a vast, high-ceilinged space that feels like an empty basketball stadium, trainers are putting the latest intake of dogs through their paces. The specimens in question – all labradors, the only breed ATF works with – are on day 22 of their six-month training as part of the Search Enhanced Evidence K-9 (Seek) programme. The dogs will eventually be allocated to handlers from a smattering of the bureau's 25 national field divisions where they will be used in wide-ranging, off-lead searches – the hallmark of that programme. Division chief Ryan calls Seek an art that they've "kind of perfected" thanks to the speed and range of reconnaissance it allows.
The new dogs, all about 12 to 14 months, are excitedly sticking their snouts into a series of "sniffer tins" – metal containers perforated with holes – arranged in a circle. Each tin contains a different item, from a tiny piece of dog food and a strip of tape to a small amount of explosives powder. The training ensures that the animals learn to block out everything but the scent of explosives in what team leader Shawn Crawford, watching over proceedings, calls "discrimination work". In return for their hard work they get a quick hit of dog food, which seems more than enough to keep them motivated.
A ruddy cheeked, goateed rock of a man – who sporadically dips into a pot of chewing tobacco – Crawford, like many of the trainers and handlers at ATF, is ex armed forces. Serving during the Gulf War, the former air force dog handler decided it was time to step away from the frontline, joking that he makes more money overseeing ATF's canine training than he did before. "It's low risk but it's [also] high risk because of what we do," he says, referring to the people's lives he would endanger if he were to send a poor explosives dog into the world.
Above the training dogs' heads and hanging from the ceiling, a series of flags provides a reminder of the countries that ATF's canine division has worked with over the years. From Morocco and Bahrain to Qatar and Argentina, dogs and handlers trained in Virginia as part of a State Department programme that ran from 1990 to last year (currently awaiting funding renegotiation given the conflictive nature of US Congressional politics) continue to be active, not least by helping to protect the Jordanian royal family.
The reasons foreign law enforcement entities seek out ATF are manifold. Firstly, the agency was the first to use "accelerant" sniffer dogs in the 1980s, trained to track potential arson cases that may have been started with suspicious substances. It also has the added advantage of being a worldwide expert in explosives. Because as well as investigating and preventing serious crime it also regulates both the US's legal explosives industry and the licensing, distribution and manufacturing of firearms. It draws on investigators and chemists who understand ballistics and explosives, and how homemade devices are evolving. "Terrorists change their tactics all the time," says Crawford, "so we're keeping dogs abreast of the newest ones out there." Domestically too, ATF's tentacles (paws?) spread wide and it has trained dogs for the US Marshals, the Department of Homeland Security and several local agencies. The ATF certification, the National Odor Recognition Testing Standard, is now a yardstick for canine-unit excellence and has been used at federal, state, local and military levels.
Visiting the canine centre with her special agent handler Sheila Fry, black labrador Sunny surveys the younger pups nearby. Some grey hairs betray that, at eight, Sunny is entering the latter stages of her career. But both dog and handler are looking sprightly despite having been called out at 01.30 that day to sweep several New York-bound buses that had been pulled over for smuggling illegal tobacco. Fry had been asked to check the vehicles for guns, which dogs can smell even if they haven't been fired since the factory test, because, as she explains, they can pick up odours in "parts per trillion".
Fry, a Minnesota-raised Washington-based investigator and certified explosives expert, has been with ATF for 24 years. Her job means being on the road for several weeks every month, from working the Trump inauguration in January to teaching explosives education in Budapest and San Salvador. "I always have a bag in my car with clothes and dog food," she says with a smile. Not that it's easy. Fry constantly has to assess security situations and whether a suspect package might be putting her dog at unnecessary risk, making it preferable to send in a robot.
She also has to be boss to an animal that, like all dogs, would rather be curled up sleeping or wolfing down its rationed food supply instead of working long hours. "You have to trust your dog," she says. "Our life is in their paws."
Garrett: Born in 1995 and bred to be a guide dog but failed to make the grade. He came to the ATF's national canine division in 1997 and graduated from the explosives detection course the same year. Garrett was assigned to the Washington field office and worked on casework including the serial bomber Eric Rudolph and 2002's Beltway sniper attacks. Garrett retired in 2006 and sadly died two years later.
Cascade: Another instrumental dog in the sniper case. She sniffed out gun residue on a wall that was left after the weapon had been removed. It was a key piece of evidence and a watershed moment: the first time a dog had recovered non-physical evidence from a scene.
Jenny: Born in 1995 and assigned to the Dallas division, active both nationally and internationally. She worked on the Columbine High School shooting investigation, among others, before retiring in 2004 and dying three years later.
When it comes to security, canines have traditionally been used for their bark and bite rather than their sniffing capabilities. Indeed, it wasn't until 1888 that dogs joined the ranks of police forces to work with their snouts.
While investigating the Jack the Ripper murders, London Metropolitan Police commissioner Sir Charles Warren enlisted the help of two bloodhounds, Burgho and Barnaby, a revolutionary idea for the time. While the duo failed to bring the Ripper to justice, it put dogs on the scent of a new career.
During the Second World War, man's best friend was deployed to North Africa by both the US and the UK to smell out non-metallic German mines. Israel was one of the first countries to use dogs en masse to retrieve illicit drugs and explosives. This was quickly adopted across the world, with the US following in the 1970s with the advent of the war on drugs. Nowadays most major police departments around the world have their own canine teams.