Mascots, Macron and Munich are on our mind this month as we embark on our regular round-up of worldly opinion.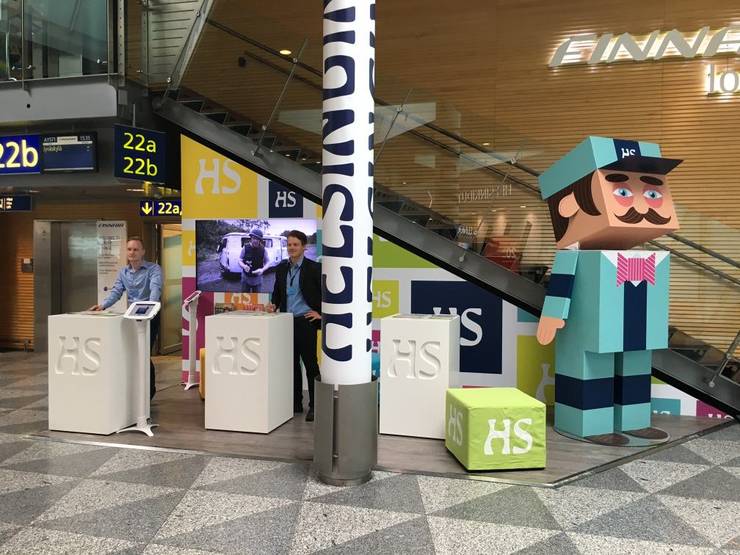 Airport concourses are some of the more challenging consumer environments to get brand cut-through and make a lasting impression. With trolley traffic, cheap vodka offers, blaring boarding announcements and flashing digital displays, it's hard enough to get passengers to spend on gifts for loved ones, let alone to get them to fork out for a newspaper subscription to a local media outlet.
For passengers passing through Helsinki's Vantaa Airport, a towering mascot by the name of Hasse has been having a dramatic effect on raising brand awareness among passengers who might have never heard of Finnish newspaper of record Helsingin Sanomat – but he's also raising readership among Finns.
Hasse, who now appears in numerous spots, has helped increase numbers by some 10 per cent and will soon be joined by other family members to encourage more active purchase, subscriptions and online visits. With Playmobil good looks, it can only be a matter of time before Wally, Nikky and Footsy are competing for space at JFK, Haneda and Heathrow.
---
World's fourth-biggest economy problems as relayed from one technology investor to another in the coat-check queue at the Digital Life Design conference in Munich.
"I wasn't that happy with the connections between Stuttgart and Mallorca on Thursday evenings. But since we moved our office to Hamburg I think 2017 is going to be much better."
---
When we first set up shop in Marylebone in late 2011 we had four newsstands within easy striking distance of our front door. En route to the office we could pop into Green's for copies of Aussie Gourmet Traveller or the German dailies that weren't part of our daily delivery. Further down the high street there was another newsstand that had a more focused offer; in the opposite direction another that seemed to do a brisk trade with the FT and Le Monde and Figaro (the surge in French residents and the branch of Le Pain Quotidien across the way might have had something to do with it) and on Chiltern Street, Shreeji Newsagents has long had an eye for stocking a perfectly edited mix of obscure and more established titles.
As of mid-February 2017 only two remain: Shreeji and the Franco friendly outlet on Marylebone High Street. You might say that the demise of the sector has been in line with the decline in newspaper sales but our newsagent at Shreeji has a more pointed view. "They don't want anything independent on the streets anymore; the more chains that can pay high rates, the better."
Indeed, business rate hikes in London will likely see another round of small, independently run businesses collapse while the government frets about dying high streets. The kiosk, newsagent, smoke shop and corner shop are all essential to functioning, social communities and deserve special status in an era where home delivery and digital communication might pose the next biggest public-health threat. Magazine publishers love subscriptions but this magazine also likes a vibrant newsstand to provide a backdrop for a bit of gossip, a little people-watching and good old-fashioned discovery.
---
Five months after the death of Thailand's King Bhumibol Adulyadej, visitors are still greeted with sartorial advice at immigration kiosks to tone down the bright colours while the country is in a period of mourning. With more than half a year to run before vibrancy is restored, firms trading in black dye did a roaring trade in late autumn. Next November, outdoor advertising will see a business bump when the memorial ads comes down and those for air-conditioners, whitening cream and suvs return.
---
Annual visitor numbers to the Philippines broke through the five million ceiling last year despite Rodrigo Duterte's deadly war on drugs. Now the president's pick for tourism minister, Wanda Corazon Teo, wants to capitalise on the bump by updating the current tourism tagline – "It's more fun in the Philippines" – that she inherited from her predecessor. She would do well to look to Colombia. Teo's South American counterparts made effective use of its nation's violent reputation a few years ago by acknowledging it with a cheeky campaign slogan: "Colombia: the only risk is wanting to stay." Perhaps "Just say no... to everywhere else this summer"?
---
What we'd like to see more of in March 2017
1.
Property developments along the lines of Statdthaus Hugo in Berlin's Charlottenburg at this year's Mipim.
2.
Sunny leadership qualities like those of France's Emmanuel Macron.
3.
Retail turnaround results like those demonstrated by James Daunt at Waterstones.
4.
Some quality time between Justin T and Angela M.
5.
Another catchy jingle from the handsome Wincent Weiss.
6.
Donations from West Coast technology giants for pbs and npr coffers – you owe it to them, boys.
7.
Column space on front pages about all the other things happenings in the world beyond the DC beltway.
8.
Smart collaborations from furniture brand Flötotto, as unveiled at Stockholm Furniture Fair.
9.
Next-gen, longer range Airbus A321s catering to professional travellers.
10.
Opportunities for a large part of the work week to be spent in sunny Lisbon.
---
It's not just athletes who will be panting as they're put through their paces training for the upcoming Boston marathon. Prior to the run, a pack of pooches will take part in the National Odour Recognition Test run by the Bureau of Alcohol, Tobacco, Firearms and Explosives. More than 90 dogs will be tested on 10 basic explosive odours and, if they pass, they'll be officially certified to work security at the marathon.