Best in class / Milan
Best in class: Fratelli Bonvini
The vintage milanese stationer keeping the written word alive.
On entering Fratelli Bonvini, the 117 small pea-green drawers behind its dark-wood counter are the first clue that you've discovered something special. Twenty-five are dedicated simply to pen nibs: straight ones, some teardrop-shaped, others hand-finished. It is a vast selection considering that most high-street stationers stopped selling them years ago but when the shop opened in 1909, nibs were a staple for everyone from schoolboys to scholars.
For over a century the residents of San Luigi, south of Milan's centre, came for pens, pencils and ink – but in 2012 the Bonvini family drew down the shutters. Petitions were penned and appeals made in the papers, which is when Roberto di Puma and a group of friends stepped in. "We didn't even know how to go about the relaunch but we knew we needed to avoid this place getting lost," says Di Puma, who is also the publishing director of notebook brand Moleskine.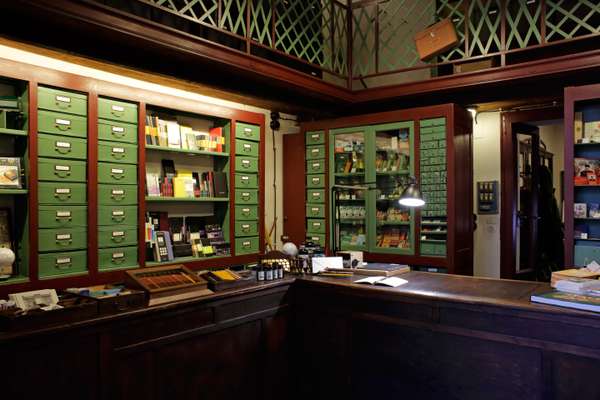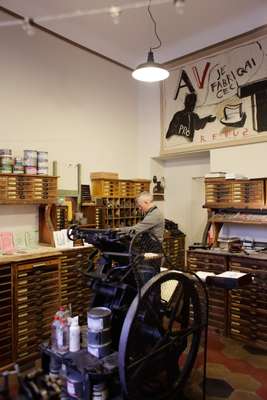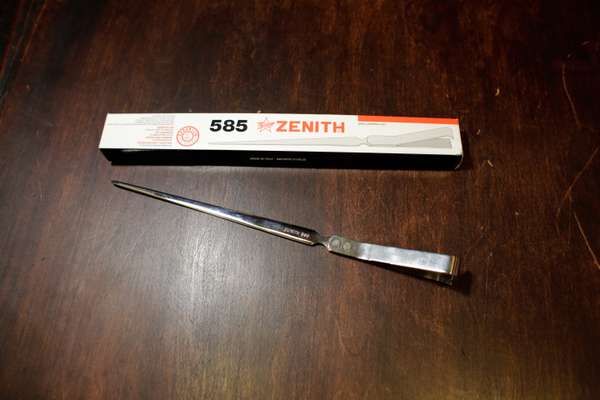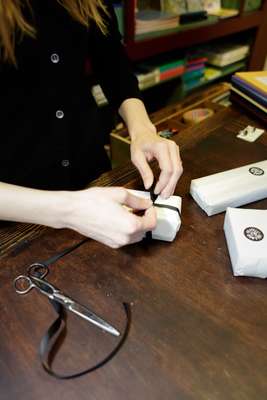 Despite his demanding job, Di Puma's dedication to the pint-sized shop means that at the weekend he is found contentedly lending a hand to manager Edoardo Fonti. "Often we get requests to prepare gifts for people so we ask what the receiver's passions are, rather than their age or gender," he says. "Passion is the departure point of everything we do."
Once the selection is made the items are wrapped in thin white paper and sealed with a sticker bearing the shop's handsome logo, while the receipts are written out on a piece of dutifully hand-stamped cardboard. It is a comfortingly old-school approach that reflects the vintage items in stock, from Italy's almond-smelling Coccoina glue to Swiss-made Caran d'Ache sharpeners.
But Fratelli Bonvini also believes in the value of serving the neighbourhood's more quotidian needs: here you'll still find a bog-standard Staedtler eraser and a no-frills pencil, should you need it. "Take the paper knife. It could be seen as obsolete, but it reminds you that an envelope shouldn't just be torn apart," says Di Puma, his voice softening. "It's an instrument for the care that you can take with anything surrounding you."
1 Via Tagliamento;
bonvini1909.com
What to buy
1.
Blackwing 602 Palomino pencil
Made of Japanese graphite and American cedar.
2.
Zenith letter opener
Pointy as a hairpin; made in Voghera.
3.
Par Avion letter paper
A 1950s original, the pack contains 12 blank sheets and envelopes.
4.
Dux brass sharpener
Thumb-sized and with three different gauges.
5.
'Forte Come un Orso'
A cheerful illustrated children's book published by Milan-based Topipittori.
Report card
The storage system is undeniably a little complex at Fratelli Bonvivi but the staff know their way around the shop so ask for help. When you do, notice the care with which they slowly slide open each drawer, not just to preserve the old cupboards but also honour the value of the stationery found inside.
Roberto di Puma (pictured, second left) and fellow pen- and-paper buffs.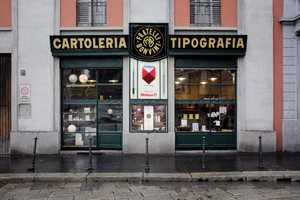 It's a short walk from the Fondazione Prada and a 400-desk-strong coworking space in industrial-turned-arty San Luigi.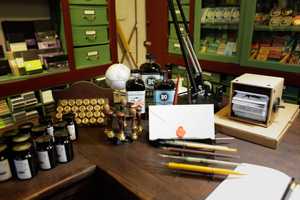 For a lesson on how to do old-fashioned well: not museum-like fetishism but a considered selection of both the useful and the esoteric.