Cultural Festival / Palm Springs
Cultural oasis
Every year fans of modernism descend on Palm Springs for a celebration that treats designers and architects like movie stars. Cocktail in hand, we joined the throng and took in the lasting legacy of California's mid-century masters.
It is an uncommonly cloudy day and crowds are gathered on the pavement in front of the city's Architecture and Design Center. Architect John Lautner's plaque on the Walk of Stars is being unveiled. Lautner designed Bob Hope's house up on the hill in 1979 and today his daughter Judith and the mayor are in attendance, as well as mid-century groupies, a few face-lifted visages and some gawping onlookers. As the star is revealed from beneath a red carpet there are huge cheers. One lady is shedding a tear.
This is Modernism Week in Palm Springs, an annual celebration of the desert city's unique architectural heritage. More cocktail-driven knees-up than intellectual biennale, the festival attracts more than 75,000 visitors every February for 10 days of open houses, design showcases, trade fairs and kooky events such as this. Now in its 12th year and with more than 90 per cent of its visitors from the US, it is a celebration of a uniquely American type of design and architecture done in a uniquely American fashion.
The city of Palm Springs was developed largely in the 1950s and 1960s as a series of big, bombastic winter homes for Hollywood's elite. During this week its creators – architects such as Hugh M Kaptur, Lautner, Richard Neutra and Albert Frey – are lauded as giddily as the superstars for whom they built homes.
"I'm the last of the architects that's still living and working in the Palm Springs area," says Kaptur next to his star, four up from Lautner's. The man behind Steve McQueen's house and the town's fire station, he's been in the Coachella Valley since the 1950s. As Kaptur has his photo taken, a lady approaches to ask who he is. We point to his star, prompting her to yelp, "Oh my God!" and jump in for a selfie. Kaptur takes it in his stride. His hair is slicked back, his collar upright and a fat gold ring is on his finger; he looks like an aged Elvis. "It wasn't in my wildest dreams that I'd get recognition. It certainly came as a surprise," he says.
Located on the intersection of Bob Hope and Frank Sinatra drives, Sunnylands was designed for media power couple Walter and Leonore Annenberg in 1963 by A Quincy Jones. Since Leonore's death in 2009 the pink-roofed mid-century palace has been used as a retreat and access is strictly limited. During Modernism Week, exclusive tours on golf buggies are offered for $65 (€60).
Like all historic residences here, this one comes with stories. Lapping up tales of New Year's Eve parties with the Reagans, a wall of Christmas cards from the Queen Mother and how the pink wall outside was constructed ahead of Margaret Thatcher's visit are interior decorator Carey Maloney, Architectural Digest's Jeffrey Caldwell and Mary Beth Durkin, a director who specialises in first-lady documentaries. They have all travelled independently from the east coast for Modernism Week, primarily to enjoy the exclusive access it provides to usually closed-off residences like this. Their nosiness and joy are palpable.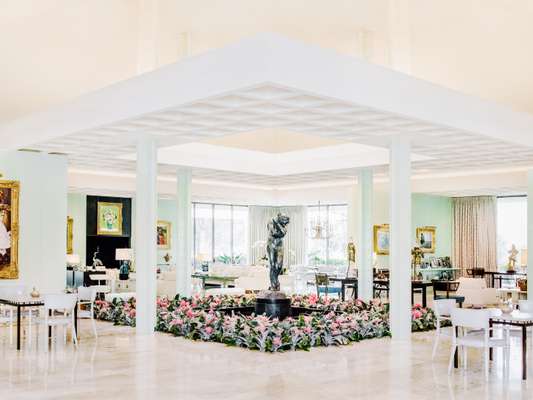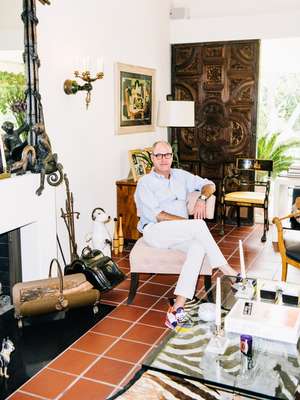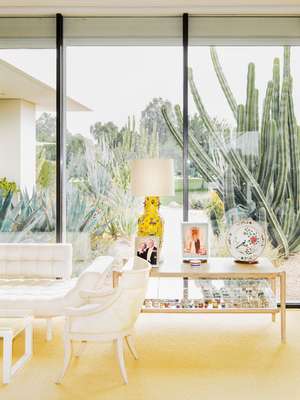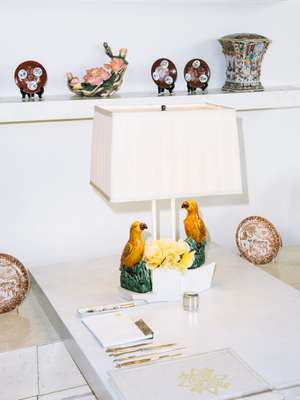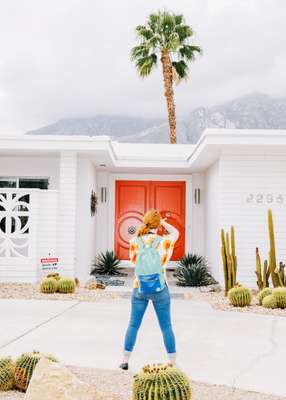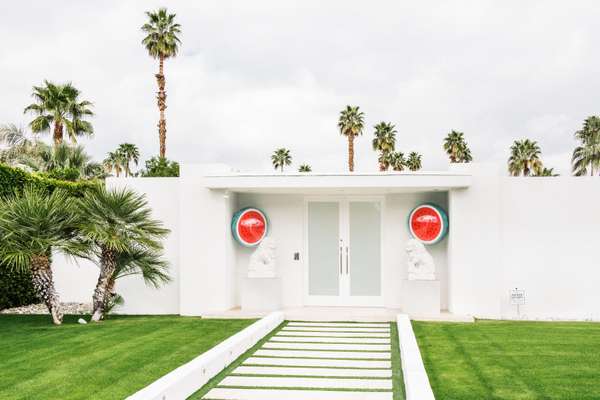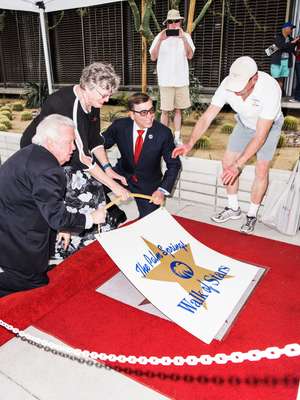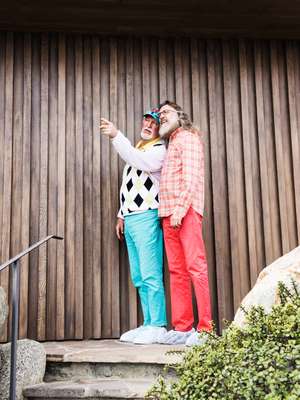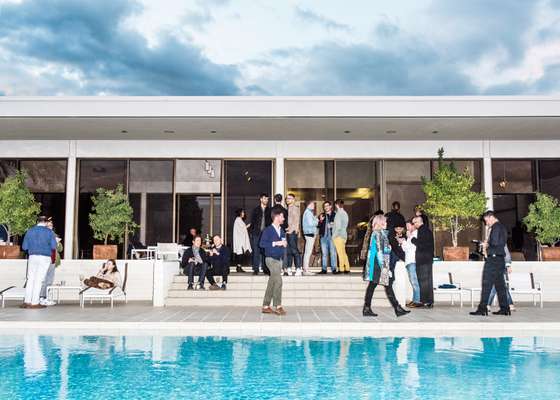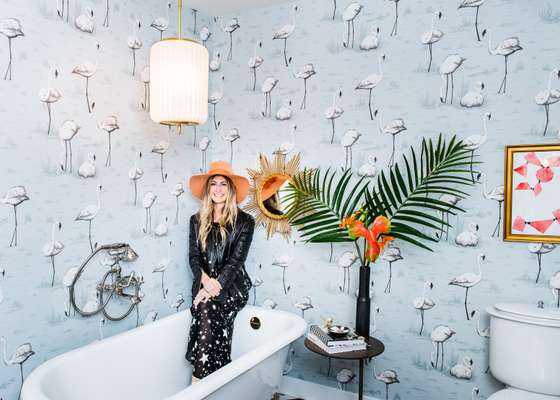 "Being in the business, I'm always impressed by anyone who goes this far," says Maloney in one grand living area decked out with portraits of the Annenbergs, gilded chairs and a huge ceramic parrot. He's marvelling over the fine Baltic ormolu-glass chandelier. "They had a confidence then – if you want one French chair then you want 40 just like it. That makes sense to me," he says, jokingly. The group then moves into the buttercup-yellow master bedroom and coos collectively.
The tour around Sunnylands is informative but organised, as you would expect of a place usually rented out to presidents. Most of the other open houses during Modernism Week are far more informal. After discussing with Maloney some of the furniture by 1940s actor-turned-designer Billy Haines, we are offered the chance to see one of his projects across town. We jet over to Casablanca ("Named after the film her dad won an Oscar for," says Maloney of his client) and admire the chairs that Haines designed for the Warner Brothers' screening room.
All these houses are pieces of history and their owners see it as their obligation to allow visitors to revel in them for this one moment every year. On the Sunday evening a cocktail party is being held at a house designed by Craig Ellwood for Max Palevsky in 1967. Palevsky's daughter-in-law Alison and her friends Sean Yashar and Oliver Furth are our hosts. It is as Rat Pack as Palm Springs gets today: a Roy Lichtenstein hangs in the living room, maxidresses are worn around the pool and the great and the good of the US interior-design scene are all present.
There's Martyn Lawrence Bullard, the man behind homes for Cher, Elton John and the Kardashians, and local design power couple Trina Turk and Jonathan Skow. A group of them got VIP access to the Kaufmann House the day before and are having a good old gossip about it. This bash has the glitz of a Hollywood party but conversations are about fixtures and fittings instead of auditions; it's not who got which role but whose house you managed to get into.
"We love opening it up and having a good old-fashioned pool party," says host Yashar, who runs a design agency in Los Angeles. "It's quite special to experience the real vibe of the home as a party pad, sans surgical shoe covers." Yasher and his partner Furth make the journey out to Modernism Week most years. They are under no illusion as to what the event is about. "To me it's akin to a classic car show. Whereas a biennale pushes contemporary dialogue, Modernism Week is really about experiencing the past," says Yashar. Why do people visit? "The same reason people go to Star Wars conventions," he says, smiling. Indeed: fantasy, the chance to encounter a hero and some fascinating wardrobe choices.
Modernism Week is essentially about curiosity, as the Palm Springs Door Tour demonstrates. For $20 (€19), eager visitors get a map of some of the most special doorways in the Indian Canyons neighbourhood to tour by bike. Volunteer guides are at each stop with a smile and information on the property. The first door – a baby-pink number at 1100 East Sierra Way – has its own Instagram account. There we meet Canadian "snowbirds" Keith and Janet Cozens, who come to Palm Springs every year. Canadians make up about 8 per cent of Modernism Week visitors. "You need to get a golf club," says Keith. "You get to see all the backs of these homes from the golf course."
Alexander Glanville, a 21-year-old photography student from Bournemouth on the UK's south coast, is also taking the tour. "It's a million miles from Dorset, both metaphysically and geographically," he says. Everyone from retirees to students are here: the 200 people on this tour are evidence of the universal appeal of mid-century modern.
It is, admittedly, strange to watch laymen hovering on their bicycles while staring at front doors but there is a distinct lack of cynicism here, something that stretches right back to when Palm Springs was designed as one outrageous spectacle. The party hasn't stopped in Hollywood-on-Sand and the city's spirit of extravagance lives on cheerfully at the Christopher Kennedy Compound. Here the interior decorator invited more than a dozen of his peers to design a room each in a house for blogger and "modern-day Audrey Hepburn" Kelly Golightly. "I can't decide if it's funny or offensive,"says one observer of the Technicolor extravagance of it all.
Mid-century modern may be an overused and wildly abused term here – what would John Lautner have made of the banana-leaf wallpaper in the "cloffice"? – but, frankly, so what? There are far more smiles than you would see at your average design festival or architecture biennial. If nothing else, Palm Springs showed the world, especially in the dour landscape of the postwar period, that buildings can delight. Gaudy can be – and do – good.
How does Yashar, our arbiter of good taste back at the Palevsky House cocktail party, rate contemporary Palm Springs style? "It can get a bit cartoonish but at the same time I commend those who are creating their ott fantasy homes in Palm Springs. There's this historic precedent for outrageous design here and I think people are magnetically pulled into the desert to continue the legacy."
Whether or not we will be seeing the current crop of Palm Springs design names adorning stars on the Walk of Fame remains to be seen. One thing is certain: they'll be having a celebratory cocktail regardless.
Mid-century modern meccas:
Modernist architecture took on many guises in the "mid-century" period but one of the elements that made it unified (and perennially popular) was the way it merged the boundaries between the inside and outside. New building methods – notably steel supports – enabled exterior walls to be freed up and given over to glass. Architects around the world embraced this innovation, not just in Palm Springs but elsewhere too.
Brazil
With such lush landscape around it was no wonder that architects such as Oscar Niemeyer, Lina Bo Bardi and Lúcio Costa developed "tropical modernism" in Brazil from the 1950s to the 1970s. Their style was a slightly funkier version of what was happening back in Europe, with extreme architectural concrete shapes made even more attention-seeking by the extreme vegetation enveloping them.
South London suburbs
Development company Span was founded in the late 1940s and brought modernism to the south London masses in suburbs such as Blackheath, Richmond and Weybridge. Span's developments are identifiable by the shallow-pitch roofs, broad windows and open plan living areas and were often built around garden areas, with garages hidden behind hedges.
Lanzarote
The volcanic island of Lanzarote out-bonkers even Palm Springs. César Manrique was an artist-cum-architect born on the black land mass and was responsible for many of its architectural highlights, including a swimming pool immersed in an underground grotto and a house built into a lava field. He helped create a unique local vernacular that is more surrealist than modernist.
Forte dei Marmi
This seaside resort town in Tuscany has been a hotspot since the 18th century but a boom in holidaymakers postwar saw much expansion and, happily, plenty of midcentury architecture to go along with it. Nowhere encapsulates the 1950s riviera style better.