Defence / Global
Defence
Briefing
Nuclear take-off in North Korea, the ongoing flight of the Warthog and dealing with cyber security.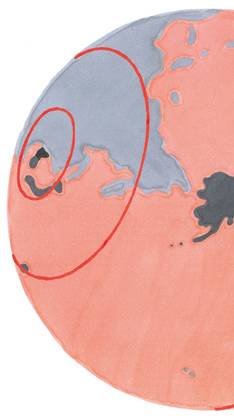 Going nuclear?
North Korea —
Weapons
Donald Trump's first overseas crisis as president came at dinner. On 12 February, while Trump wined and dined Japanese prime minister Shinzo Abe at his Mar-a-Lago resort in Florida, North Korea test-launched a ballistic missile. It was fired from a military base in the country's northwest, travelled eastward for 500km and plunged into the Sea of Japan.
"If they want to the North Koreans could probably accomplish [a long-range missile] over the course of the Trump presidency," says Ian Bremmer, founder of political-risk company Eurasia Group, on the sidelines of the Munich Security Conference. It's a timeframe that defence chiefs on either side of the Pacific are having to consider. The most recent missile test highlighted significant and worrying progress in Pyongyang's technology but is an Intercontinental Ballistic Missile (icbm) on the horizon?
The launch was a Pukguksong-2, the land-based version of a missile previously fired from submarines. It has an estimated range of 1,200km; close enough to hit Japan and South Korea but not the nearest US military bases on Guam. Yet the most concerning development is its solid-fuel system, which allows the Pukguksong-2 to be fired within minutes and – alarmingly – is more easily hidden due to a tank-like transporter vehicle. In the event of war, hidden missiles could drastically alter the strategic playbook.
Earlier this year, North Korea's leader Kim Jong-un announced "the final state of preparation" for testing an icbm able to carry nuclear warheads across the Pacific. This may be bluster. Experts say that Pyongyang's long-range kn-08 model is still some years from a functional system – but even that is far from comforting.
Bremmer says that as the situation becomes tense, Trump's bullish style of diplomacy may come into play. "I do think of all the presidents out there, Trump is the one that's most capable of saying 'Maybe I'll give him a deal that no one else would offer.' There may be a lot of downsides to that but it does mean there's some potential for fixing this damn thing."
What's that in their pocket?
North Korea's latest missile launch is the Pukguksong-2, capable of covering 1,200km. Here's what else is in their arsenal and how far they allegedly can fly.
Warts and all
USA —
Air defence
The Fairchild Republic a-10 Thunderbolt II – known as the Warthog – is a tough old bird. Since entering service in 1976 it has provided close air support to generations of US troops. The US Air Force has persistently tried to mothball it in favour of sleeker and more expensive replacements – most notably Lockheed Martin's f-35 – but has now agreed to keep the Warthog airborne until at least 2021. "Because it flies so low," says Randall Steeb of Rand Corporation, "it is especially good at spotting targets even under cloud cover, producing a deterrent effect with its presence."
Some futuristic updates on the A-10 platform have been proposed, including a metal-foam aircraft powered by a rear-mounted propellor. But the a-10 has friends in high places, including senator John McCain, a former combat pilot, and Arizona congresswoman Martha McSally, the US air force's first-ever female combat pilot, who flew a-10s over Iraq.
---
Q&A
Jarno Limnell
Professor of cyber security, Aalto University
Helsinki
Helsinki is set to become home to a new EU and Nato-funded centre to combat cyber threats and hybrid warfare. Limnell is a professor of cyber security at Finland's Aalto University and has followed the project closely.
What are hybrid threats?
They seek to undermine the foundations of democratic states by instilling distrust, spreading misinformation and attacking digital infrastructures.
How will the new cyber-threat centre work?
It will focus on strategic analysis, research and training, and promote co-operation between nations and sectors.
Why Helsinki?
Finland has a long history with Russia and a good understanding of how it acts. Its model of defence, in which it is not up to the military alone to defend the country, has also won plaudits.
How can Europe protect itself?
The role of individual citizens is critical when it comes to spotting threats such as disinformation and hate speech. Hybrid threats target all levels of society and we need a defence framework in which businesses, defence officials, the academic world and citizens play a role.