Diplomacy / Global
Diplomacy
Briefing
The boom in embassy building in Canberra and the return of diplomatic relations in Libya. Plus: Nato's man in Moscow bows out of his "kamikaze" job.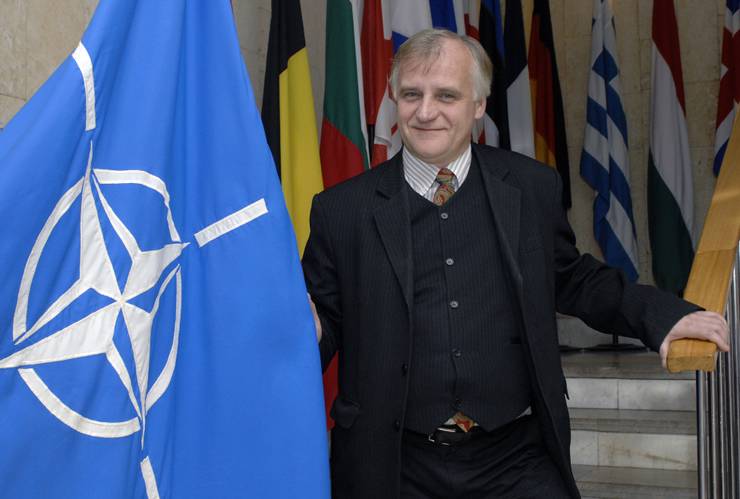 Tough gig no. 2
Cold shoulder
Moscow —
Nato information office
The Soviet Union may be long gone but Nato-Russia relations are far from cordial. Nobody knows this better than Robert Pszczel, outgoing director of the Nato Information Office in Moscow, which is attached to the Belgian embassy. "It can be a very rewarding job but it can be tough; one needs to develop a thick skin," says Pszczel, a Polish national who previously served as a press officer at Nato.
He arrived in Moscow in 2010, soon after the Obama administration's "reset" with Russia. However relations cooled as the political atmosphere under Vladimir Putin became increasingly stifling. Then Russia annexed Crimea in the spring of 2014, after which Nato broke off co-operation with Moscow.
Dialogue with Russia continues but it is a bumpy ride. "Nato is vilified, presented as a monster. In these conditions it is very difficult to have a civilised debate because how can you have a debate with a monster?" says Pszczel, a sharp-witted interlocutor in both Russian and English. While he continued to talk to local experts and challenge myths about Nato in the Russian media, some avenues started to close. At one point the Ministry of Defence told him not to contact it again. Appearing on a talkshow on state television he was accused of being a Russophobe simply because of his nationality.
As tensions rose Pszczel kept his sense of humour, assembling a collection of Russian anti-Nato caricatures from old and new press or posters. He found respite in Moscow city life, friends and the theatre. "Russian society has a great deal to offer," he says. Nato continues to hope that Russia will change its approach on Ukraine and act with greater transparency following a period of rearmament, snap exercises and aggressive rhetoric.
As he prepares to hand over to a successor, whom he jokingly calls "the next kamikaze", Pszczel emphasises the importance of remaining undaunted when telling Russians about Nato. "You have to believe in what you are saying," he says, pointing to Nato's contribution to international security. "We are not looking for conflict."
---
Land grab
Canberra —
Embassies
Australia's sleepy national capital is in the midst of a diplomatic building boom. In the residential enclave of Yarralumla, adjacent to Parliament House, disparate nations are constructing embassies on land leased from the federal government.
Nations currently building in the area include Russia, Bangladesh, Spain and India. Others have been forced to set up camp in O'Malley, a less prestigious area much further from the parliamentary action. Demand for diplomatic land in Canberra has been on the rise for years, fuelled by Australia's growing influence in Asia Pacific. In 2014 the stream of applications caused authorities to issue a decree to those countries that had already been granted leases in Yarralumla: build within three years or lose your land.
Those who have completed their embassies since the edict include Pakistan, which had held onto a vacant plot for half a century. Its diplomats dusted off a design that was drawn up 55 years earlier by lauded architect Enrico Taglietti but never built due to a lack of funds.
The Bangladeshis, who received a prized parcel of land in Yarralumla in 2015, hope to move in this year after a prolonged period in a temporary building in O'Malley. "Australia was the very first country from the oecd to recognise Bangladesh and has remained a trusted partner and friend," says high commissioner Kazi Imtiaz Hossain.
Demand for land remains high. Authorities have recently introduced changes that enable foreign governments to purchase it on the free market, using a model based on the planning principles in place in Washington. But Yarralumla is still sought-after land and finding Canberrans willing to sell will prove tricky.
Canberra's finest embassies
1.
Finland (2002)
Hirvonen-Huttenen and MGT Architects
2.
Netherlands (2014)
Rudy Uytenhaak and Philip Leeson Architects
3.
Spain (2017)
Mateo Arquitectura
Back in the fold
Tripoli —
Conflict
From the oppressive idiosyncrasies of the Gaddafi era to the chaos that has followed his ousting, navigating Libya's intrigues has never been easy for diplomats. A militia battle for control of Tripoli prompted most countries to close their embassies in 2014, making ordinary Libyans feel even more cut off from the world.
But now a handful are coming back. In January, Italy became the first western country to reopen its embassy; the UK may soon follow suit and Turkish diplomats have also returned. "It is a sign of the beginning of the end of the isolation," says Italy's ambassador Giuseppe Perrone.