Top 25 / Global
Emerging patterns
Shops and stylists, tailors and tracht: welcome to Monocle's worldwide wardrobe of fashion-forward folk to keep an eye on.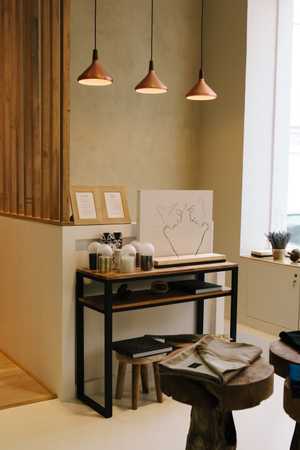 1.
Next-generation luxury
Maison Wattinne
Paris
Six generations of Randry Glorieux-Watinne's family dedicated their lives to wool and cotton farming in the north of France. Inspired by his heritage, the young entrepreneur founded Maison Wattinne in Paris last year. The menswear brand specialises in everyday items made from luxurious natural materials: its collection spans cashmere scarves, cotton-and-silk polo shirts and flannel bomber jackets with silk linings and lamb-leather inserts.
Each "Made in Portugal" piece is displayed in the brand's new shop on the bustling Rue de Poitou in Le Marais. "I designed my shop following the aesthetic codes of wabi-sabi [a Japanese world view that celebrates raw beauty]," says Glorieux. "I used wood, stone, powdered earth and natural fibres."
wattinneparis.com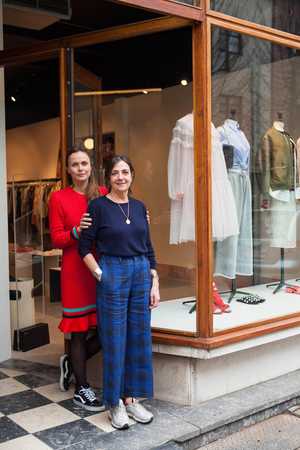 2.
Street-wise buys
Steenhouwersvest
Antwerp
Antwerp has long been one of Europe's most fashionable hubs but even this city has been hit by the inexorable rise of the high street. A stone's throw from the main drag, however, independent retailers have set up shop on leafy cobbled street Steenhouwersvest.
"All the good stores are here," says Mathijs Vos, who in 2016 co-founded Hutch, a menswear shop stocking Officine Générale blazers and coats from Italy's Barbed. Womenswear boutique Step by Step, run by Julie Marynen and Chantal Rochez (pictured, Marynen on left), is another newcomer. "After 10 years in another location we came here last year – it was a logical move," says Marynen, who sells Isabel Marant Étoile blouses and Bella Freud knits.
Others have found a home here too: children's shop Kid, eyewear brand Ace&Tate and jeweller Wouter & Hendrix.
3. 
Market appeal
Maud Heline
New York
Frustrated by the lack of choice in the women's shirt market, Maud Heline (pictured) decided to design her own. When the Paris-born, New York-based designer showed her first samples to Barneys in 2015, it ordered 200 pieces. Her latest undertaking, a collaboration with Parisian multibrand shop Colette, features white blouses splashed with blue polka dots.
4.
Globetrotting garments
Smock
Los Angeles
Kevin and Bo Carney, the founders of LA boutique Mohawk General Store, launched their in-house brand Smock three years ago. Its collection includes loose-fitting trousers, light cotton jackets and dropped-shoulder T-shirts. Smock's production recently moved from the US to Japan and monobrand shops are in the works.
mohawkgeneralstore.com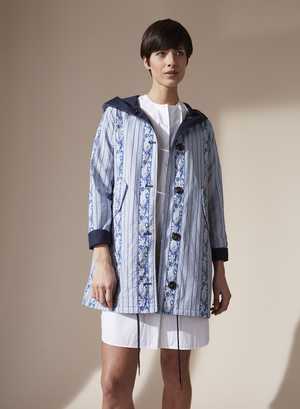 5. 
Dapper partnership
Woolrich x Les Olivades
Pennsylvanian outdoor-clothing brand Woolrich has joined forces with French fabric company Les Olivades to give its Prescott reversible parka a fresh look. The prints add a splash of colour to Woolrich's womenswear staple, which is patterned on one side and plain on the other. Each coat is water resistant, of course.
woolrich.com; olivades.fr
6.
American clean-up
Kalastyle, Ursa Major, Spruce Apothecary
1. Soap by Kalastyle, Rhode Island Infused with cedarwood oil.
2. Face wipes by Ursa Major, Vermont Made with all-natural bamboo fibre.
3. Soap by Spruce Apothecary, Portland Smartly packaged and organic.
kalastyle.com; ursamajorvt.com
After 25 years in the fashion business, Yasuharu Kuzaki started questioning mass consumption. "The focus was more on price than quality," he says. "I thought, 'What if I started a brand based on values I believe in?'" The result, now in its third season, is Aton, the dream label for women looking for top-quality basics with a quiet flair. Aton's sweatshirts are woven on loopwheels in Wakayama by one of only two factories in the world that can make them the way Kuzaki likes.
aton-tokyo.com
8. 
Country style
Tracht & Country
Salzburg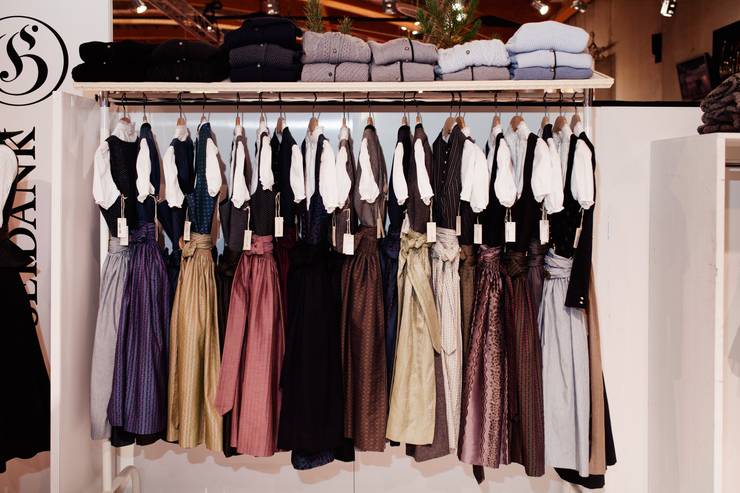 Every February and September the largest alpine lifestyle fair takes over Salzburg's exhibition centre, attracting more than 200 exhibitors and thousands of visitors. The event is a celebration of tracht (national dress) but, this February, a new wave of designers were ripping up the rulebook. "The younger generation has brought movement to tracht fashion, designing new interpretations of traditional costumes," says fair director Wilfried Antlinger, who is sporting a woollen jacket by up-and-comer Sabine Sommeregger. "These days fashion trends tend to flow into tracht fashion."
Another label combining traditional manufacturing with modern design is Glücklich + Heiss. "We're at home in the mountains but create fashion with an urban character," says co-founder Claudia Heiss. "We don't want to be too traditional but we also don't want to lose the authenticity." Each of the brand's items is produced within 200km of its South Tyrol base and, while its loden backpacks and coats would jump off the racks in London, the Alpine region is its biggest client and thus Tracht & Country its most important showing.
trachtsalzburg.at
9. 
Family affair
Leather Works
Minnesota
Husband and wife Kent and Lee Begnaud and their son Nathan make sumptuous leatherware from their studio in St Paul, Minnesota. These pencil cases were designed especially for Portland homeware shop Canoe and are made from vegetable-tanned-leather courtesy of bootmaker Red Wing's SB Foot Tanning Company.
leatherworksminnesota.com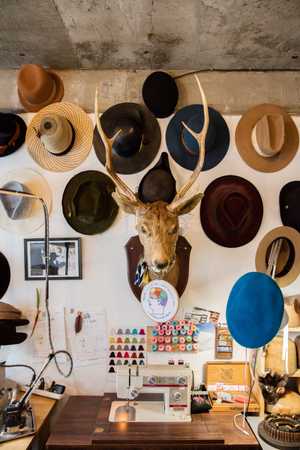 10. 
Hats off
Bona Capello
Tokyo
Australian surfer and DJ-turned-hatter Thom O'Brien began making hats in 2009, when he was living on the Sunshine Coast. Demand for his headwear increased and in 2012 he started Bona Capello before moving to Tokyo in 2014. Today he handmakes fedoras, trilbies and boaters in Shibuya. His customers come for his signature dead-straight brims and unique textural finishes. "I'm not doing this to make money," he says. "I do this because I want to make long-lasting products."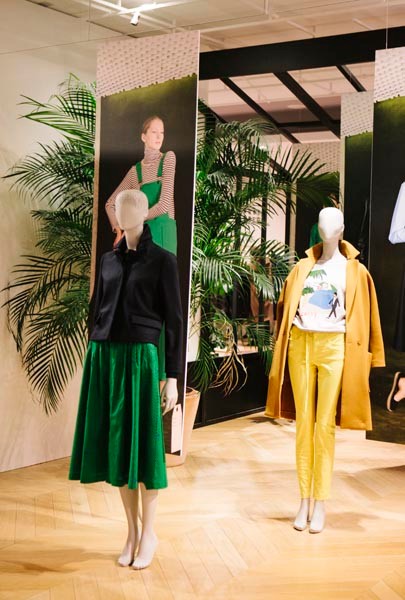 11. 
New direction
Galeries Lafayette
Paris
Galeries Lafayette has launched its own ready-to-wear women's brand with a playful and expansive collection of dresses, coats, trousers and shoes. Designed by Laetitia Ivanez, Collection Femme Galeries Lafayette represents a bold attempt by the department-store chain – which is popular among tourists but less so among locals – to appeal to Parisian women. "We want to recapture our local customer base," says Guillaume Houzé, the company's image and communications director.
Unveiling an in-house line for their family business is the latest in a series of big moves by Guillaume and his brother Nicolas, CEO of the Galeries Lafayette group since 2013. "Galeries Lafayette is 120 years old and we are the fifth generation so we want to take it in another direction," says Guillaume. Exciting plans are currently in the works: the refurbishment of the Galeries Lafayette flagship; the development of a new Paris retail outpost in conjunction with architecture firm Big; and the unveiling of the Lafayette Anticipation art centre.
galerieslafayette.com
12.
Playful preview
Fil's Underwear
Padua
Padua-based designer Filippo Viero's line of boxers are stitched together with cotton, silk and linen sourced from northern Italian mills and packaged in recycled cardboard containers. Each box sports a drawing of a gentleman in a state of undress, while a cut-out in the shape of said gentleman's boxers previews the fabric inside.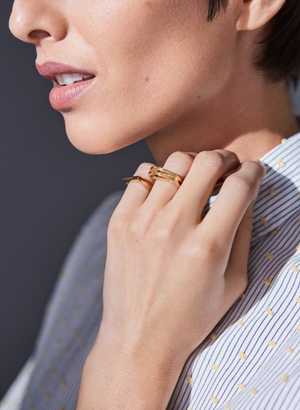 13.
Glittering array
The Boyscouts
Rotterdam
Zelda Beauchampet's three-year-old jewellery brand deserves a badge of honour for its next range of rings, earrings and brooches. Handcrafted in Rotterdam, her pieces come in silver, gold and matte gold, and are sold in small boutiques from Munich (Bean Store) to Toronto (Easy Tiger Goods).
theboyscouts.com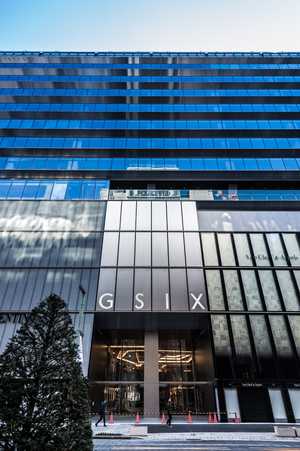 14. 
New build
Ginza Six
Tokyo
The transformation of Ginza – the heart of Tokyo luxury retail – continues with Ginza Six, a mixed-use development put together by a group that includes the Mori Building Company, L Real Estate (lvmh's property wing) and J Front Retailing on the site of the old Matsuzakaya department store. There are 241 shops and seven office levels. The development opens on 20 April, with luxury heavyweights such as Fendi, Valentino, Céline and Saint Laurent on the streetfront. The retail line-up also includes fashion brands such as Rag & Bone and Tokyo labels including Soph. "We have to offer more than just the products," says Ginza Six sales manager Kanoko Iwahara. "We have a Tsutaya bookshop, a premium lounge and a personal stylist who can navigate customers through the shops."
ginza6.tokyo
15.
Solo effort
Helbers Menswear
Paris
After heading up menswear design at Louis Vuitton and Maison Margiela, Paul Helbers branched out on his own. "I wanted to be involved with the whole production process rather than designing lots of lines," he says. The Paris-based designer spent the next three years sourcing the best manufacturers in Italy before launching his menswear label in 2016. His pieces – corduroy blazers, striped linen shirts and calfskin trainers – are a throwback to 1920s elegance.
16.
Brand-new bag
Heath Ceramics
San Francisco
Heath Ceramics, the West Coast pottery manufacturer and retailer, had sold work bags by designer Sherry Stein for years. When Stein retired in 2014 Heath's owners Cathy and Robin Bailey asked her to teach them how to make the bags.The Baileys spent a year evolving Sherry's designs before setting up an in-house production centre above their tile factory, where a team of craftsmen make the colourful carriers from waxed canvas and tanned leather.
heathceramics.com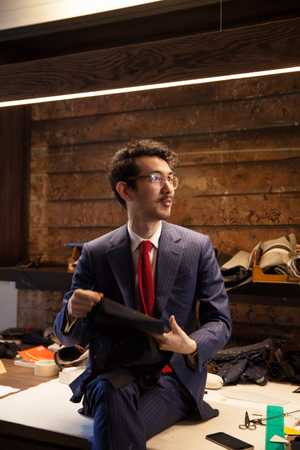 17.
Seamless transition
Connock & Lockie
London
"I never dreamt of running a tailor," says Yusuke Nagashima, the new owner of Connock & Lockie. Under his stewardship the 114-year-old business has had a refurbishment and is embarking on an oh-so-subtle change of direction. The bespoke tailor in Bloomsbury, central London, was established by cousins William Henry Connock and John Lockie in 1902 and has been making traditional English suits ever since. Japanese-born Nagashima joined the firm as an apprentice in 2004 and, in 2011, aged 30, teamed up with his father to buy the business.
One of Nagashima's first moves was to appoint Benedetti Architects to redesign and extend the premises, a lovely Georgian townhouse on Lamb's Conduit Street. Benedetti has enlarged the shop and the cutting and sewing rooms, as well as making the spaces for consultations and fittings more comfortable. It restored many of the building's original features and created more than 60 items of bespoke joinery, including a large cutting table.
Yusuke intends to take the business forward by getting his handful of staff, who are all in their twenties, more involved. "I want to have their input throughout the design process so that we can learn from each other," he says, adding that his offerings are on the traditional side of things. "We make lots of one-button, single breasted blazers. We respect the traditional suit."
connockandlockie.com
18.
What a carry-on
Wonder Baggage
Osaka
A smart, robust bag is a necessary travel companion and this Osaka brand makes some of the best. Launched in 2012 by product designer Hitoshi Watari, its "Made in Japan" pieces now span all manner of bags, from backpacks to totes. This Boston model is sewn from hardy Japanese ballistic nylon and features details such as a gold ykk zip, Oxford-cotton interior and oiled leather handles that will age better than a fine wine.
wonder-baggage.com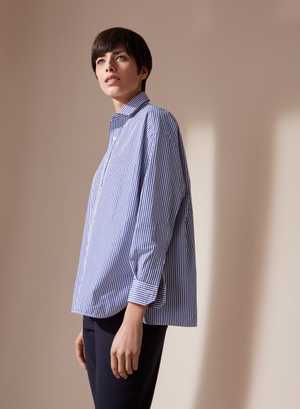 19.
Getting shirty
Ticca
Tokyo
The oversized Oxford shirts of womenswear brand Ticca boast the sort of tailoring typically found in a luxury menswear collection. "People often ask us why we don't make dress shirts for men," says director Hitomi Suzuki at Ticca's studio in Tokyo. Hanging nearby is what has become a signature item: a loose-fitting striped number – known as the Square Big Shirt – made of cotton fabric from Portugal's Somelos, with seams meticulously sewn at factories in Japan. Just a year after the brand launched its first collection of shirts, sweaters, cropped trousers and jackets at its own shops in Nagano and Kanazawa, the items have found their way onto the racks of Japan's top fashion retailers.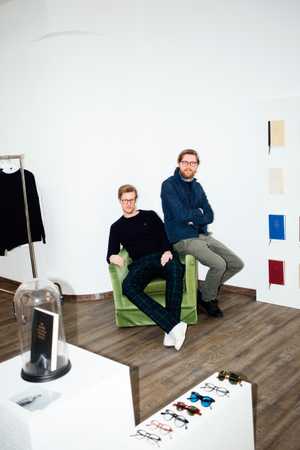 20.
Brothers in arms
Brosbi
Bielefeld
Do brothers make good business partners? Yves-Oliver and Dennis Wilke (pictured, Yves-Oliver on left), co-founders of German brand Brosbi, wouldn't have it any other way. "Without both of us Brosbi wouldn't be the same," says Dennis. "We know each other so things can be decided faster," agrees Yves-Oliver. "But we also fight harder than we would with other partners."
Launched in 2012 from their hometown of Bielefeld, Germany, Brosbi puts a playful spin on classic US sportswear looks, with all pieces made in Europe. The line includes workwear jackets, baseball caps and polo shirts with embroidered symbols; a red heart here, an ice-cream cone there. As Yves-Oliver puts it, "What's better than opening your closet and seeing something special that brings a smile to your face?"
brosbi.com
21.
Rare finds
Saint Crispin's
Vienna
While the company is headquartered in Vienna, Saint Crispin's footwear is made in Transylvania, Romania, by a collective of 25 craftspeople. The brand produces only 1,500 pairs each year – a staggeringly small number when you consider that brands such as John Lobb average about 40,000 pairs annually. The swish Oxfords, derbies and loafers are handcrafted from various vegetable-tanned leathers (bison is the latest addition) on a by-pair basis, which means you will never find the exact same design twice.
saintcrispins.com
22.
Sleep well
Sloan
Los Angeles
Ali Hoffman and Max Sloan's chic new pyjama line is designed and made in Los Angeles using super-soft fabrics that are sourced from European and Asian mills. Their designs were initially intended for bedtime only but it has quickly become apparent that their tailored cotton shirts and loose-fitting dresses also make for ideal travel clothes.
thesloanstore.com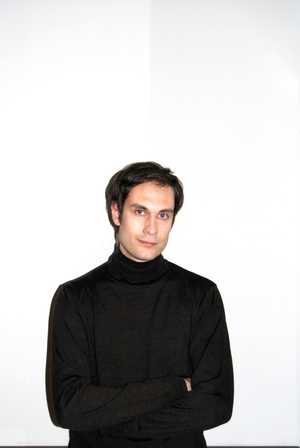 23.
Buyer 3
Emanuele Lizza, Italiani
Pescara
The Italiani family's eponymous menswear shop in Italy opened in 1963. In recent years Emanuele Lizza's savvy buying for both its bricks-and-mortar and online shops has helped attract an international audience.
Q. How does your online platform influence buying?
A. It's a challenge to maintain our identity while embracing international influences. Buying for online is different: you need to think about how the garments will show in a photo and how to style each outfit.
Q. Does the shop's selection have an Italian aesthetic?
A. We want to propose a kind of Italian style that is younger and more international. We work with up-and-coming Italian designers to convey the idea of an Italy open to the future.
Q. What are the latest additions to your roster?
A. Holzweiler and Norwegian Rain, both from Norway. And we will soon be working with Camo and Jimi Roos, who works with ironic embroidered slogans.
italianistore.com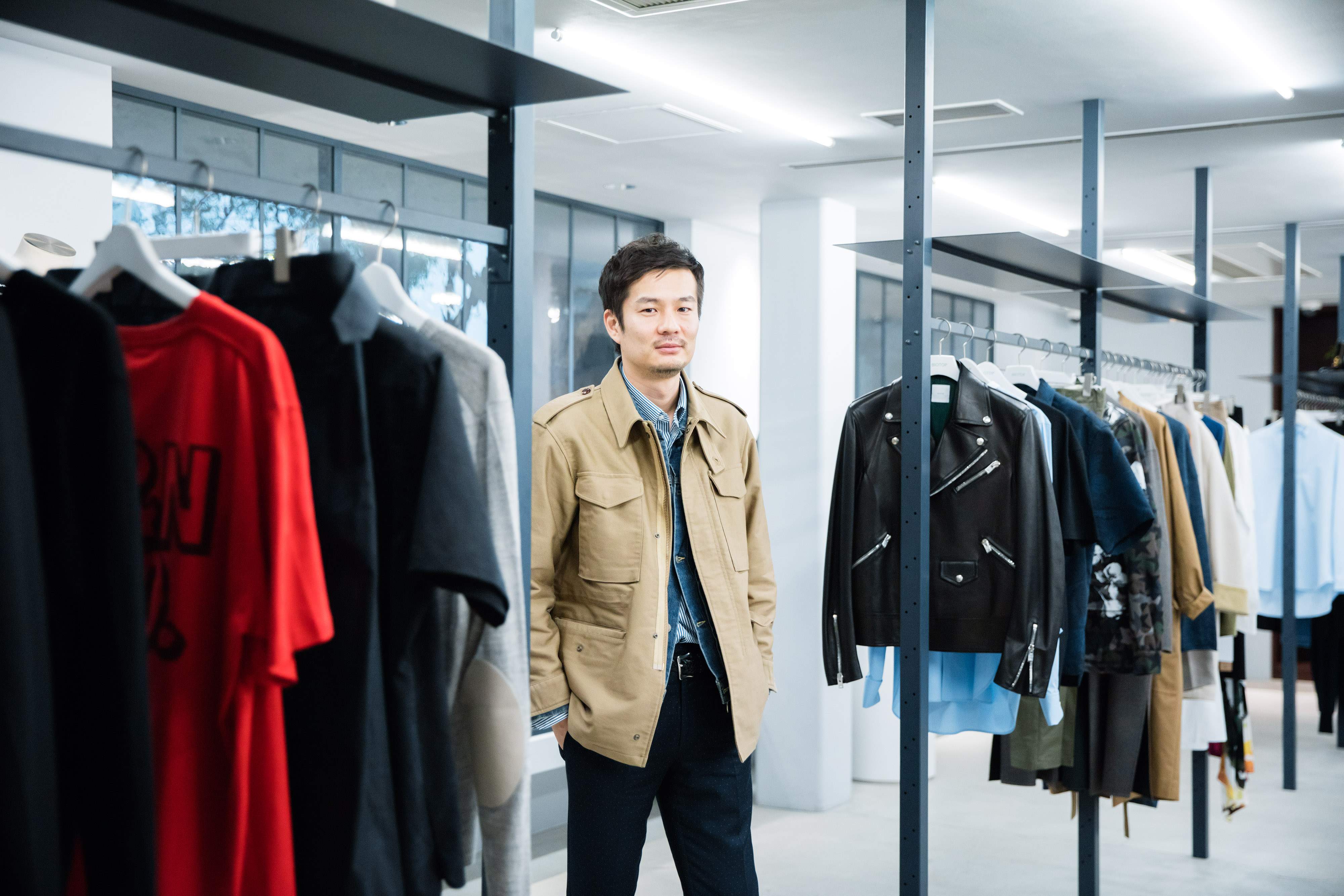 Buyer 2
Gaku Sakomura, Bioto
Tokyo
This men's and womenswear shop in Tokyo's upmarket Shirokanedai district makes no distinction between lesser-known labels and global names, mixing the likes of Hyke, 1.61 and Comoli with Valentino and Stella McCartney.
Q. Where do you go for buying trips?
A. Mainly to shows in Milan, Paris, London and New York. I travel about two months of the year.
Q. What's your policy when buying?
A. We look for clean, simple designs; nothing decadent. We try to avoid too much of one look. I talk to the staff and we think about how to display items: we might put a ¥5,000 (€42) T-shirt under a ¥200,000 (€1,668) jacket.
Q. Any favourite brands?
A. Visvim for its clean aesthetic, consistency and innovation. Price isn't a factor yet it isn't considered a luxury brand. I also like Biotop's original items, which we produce when we want something we can't find. For instance, we made a long buttonless coat of double-faced wool from Loro Piana.
biotop.jp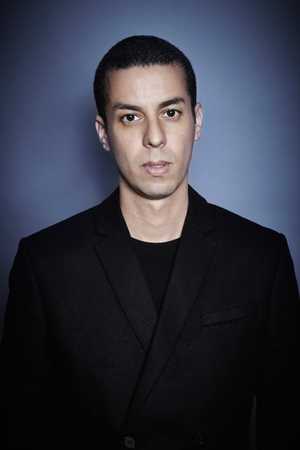 Buyer 3
Walid Zaazaa, Manifesto
Singapore
Walid Zaazaa, a chic French expat and fashion designer, opened this multibrand men's and women's boutique in 2015 in the Capitol Piazza mall. His brand list includes Gilet Japan, Lemaire and Mads Nørgaard.
Q. Where do you go to buy for Manifesto?
A. For me Paris is the perfect place to find new brands and established designers. We also go to Seoul Fashion Week to check out Asian designers. And we work with a Japanese buying consultant called Yoshio Yokobori.
Q. Where do your customers come from?
A. It's a mix. I would say 50 per cent are Singaporean. Then we have European expats and Asian expats: a lot of Korean and Japanese people live in Singapore.
Q. What is the retail market like in Singapore?
A. It's tough right now – especially for monobrand shops. But multibrand shops like us can adapt. Even in a tough market we're doing alright – especially compared to the big players.
manifestoshop.com
24.
In the bag
L/Uniform x Hervé Hérau
French bag-maker L/Uniform and Parisian skincare expert Hervé Hérau had jetsetters in mind when they dreamt up this mini vanity case. The canvas travel bag is filled with goodies by Hervé Hérau, including miniature versions of the brand's face cleanser, lip balm and, of course, its famous pomade moisturiser.
luniform.com; herveherau.com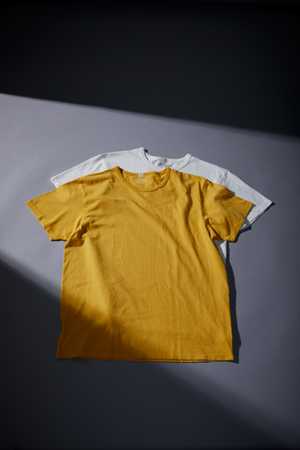 25.
Vintage look
Lady White Co
Los Angeles
Quality and simplicity are central to the West Coast brand Lady White Co. Its calling card is the T-shirt, a wardrobe staple that has defined American fashion since its invention by the US navy during the Spanish-American War in 1898. Founder Philip Proyce's versions have a vintage quality about them and stand out thanks to their sharp cuts, double-stitched collars and hard-wearing cotton fabrics, which are cut and sewn in Los Angeles.
ladywhiteco.com