Wonderfruit / Thailand
Far out east
Island tea parties, Galliano galleons, stages made of rice, gong baths and very beautiful people: Wonderfruit is a festival like no other; a beacon of peace and calm where hedonism takes a backseat. Time to ditch the city attitude, grab a yoga mat and watch the sun go down in the Thai countryside.
The thing to remember at sunrise is that for some people it's the morning. Not most people though. Not here, anyway. We've been up for a stretch. We've done no sleeping but we have been dreaming. And there is a lavish energy, much of it natural, sprung from a well. You want to bottle it at source. Party Perrier. It's warm and there's something high and shimmering in the music; a lark ascending. It's gone 06.00 and Nicole Moudaber is on the decks; she's the coolest cat in town. I can see her black curls bobbing and I can see her Lebanese pout from here as she drops the needle and brings up the sun and takes the mood way beyond rise and shine. There's a swimsuit model of a girl dancing in just that (and shades) like an advert for something that doesn't exist yet. Good times but more so. I'll dance to that. And now the lucky old sun's got nothing to do but roll around heaven all day and there is a bliss. Rush hour. The thing to remember at sunrise is, don't look at your watch.
Wonderfruit. What is Wonderfruit? It's a festival of music and art and making things and eating and doing yoga and hanging out with pals and making new ones at the strangest times of day and drinking funny drinks and being sustainable; you know. We're at the Siam Country Club but without a pink gin in sight, two hours south of Bangkok, near Chon Buri, in the countryside east of Pattaya. But without the whiff of that town's tone of crumpled sheets and crumpled notes. The air here is as clean as your conscience. We're getting down: down on the farm.
And Pete is the farmer. Of the gentleman sort; his family own the land. Pete – Pranitan Phornprapha to his mother and the likes of Forbes – is from a big-deal Bangkok industrial dynasty but his dream wasn't selling cars or laying roads or getting pinstriped and boardroomed to within an inch of his life. Instead it was to do just this: walk from stage to stage in the sunshine, drinking in the heady atmosphere of the festival that he's cooked up. "We call Wonderfruit a four-day festival of the arts," he says, talking with his hands and talking fast. "We didn't want to be just a music festival but to make something that satisfied people's curiosity. After all, we want them to come back."
Judging by the waves, high-fives, hugs and "how-are-yous?" that greet Pete as he walks around the site, Wonderfruit, despite celebrating only its third birthday here, is enjoying plenty of repeat business. Today Pete's a vision in white: linen shorts and shirt, a traditional Thai-patterned scarf and a shoulder bag of festival essentials. Everyone knows him and he knows everyone. He's hustle and bustle. He's there as the sun goes down and often when it comes up; he's giving people directions, asking where they're from, if they're having a good time, if they've tried this food or that tent or ever experienced a gong bath. A what? We'll come to that later. But many a well-born boy's foregone the suit and commute for the life of Riley, so why does Pete seem different?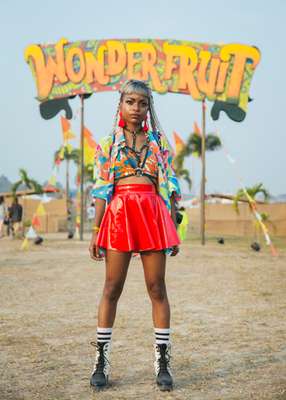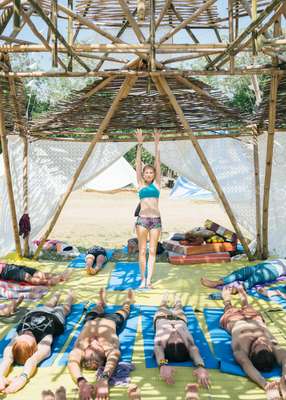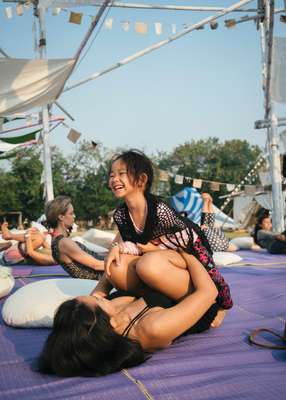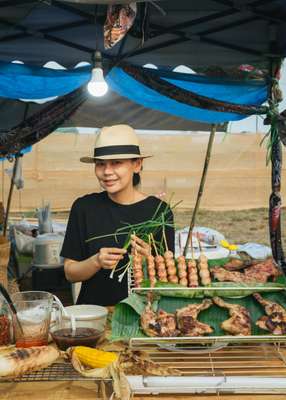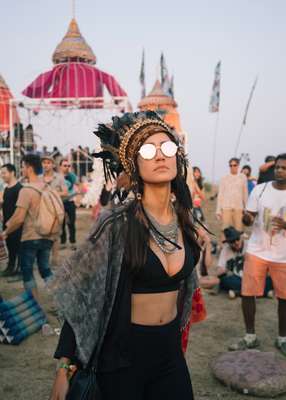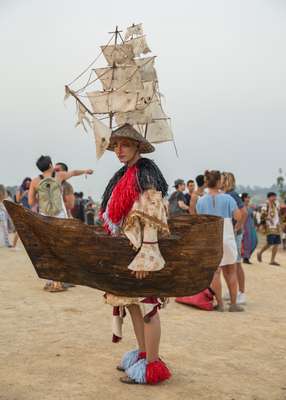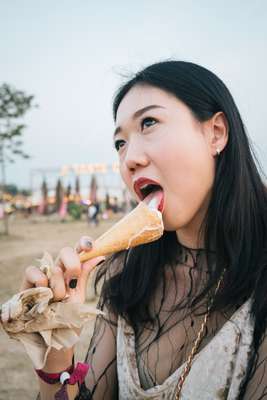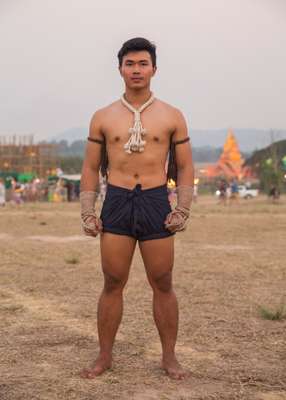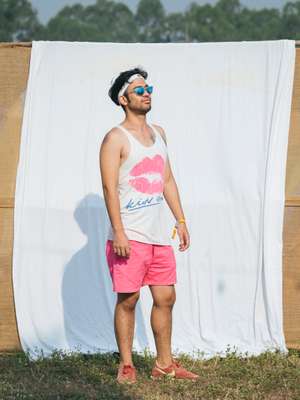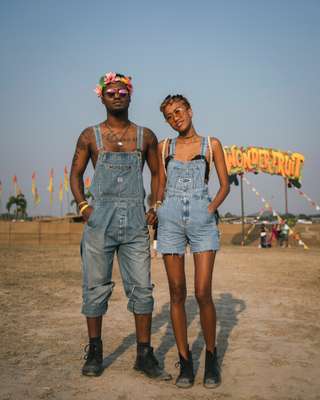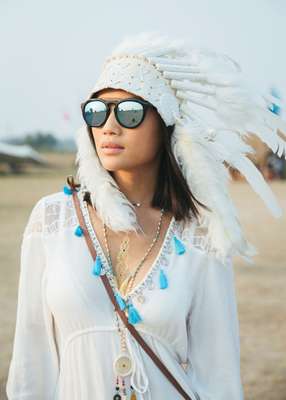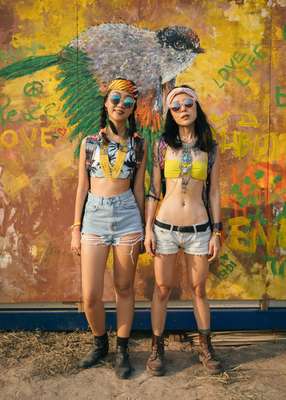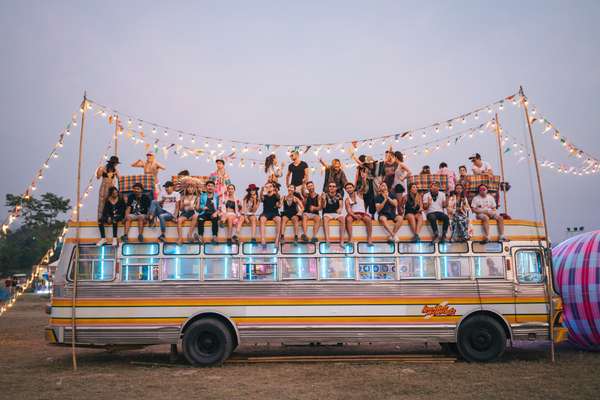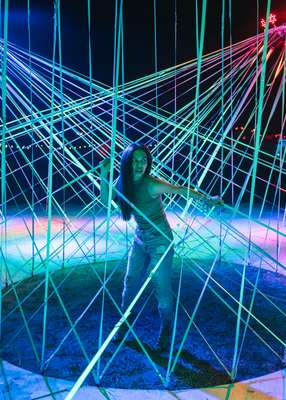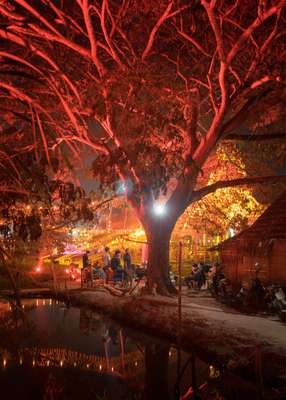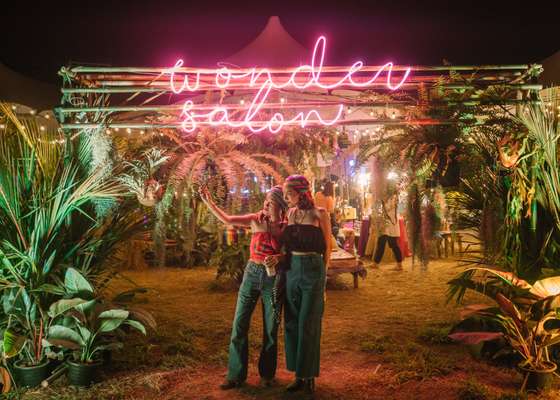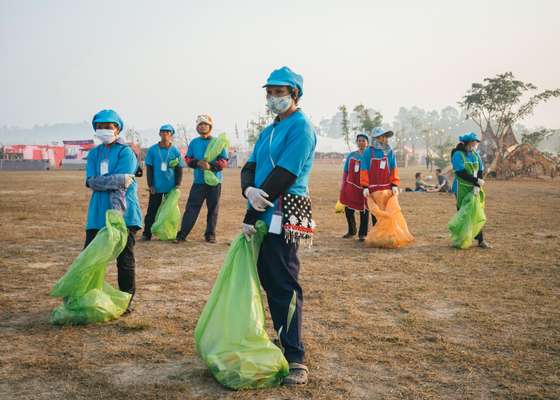 "It's fun here with the festival in its infancy but it is a business and it will have to make money," he says. "You can tell if a thing isn't working because the feeling's off – we don't have that problem here!" And then he's away, arm round someone else, picking up a cigarette butt from the dusty grass like a funky park warden. Keep off the grass? Not this weekend I wouldn't have thought.
So Wonderfruit's not a music festival but the way of these things is that music centres the action. Stages look good and draw the crowds and crowds require a focal point to get behind by getting right in front of. There are six at Wonderfruit and only the Solar stage has been brought in from outside; the rest – and they're no small things – have been made here by the Wonderfruit team in Thailand. This is one of the ways in which the sustainability bit comes in. Next year they plan to be entirely logistically homegrown. The most beautiful stage is the Farm: it's made of rice, somehow, and looks like a Thai temple, like it's been transported from Chiang Mai or Rai in the Thai north. A stunning Wat Phra Singh and Dance that sits nobly on the lakeside, reflected in it, part of the countryside. It's like building a St Paul's Cathedral out of corn at Glastonbury. And after the festival? They're going to eat it. Eat that rice stage all up.
On Friday afternoon the festival starts in earnest. Later Scottish hip-hop genre-benders Young Fathers will explode onto the main stage with a rare sort of carnal energy, Simian Mobile Disco will set The Quarry – the festival's late-night dance forest – on fire and Buke & Gase will charm the pants off the recently sundowned Solar Stage (if it were wearing any). Better still will be the tireless locals All Thidsa and their endless riffs and guitar weaving, the Bangkok New Quartet's impeccable jazz and psych-rock legends Sahai Hang Sailom. But now, this afternoon, is prime people-watching time; the sweet spot for a sunny "Wai!" And the people? They are beautiful.
These are the punters, the party people, the happy campers: Delance and Siti are a vision in denim dungarees and attitude from Singapore; Christaline and Desti from Jakarta know what they're up to in a watermelon safari suit and black polka-dot culottes; Kseven is a local cat in a tiger-pattern boiler suit; Laine and Serena from Kuala Lumpur are taking very few prisoners in cut-off, cut-up jeans shorts, bikini tops and mirrored shades; Neesha, Kanyalak and Ann, personal shoppers from Bangkok, wear Native American, rock'n'roll and Chantilly lace. Fern is high-cut, high-waisted and beglittered, and she is wearing a big smile and nursing a pair of coconuts, which is fine by me. So chic and gorgeous. Is it a competition? Not so much. Is it a catwalk? C'mon, of course. It feels very local, or quite regional, anyway. From Bangkok, Bali, Hong Kong and Manila, people have come to meet and see the sun go down and come back up again. There are a lot of what you'd call beautiful people, a bit of what you could call trouble.
Sometime on Saturday afternoon, Norman Jay is spinning his magic on the Solar Stage; it's doing its job at dusk and pulling people from all corners to dance the sun down, to make an old day a new night in which to go exploring. As The O'Jays slide into Sly & The Family Stone and the powerful, peculiar, sister-brother solidarity of the dancefloor grips, Pete's gang of set-dressers lay it on thick: a weightless little gnat of a stunt-plane loops the loop and swoops metres above us, a fire-breather roars her tonsils to a flame, Balinese dancers dressed like Galliano galleons cruise by, a band of bare-chested native drummers catch the swing of Sly's bassline and the local marching band and their charming young majorettes take the baton that becomes Pharrell Williams' "Happy". You never heard it sound so good. There's Pete, a glowing Lord Summerisle, leading the dance. And it's hot.
There's an island on one of the lakes – a hangout away from the music leaking from stage to stage – decorated with tubular bells, some of them polished and filigree-fancy, some of them of the cut-off scaffolding poles variety. "Do you want to play?" says a smiling Californian voice. "Or stay for tea?" Uh-huh. "You're just in time for the ceremony." She means tea but she doesn't mean milk-in-first. Moral Turgeman is master of such sacraments on her exotic little island in the sun. I know she'll say, "There is no right way to do it" to my next question but I ask it anyway. "Is there a right way to play?"
This is the part of the festival that makes the day an open-eyed adventure in exploring the stuff you wouldn't touch with a bargepole in your busy old city life. This is the part of the festival for which you suspend your disbelief as you would if you were going to the movies. I told you we'd have time for the gong bath. Now relax. We're in its natural habitat; in the shadow of the Farm stage, the temple of rice, and it's about the loveliest thing you can do without the prospect of a hot bath or a hot massage at your beck and call. Souls stay here for hours if they can, clearing their head and – who knows? – cleansing something somewhere near their soul too. Ahhh, look: a butterfly has landed on my outstretched hand; it's big and butter-yellow and is drying its wings in the afternoon sun, completely at peace. The gong bath's working. Of course the butterfly's just a metaphor but I swear there was a moment when I forgot my email password, just for a minute there. Far out, man.
Lianne La Havas closes regular proceedings (there will be extra-curricular dancing, fear not) on the main stage on Sunday night with a stripped-back set offered like a gift with a beaming smile and a ready quip about her native south London, about the charms of Streatham and Norbury. The crowd love her and whoop at the mention of every suburb of which they've never heard. "I've got a bit of a cough," she says, "but I love my linctus." There are murmured guffaws. "It means medicine," she confirms. Are you blushing up there, Lianne La Havas? Afterwards, she's beaming. "I've got the biggest smile on my face," she says. "It's gorgeous here." Obscured by a little dry ice and a lot of warmth from the crowd's embrace, Lianne leaves for her tincture (she's calling it that now) and, I hope, a tour of the best of the rest before bed.
Festivals are all about good vibes and I've reported a few but this is something else; this is Thai. There is something in the manner and the manners and the attitude and the faith that bears itself out as a beacon of calm, of patience and hospitality. There is little of the attitude of wilful hedonism here; everyone's having too good a time for that. And it doesn't happen by accident. I give you Pete and his gang who are surely of the knowledge that there are a few business-class hippies inventing their own rituals aided by the wafer and the wine, some yoga, a swim; a sly pitch to get to the next place for free. Better though is the way of this: the wonderful local bands, the endless friendliness, the beauty and serenity of a long party for which, in this part of the world, there is no competition. The thing to remember at sunrise is, it's a beautiful day.