Footwear / Stockholm
On the run
Indie sports-shoe brands are giving the big players a run for their money – and Spalwart is at the front of the pack.
In shoe brand Spalwart's studio in Vasastan, an upmarket Stockholm neighbourhood, it feels as if the 1950s are still rocking and rolling. A radio blares. Faintly cracked cream-and-burgundy tiles cover the walls. A collection of attractive retro-looking trainers – suede tennis shoes, leather high-tops, plimsolls in charcoal and beige – are stacked along a wooden gym bench. In this vintage men's locker-room setting, co-founder Christoffer Brattin reaches for one particular model.
It's the shoe that started it all for Spalwart, a Swedish label that is bringing old-school charm to the increasingly minimalist trainer industry. Made of sandy canvas and with an ever-so-slightly bumpy rubber toecap and sole, it has the look of a Converse high-top – were it made by hand. "It's not perfect but that's what I like about it," says Brattin, tracing his finger along the ridges. "It's kind of a retro basketball shoe; it's something different."
The brainchild of industry veterans and long-time friends Brattin and Fredrik Johansson, Spalwart began in Slovakia in 2009. Brattin had done a five-year stint at Tommy Hilfiger and was consulting for various footwear brands when he visited an old shoe factory outside Bratislava. "Everything was more manual: it was as though I had stepped back in time," he says. "It was like finding a treasure; I felt like Indiana Jones." From the 1950s to the 1970s the sprawling premises belonged to Czechoslovak company Bata, which made no-fuss shoes for both consumers and the army (see issue 96). In the decades that followed the factory was left mostly empty as most of its manufacturing moved abroad – but as Brattin roamed the factory floor he spied remnants of its golden past. "I saw the mould for the sole of this shoe – originally used to make army training shoes – on the ground," he says. "I could tell it had a nice pattern and I had to see what it would create."
The duo launched Spalwart a year later with a small line that included that sneaker in a range of muted colours. They were adamant that many of their shoes would be produced in that Slovakian factory. "We wanted to keep the heritage from that part of the world," says Johansson.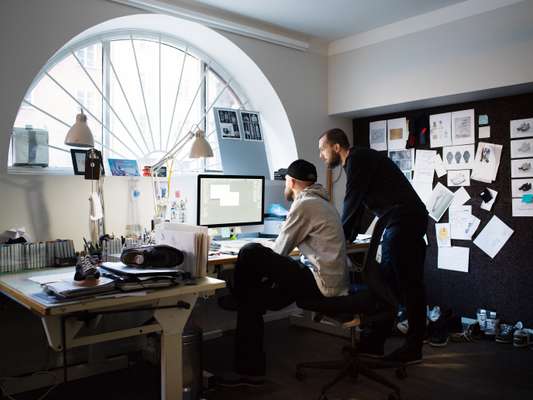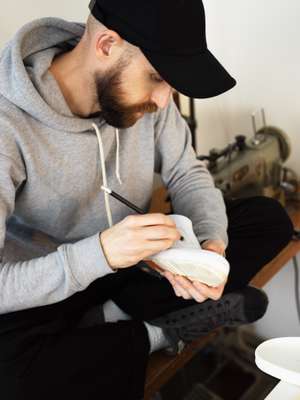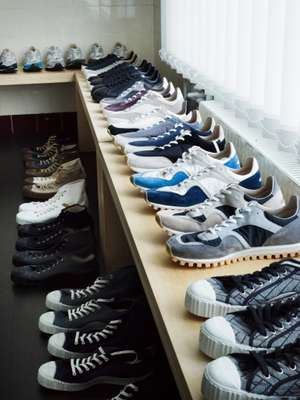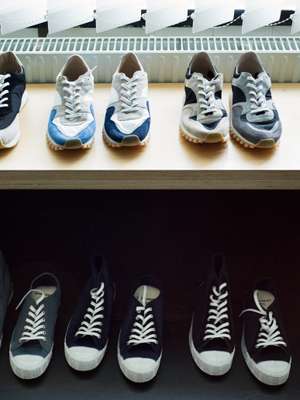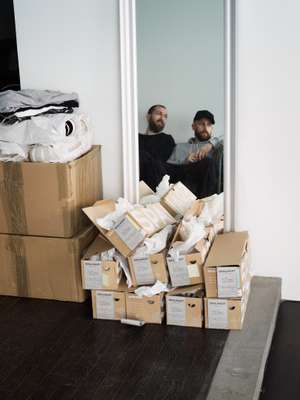 Despite admirable intentions, Spalwart was not an overnight hit. For two years the duo employed Scandinavian sales agents and it wasn't until 2012, when they adopted a more global outlook and began dealing with retailers themselves, that they made headway. "We decided to do everything: distribution, marketing, branding – everything," says Brattin.
With the reins firmly in their grasp they have pursued a low-key and entirely self-funded expansion model. "They eschew social media and only present their wares once a season in a showroom in Paris. It is a plucky strategy that relies on buyers happening upon the brand in Paris or finding it off their own bat, which makes it appealing to those in search of an exclusive product that hasn't been over-exposed and Instagrammed ad infinitum.
Johansson draws an analogy to discovering a new band when he was younger: "If you came across an artist by yourself it meant so much more. If you are going to spoon-feed everyone [via social media] by saying, 'This is what you need to have on your feet,' you won't attract the right people," he says. "Instead of forcing our brand into shops we rely on the fact that buyers find us and will know what they want. Of course it's a long and hard way to build a brand but it is more genuine."
Fortunately the "right" shops have come knocking: 150 of the world's most venerated retailers, including Dover Street Market in London and Tokyo and End in Newcastle. When rattling off Spalwart's clients, Johansson refers to some buyers by name rather than just their shops; personal bonds are key. "We have a close relationship with Sonya [Park], who runs Arts & Science in Tokyo," he says. "We value having a direct dialogue with buyers."
Spalwart's subdued strategy has worked because its products are handsome and – more importantly – distinctive. In the past decade clean-cut trainers have become dominant thanks to Common Projects and an army of derivative brands. "Most have the same look, the same pattern – it's just a matter of changing the logo," says Brattin. "Are people not looking for something unique?"
In Spalwart's studio there are no perfectly polished kicks. Navy suede tennis shoes with the odd hump in their thick rubber outsoles sit next to a track shoe that, with its 1970s pimpled sole, looks like it is mounted on jagged teeth. "Every pair is a bit different because there is so much manual work involved," says Brattin. Old-school styles are given fresh touches: the track shoe has a narrow silhouette and is decorated with glossy white patches of airbag fabric. "We keep elements of traditional sneakers but update them with richer materials and different cuts," says Brattin.
Brattin and Johansson's razor-sharp eye for detail permeates every aspect of Spalwart. Shoe tongues are emblazoned with satiny care tags – the sort found inside clothing – bearing a hand-stamped logo. "It looks industrial and army-like," says Brattin. Trainers come in simple brown boxes courtesy of a Slovakian company that makes pizza containers. Brattin has also created a clothing line – grey tracksuits, black windcheaters – so they can shoot lookbooks "with the perfect clothes to complement the sneakers".
It has taken this full arsenal – shoes, story, business model and branding – for the self-funded label to penetrate a saturated luxury market. Its biggest weapon, though, is that everything it offers is a marked departure from everything else. When you're jockeying for shelf space with Nike, Adidas, New Balance and a barrage of super-slick models from Common Projects et al, standing out is a necessity. "It's impossible to compete with the giants; they own the market and they own social media," says Johansson. So don't – tread your own path.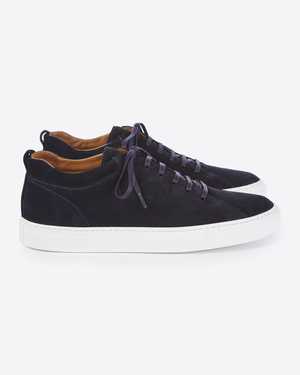 Here are five other indie sneakers brands that are blazing a trail through the industry with their own distinctive looks.
Sweden is home to numerous up-and-coming sneakers designers. CQP's trainers are designed in Stockholm, handmade in Portugal, come in dusty shades of suede and boast first-rate arch support.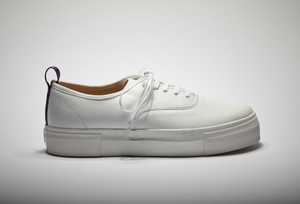 Like CQP, Eytys was launched in Stockholm in 2013. Its cool kicks stand out thanks to their platform rubber bases and purple heel-tabs.
In 2004, New Yorkers Prathan Poopat and Flavio Girolami revolutionised the industry with a model that has come to represent the quintessential minimalist trainer.
Pierre Fournier, founder of Parisian label Anatomica, has created a "Made in Japan" line based on a 1930s deck shoe.
Veja's eco-friendly trainers are made in Brazil and offer a different aesthetic with their V-logos and retro designs.