Recipe / Global
Pear and olive oil cake
Cakes made with olive oil aren't just the preserve of modern-day master bakers: they have been rising to the occasion for centuries. Here at Monocle we like to take the occasional break to sample a slice of something indulgent – and this dish is a firm and fuss-free favourite.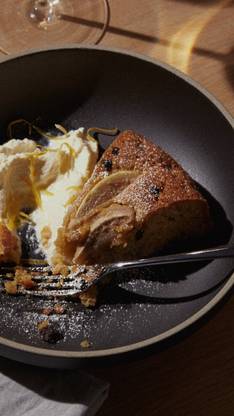 Recipe: Kate McInerney
Food styling: Aya Nishimura
Popping a little olive oil in your pudding may sound self-denying and new-fangled – what's so bad about a bit of butter, we hear you cry? Well, using oils in cakes has a long history. Although its roots lie in Mediterranean bakery, like so many fame-hungry protagonists our oleaginous hero had a slippery path to prominence.
Olive oil-based cakes first found new fame in the US in the early 20th century. Harry Baker, our portentously named star, ended up in Los Angeles in 1923 and despite selling insurance by day, he moonlighted in a kitchen where he undertook a series of secretive experiments. His hope? To add a measure of richness to angel cake, a popular but bland butter-free number made from eggs whites, flour and sugar.
After four long years of experimenting and some 400 different abandoned recipes, Baker tried adding a little olive oil to the mixture (back then it was rather unappealing known as "salad oil"). It worked. The cake became popular with everyone who tried it and the high society of the day took to it after Baker nabbed a job at the Brown Derby restaurant, the fêted Hollywood spot where the Cobb salad was also invented.
Ever the eccentric, Baker kept his recipe a closely guarded secret; what people thought he was doing with all that salad oil remains unclear. But after 20 long years of making cakes, Baker relinquished the recipe to General Mills. Which in turn hastily released the recipe – along with several variations on it – as part of a Betty Crocker pamphlet in 1948. The creation was called the chiffon cake and the secret was out. The brand hailed it as the "cake discovery of the century" and praised it for its richness and the ease with which it was made; the recipes sold like, well, hot cakes.
The tender texture and reliable richness of the chiffon cake may have become a staple of American baking but the earliest examples of the recipe – popular in the Mediterranean – date back to before the 3rd century BC.
Our own version harks back to the dish's Italian roots. We have added a dash of marsala wine and some pears, plus a sprinkling of lemon zest and dollop of mascarpone. Forget the dairy-dodgers and self-denying screeds; our olive oil cake will rise to meet the highest of expectations. Buon appetito.
Serves 10–12
Ingredients
40g currants
2 tbsps marsala wine
350g plain flour
160g caster sugar
1½ tsps baking powder
300ml extra virgin olive oil
3 eggs
1 tsp vanilla
4 small ripe pears, peeled and cored; 2 cut into 1cm cubes and 2 sliced thinly, lengthways
Zest of 2 lemons
Icing sugar for dusting
Mascarpone, whipped lightly, to serve
1.
Preheat fan-forced oven to 180c and lightly grease a loose-bottomed 26cm round cake tin with olive oil.
2.
Soak the currants in the marsala for 20 minutes or overnight.
3.
Sieve the flour into a large bowl.
Add sugar and baking powder.
4.
In a separate bowl beat together olive oil, eggs and vanilla using an electric mixer until combined, then fold into the flour mixture.
5.
Stir through the 2 chopped pears, zest of 1 lemon and currants with the marsala.
6.
Pour into the prepared cake tin and arrange the pears in a concentric circle, overlapping just slightly (so that it looks like a fan) over the top of the cake. Bake for 40 to 45 minutes or until a skewer comes out clean. Serve dusted with icing sugar, sprinkled with the remainder of the zest and finished with a generous dollop of the mascarpone.