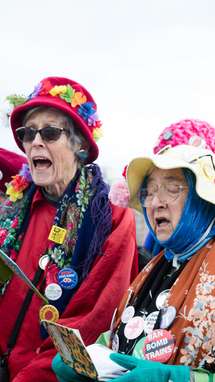 It is a crisp sunny afternoon as Kate Chung, 74, rummages through her bag in a Toronto park. She unfurls a glossy black sheet with five holes cut into it, which she spreads out between four other women aged from 53 to 87. One by one they pop their heads through the holes above white signs pinned to the sheet, forming the words "oil spill" in big black letters.
This demonstration highlighting the perils of fossil fuels has been planned for weeks and is taking place even though temperatures in Toronto have dipped below freezing. "If the Grannies say that they're going to be somewhere, we usually turn out," says Chung, who goes by the protest name Granny Kate.
She and her fellow agitators are just a few members of Raging Grannies. Formed in 1987 to protest against US nuclear submarines operating off the British Columbia coast, the crew has grown into an organisation (or an "un-organisation", according to the Grannies) of hundreds of women, usually aged 50 and older, in cities and towns across Canada and the US, as well as in a handful of European capitals.
Sporting colourful, clashing clothes – a jab at clichés about how the elderly dress – and singing protest songs set to melodies such as "She'll be Coming 'Round the Mountain", they have become fixtures at demonstrations against climate change, government surveillance and nuclear proliferation for 30 years. "We started as a peace group," says Chung. "But we've become a bit distracted by all the other injustices in the world too." In January, Raging Granny groups – "gaggles" as they're known to their members – joined demonstrators at women's marches in cities across the US, Canada and Europe the day after Donald Trump's presidential inauguration. It was the largest protest in US history according to some estimates.
"We inject a bit of humour," says Dee Stapleton of the Toronto gaggle. "But we keep people aware that it's important to protest when things don't look right. I'm in my 88th year. I don't know how long I've got to go but I want to continue."
"We need to act silly to give other people the courage to speak up," says Maria Kasston, a 67-year-old folk singer who has been a member of the group since 2004. Past exploits have included sailing out to sea in dinghies to take cups of tea to the captains of nuclear vessels and attempting to enlist in the US army as a protest against the US-led invasion of Iraq. The California National Guard was found to have spied on a gaggle in 2005 for planning a Mother's Day anti-war protest.
"The hope is in the young people," says 69-year-old Penny Bettson. She notes the fissures that have appeared between old and young in votes from Brexit to the US election. "I'm in awe of people who try to bridge that gap between generations because technology has done its worst in destroying the connections between us," she adds. "Maybe protesting could bring us together again. I truly believe that."
---
10 reasons you'll love living in Frankfurt when your firm moves its HQ from London
It's a print lover's paradise: as well as an annual book fair the city has terrific print offerings, including respected newspaper Frankfurter Allgemeine Zeitung.

With your reading sorted, drop into Hoppenworth & Ploch or Milch & Zucker for excellent coffee in a sleek setting.

Few cities are as well connected: the airport is one of the busiest in Europe and you can be in Paris or London in a few hours via high-speed train.

More than 50 per cent of the city is dedicated to green space and lakes, including 40 parks and Germany's largest urban forest.

There are plenty of stellar nightspots. Among our favourites are Maxie Eisen, Bonechina and Jimmy's Bar at the Grandhotel Hessischer Hof. Prost!

Frankfurt is home to 180 nationalities and every third resident owns a foreign passport, making it Germany's most cosmopolitan city.

The food scene is just as varied, from Turkish to Italian (we like Tartufi & Friends) and spots such as Heimat for fantastic German food (naturally, for a city that shares its name with a sausage).

Department store Manufactum has a cult following and its sharp Frankfurt location shows why.

On Saturdays there's Bauernmarkt Konstablerwache for fresh produce and the Kleinmarkthalle for everything from sausages to flowers.

Rest easy: you live in a country with a leader who's capable, competent and won't succumb to destructive populism. She also has plenty of support (see page 42).