Travel / Bali
Take it slow
A boutique hotel where you can kick back in leafy Canggu.
Popular since the 1980s, Bali's white-sand beaches and quiet island life have given way to a noisier and more cosmopolitan crowd. A steady stream of Aussie weekenders, backpackers and bon viveurs has turned the isolated idyll into a well-trodden resort.
Despite its popularity, Bali has the power to surprise and charm and still feels a world away from the rest of Indonesia. For one, its history as the country's Hindu stronghold can be seen in the carved wooden temples and street-side shrines.
A recent land grab by international hotel chains has pushed the cooler kids up the west coast from chaotic Kuta, past suave Seminyak to the leafy village of Canggu (pronounced Chang-Goo). Here the quiet Balinese culture of yesteryear, dense greenery and coconut-leaf thatched houses are complemented by inexpensive restaurants, welcoming shops that celebrate the island's crafts and a quieter breed of beach-goer.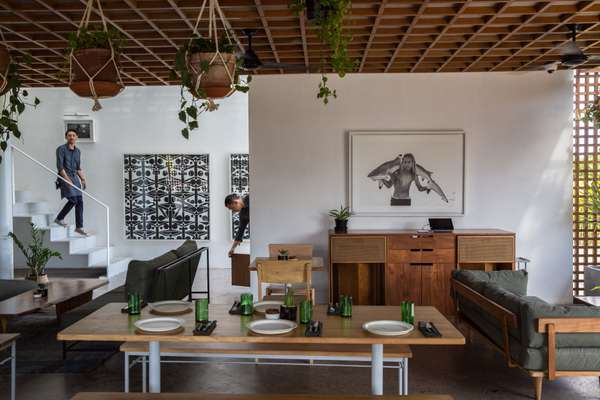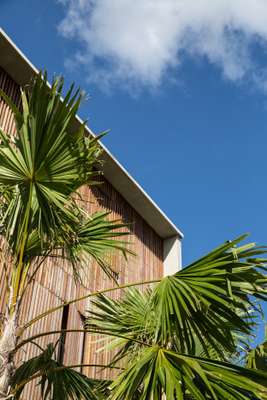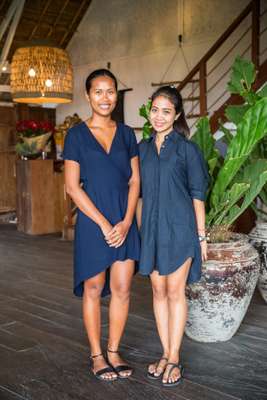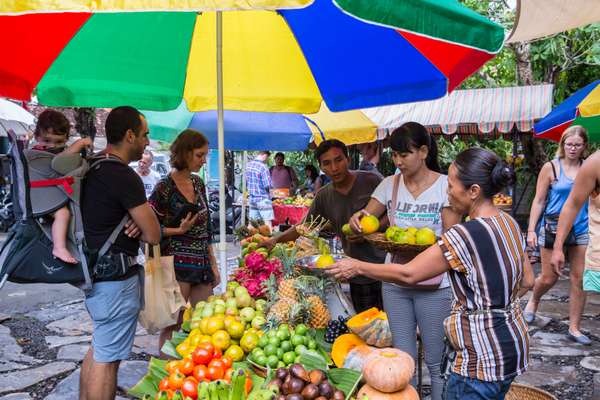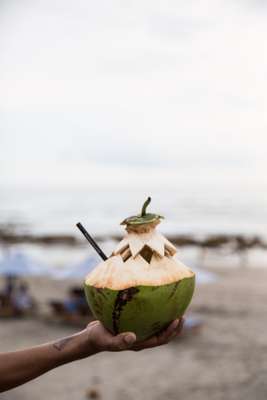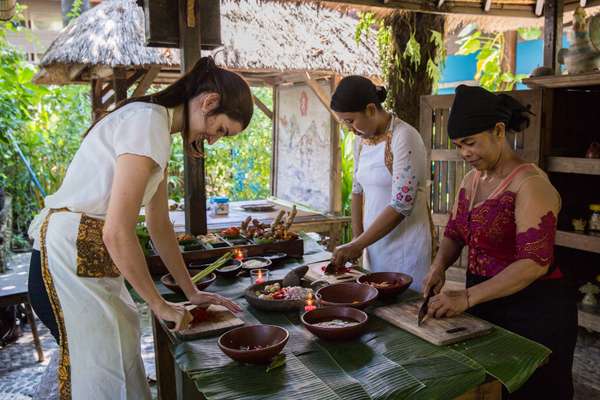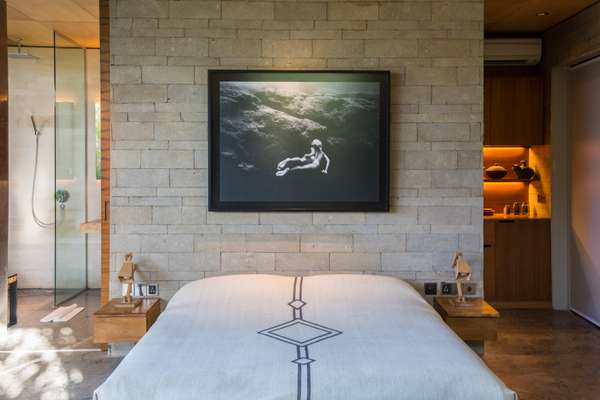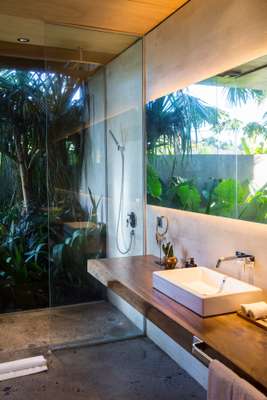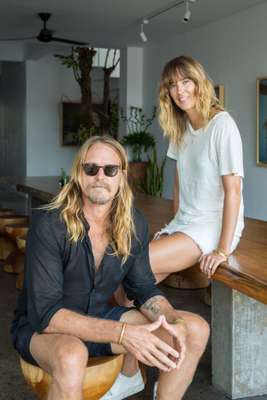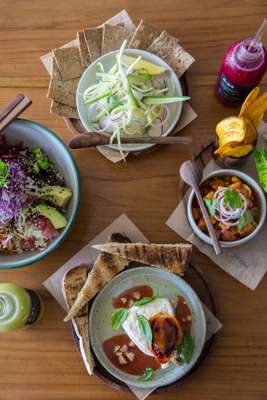 We explore an aptly named new hotel, The Slow, and offer a few recommendations to help you discover Canggu's considerable charms.
Paradise found
All inbound travellers begin their adventure at Ngurah Rai International Airport in Bali's main hub, Denpasar, in the south of the island. Just 90 minutes' drive inland from tourist hotspots Seminyak and Kuta is hillier (and hippier) Ubud, which is known for its traditional crafts and tranquil terraced rice fields. Half an hour east of Denpasar is Jimbaran, a renowned surf spot that's a pilgrimage for riders from around the world.
From the age of 16, Australian designer George Gorrow longed to live the simple life in Bali. But when the time came to build a home on a small plot of land in Canggu, the neighbourhood's popularity as a more peaceful alternative to Seminyak and Kuta made Gorrow think bigger.
His plans for what became a 12-room hotel, The Slow, were the result of multiple interests cultivated during two decades working in fashion at the helm of denim label Ksubi and surf brand Insight. The space was designed by Gorrow with help from architect Rieky Sunur of Bali-based gfab Architects and Jakarta-based Raphael Miranti; it houses more than 90 pieces from a personal art collection he has amassed with his wife Cisco. A light bangkirai latticed screen (made from Balinese timber) rolls from wall to ceiling and shields The Slow's small reception-cum-restaurant and bar from Canggu's scooter-thronged streets. Although it's a short walk from the popular beach, the feeling here is as the name suggests: slow-moving and secluded.
Inside the wooden shell, the hotel's white walls and concrete finishes give it the feel of a gallery. The edgy paintings and photographs on the walls come from a posse of Gorrow's film-maker, photographer, model and artist friends. Seated by a seven-metre-long communal teak table made from a fallen tree, Gorrow points proudly to the green lounge chairs he made from Indonesian military tents, the hand-woven water hyacinth-fibre rugs and staff uniforms. "All locally made," he says. "Everything."
The same goes for the bright sizeable suites with their clean lines, floor-to-ceiling windows and private plunge pools (for those on ground level at least). Back in Room 13, the name for the gallery, The Slow's mix of art and Indonesian craftsmanship is best admired with a dish of chef Shannon "Sid" Moran's wood-grilled meats, seafood dishes and farm greens from the island. As we talk over pre-batched cocktails made with Balinese palm flowers it's clear that Gorrow's dream of a life of leisure in Bali has become a promising first step to a career in it.
All in the detail
Mid-century furniture in the rooms is accented by pillows, curtains and linen made from hand-dyed fabric from the nearby islands of Timor, Sumba and Sumbawa. Scrubs and facial mists are concocted with a scent designed by Gorrow's wife.
Canggu is the name of the village north of Seminyak that has retained the island's pastoral charms. It also encompasses the darker grey-black volcanic sands of Batu Bolong and Berawa Beach. Here are a few of our favourite spots in which to sit, lounge and lap up the languorous sunsets with a raki cocktail in hand.
Milk & Madu
From 07.00 sharp, this breakfast spot fills up with residents hankering after eggs, coffee and kombucha (fermented sweet tea). The skillet eggs are a favourite while the fresh fruit bowls are a lighter option.
milkandmadu.com
Warung Dandelion
Don't leave without a meal at Warung Dandelion. Get settled in the low-lit courtyard as owner Yunus Gani makes you feel exceptionally welcome. Plump for crispy ayam bakar (chargrilled chicken) or nasi campur (mixed rice).
+62 896 2296 5413
The Lawn
A spot named Old Man's on Batu Bolong Beach usually attracts the biggest crowd. But head to The Lawn instead. Enjoy sunset drinks while sitting on picnic mats on a soft grassy outcrop; the upper deck is for dinner with a sea view.
thelawncanggu.com
---
Casamayor
Interior designer Marie Schmidt's homeware showroom is a mix of European styles and tropical accents. The rattan furniture, bronze-cast sculptures, ceramics, leather goods and cushions are excellent keepsakes.
Samadi Sunday Organic Market
This small farmers' market provides fresh and organic greens and tropical fruit. Be sure to survey the range of handmade goods from regional producers.
samadibali.com
Canaan Bali
Immerse yourself in Bali's best selection of homeware, including indigo-dyed ikat fabrics and ceramics by Fitri. This pretty shop is attached to Katamama Hotel from PTT Family.
canaanbali.com
---
Head to the beach
The two main stretches are Berawa and Batu Bolong. The water's warm here but the riptides are strong so swim between the flags.
Learn to cook
With the guidance of chef Iboe Soelastri you'll soon be a dab hand with a banana leaf and accomplished with a clay-pot steamer at lush Hotel Tugu.
tuguhotels.com