We touch down in Sri Lanka, keep an ear out in Switzerland and bring good news from San Francisco in our monthly round-up of global viewpoints.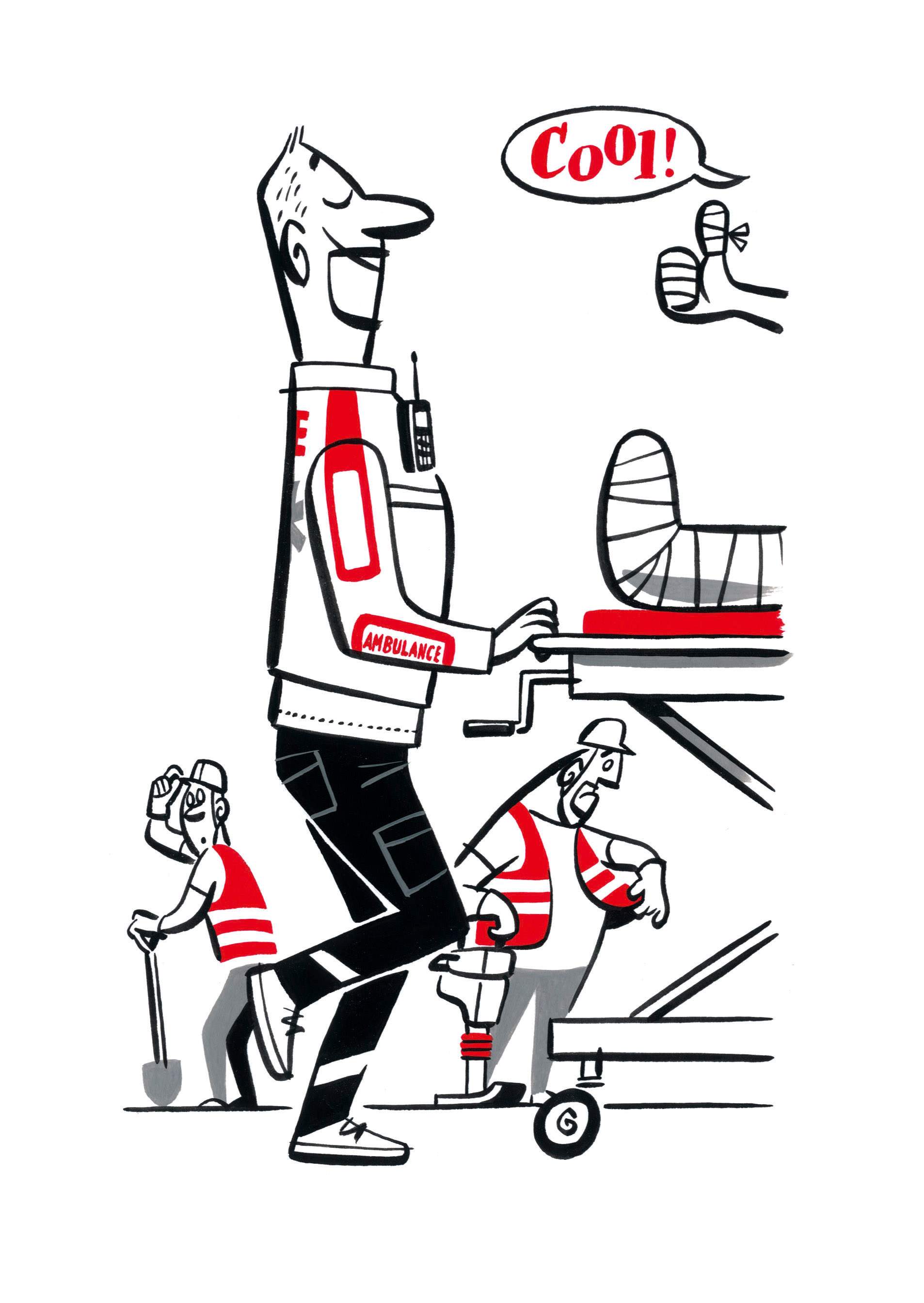 You'd be forgiven for not recognising the blue-and-yellow clad men and women in the Netherlands as ambulance staff: their uniforms are alarmingly similar to those of other groups such as road workers and even the parks department. It's led to Ambulancezorg Nederland commissioning designer Karin Slegers to create new kit with input from the ambulance crews.
The new look – grey trousers and turquoise shirts with reflective white stripes and pops of red – will roll out next year and hopefully stop the ambulance folk being asked to water the pansies.
---
The appliance of duty-free allowance
When we touched down in Sri Lanka to report on the future of hospitality (see "Well served", ahead in this issue) we noticed a bizarre selection of household appliances, including fridges, ovens and washing machines, for sale in Bandaranaike International Airport. It seems there are generous duty-free allowances for migrants to encourage Sri Lankans to seek jobs abroad – a system that's proving increasingly appealing.
---
The editors at Milan Fashion Week cut a dash but if you want to see real power-dressing head to the Munich Security Conference, one of the world's largest annual gatherings of military folk, defence chiefs and a few spooks too. Jackets sag under the weight of medals, trousers are more pressed than a steamrollered raccoon and haircuts are buzzed perfection. Then there are the bodyguards with solid necks and cute earpieces.
It's not all western might though: an occasional keffiyeh shows that for some attendees security is less conference chat and more bullet-whizzing reality. But come night-time there's a noticeable shift – because even security folk want to move from Molotov to real cocktails.
---
On a train between Geneva and Zürich a pair of Americans from the deep south are enjoying the view and marveling at the fine rolling stock.
"Imagine if we could travel on something as clean and pretty as this through the Carolinas. Why can't we?"
It's a good question and worth asking your president, who's promised big spending on transport infrastructure.
---
Will tropical ylang ylang and sandalwood make Singapore's public buses more appealing? We've noticed how the Lion City's shopping centres use scent to boost customer experience and it seems that bus operator Tower Transit has been inspired by this. It's developed a signature perfume to infuse its vehicles, starting in March, in a bid to engage more customers. Less Chanel No 5, more Bus 253.
---
What we'd like to see more of in April 2017
1.
Several US airports are trialling new screening systems that mean travellers no longer have to empty bags or take off shoes. Hopefully they can roll out a bit faster.
2.
Thinking about a new summer retreat? How about Gotland? This lovely island in the middle of the Baltic now boasts a reinstated detachment of Swedish soldiers.
3.
Culver City's new-ish retail, dining, living and working hub, Platform, could do with taking its leasing and landscaping act to a few more cities in the US.
4.
Smart mayors should demand more space above shops to allow workers in the service sector to be closer to the action, not stuck on public transport.
5.
At the inaugural Monocle Media Summit in March images of the Ludwig bookshop at Leipzig's main station drew applause thanks to its array of international press. Perhaps some German retailers could move beyond their borders?
6.
Outdoor Voices does a good job of motivating its fans to get moving around both court and course with its well-tailored gear. We'd like to see a few more shops.
7.
Cities are seeing their home newspaper delivery cut because it's no longer economical. Was it ever? Readers don't want to be pushed to digital. Find a solution.
---
Neighbourhood watch: view from a Monocle outpost
While we loved our old Tokyo office in Omotesando, three years ago we started to crave somewhere with more of a neighbourhood feel. Our thoughts turned to Tomigaya, close to busy Shibuya, where a tatami shop, fishmonger and barber sit alongside newer arrivals such as late-night bookshop Shibuya Publishing & Booksellers. We liked the look of the area and our new neighbours: a shop called Pivoine selling clothes and cut flowers with a miniature schnauzer called Stock curled up by the till.
A number of new places have opened since we arrived and there's been a move to rebrand this cosy pocket as Oku-Shibuya ("Back of Shibuya"). The community association is on the case with flags along the street welcoming people to Oku-Shibu (a shortened version of the name). Shops like the extra business and the community spirit is as strong as ever. Even the Japanese prime minister loves the neighbourhood: Shinzo Abe has opted to stay at his home in Tomigaya rather than move into the official residence.
---
Nothing makes a magazine editor's day like hearing a pair of trusted friends and associates say, "We're going to turn part of our building into a newsstand – hopefully the best one on the West Coast." The pair in question are the owners of Heath Ceramics and the venue will sit alongside their factory and shop in San Francisco's Mission District, meaning it might well be the best in the entire Asia-Pacific region. The shelves are to be stocked with the finest titles by May.
---
Is your company sitting on some underutilised property in an attractive corner of the world? How about proposing a summer HQ that will allow for greater productivity alongside a few healthy tans? While we don't have the real estate, we think Naples, Palermo, Genoa, Malaga and Athens are well connected, relatively inexpensive and ideal places to post staff for a few weeks of work over the summer. Why should working holidays just be for university grads?
---
The editors of sleek new title Migrant Journal are creating just six issues, published biannually; the magazine covers the movement of people, of course, but also of capital, produce and ideas.
"We're not activists but the idea of migration intrigued us; we have four passports between us from countries we don't live in," says co-editor Justinien Tribillon, a London-based Frenchman. Portuguese co-editor Catarina de Almeida Brito is based in Norway, while Zürich designers Isabel Seiffert and Christoph Miler, hailing from Germany and Austria, round out the multinational team.