My last meal / Parma
Umberto Angeloni
The CEO of Caruso on how his upbringing in Somalia sharpened his taste for all things Italian.
"I'm originally from Rome but my parents and I moved to Somalia when I was five. My father was a judge who helped the Italian colony to develop its legal system. I have happy memories of that time and the food we ate was incredibly varied: amazing lobster and lots of game such as guinea fowl and warthog.
My father and I would go hunting together and back then you could drive inland and find trattorias that served egg pasta and tasty ragu. My mother was raised in Piedmont and used to make us polenta and prepare regional dishes such as lepre in civet [stewed hare].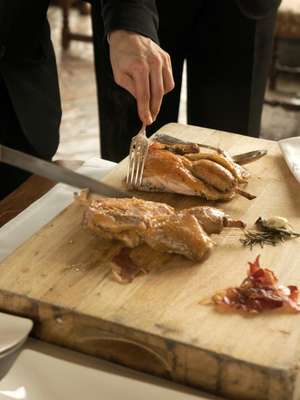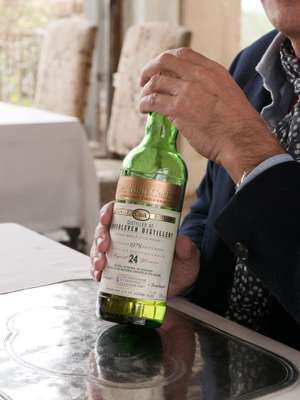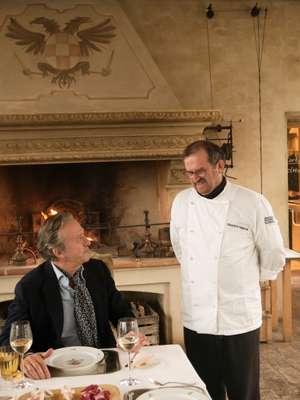 The diplomats in Somalia held grand dinners where we'd eat foie gras and caviar. At Christmas, I remember, we ate panettone laced with Chantilly cream. In that climate you didn't have cherries and grapes, or vegetables such as celery and artichokes, so I knew only tropical fruit such as papaya until I returned to Italy at the age of 15. We Italians know how to appreciate food and this legacy dates back to ancient Rome – 2,000 years before today's fascination with chefs and cooking on television.
In the kitchen I limit myself to cooking sauces for pasta such as pesto and a white bolognese. I serve them with tagliolini. It may look easy but you need to get the right ingredients: for pesto you need a good pecorino cheese and pine nuts from San Rossore.
Given the culinary riches in Italy it's hard to pick a favourite dish. You'd need two or three lifetimes to enjoy all the specialities in each area. If we were in Alba I'd ask for shaved truffle on my food. It's the same for my wardrobe: I don't have one special outfit. What's important is wearing the appropriate fabric for that season.
People know Italy for pasta but pork is very important here – there's no rival when it comes to cured meats. Growing up in Somalia it was one of the foods I couldn't get. Since I've come to work for Caruso here in Soragna I've become a fan of culatello: it's the fillet of prosciutto. It is made from the haunch of the pig. Here we have a black pig breed that yields a very tasty variety, with a soft silky texture. In the Emilia-Romagna region we are in the cradle of Italian cuisine. Many dishes and products that are now world famous – lasagne, tortellini, balsamic vinegar, parmigiano-reggiano – originate here.
For my final drink I would choose a dram of well-aged single malt whiskey. I've become a connoisseur of the spirit, which I find is best drunk without having food beforehand. I even have a special glass to taste malts; I picked it up in a Paris antique shop. You can detect more than 400 flavours in whiskey. My countrymen and I have become experts and collectors of the spirit, and have pushed for long ageing. With the aftertaste of a single malt still lingering on the palate, I see no better way to pass from this world to the next."
Profile
Born in 1952 in Rome, Angeloni is the chief executive of Italian menswear label Caruso. He served as CEO of Brioni from 1990 until 2006, overseeing a bright period in the label's history, which saw its sales increase dramatically. In 2009 he challenged the tropes of tailoring with Uman, a line of suits and jackets that used a more individual take on sizing to create a smarter silhouette. He has also written several books, including The Boutonniére: Style in One's Lapel and Single Malt Whisky: An Italian Passion.
---
Venue

Antica Corte Pallavicina
In 1990 chef Massimo Spigaroli acquired the 14th-century property in the countryside north of Parma. The former customs house on the Po River includes a farm from which he sources vegetables, pigs, geese and chickens for his kitchen.
anticacortepallavicinarelais.com
---
Speciality

Culatello di Zibello
In the brick basement of Antica Corte Pallavicina, Spigaroli ages his prized culatello ham. Boneless pieces from the upper hind leg of locally raised pigs are salted and encased in a dry pork bladder. It is cured for 16 to 36 months and exposed to the mist from the Po River to develop the meat's characteristic salty-sweet flavour.
---
To eat 

Appetisers: Plate of lardo, spalla cruda, strolghino and coppa.
Main course:
Culatello aged 18, 27 and 37 months, served with vegetables.
Tortelli with ricotta and chard served with butter sauce.
Guinea fowl wrapped in culatello and baked in clay taken from the Po.
Dessert: Parmigiano-reggiano.
To drink
Strologo sparkling wine made from fortana grapes, Carlo Verdi merlot-cabernet red and a 24-year aged single malt Scotch whiskey.