Service / Global
Well served
What if hotels and restaurants were unable to employ the global workforce that has made them so successful? If you like your flat white with a smile, read on.
What happens when the Brexiteers' wildest dreams and the outer reaches of the Trumpian fringe come true and the migration of workers across our borders is reduced to a trickle – or worse, stopped altogether? While migrant-wary politicians are quick to stress that highly skilled employees in key sectors will still be welcomed, they then go out of their way to insist that the people who come to wash dishes, fix our plumbing or make our coffee will not. Why? Apparently we don't need them.
Yet while it's handy to have an extra brain surgeon or two the people who have really transformed our lives for the better are the migrants who staff the service industry. It's the person who makes your lunch that would really be missed.
"You go into every beautiful hotel, every restaurant, every meeting where they take pride in hospitality and everybody is from the EU," says food critic and broadcaster Grace Dent, speaking to Monocle about the London scene. "When Brexit was coming down the track I thought, 'Do people not realise this?'"
The British Hospitality Association (BHA), an industry body, estimates that between 35 and 40 per cent of London's hospitality jobs are currently performed by migrants from the EU. And on top of that there's all the great coffee served up by Aussies and Kiwis on temporary visas.
Between 2011 and 2015 the number of migrant workers across the UK in the hospitality-and-tourism sector (which is the country's fourth-largest industry) increased by 22 per cent, with the rise predominantly down to employees from the EU. In a report published in December the BHA claimed, in no uncertain terms, that "curbs on access to the European workforce would constrain the industry, impacting the way we all live".
To be clear, this is not to say that there should be no checks, no borders, no direction given to where people end up working and no acknowledgement of local needs but rather that there should be better recognition of the needs of the service industry – and the people who work in it.
We may not know what the future will bring – a new raft of gastarbeiters with limited rights? – but we do know that it's time to speak up. It's a notion crystallised on these pages by Starbucks CEO Howard Schultz (a man with 300,000 employees globally): this is about more than profits, it's about "moral courage".
In this report we meet some of the people who keep the wheels turning in hospitality businesses worldwide and take a look at the nations that are betting big on service careers for their citizens. It's a story of scale, from well-made beds to human ambition. Please come in.
---
LA: cleaning up at the box office
Los Angeles is a city built on the ebb and flow of people. A metropolis where about half of the population is of Latino origin, it's almost impossible to imagine what the city would be like today without the flow of immigrants from Mexico, Central America and beyond.
Many of these citizens run the service industry: data analysed by Steven Pedigo of New York University shows that foreign-born workers make up 42 per cent of the service sector in the LA region. Foreign-born workers are there to take your keys when you pull up to a restaurant thanks to the almost ubiquitous valet-parking services in this car-obsessed city –and they'll serve you at the table too. And they're there to welcome you at the reception desk at your hotel or to clean your room after you've checked out.
Over at the Ace Hotel, housed within a 1927 building in Los Angeles' still edgy downtown district, Hispanic immigrants cover every facet of the business, from housekeepers to bellhops. "It's good to feel needed and know that you can improve a guest's day because you can fix their problems," says the hotel's resident engineer Orlando Noe Perdomo, originally from El Salvador. "We all search for the dream of having a better life."
Latinos don't just work in the service industry, as entrepreneurs they also run it and provide much-needed employment too. Northgate Market, a chain of supermarkets in and around LA that was founded by a Mexican family in 1980, is a key example of a business that now creates hundreds of service jobs.
While it's true that the service industry also includes many of the US's 11 million undocumented workers, President Trump's promise to build his wall is a concern because it has created a narrative that risks making all migrants seem like "bad hombres", whether legal or not, first generation or third. Californians seem to recognise that what's at stake is about more than getting your car valet-parked and the leadership from the state's politician and civic leaders has been impressive. But if you like your easy LA life, then it's worth shouting about.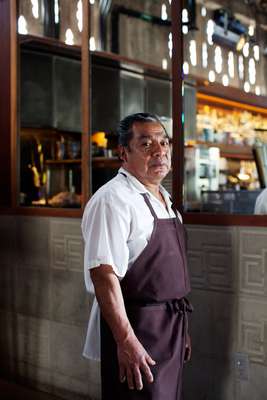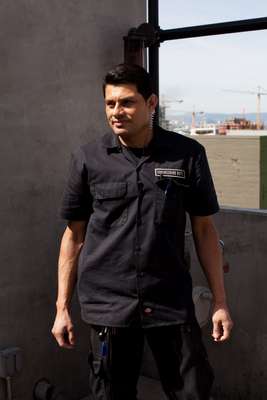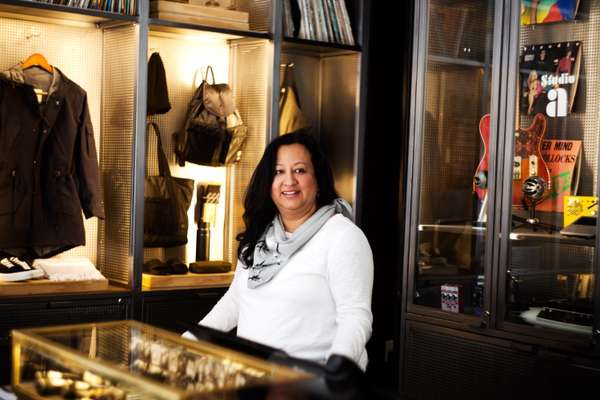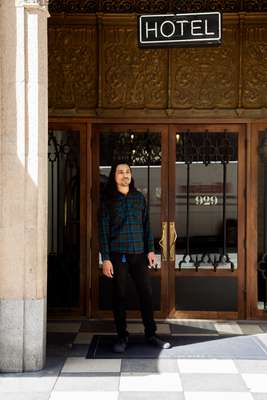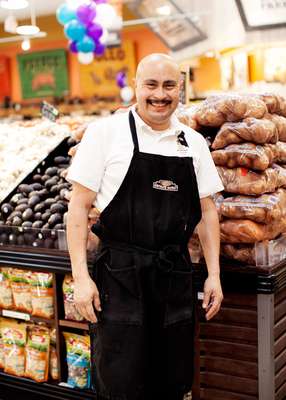 ---
How Poles keep Europe ticking
"Worth moving for the wages but watch out for the damp Victorian houses." So mused a Polish man to your correspondent during a recent flight from London to Warsaw. For the past decade he has worked at a London hotel, one of more than a million Poles who have moved west since Poland joined the EU in 2004.
Between 2003 and 2015, the number of Poles in the UK rose more than 20-fold to about 900,000. Polish is the second-most spoken language in England and Polish women in the UK give birth to 23,000 children per year. In Ireland, home to more than 150,000 Poles, "Jakub" and "Zofia" now rank in the top 200 names.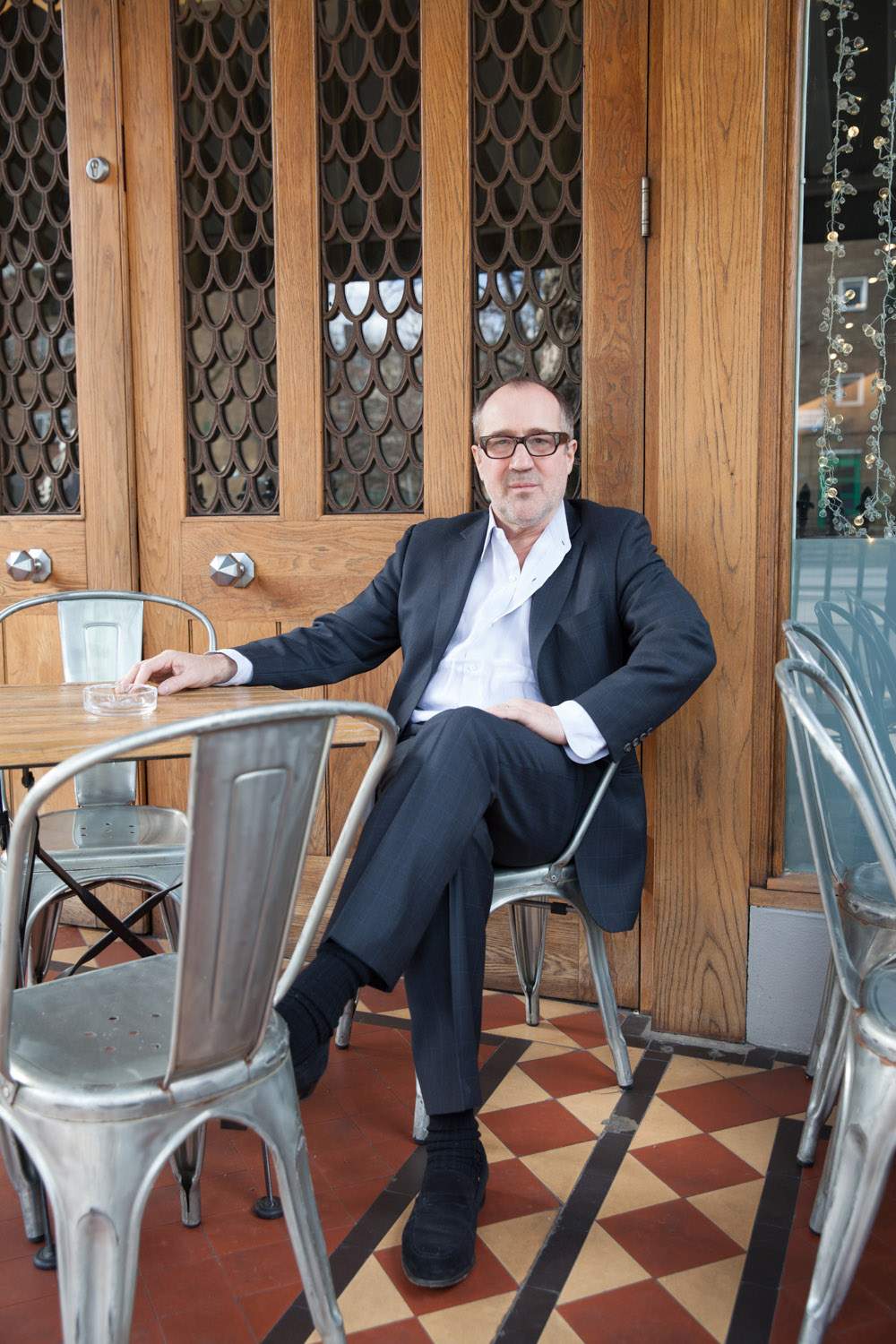 Like the man on the plane, many Poles have found work abroad in the service industry. In these jobs foreign wages can be tempting. At about €450 a month (gross), the minimum monthly salary in Poland is less than one third of that in Germany. And what work is available in the UK? A website specialising in recruiting Poles to work in the country features adverts for bakers, drivers and dairy-farm workers. Polish people have become a key part of the UK's economy.
Not all Poles in the UK find work in these sectors though. Many have set up businesses here, often catering to the diaspora, forming a parallel ecosystem of Polish travel agencies, dental practices and beauty salons. More young Poles have moved abroad to study too. As Poland's new ambassador to the UK Arkady Rzegocki puts it, "Poles pride themselves on having the highest rate of individuals in employment or further education among all ethnic groups in the UK – at 92 per cent."
With Brexit looming, some Poles in the UK have feared becoming bargaining chips in negotiations. Others are seeking greener pastures. A popular new destination is Iceland; with an estimated 10,000 Poles there already, they account for about 3 per cent of the country's population.
Yet emigration is not the only option. As the Polish job market improves, more and more Poles say that they would relocate to other cities such as Wroclaw or Gdansk where higher paid jobs are often available. "The record-low interest in going abroad for work results from the unstable situation and lower level of security in western Europe," says Andrzej Kubisiak at Work Service, a Poland-based personnel consultancy.
Since 2008 a state-run website called Powroty (which means "returns") has offered advice to Poles on everything from taxes to "return culture shock". Brexit may bring a new offensive: in an interview in January Mateusz Morawiecki, Poland's deputy prime minister, invited Poles to move back: "It will be good for Poland and not bad for the UK."
Jan Woroniecki (58)
Owner of London restaurants The Baltic and Ognisko
"I grew up here but my father was Polish. A lot of the staff that I hire are from Poland and Eastern Europe. Eastern European staff have changed the atmosphere of the London hospitality scene; they have an ethos of hard work and cheerfulness."
Damian Wawrzyniak (37)
Consultant chef
"I am the son of two chefs so I grew up with food. I came to the UK in 2004 having worked in kitchens in France and Germany. One of my greatest achievements is running the champagne and seafood restaurant at the London Olympics in 2012; we served more than 1,000 people a day."
Magdalena Saodatov (34)
Front office manager, London hotel, The Wellesley
"I was headhunted from the hotel I was working at in Dublin. I studied hotel management in Krakow and, to be honest, I was surprised that in the UK about 95 per cent of my colleagues had no hotel education."
Sri Lanka's global workforce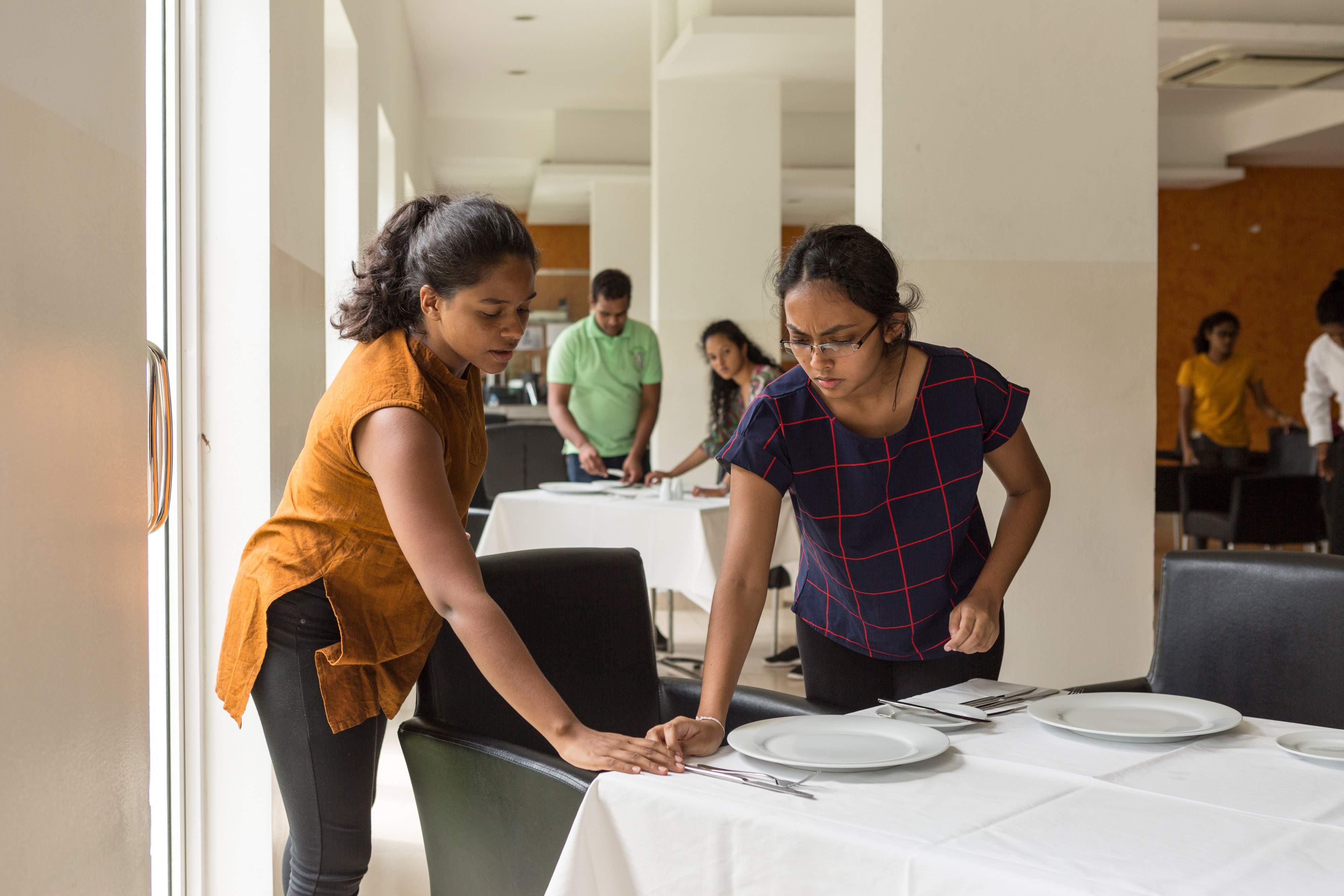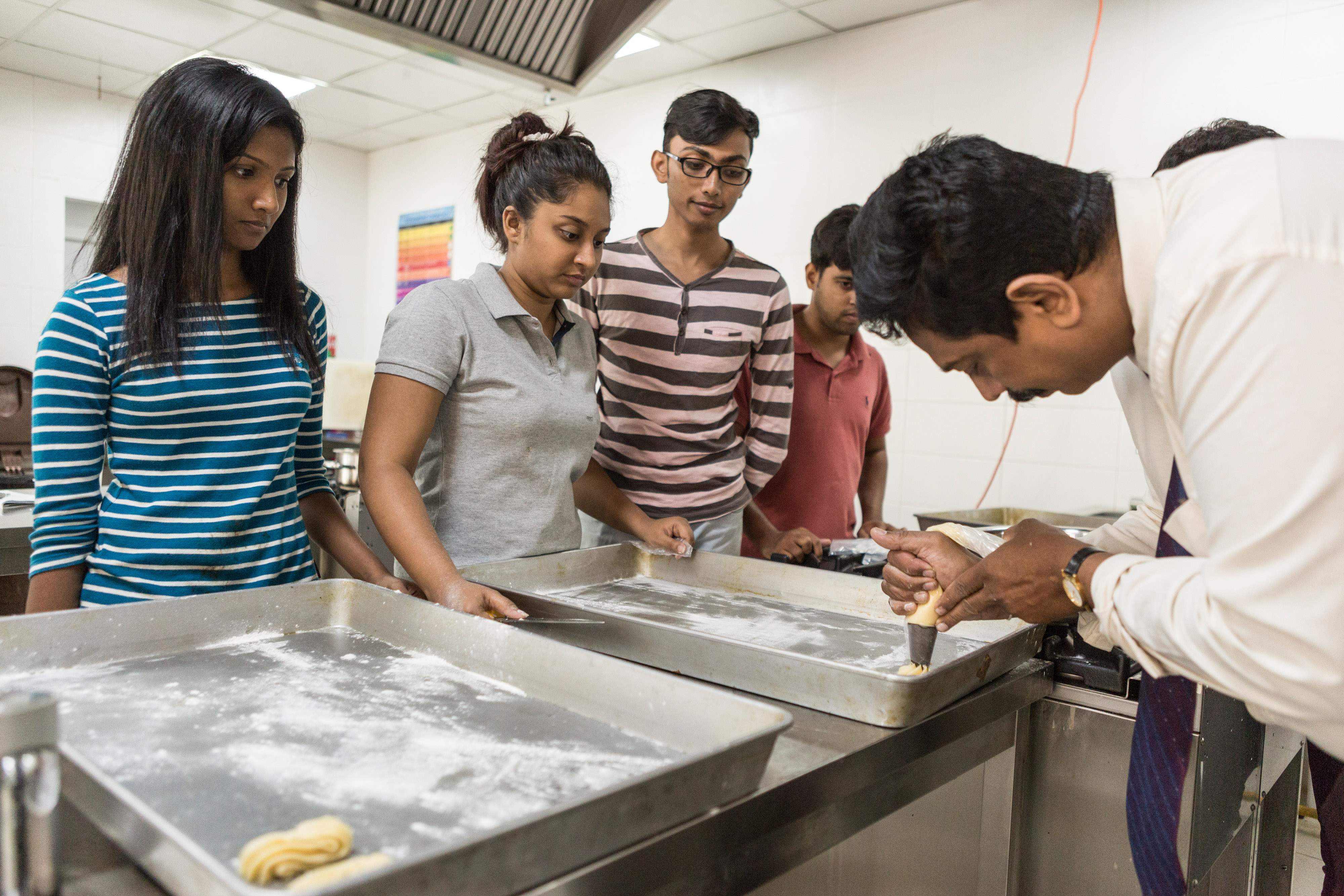 Despite a domestic labour shortage, the number of Sri Lankans leaving the country to work overseas increases every year. About 700 labourers leave the island nation every day and remittances from the diaspora now form the nation's largest source of foreign exchange. More than 90 per cent of those Sri Lankans working abroad are in the Middle East, concentrated in unskilled roles in Saudi Arabia, Qatar, the UAE and Kuwait.
Yet the pattern is shifting. Those emigrating for work in the hospitality and service sectors are increasingly educated and fully trained. One hospitality school – housed in a red-and-white three-storey block an hour's drive north of the capital Colombo – is leading the charge and polishing the skills of Sri Lanka's next generation of service talent.
The Colombo Academy of Hospitality Management (CAHM) is a private institution with 370 students that runs an advanced-diploma course in partnership with Melbourne hospitality academy William Angliss. "About 40 to 50 per cent of our students want to go to Australia for an Australian education," says CEO Steven Bradie Miles, who took over in 2014.
However, Australia isn't the only destination that students consider. "I'm planning on going to Dubai or Singapore," says Seshaya Gabriel. "You know Marina Bay? I really want to work there." As the country emerges from decades of conflict, Sri Lanka is starting to flourish as its workforce looks beyond its shores to export valuable skills.
---
Interview
Everyone's name is on the cup
Howard Schultz
CEO Starbucks
Howard Schultz briefly stopped off in Milan in February to inspect the colossal former post office where the company will open its first-ever Italian outpost next year. As he prepares to stand down as ceo in April (and migrate into the company's executive-chairman role), he tells us about his promise to hire 10,000 refugees.
Monocle: Your pledge to hire 10,000 refugees was met with some hostility. What's your reaction to that?
Howard Schultz: For me it's a question of moral courage. In the US and around the world this is a time when I strongly believe that business leaders and businesses need to recognise that we have a larger responsibility than we've had in the past to demonstrate the need to build bridges – not walls – and to stand up for humanity. Not every decision is an economic one.
M: What kind of impact do you think this has on Starbucks?
HS: It's had no impact on our business whatsoever and, most importantly, it's made our partners, our own people and our customers very proud of the company. And that should be the litmus test of doing the right thing.
M: What role do immigrants play in the workforce of Starbucks?
HS: Our philosophy is based on inclusion and embracing diversity. Around the world 330,000 people work for Starbucks and we have a diverse workforce in every country. Let's not forget, America is a country of immigrants. Our philosophy is an extension of what I believe the US has been and needs to be, and a natural extension of our American-founded company.
M: How can companies champion immigration when governments fail to?
HS: We need the courage of people speaking up in a way that is based on civility and respect; not against a politician, not against the government but speaking up for humanity. In the US you're seeing lots of companies and business leaders who are standing up for what people think is just.
M: What happens to large businesses such as yours when borders close?
HS: It's a question of what happens to the world. I don't believe that we should be embracing policies based on narrowing the abilities and opportunities of so many kinds of people. Starbucks tries to be a different type of company, to be a beacon of hope and opportunity, to hire and attract all kinds of people and give them opportunities, regardless of gender, race, sexual preference or where they are from.
---
Comment
The Filipinas cleaning up in labour-short Japan
By Kenji Hall
Last autumn Japanese recruitment firm Pasona hired 25 women from the Philippines for housekeeping work in Japan. But the women didn't enter the country right away. They spent two months in Manila getting a crash course on tidying Japanese homes: they cleaned tatami mats, operated Japanese vacuum cleaners and studied sprays and cleansers.
"Unlike live-in housekeepers, these women will visit several homes a day," says Pasona spokeswoman Emi Fujimoto. "They need to be familiar with the products they will find in people's cabinets."
When the women arrived in Tokyo in March they were among the first wave of foreign workers to be granted visas under a new programme that prime minister Shinzo Abe is hoping will add steam to the world's third-largest economy. Japan has never relied much on immigration for economic prosperity. In a country of 127 million there are just 908,000 foreign workers. The idea of easing immigration restrictions is unpopular with many, including conservative politicians who warn of the social problems that an influx from abroad might bring.
But Japan might not have a choice. With a low birth rate and a ballooning population of senior citizens, the country faces the dire prospect of not having enough workers. By 2030 the labour pool of about 66 million is expected to shrink by close to eight million – roughly 12 per cent. At that point there will be just 1.7 workers for every person over the age of 65. With fewer people paying taxes and contributing to the national healthcare and pension funds, Japan could eventually go broke.
The programme for foreign housekeepers isn't a sign of a new open-border policy. The rules on hiring foreign housekeepers are still strict and are designed to keep tight controls on immigration. Licensed companies have to demonstrate that their foreign employees have the technical skill, experience and language ability to do the job. For now the work is limited to special economic zones in Osaka, Kanagawa and Tokyo and the housekeepers must return home after their three-year stint ends.
Fujimoto says that the main objective of Pasona's programme is to help Japanese women rejoin the workforce. But the company, which charges ¥10,000 (€83) for two two-hour cleaning visits a month, is in no rush to expand. Maintaining high-quality service will be key; it could be months before more new hires arrive. "We want to make sure everybody – the customers and the housekeepers – is satisfied with the experience," she says. For now it's only a small step towards greater acceptance of immigration in Japanese society.
Would you be a waiter?
Those with anti-immigrant leanings tend to wheel out the argument that if immigrants weren't taking (or, more often, "stealing") jobs in any given sector then those roles would be snapped up by the domestic workforce. But ask most restaurant and hotel owners and they will give a very different view. And you? Or your children? Let's put that to the test. Would you be a waiter in these cities?
New York
Average hourly wage (excluding tips): $13.12 (€12.44)
Average hourly wage (with tips): $25.02 (€23.71)
Housing you could afford: A room in a shared apartment in an outer borough.
Benefits: Paid or unpaid leave is not a legal requirement in New York; employers do not have to provide health insurance; workers must have 24 hours off in each calendar week.
Singapore
Basic monthly wage: S$1,126 (€754)
Housing you could afford: A shared room in an apartment.
Benefits: Employees earning below s$2,000 (€1,339) a month are given legal protection in terms of rest days, overtime and annual leave.
Toronto
Average hourly wage (excluding tips): CA$9.90 (€6.99)
Average hourly wage (with tips): CA$27.80 (€19.63)
Housing you'd be able to afford: A one-bedroom apartment.
Benefits: No paid leave or pension but healthcare is provided by the province.
Hong Kong
Average hourly wage (excluding tips): HK$32.50 (€3.97)
Housing you could afford: A room in a shared apartment.
Benefits: Seven days paid leave annually after working for 12 months. Most firms do not pay for medical coverage.
London
Average hourly wage (excluding tips): £7.20 (€8.35)
Housing you could afford: A room in a shared apartment.
Benefits: Usually just minimum legal requirements; healthcare is free through the National Health Service.
How to staff a cruise ship
Cruise liners may carry the flags of Italy, Spain or Germany but to keep their services slick they rely on dedicated staff from all around the world and especially nations that encourage their citizens to work in the service industries, namely the Philippines. For example, aboard Hapag-Lloyd's flagship vessel Europa 2 there are about 400 crew members; we asked the Hamburg firm to explain the onboard roles and where its workers come from.
Total crew: 370
Key service roles:
70 galley staff, including one chef de cuisine
97 bar and restaurant staff, including one sommelier and one maître d'
60 housekeeping staff
1 hotel manager
1 nurse
6 nannies
1 international hostess
Nationality of crew: (by percentage)
55 German, Austrian and Swiss
10 Other EU (British, Dutch, Hungarian and Croatian)
35 Asian (mainly from the Philippines)
Total passengers: 500
Individual pieces of crockery: 25,053