New-look barber with old-school values / Melbourne
Best in class: Men's Biz
The dapper australian barbershop bringing class back to men's grooming.
Nathan Jancauskas was a 21-year-old university graduate with a penchant for a trim beard and well-kempt cut when he founded Men's Biz in his Melbourne garage. He started with an online shop in 2006, selling niche grooming brands – mostly imported from the northern hemisphere – that were otherwise hard to get hold of. After eight years the business expanded and now has two small shops in Victorian-era arcades in Melbourne and Sydney.
The Melbourne branch is one of the smallest pitches in the glass-roofed Royal Arcade – the oldest surviving indoor Victorian promenade in Australia – with one wall of products and a single barber's chair. Pale wood and marble detailing create a smart, modern feel. A steady stream of suits and dapper media types pass through the space, some in need of a tub of pomade, others for a swift tidy-up for the weekend. Others pay homage to the nearly forgotten social role of barbershops and just stop in for a natter.
"I thought the department-store model was broken," says Jancauskas about founding Men's Biz. He disliked the blinding lights and pushy service he'd encountered and set out to offer men a less ceremonious alternative.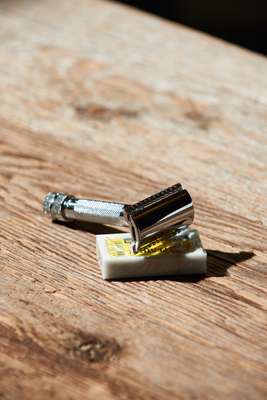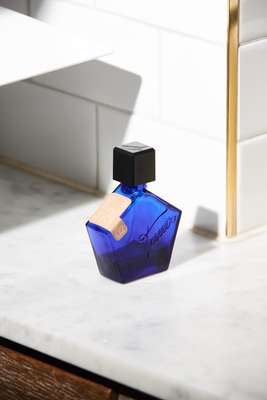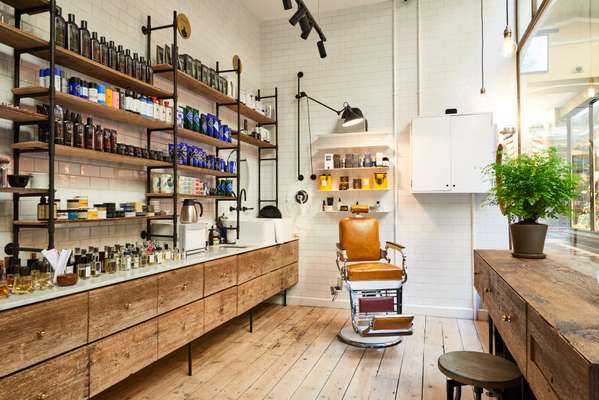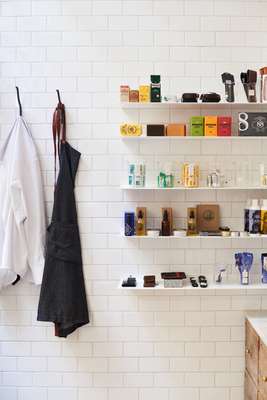 Inventory highlights include double-edged razors by Dovo, badger or boar-hair brushes by Simpsons and a shaving range from London-based Penhaligon's, plus all manner of unguents, moisturisers, cleansers, combs and fragrances. Prices vary wildly – there are items here by both American Crew (affordable) and Amouage (less so) – but there's a sense that only the best make it onto the shelves.
Jancauskas specifically searched for modest-sized spaces when planning both the Melbourne shop and its Sydney counterpart in the stately 19th-century Strand Arcade in the cbd. "I wanted retail venues that were small and manageable," he says. "We sell products with a lot of history and the arcades reflect that." Barbers with a real respect for traditional grooming techniques were also sought after and this drove traffic to the door, as customers who previously bought online were eager to pop in for a shave.
"I'd still call us a retailer more than a service business," he says. "The barber service is about using the products we sell and exposing people to some of the lesser-known brands we have."
Men's Biz outposts are less raucous than some of the whiskey-toting new-breed barbershops. But what it offers is products galore and service that's a cut above the rest.
Royal Arcade, Melbourne; Strand Arcade, Sydney;
mensbiz.com.au
1.
Merkur HD razor
The top-selling double-edged razor at both shops.
2.
King Brown Matte Pomade
A tin of Aussie-made beeswax-based hair product.
3.
Czech & Speake Air Safe manicure kit
Designed to conform to hand-luggage restrictions.
4.
Santa Maria Novella Tabaco Toscano cologne
Inspired by the famous Tuscan cigar, no less.
5.
Geo F Trumper Coconut Oil Shaving Cream
Rich, gentle and adored by shaving connoisseurs.
Aesop aside (the brown-bottled market leader was born in Melbourne), there's a groundswell of products springing up in the Antipodes. Triumph & Disaster from New Zealand, plus Grown Alchemist, Hunter and Jacqueline Evans Skincare from Australia, are just a few of the smooth operators making a name for themselves.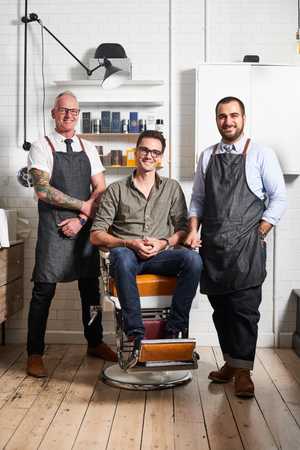 Nathan Jancauskas, his six barbers and a dozen other staff across the two shops.
Both shops are located downtown in covered arcades, known for their independent chops and charming service.
Knowledgeable barbers and a friendly try-before-you-buy policy.