HQ audit / Tokyo
Cut from different cloth
Uniqlo's new home represents the company's desire to become a more hi-tech operation – and rewire its staff at the same time.
With a global business, 100,000 staff and a demanding digital-retail operation, a new headquarters for Japanese clothing company Uniqlo was always going to be a major undertaking. Its new home, Uniqlo City, opened in February in Tokyo's Ariake district on the harbour, and is visible to anyone driving over the Rainbow Bridge.
In a country where design can be an afterthought when it comes to corporate offices, this HQ sets a new standard. The building's primary function is to consolidate the Uniqlo business: the sixth floor alone houses 1,000 people and, for the first time, brings together merchandising, design, R&D, marketing, production, planning, sales and IT. The aim is a more collaborative working culture and the architects have reconfigured the traditional office to make that possible.
The company is changing from a regular clothing manufacturer to a hi-tech operation that responds in real time to what customers are buying and saying, adjusting production accordingly. This office is part of that revolution.
---
Architecture and interior
Warm reception
The design came courtesy of Allied Works Architecture, which was founded in Portland, Oregon, by Brad Cloepfil in 1994 (with a New York office since 2003). "This building is huge, it's the equivalent of a city block," says Cloepfil. "The challenge is making it feel warm and tactile." Cloepfil's response was to use plenty of wood throughout, even on the ceiling in places. There are also comfy sofas, vintage touches, good lighting and a backdrop of floor-to-ceiling windows with views across Tokyo.
"There is a strong city metaphor here," says the architect. "The design has the functionality of a street and a similar division of spaces." Instead of a vast open hall, the floor plan has been carefully divided to retain the feeling of openness while also allowing for a variety of spaces with different purposes. The design is built around a long "street" with five open-plan desk areas, each one with a welcoming "porch" of sofas and chairs. There are several "town squares", places where people can gather: the Great Hall, which can accommodate 1,300 people; the Answer Lab, which has four screens and 24 monitors and is a place for discussions and presentations; and the well-stocked Reading Room.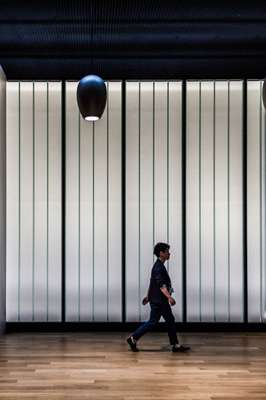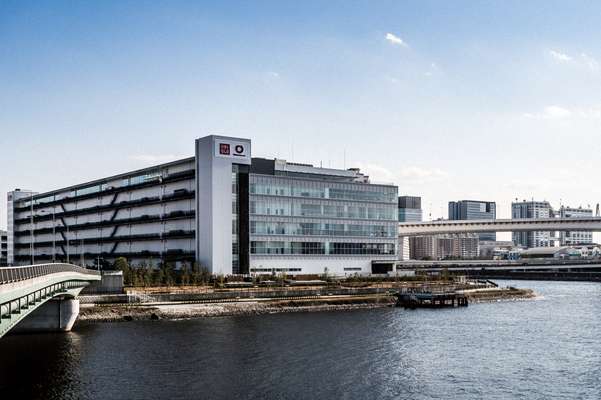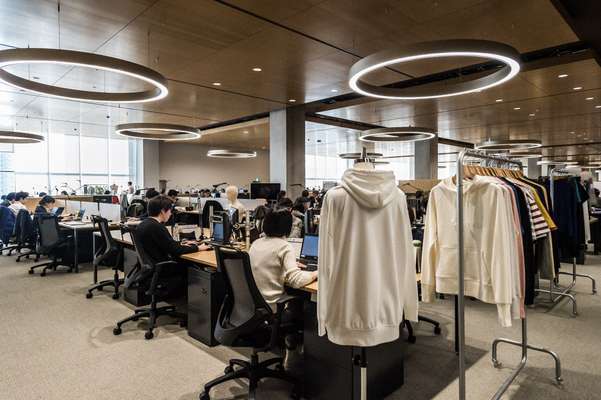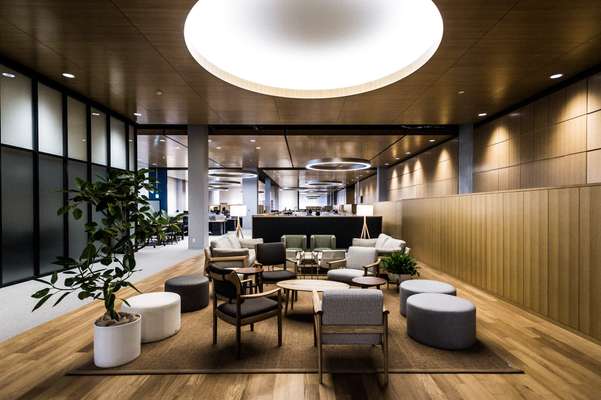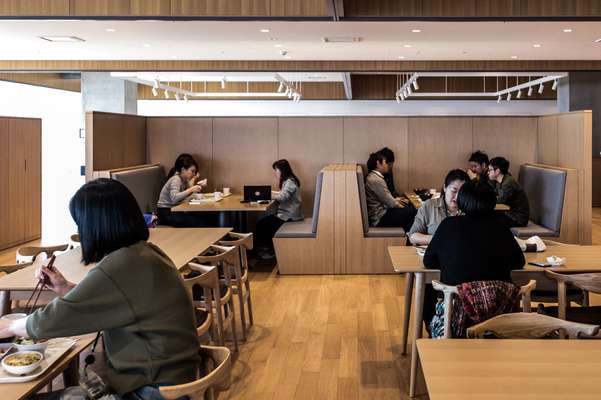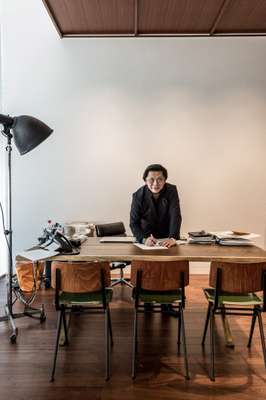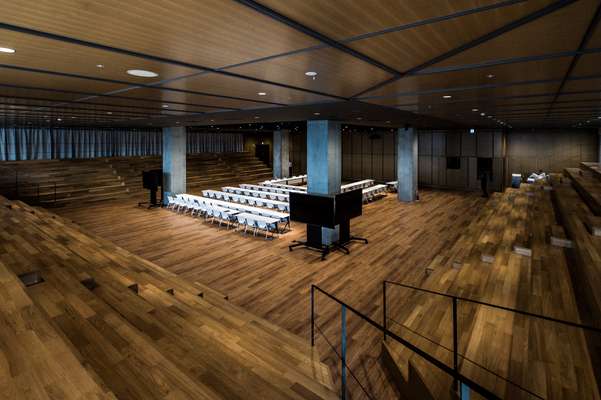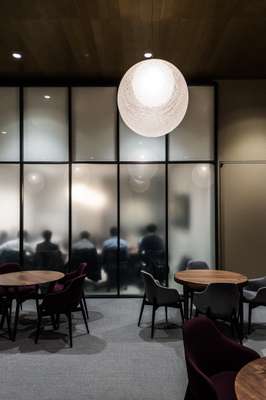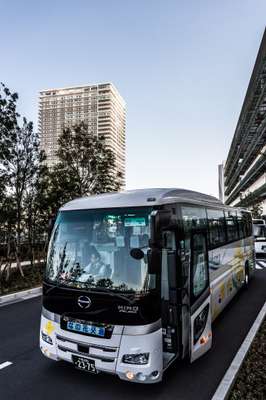 "It's like finding your favourite coffee shop; you want to create those city moments within the building," says Cloepfil. Tadashi Yanai, CEO of Uniqlo's parent company Fast Retailing, was very closely involved. He wanted the building to feel residential in spite of the scale. "It's different working for a business that is still driven by an owner: you're not dealing with corporate decisions," says Cloepfil. "We took our cue from Uniqlo's approach to making clothes, the level of craft and the detail, carefully considered and executed." The effect is clean, open and warm. "It looks luxurious but it was done on a strict budget," adds Cloepfil. "Everyone's attitude was so wonderful. That helped."
---
Reading Room
Space to think
One of the key elements of the new office is a library, open 08.00 to 17.00 daily, which is looked after by dedicated book director Yu Nakazawa. With more than 3,000 books and the latest magazines, the shelves are stacked with titles covering everything from Japanese architecture to African textiles via technology, photography, fashion, retail and business. There are special selections by guest curators and Uniqlo staff are encouraged to make recommendations. Creative director John Jay and CEO Tadashi Yanai also have their own selections on display.
The Reading Room offers a place to work, read and think, or, as Uniqlo puts it, "to help ignite your imagination and inspire your creativity". The plan is to eventually increase the stock in the Reading Room to 25,000 books. Readers can buy a coffee from the adjacent Ariake Café, which serves drinks and light food. Music is played on a turntable; staff are welcome to dust down their own records and give them a spin.
---
Any restaurant owner would kill for the view of Tokyo from the Uniqlo City canteen, Daily Special. Lunch dishes, served daily from 11.00 to 14.00, include grilled pork with ginger, broiled Akita mackerel and noodles in a spicy sesame broth. The simple wooden furniture allows the view to take centre stage; staff can sit at tables together or face out to the water.
---
John Jay's office
Keeping it simple
"I've always believed in great spaces," says John Jay, president of global creative for Fast Retailing. "It's hard to ask someone to make something beautiful in a horrible office." The previous office, which occupied several floors of a tower, wasn't conducive to collaboration, he adds. "In the old office there wasn't anywhere to sit together and share ideas. For me, architecture is an invitation to step out of normal life and, in this case, out of the old way of working."
Jay favours simplicity: "It goes back to the Japanese idea of kaizen [constant improvement]. We start with simplicity and make it better." His office houses a clutch of Dutch industrial chairs and a changing display of artwork, such as a giant original poster for the film Blow-up. Yanai, who has an office in Ariake and another at Roppongi across town, also has art by diverse artists such as Banksy and Elliott Erwitt on his walls.
Ultimately, Jay says, the purpose was to create an inspiring and happy workplace. "The starting point for this project was showing the staff respect," he says. "We're already noticing that people are smiling more and making eye contact. Now I can say to staff, 'If your manager isn't buying the coffee, you bring them one.' The staff love the office and they haven't even really started using it yet."
---
Regular workspaces
Teams that talk
This isn't simply the standard executive spiel, either. For the rest of the staff, the office represents more than a cosmetic transformation: it has produced a change in the way they work. Clustered in five open-plan areas – known as "work lofts" – employees can see what everyone else is doing. Communication is easier and meetings can be held in quiet, glass-fronted meeting rooms or, more casually, on sofas. The old style of working was classic silo territory with few opportunities for different departments to get together. The new set-up has everyone on one floor (even if it is 250 metres from one end to the other).
"The new office is more efficient," says designer Diana Cheng. "Before, teams were categorised by bigger departments and each team worked separately. Now we're working in smaller teams and we sit near people doing other jobs. Before, if I wanted to talk to the pattern makers, I had to go across the hall. Now I can just turn my chair round. And because we're sitting closer together, we can chat casually rather than having to have a formal meeting."
---
There was some resistance among the staff to moving from Roppongi in central Tokyo out to Ariake. To ease the transition, Uniqlo has set up an in-house transport system with buses shuttling staff to and from Tokyo's commuter stations. Seats are booked on an internal app called Renraku (Connection), which tells users the bus times and seat availability.
Facts & figures
Shops: More than 1,800 in 19 markets, including Japan (where there are 841 shops), Australia, France, the UK and the US.
Global annual net revenue: ¥1.5trn (€12bn)
Logistics: Uniqlo delivers to homes around Japan and is able send purchases to any of 43,000 convenience stores, which effectively means that nobody is more than 750 metres from a Uniqlo.
The verdict
Japanese offices can be a sorry sight so Uniqlo City is a refreshing change. The open-plan design brings together colleagues who used to work separately; the architects have done well to break up what could have been a giant aircraft hanger to create various spaces. The location isn't ideal but it would have been impossible to build something this big in the city centre – and the company is working to make the commute easier. Some on-site sports facilities would be welcome but a big thumbs-up to Uniqlo for its overtime policy: managers will be reprimanded if they allow their team to stay in the office too long.