Defence / Global
Defence
Briefing
Who the Thais are buying from and what that says about the region, a game changer in the helicopter industry and is it time for an EU army?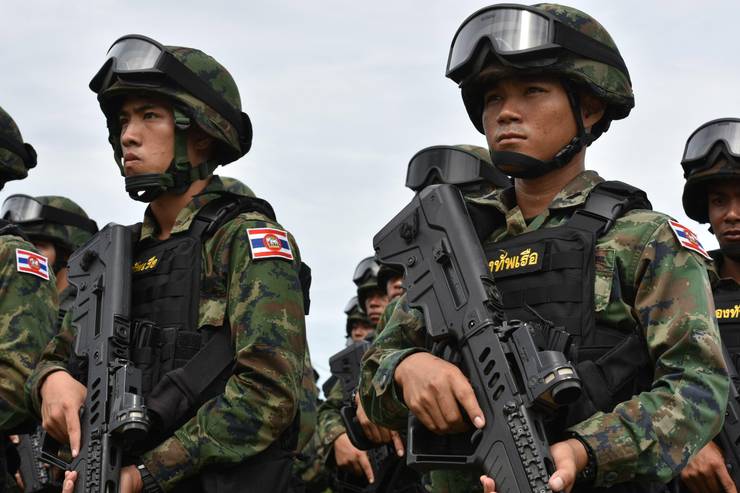 Close Thais?
Thailand —
Weaponry
Thailand surprised military observers early this year by ordering three submarines from China and approving a thb13.5bn (€361m) budget to pay for the first.
The rationale stems from "the Thai fixation with image and status," says Anthony Davis, a Thailand-based security analyst for IHS Jane's. In recent years Thailand's shopping list has grown exponentially. The Royal Thai Army recently agreed a thb2bn (€54m) deal over three years to buy 10 tanks and auxiliary vehicles from China, adding to an order for 28 battle tanks last year.
The deals are an example of what analysts see as a middle-power arms race in Southeast Asia. Thai aspirations have helped to make the Asia-Oceania region one of the world's top markets for arms sales; the message is one of rising insecurity and sharpening rivalries. Critics consider China to be playing central roles as both a weapons merchant and an emerging threat as it uses its status to expand its aid, trade and security presence.
Thailand has acted with pragmatism and ambiguity, cultivating warm ties with Beijing while stepping up efforts to win back western acceptance. Even so, the Thais riled longtime ally the US by staging a near-month-long joint military exercise with China last June. Even in the days of warmer US relations, Thailand cultivated China. The diplomacy paid off: China was the first major power to acknowledge Thailand's junta after the May 2014 coup.
Washington, by comparison, froze $4.7m (€4.3m) of security-related aid, scaled back its Cobra Gold exercises in Thailand and cancelled security agreements.
Thailand has indeed courted China, says Thitinan Pongsudhirak, director of the Institute for Security and International Studies at Chulalongkorn University. "But that's only in a relative sense to its traditional geopolitical standing. Geography and history dictate that Thailand will always have to be close to its giant neighbour. But Thai policy-makers are keen to regain a geopolitical balance with other major powers, especially Japan and the US."
Proportion of global arms imports (2012 to 2016):
1.
Asia and Oceania: 43 per cent
2.
Middle East: 29 Per cent
3.
Europe: 11 per cent
Fly by
Australia —
Air force
The Royal Australian Air Force (RAAF) is outsourcing some of its air-defence training. It has hired pilots from Canada's Discovery Air Defence Services to attack RAAF aircrews as part of "Top Gun-style" exercises.
Under the contract, Discovery Air will fly ex-Luftwaffe Dassault-Dornier Alpha Jets out of RAAF Williamtown in New South Wales for the next two years. The Australian Department of Defence hopes that the trial will prove cheaper and more effective than running all of those roles internally.
---
To me, to EU
Europe —
Security
Russian posturing, insecurity in neighbouring regions and President Trump's reluctance to be the guarantor of Europe's security have reinvigorated talks of EU co-operation in defence.
At a summit in March, EU foreign ministers agreed to create a HQ for military training. Expect more moves like this as the bloc tries to beef up its shared capabilities – but it can't happen overnight. If Germany, for example, were to increase its defence spending to meet an EU and Nato-wide pledge of 2 per cent of GDP, it would need to find an extra €24bn.
---
Game changer no. 04
Blades of glory
USA —
Technology
Bell Helicopter has unveiled a radical helicopter concept: the FCX-001. While the rotorcraft is unlikely to ever turn a blade, it highlights some of the technology that the company is exploring and hoping to roll out as upgrades to existing designs or to inform new aircraft in the coming years.
The FCX-001 promises hybrid electric propulsion, transformable rotor blades, an augmented-reality cockpit and artificial-intelligence avionics.
1.
Rotor blades
The FCX-001's main rotor blades are designed to physically change shape, adapting their chord, thickness, length and profile to fly quieter, faster, more stably and more efficiently.
2.
Fuselage
The helicopter's cabin is fitted with tools that allow it to harvest wasted energy from vibrations, which is then used to charge batteries. The fuselage is made from new sustainable materials to provide visibility and room.
3.
Tail boom
The FCX-001 has no tail rotor and instead uses a new electric motor in its truncated tail boom to manage the torque and airflow, allowing it to fly more quietly and efficiently and with less buffeting than traditional helicopters.
4.
Cockpit
There is no mechanical cockpit in the FCX-001; the pilot's view is entirely projected using augmented reality, saving space and creating a safer environment.