Observation 2 / Global
Floats your boat
The strategically key Bosphorus Strait has put Istanbul's nerdy ship-spotters at the axis of shifting military tides.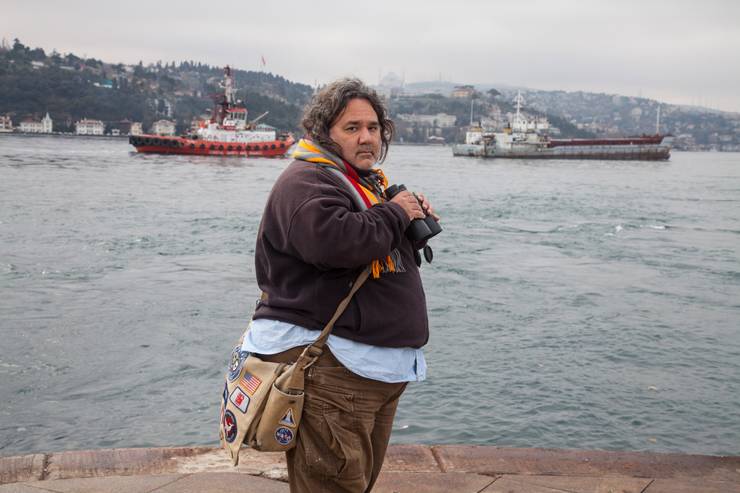 "The Bosphorus traffic is a mirror for world events," says Yoruk Isik (pictured), a portly and garrulous Turk who is carrying a camera bag that's covered in maritime patches. We're on the freezing top deck of a commuter ferry, which is where Isik is waiting for a Syrian government ship to emerge from the thick fog. "We witness whatever is happening, right here," he shouts above the drone of the ferry engine. "Crises in Ukraine, or if the United States just wants to show the flag in the Black Sea."
Isik is one of a small group in Istanbul who, from perches at teahouses and on the harbourside, by ferry and fishing boat, keep watch on the Bosphorus. These hobbyist ship-spotters track and photograph the boats that ply this ancient waterway, sharing sightings with one another and the world online. Throughout Turkey's most torrid moments in recent years, these tenacious anoraks and their dispatches have stayed the course.
Born in Istanbul, Isik spent his twenties and thirties working for pro-democracy NGOs across central Asia and became fascinated by Russia's political wrangling. Captivated by all things maritime as a child, he has been watching the waves since he returned from Kazakhstan in 2013 and dedicates three hours a day to spotting, then tracking and sharing his collection online.
At the height of Turkey and Russia's grand bust-up in 2015, Isik snapped a Russian Ropucha warship, unaware that he'd also caught a sailor with an igla rocket-launcher pointed at Istanbul. The photograph became front-page news.
"It's not just sitting around and discussing what will happen next," says Isik. "I get hard proof." The spotters saw Russia's fleet heading towards eastern Ukraine, and they watched Soviet-era ships bearing to Tartus – Russia's main base in Syria – months before Moscow formally entered the war siding with president Bashar al-Assad.
Turkey is bound to allowing free passage through the Bosphorus in peacetime thanks to the 1936 Montreux Convention. But there's a caveat: non-Black Sea nations can only be in said sea for 21 days at a time. It's an irritation for Nato, which presently has Polish, US and Dutch ships there, but a boon for the ship-spotters who can catch more traffic.
"I can get a better picture of a warship than the entire Jane's Defence Weekly," says Isik. There's definitely a bit of bravado among the spotters: it's a trophy hunt for who can snap the rarest catch.
Our ferry pauses to unload passengers on the Asian side. Isik flicks around a real-time map on his phone showing commercial ships parked in clusters. All naval traffic has stilled; there will be no rare spotting today.
But a few days later, Isik sends me a message in the early-morning hours: "Look NOW." Outside my window the Bosphorus is thick with fog but from somewhere in the murk comes the telltale rumble of a foghorn. A ship has been spotted.
Sunday evenings are quiet in Central Plaza – except in the apex. On the 75th floor of the office tower the lift doors open onto a pyramid-shaped glass room where a five-piece band belts out Christian rock music for an audience of young Chinese. Welcome to Sky City Church: the "highest" church in the world.
The skyscraper's principal developer, Sun Hung Kai, is controlled by the evangelist Kwok family, who have high-rises all over the city. After reaching for the heavens with Central Plaza the Kwoks turned to tending a more earthy flock by building a Noah's Ark theme park: 67 pairs of life-sized animal sculptures emerge from a gigantic replica boat squeezed under a bridge on the way to Hong Kong International.
The Almighty has some powerful disciples in the East. The Far East Organization – Singapore's largest private-property developer – brands itself a Christian enterprise; the Philippines' richest man, Henry Sy, founder of SM Group, funds Sunday masses at his Manila malls. Even majority-Muslim Malaysia has its missionaries: Francis Yeoh, deputy CEO of YTL, preaches about God's hand in building one of Malaysia's largest property firms.
Still, a love of (building) churches doesn't blind the business acumen of Asia's pious property tycoons. SM is investing in casinos despite the Catholic church's opposition to gambling. And Sun Hung Kai's profits surged 57 per cent in the second half of last year; a second miracle after the release from prison of former co-chairman Thomas Kwok, who became a theology student during his incarceration for bribing a public official. During his trial a memo surfaced about Noah's Ark being a ploy to evict tenants from a nearby residential development. Thou shalt not bring religious beliefs into the boardroom…