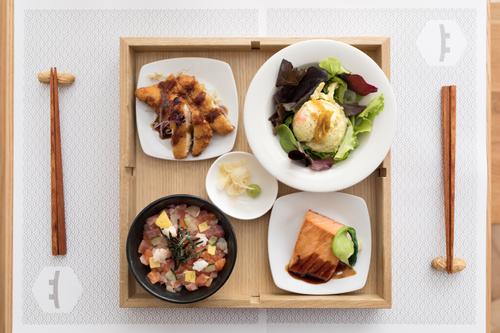 This spot opened in spring in the Navigli neighbourhood and excels at otsumami: tapas-style snacks with a mix of either meat, fish or vegetables. The whitewashed interior includes a herringbone parquet floor and tall tables at which punters can sample beautiful bite-sized dishes. To finish there's shochu and single-malt whisky from Yamazaki.
tokyotable.it
When Patrizio Miceli isn't dreaming up advertising campaigns for fashion labels he makes (and brands) his own range of pasta and sauces from his native Italy. Flavours include the hearty Amatriciana and the La Checca, made with San Marzano tomatoes. The pasta includes fusilloni twirls and fat paccheri plus the customary penne and spaghetti.
aldentelasalsa.com
Pablo Caballero is Spain's barista champion and mans the La Marzocco here alongside Nola Botano. The duo raised their start-up capital by running coffee-consulting courses and can still be heard preaching about beans from behind the counter. Close to some of Madrid's finest art galleries, the shop is excellent for a morning macchiato and a stroll down the strip.
hola.coffee
Singapore round-up
singapore
Nestled in a leafy pocket of Seletar, northern Singapore, is a cluster of colonial bungalows that's being converted into a new food spot. The first phase opened in 2016 and includes the Summerhouse restaurant run by chef Florian Ridder, which overlooks a vegetable garden – when not pulling plants from his patch, Ridder sources his produce from nearby farms. Other residents include bicycle café Wheeler's Estate, a restaurant from brothers Daniel Ong and Ong Tiong Huat, and Youngs, a pub that serves western favourites.
thesummerhouse.sg; wheelersestate.com; youngs.com.sg
After 15 years in the Swedish restaurant scene, Leo Stervander moved to London to open this spot in February. Kobo means "workshop" in Japanese and there's no shortage of laptop-toting freelancers here but with the beans coming courtesy of Caravan Coffee Roasters, it's the coffee that's the real draw. The pretty interiors and breezy staff also help.
346 Upper Street, N1 OPD
This was previously a fish-and-chip shop but Adelaide design studio Mash was let loose on this space to give the Italian-American-inspired diner an airy Miami Beach feel, with a pastel-hued interior and car-park palm trees. The kitchen turns out stone-oven pizzas and dishes such as vitello tonnato (sliced veal with tuna), cotolette di pollo (breaded chicken) and beef carpaccio.
chiccos.com.au
Q&A
Chris Miller
Founder, White Rabbit Fund
UK
After four years as commercial director of Soho House Group, Chris Miller founded White Rabbit Fund, providing support for London's rising restaurants and budding chefs. Current investments include Hawaiian joint Island Poké and the Mumbai-style Kricket in Brixton.
What do you look for in a food business before you invest?
The founders have to be obsessed with product quality. I almost want to be bored by their enthusiasm. A great product is a must but it doesn't guarantee success. Hospitality is not an easy industry to be in. You need a very strong management team.
Do you see potential for this in other cities?
I see huge opportunities internationally for the businesses I am working with; Kricket would be great somewhere like Berlin or New York. Equally I am always on the lookout for international concepts that could work well in London.
whiterabbitfund.com
Kin Dee may use apples in place of papaya but head chef and co-owner Dalad Kambhu swears that her food is pure Thai. She learnt at her aunt's Paris restaurant and later sharpened her skills with the Grill Royal group. There's one aspect of Thai cooking that Kin Dee won't compromise on: all dishes are made to share.
81 Lützowstrasse, 10785
Kaikado has made one of Japan's oldest tea caddies since 1875 and the new Kaikado café is a great example of the firm's eye for design. Opened in a former 1920s tram garage, Kyoto architect Hideki Ohiwa and Copenhagen design studio Oeo transformed the space but retained many original features. The café also has lots of natural light, high ceilings and classy wooden furniture.
kaikado-cafe.jp
The Lower East Side's Flower Shop feels somewhere between a diner and a 1960s motel, with food courtesy of UK chef Michael Hamilton. Try the Long Island squid, lightly charred and stuffed with minced pork, before heading to the underground den to gawp at the carpeted "burnt orange" floor. It's deep cleaned on a daily basis but a few too many red-wine stains might put a stop to that.
theflowershopnyc.com