Design / Global
Into the blue
There's a particular colour that is in demand: it can convey a brand's honesty, suggest authority and even lift our mood. But because of this popularity, it's increasingly difficult to find a truly new hue. Monocle goes in search of its own slice of blue heaven.
There is a shortage and it's an unusual one: there are not enough blues to go round. Blue, you see, is the colour that brands reach for when they want to invoke calm, reliability and trust. But with more than 30 per cent of companies now using it in their branding, it's tricky finding a shade that can be all yours (famously, Tiffany & Co is one of the few businesses that has managed to legally ring-fence its blue – but it's perhaps more of a green anyway). It's a problem that Pantone knows all too well – indeed it was a conversation with its team that awoke us to the shortage and sent us off on a search for how brands use the colour to woo and assure us, how it defines cities and sends some people on more extraordinary odysseys than ours: in search of the perfect, rarest blue. So let's head out to sea and prepare for some blue-sky thinking.
---
The world is feeling blue. To borrow marketing parlance, the colour is having "a moment". And it's leaving companies that search for new shades scrambling to keep up.
"It's the number-one requested colour," says Brooks Tippett, vice-president of operations at Pantone, which has its global headquarters in Carlstadt, New Jersey. The firm, established by Lawrence Herbert in 1963, has become a leader in defining colour. It allows designers to reproduce colours while its experts help brands find the shade that hones their message. So why are we hooked? "It gives designers the full range of emotions," says Tippett.
Laurie Pressman, vice-president of the Pantone Color Institute, is in charge of unpacking what this means. Her job isn't just to work with brands: she also oversees trend-forecasting. "Blue is the most universally loved colour," says Pressman. "It's approachable, friendly and trustworthy." She leafs through a book forecasting home and interiors colour trends for spring/summer 2018. Of the 64 colours on display, almost a quarter of them are shades of blue.
Think about the world's major brands: Pantone has worked with them all, from Tiffany & Co and IBM to Gap Blue fragrances and Moroccanoil, either to standardise an existing blue or work on a new shade. Pressman says part of the appeal is blue's abundance in nature – but it goes further than that. "We've been living in an unstable world since the 2008 financial crisis: blue is dependable, reassuring." However, with more than 200 years between the creation of the cobalt blue pigment and the newest one, finding new blues is a constant challenge.
Beverly Bell, manager of colour and quality standards, is, like the rest of us, really just a big fan of the world's most popular colour. So much so that she recently reupholstered her house in blues, replacing the tired browns. "It's more uplifting," she says with a smile. "I'm tired of looking at poopy colours."
---
A new blue
Oregon, Portland
New blue pigments come along, well, once in a blue moon. Before YInMn – better known by its catchier colloquial name of Mas blue – was born in 2009, the last discovery of a new blue was cobalt. And that was back in 1802. Which is why Mas Subramanian, a professor at Oregon State University in the US, got so excited when one of his students exploring the electronic properties of manganese oxide suddenly revealed a radiant blue colour that he was convinced had never been seen before. "We definitely did not design the pigment," says Subramanian. "We stumbled upon it and then realised that this was a valuable discovery." It is pertinent because scientists are fumbling in the dark when it comes to developing uniquely new pigments, which made Subramanian check and double-check the bright new one in front of him. With testing complete and aware of its potential value, his team put in a patent on the new blue in 2012. This led to an agreement with Shepherd Color Company, which is now looking to commercialise the pigment.
Subramanian says that the years he spent working at chemicals company DuPont taught him how "blue is more difficult to make" than other colours. And he says that the abundance of blues in nature aren't really blues at all. Instead they are "structural colours" that rely on the manipulation of light to give the impression of blue.
Since Oregon State's discovery, Subramanian and his team have built something of a reputation for being colour hunters. The true potential of Mas blue is that it isn't toxic like some other pigments – including cobalt – and it can reflect heat, meaning that when painted on cars or roofs of houses it could act as a cooling agent. As for what's next? Subramanian is hoping for a red-letter day.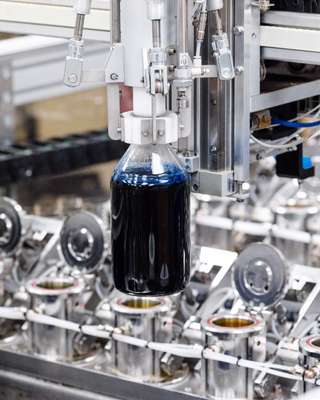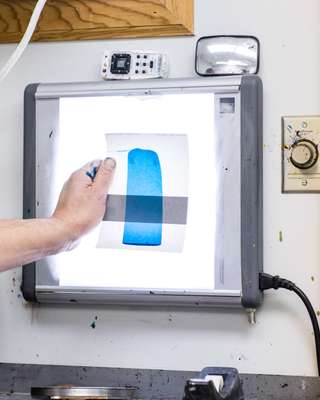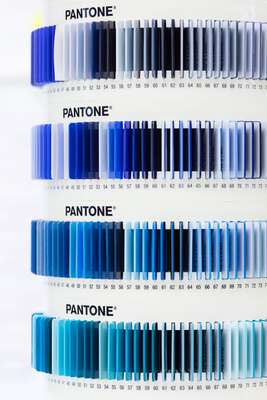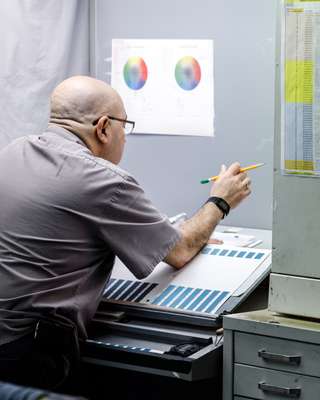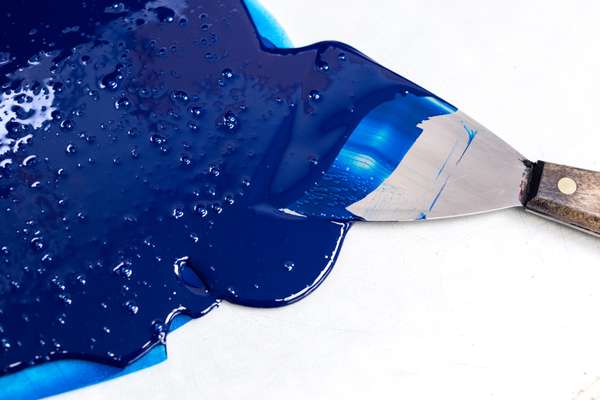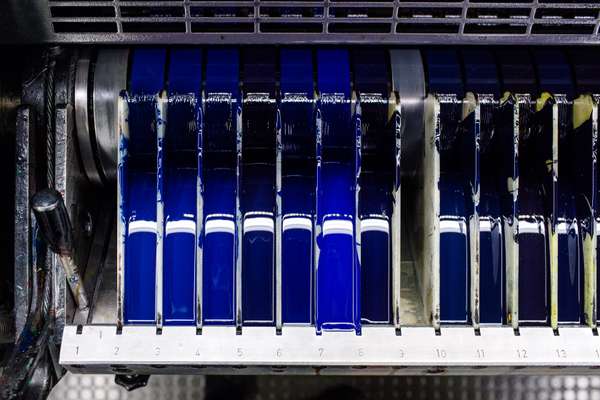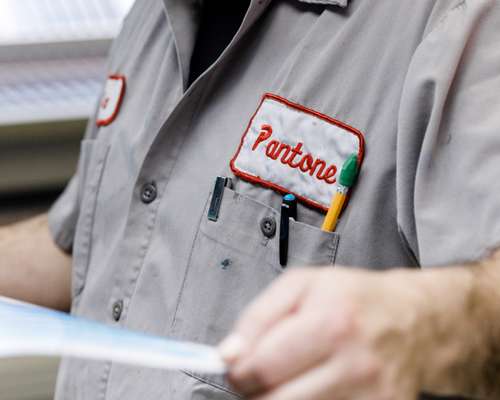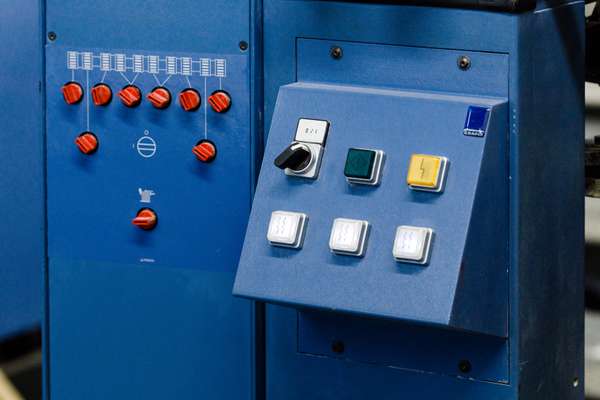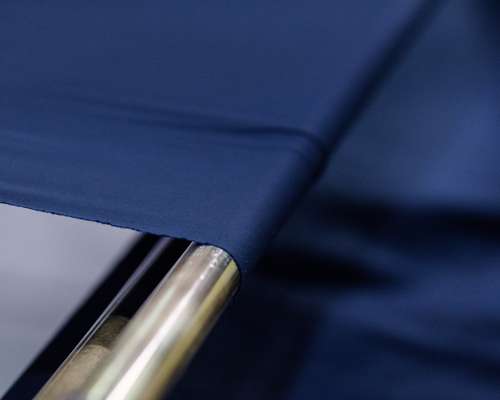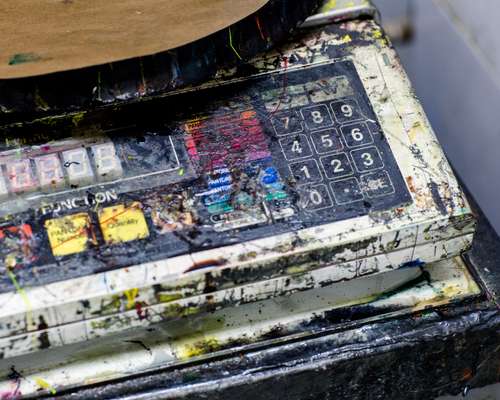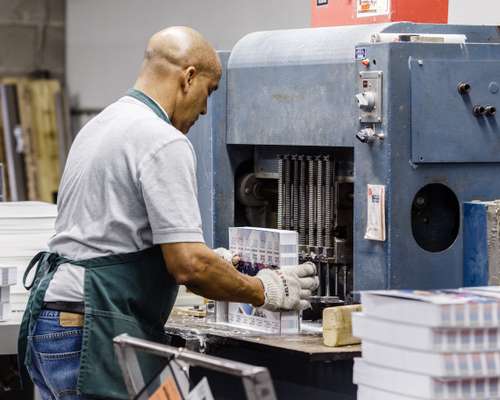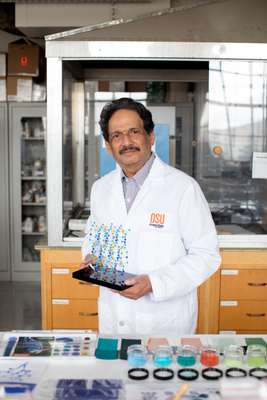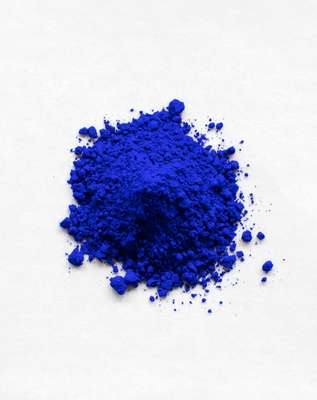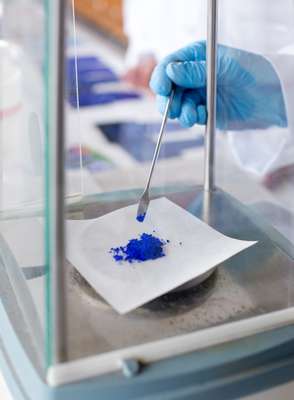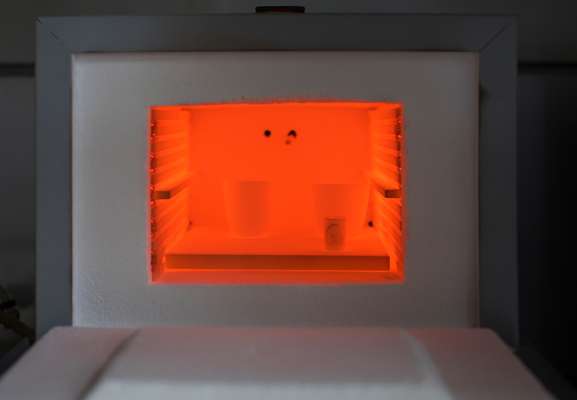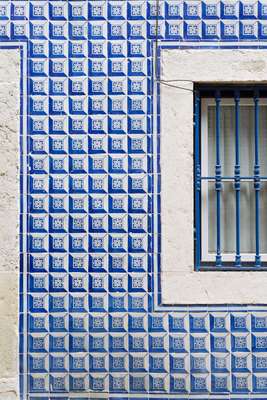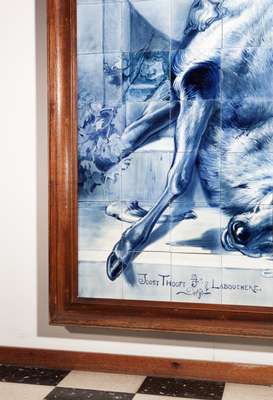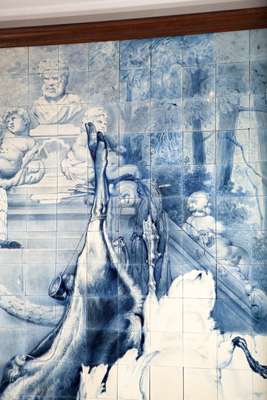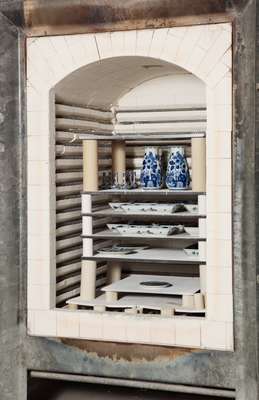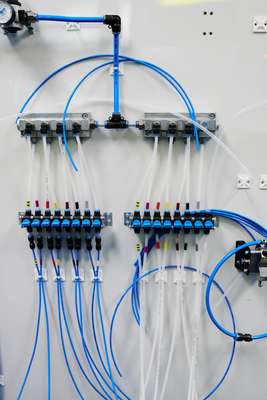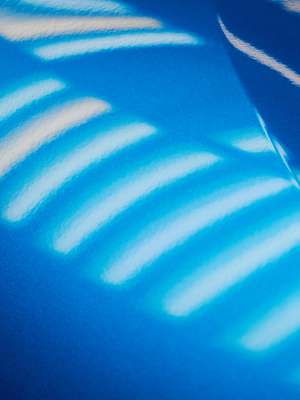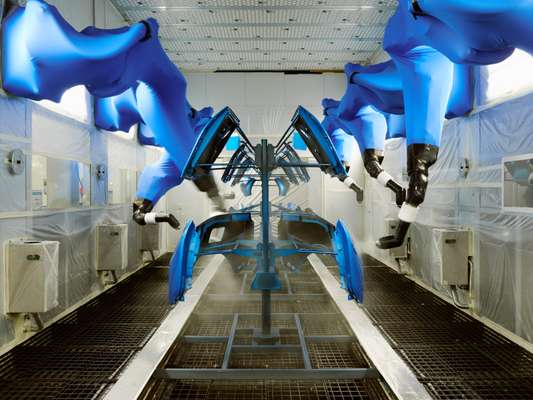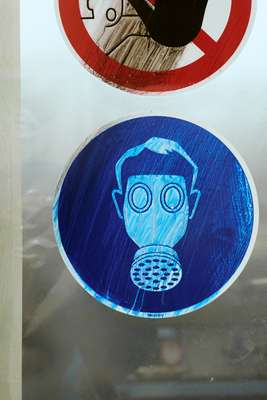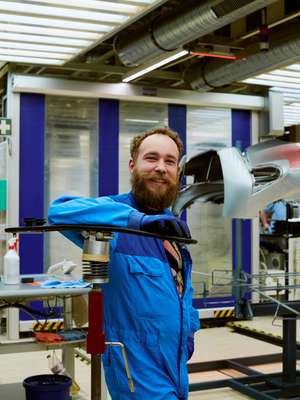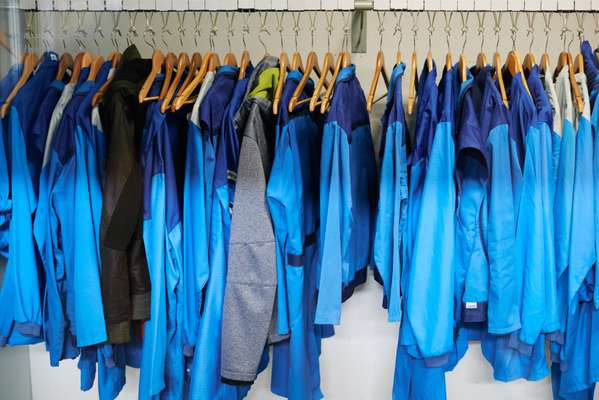 ---
From the cloudless sky that is almost indigo in the height of summer to the midnight blue of the Atlantic Ocean, the colour is a constant feature of Portuguese life. And the shade is translated beyond the natural world into the country's architecture too. In the Alentejo region, homes are whitewashed and accented with royal blue window and doorframes. And in cities, buildings covered in the traditional blue-and-white azulejo tiles, often with intricate painterly designs, are plentiful and conspicuous among the pastel shades of painted façades.
Porto's São Bento train station is a magnificent example. Its entrance hall features a series of large panels depicting the history of Portugal employing more than 20,000 azulejos. In Lisbon, buildings ranging from modest homes to palaces and churches are clad in the same style. And a large number of the tiles you see on Lisbon's buildings today were made by Sant'Anna. Founded in 1741, the company makes ceramic tiles and panels using traditional techniques: its products are still entirely handmade, from the form of the tile to the glazing, painting and firing. "I don't have exact figures but I would say 65 to 70 per cent of our tiles are blue and white," says Francisco Tomás, the third generation of his family to run the company.
The popularity of blue tiles has a practical basis: all tiles must be fired once at 1,100c and again at 990c. If the temperature varies by as little as 10 or 20 degrees over that time, other colours will be spoiled – but blue has a greater tolerance for temperature changes. Achieving consistency of temperature was particularly challenging in the past when wood-fired ovens had no temperature gauge and estimates were based on the colour of the embers. "Painters preferred to paint in blue because if something went wrong in the firing there was less chance of losing the work," says Tomás.
The reasoning may be prosaic but the results are dramatic and the use of these artistic and intricate tiles is not limited to Portugal. Almost 90 per cent of Sant'Anna's tiles are exported: the US is a large market, as are Portugal's former colonies such as Angola, Brazil, Goa, Macau and Mozambique.
"The Portuguese language is one thing that binds us," says Tomás. "But the other is the azulejo. The blue-and-white azulejos that you see around the world are a direct expression of Portuguese culture."
---
Royal Delft
The Netherlands
At the height of Delft Blue there were 32 earthenware factories in the historic Dutch town; by 1841 Royal Delft was the only one left. Yet even though the industry has faltered, the blue-and-white pottery that originated here in the 17th century continues to be synonymous with the Netherlands – on a par with tulips and windmills. "Delft Blue is a true Dutch icon," says Royal Delft's CEO Henk Schouten. "The colour has been popular for more than four centuries and never loses its appeal."
The secret to Delftware's cobalt-hued blue lies in the process: the pieces are hand-painted with a black water-based paint that contains cobalt oxide, which only transforms into the distinctive blue after a second firing at 1,200c. So while the paint on the squirrel-hair brushes is black, the samples the painters imitate are blue, as is almost every other detail at the factory, which was founded in 1653.
Even though Delftware blue is associated with "brand Netherlands" almost as much as its national orange, the craft originated in China and wasn't introduced to the Netherlands until the Dutch East India Company came along. When civil war broke out in China in the 1640s, the export of Ming porcelain became difficult; shrewd Dutch potters filled the gap in the market by creating their own versions of the popular blue-and-white chinaware.
In Royal Delft's light-flooded studio, master painter Leo de Groot is hunched over a decorative plate featuring blossoms and a bird from The Original Blue collection. "Painting on ceramic bisque is unforgiving: the paint is absorbed right away and you can't make any corrections but, after 39 years on the job, you get the hang of it," he says, tracing the pencil marks with his paint-soaked brush.
A few tables over, a new generation of painters are learning the trade. Bianca Provoost and Klara Balyon both trained in-house. While Provoost was a fashion designer before joining Royal Delft – "I missed the feeling of working with my hands," she says – Balyon had always dreamt of working here. "I remember visiting the factory with school and immediately knew that this was what I wanted to do," she says, as she shades in the intricate flower pattern of a gigantic jar – a six-hour job.
The reason Royal Delft is still going strong while every other factory around it has closed may not be down to the blue – but its familiarity factor can't be underestimated. Clients such as klm and Kikkoman (Japan is Royal Delft's second biggest market after the US) approach the company for B2B opportunities and 130,000 people visit the Royal Delft Experience every year in search of that famous blue pottery. With a new dinnerware line in the pipeline and a steady year-on-year growth, it looks like Royal Delft is here to stay. The Netherlands wouldn't be the same without it.
royaldelft.com
---
BMW i series factory
Saxony
At BMW's plant in Leipzig, 12 men in light-blue coats stand at workbenches lined up along either side of a conveyor belt that carries skids with freshly painted auto parts. German schlager music is blaring from the overhead speakers. Each time the belt halts the men take an electric-blue quarter panel, door or spoiler from the skid, hold it up to their faces in the bright light and inspect it carefully. If they spot anything that isn't to their liking they pass a small grinding machine over the blemish, then polish the piece and return it to the skid. As automated as the painting process may be at BMW, the final inspection is still done by people. Nothing spots a flaw in the varnish like a human eye.
This plant is the only one in the world where the firm produces its electric car line BMW i, launched in 2013 and made from lightweight carbon instead of steel or aluminium. Therefore the plant is also one of only two that uses Protonic Blue, a colour the company developed specifically for BMW i. "Protonic Blue is a bright blue, veering towards turquoise," says Domagoj Dukec, vice-president of design at BMW i and BMW M, whose team came up with the colour. "Turquoise is close to green, which in turn is close to sustainability. We wanted the colour to stand for 'sustainable premium'."
Carbon frames don't require a chemical anticorrosive coating and the state-of-the-art painting process – which includes blasting away dirt with liquid carbon dioxide, activating the surface by flame treatment, applying primer to improve adhesion, applying a base coat for the colour and applying a clear coat to protect the surface against environmental influences – is optimised to use as little water and energy as possible. That's according to Heidi Fiedler, the product and process specialist her colleagues call "the paint expert". The Leipzig plant produces 110 i3 and i8 series cars per day (plus 860 combustion-engine BMWs); Fiedler estimates this means 400kg to 600kg of Protonic Blue per month. She is responsible for ordering the colour from ppg (which, together with basf, supplies most of the paints used on BMW cars) and for making sure that the hue doesn't vary. Protonic Blue is based on water instead of solvent "but that is standard today", says Fiedler.
Perhaps counterintuitively, blue is used by many brands attempting to communicate "green" these days. Yet Dukec says BMW's motivation wasn't fashion but the brand's values and history. "We haven't invented anything new: it's identical to the blue of the BMW logo," he says. "It's azure. With Protonic Blue, we took that azure and metallised it. We made it future-proof."
BMW's logo has been blue and white ever since the company was founded to manufacture aircraft engines in Munich more than 100 years ago. Its colours mirror those of the Bavarian flag but Dukec explains that it also represents a propeller that has just stopped moving to allow a glimpse of heaven between its blades. "Blue is tightly connected to the BMW brand," he says. "It stands for harmony, hope and positive things."
At the plant in Leipzig, blue is everywhere. The conveyor belt carrying car bodies through the office building on their way from the factory to assembly is lit dark blue (the unusual architecture is courtesy of the late Zaha Hadid). Staff wear jackets, coats or overalls in the same mix of light-blue hues. The robotic arms spray-painting the car parts are wrapped in cobalt-blue protective stockings, making the long limbs evocative of characters from Avatar. Even many of the boxes, cables and other technical infrastructure are blue.
Blue, it turns out, doesn't just represent heritage at BMW, it also means looking ahead. "Blue represents the future," says Dukec. "It's progressive and related to hope. The sky is blue, the sea is blue; there are no limits. That's why it's connected to BMW, because BMW regards itself as a brand with a pioneering and innovative spirit. And BMW i is spearheading this pioneering spirit."