Top 25 / Global
Leading lights
Kitting out your office? Sprucing up your home? The furniture and firms you need are perfectly arranged right here.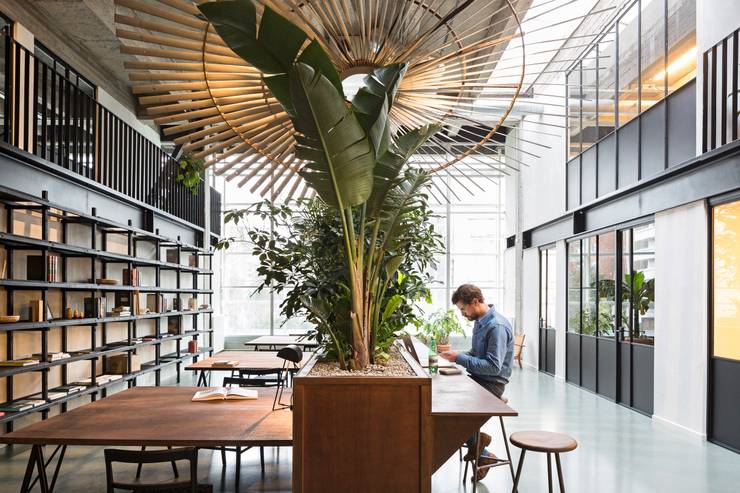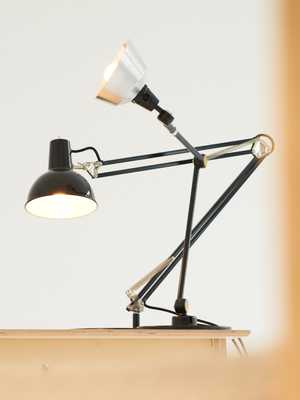 1.
Best retro revival
Midgard Federzugleuchte springloaded lamp
Germany
"Furniture design shouldn't be ruled by trends; the industry can't cope with a quick turnaround," says David Einsiedler, who relaunched the century-old lamp brand Midgard at the start of this year. Instead of feeding into feeble fashions, Einsiedler is intent on reviving the timeless lamps invented by Curt Fischer in 1920s western Germany. As the company's new CEO, Einsiedler recovered old blueprints for some of the world's first adjustable work lamps and began manufacturing the lights once more. The Federzugleuchte (meaning springloaded lamp), which dates from 1950 and features a black retro shade, is particularly iconic and available as a table, wall, ceiling or floor lamp.
midgard.com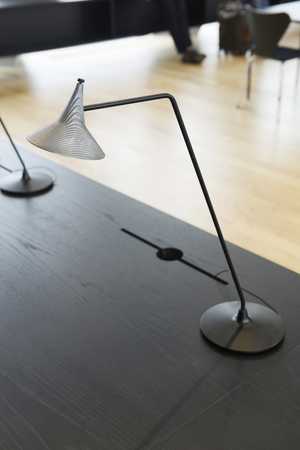 2.
Top installation
Unterlinden by Artemide suspension lights
Italy
In the reading room of Milan's new Fondazione Feltrinelli building you immediately notice the Unterlinden lamps, produced by Artemide and designed by Herzog & de Meuron. They hang from the ceiling and are installed on the desks; the lighting creates an atmosphere akin to an old library. This lamp's minimalist funnel shape and aluminium body complements the sharp angles of the room.
artemide.com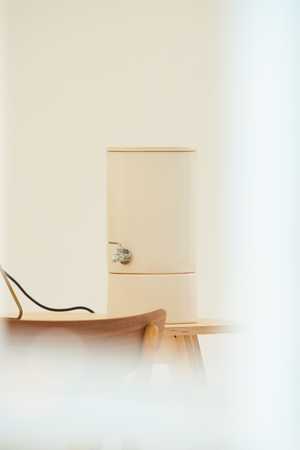 3.
Filtered perfection
Cleansui water filter
Japan
This water filter is a collaboration between Cleansui – renowned in Japan for its filtering devices that remove impurities from water while keeping healthy minerals – and potters from Shigaraki, a town in Japan's Shiga prefecture. This earthy-looking item – known as Shigaraki – is the work of pottery designer Shunsuke Kato, who works for his family's business Yamatatsu Ceramics. It's a good marriage of technology and tradition: a Cleansui filter system sits inside the handmade pot and holds two litres of clean water.
cleansui.com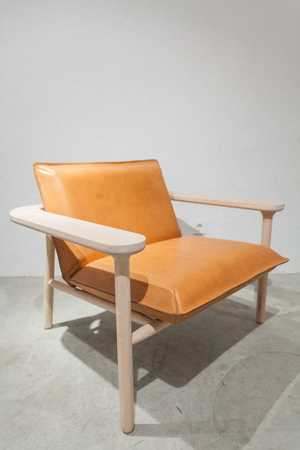 4.
Studio to watch
Zanat
Bosnia-Herzegovina
Ornament and design don't often sit comfortably together but Zanat, a furniture studio in Bosnia-Herzegovina, has tapped into a 150-year-old carving technique to restore harmony between the two. "We thought if we could find a way to combine Scandinavian design – the definition of minimalist – and our technique, it would break a lot of taboos," says Orhan Niksic, Zanat founder and the scion of four generations of carvers.
Based in the town of Konjic, the country's woodworking heartland, Zanat's 40-strong team use a technique that chips into wood to create a dappled effect on the surface. Collaborations have included a tactile lamp with Studioilse last year and in February it debuted its work with Swedish designer Monica Förster on a series of dining chairs and lamps, and tabletops reminiscent of intricate lace. "We don't use any machines for the carving, which makes every piece unique," says Niksic, adding that even the tools used in the process are made by the team. "In this way we return some lost tactility to the world around us."
zanat.org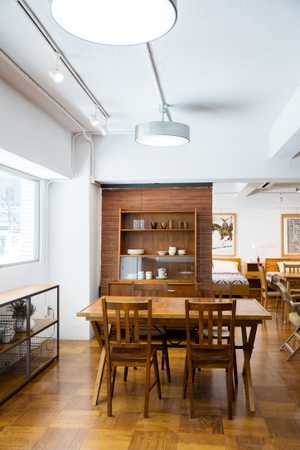 5.
Best for independent style
Pacific Furniture Service
Japan
Yohei Ishikawa is fine with swimming against the tide of fashion. As a design student in the 1980s, while his contemporaries were in thrall to the high design of postmodernism, Ishikawa was drawn to the warmth and wood of Japanese mingei folk art and craft. "I've always loved that combination of beauty and function," he says. He set up Pacific Furniture Service in 1988 and started designing his own pieces in 1992. Today he has a workshop in Yokohama (his fourth and largest), a shop and showroom in a 1970s residential block in Ebisu, Tokyo, and a collection of more than 30 pieces for the home: squashy textile sofas, sturdy oak tables and sideboards made from birch.
Ishikawa has also been selling Lyon steel lockers – the type usually seen in schools – from the US for years, believing that they work well in a domestic setting. "People don't give enough recognition to that kind of anonymous design," he says. Inevitably fashion has caught up with him and his emphasis on natural materials and quiet, longlasting design that ages well is now very much in vogue.
pfservice.co.jp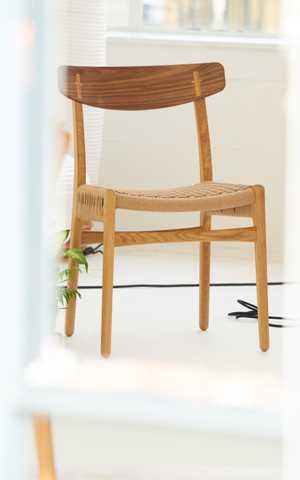 6.
Best reissue
Hans J Wegner CH23 dining chair
Denmark
The reissue of an iconic piece of furniture needs to be true to the original designer's intent. Danish furniture producer Carl Hansen has mastered this process and brought back the Hans J Wegner ch23 dining chair from 1950. Available in oak and walnut finishes with the meticulous detailing of the double-woven seat true to the original, the ch23 is light but sturdy, dashing and timeless. We want it under our table.
carlhansen.com
7.
Best for invention
Theia lamp by Marset
Spain
This steel aluminium lamp has a streamlined design of two opaque, intersecting half-spheres, one placed horizontally and the other vertically. Swivel the fixture around its central axis and point it towards you to use as a reading lamp, or at an object or wall to create subtle, indirect light.
"My intention was to merge both light and shadow in a single piece, achieving a sense of natural light. For me light is only interesting if you see the shadow at the same time," says Mathias Hahn, the London-based German behind the design.
marset.com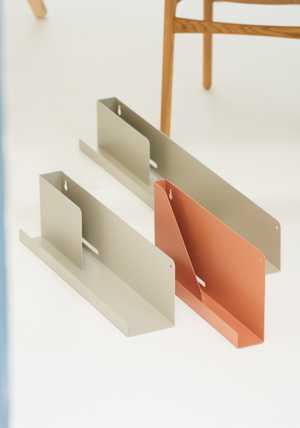 8.
Most practical design
Folded shelves by Muuto
Denmark
Rotterdam-based designer Johan Van Hengel's focus on useful products is demonstrated in these shelves for Copenhagen's Muuto. Inspired by the interplay of layers and shadows, each slender unit is made from a single sheet of steel, bent to create clever pockets.
muuto.com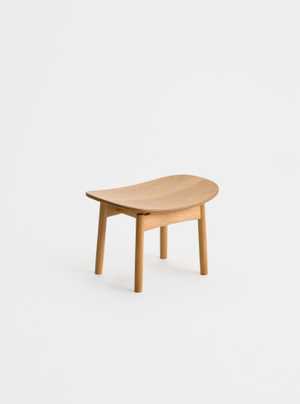 9.
Best collaboration
Ariake
Japan
Japanese firms Legnatec and Hirata had been making furniture for rural houses for half a century. It was Singaporean product designer Gabriel Tan who saw the potential to turn the brands' wares into a design company of international appeal. The collaboration soon turned into an ambitious 18-piece collection by a team of five studios from Norway, Sweden, Singapore and Japan who all shared a love of Japanese culture.
Ariake's white-oak, hinoki and cedar tables, cabinets, shelves and chairs tinted with dyed ash were hatched over an intensive week-long workshop in the town of Morodomi in Japan. Its aim to immerse the designers in the region's crafts resulted in the gentle curves and streamlined shapes inspired by Japanese architecture and an appreciation of woodworking finesse.
ariakecollection.com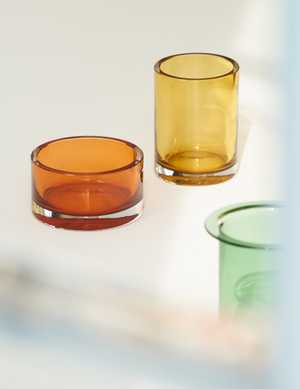 10.
Most colourful design
Tricolore vases by &Tradition
Denmark
Germany's Sebastian Herkner has become a prolific design talent in the past decade by not restricting his skills to one medium. The consistent theme in his work is artisanship. As Herkner's star has risen, so too has his ambition for collaboration. After recently making a colourful woven chair with craftspeople in Colombia, he's followed up with these Tricolore vases for Copenhagen's &Tradition, made using a traditional mouth-blowing technique in the Czech Republic. "I don't start an idea with a pencil: I plan with colour," he says.
andtradition.com
11.
Best for the balcony
Gonçalo chair by Arcalo
Portugal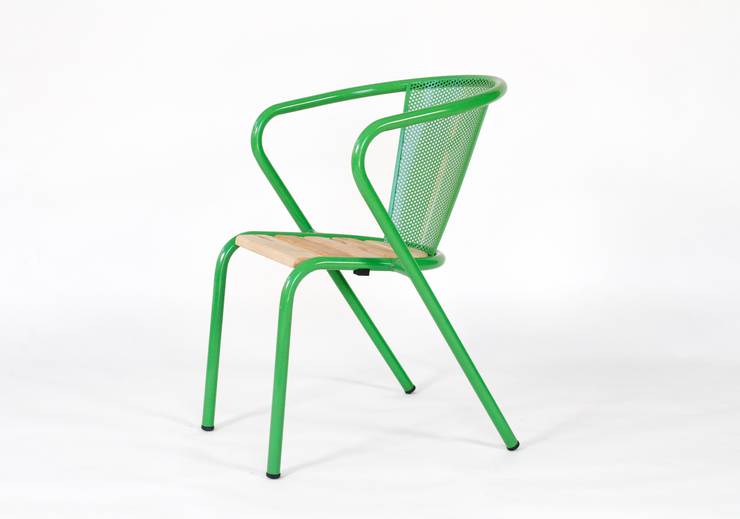 With its simple lines created from two bent metal pieces, the Gonçalo chair is an icon of Portuguese design. Light, sturdy and comfortable, it is weatherproof and stackable, and has a timeless aesthetic.
Created in the 1940s by Gonçalo dos Santos, today it is manufactured by Portuguese brand Arcalo, which was founded by Manuel Caldas in 1994 to continue production of the chair.
arcalo.com
12.
Brightest metal work
V-lite lamp by Atelier de Troupe
USA
Los Angeles-based Atelier de Troupe is only six years old but its lighting and furniture is steeped in the past, referencing Bauhaus and mid-century French design. Founder Gabriel Abraham designed the V-lite lamp with cult creative agency Commune after their collaboration for Ace Hotel in LA. With a simple bent-metal base, it is intended to be used as a wall sconce or desk light. The articulating shade allows you to direct the light, while the perforated brass creates a dappled glow.
atelierdetroupe.com
13.
Top transportable design
Journal Standard Furniture 3 F/CE
Japan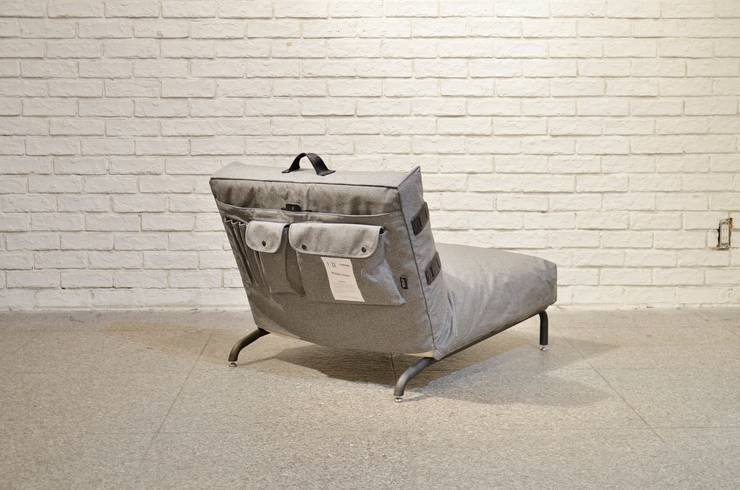 A collaboration between Japanese fashion group Baycrew's furniture arm Journal Standard Furniture and bag brand f/ce, this four-piece capsule collection uses highly technical materials. They used a robust Cordura ballistic nylon mélange fabric, originally co-developed with the US industrial thread-maker Invista for the f/ce bag collections. The result is durable furniture with a sweatshirt-like feel. While the couch has a minimalist design, the lounge chair (pictured) has multiple pockets and leather detail. The laundry bag is versatile enough to fold up and take camping, as is the Rover chair.
js-furniture.jp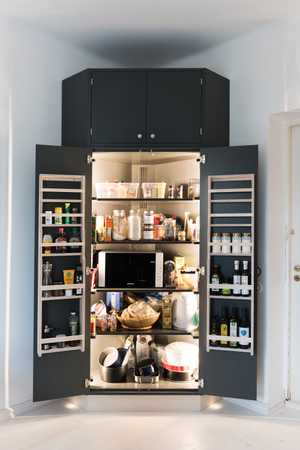 14.
Smartest kitchen
Jalokaluste
Finland
The sleek, angular and understated beauty of the 1960s kitchen inspires Finnish carpentery firm Jalokaluste. Its ranges are thoroughly Nordic in their practicality and wonderfully retro in their design. Made with a mixture of birch, ash and pine, they show off the best of the country's craftsmanship, which can be seen in the exposed joinery of its cabinets and modular draws.
There is something calming in the minimalism, an effect that is welcome in among the frequent chaos of a much-loved and well-used kitchen.
jalokaluste.fi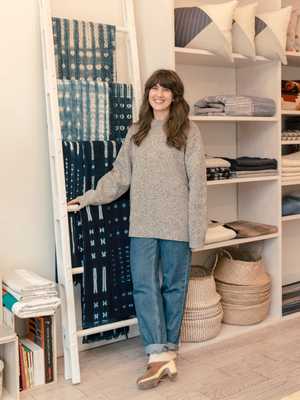 15.
Top shopping street
Franklin Street
New York, USA
Something of a mini design strip has sprung up on Franklin Street in Greenpoint, Brooklyn, over the past few years. Leading the way is the patriotically named Home Of The Brave. The homeware shop may not have as many homegrown brands as when it opened – you'll now find items from India to Japan – but there are plenty of "Made in the US" offerings, including ceramics from Wolves Within alongside Hawkins New York. There are also blankets, quilts and utensils to get stuck into.
Down the road, Wolves Within is worth a visit for its clothing but it also has a few design trinkets to peruse. Within striking distance are Adaptations and Porter James. Both offer beautiful mid-century pieces, many of them from estate sales – everything from chairs and cabinets. A Robert Sonneman lamp is on offer at the latter, which offers a stronger collection. The final stop on the Franklin Street call-list is Homecoming, a well-stocked place selling coffee, cacti and handsome bowls from ceramicist Helen Levi.
Three to buy:
1.
Bowl by Helen Levi from Homecoming
There's something pleasing and tactile about the bowls fashioned by the Brooklyn-based artist.
2.
Swedish salt and pepper set from Porter James
Porter James specialises in unique pieces so get in there quick. Our favourite set – designer unknown – is timeless and utilitarian.
3.
Copper and marble jar by Hawkins New York from Home Of The Brave
A classic receptacle for just about anything. The copper is a nice touch and a Hawkins signature.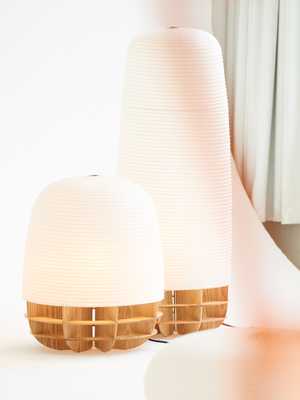 16.
Best for tradition
Aero lanterns by Ozeki
Japan
When visiting historic Japanese paper-lantern maker Ozeki, UK designer Sebastian Conran was reminded of his childhood. The process of wrapping paper around wire frames took him back to lazy afternoons constructing model planes. Having teamed up with Ozeki, the Aero lanterns were born as part of the Gifu collection. The sculptural lights throw a warm glow and nod to Japanese tradition with materials such as washi paper and nagaru sugi wood.
sebastianconran-gifu.com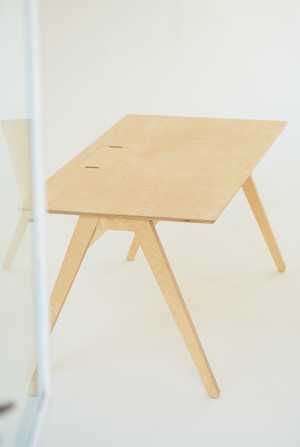 17.
Friendliest desk
Studio desk by Opendesk
UK
It's estimated that we spend about 30 per cent of our lives working, so the environment in which we do so is important: we need spaces that are flexible and well designed. This is the simple concept behind London-based Opendesk. It offers a directory of great designs that are downloadable and shareable with makers from Melbourne to Manchester. One such design is this Studio desk, which was created by co-founder Joni Steiner to bring the theory to the home office or small studio. With its smooth design and discreet cable management it makes a great compact workstation.
opendesk.cc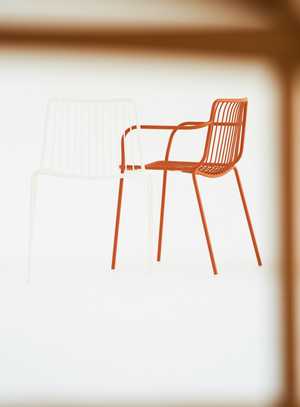 18.
Best for outdoors
Nolita chair by Pedrali
Italy
These chairs from Milanese duo Simone Mandelli and Antonio Pagliarulo reference Mario Pedrali's first metal garden chairs, designed in 1963. Part of the Nolita collection, they are made from steel in colours ranging from a classic white to a warm terracotta and are easy on both the eye and the behind.
pedrali.it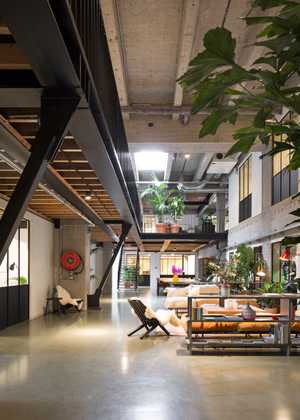 19.
Favourite fit-out
Fosbury & Sons
Belgium
Fosbury & Sons is a new project in sprawling office space found in Antwerp modernist Léon Stynen's 1958 Watt Tower. In this working-office-cum-café, Antwerp interior-design duo Going East brought in comfy couches from Belgian design outfit Journuit and worked with galleries to source installation art.
The result is a design that is as much eyecatching as it is cosy, including an inventive timber staircase/seating area that climbs up the café's lofty interior. Co-founder Maarten van Gool says careful planning maximised design without blowing the budget.
fosburyandsons.com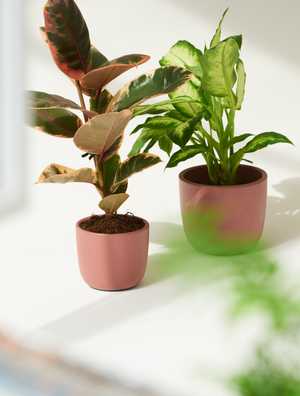 20.
Top pots
Sueki plant pots
Japan
Established in 1876 in the Tokushima village of Oasa-cho in Japan, Yano Tohen kiln has been making ceramics – including giant jars for the region's renowned craft of aizome dyeing – for decades. Under fourth-generation president Kanichi Yano, son Koichiro started modern tableware brand Sueki Ceramics in 2014. It quickly proved popular with numerous design shops in Tokyo and abroad.
These understated plant pots are perfect for small greenery. They come in six sizes and eight colours including steel grey, dark green and orchid (pictured), all with a smooth matte finish.
sue-ki.com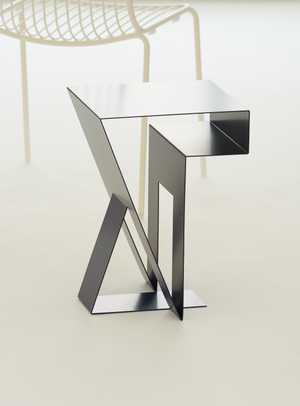 21.
Best new german design
Side table by Objekte Unserer Tage
Germany
With friends David Spinner and Anton Rahlwes, Christoph Steiger started his studio in 2015. There's no mistaking its Germanness, be it the tongue-twisting name or its functionality. This Neumann side table was designed by Spinner from a laser-cut sheet of steel bent into a sculptural structure.
objekteunserertage.com
22.
Top table
Maisa dining table by Mobimex
Switzerland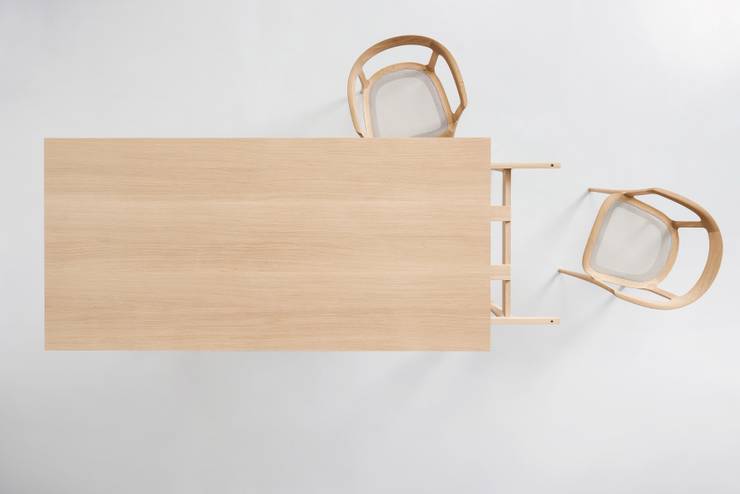 The elegant contours of Carlo Clopath's table seem effortless: the pieces flow into each other and its extension glides into place. It's inspired by Chinese topology and the way the leg elements fit the top is described by Clopath as "a soft, closed structure, merging fluidly".
mobimex.ch
23.
Sustainable storage
Bika bike rack by Killwood
USA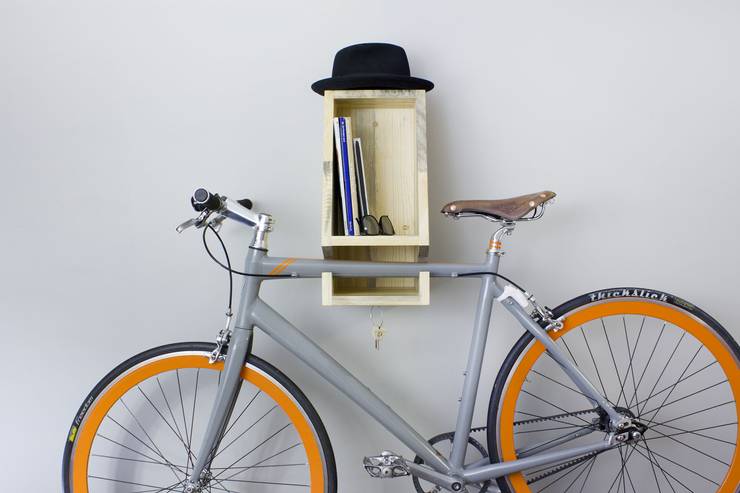 Materials for Killwood's wares come from the tonnes of "kill wood" – trees felled to eradicate pine-beetle infestations – in Canada's British Columbia. The brand's first product, the handsome Bika bike rack, was launched in 2016.
killwood.ca
24.
Most striking seating
Sofa by Ateliers J&J
Belgium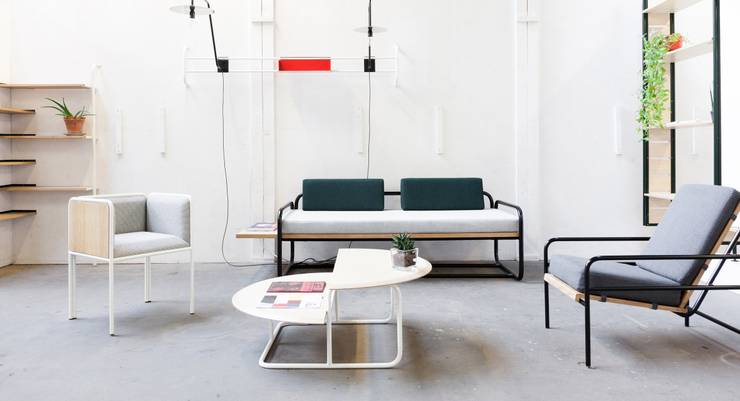 Self-taught furniture design duo Ateliers j&j started its studio in 2012 in southern Brussels. It's here that all of its pieces are conceived and manufactured, including carpentry and ironwork. They are not afraid to experiment with production methods or the creative process, taking inspiration from everything from ancient Greece to Adolf Loos.
Materials for the designs are sourced from Belgium and the pair have a predilection for tubular steel and oak or ash-veneered panels that feature across their collections, including this sofa from its latest collection: Gamme 02.
ateliersjetj.com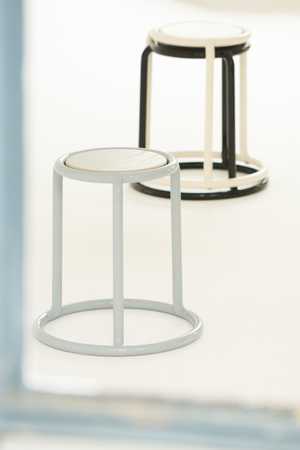 25.
Best for stacking
Champ stool by Matter
USA
Conceived by New York industrial design studio Visibility – in collaboration with contemporary furniture manufacturer Matter – these tubular-steel seats are versatile to the core. They can be tidied away when you're done and no matter how many you stack they won't topple over.
mattermatters.com